Hey all! I wanted to share something I've been working on for a while now. I would imagine a lot of us have baggies or totes full of extra ML weapons just sitting in our closets (thank you 4H for those awesome accessories!). I wanted to make something cool that would allow us to display those or any other ML weapons - something that has some great play value as well. So, I made this!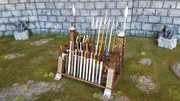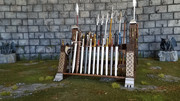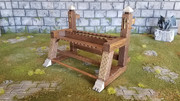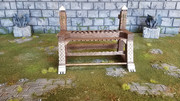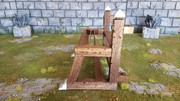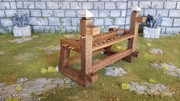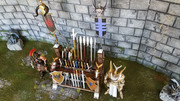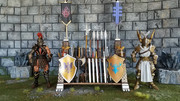 Here are the specs:
• Five passes of weathering along with an English Oak stain makes it looks old and used but well maintained
• Quality woods and glue used, along with dowels to make it incredibly sturdy
• Can hold 42+ weapons
• 10 axes/spears/halberds/staffs on back slots (slots specially designed to hold standard mythic legions axes straight)
• 12 swords in sword holder section designed to hold both current large and smaller swords (but not the long claymores coming in AoD)
• Up to 12 additional swords/weapons on front
• Can hold various other smaller weapons with front crossbar (crossbows, bows, daggers, etc.)
• Four dagger holders sized for current waves of ML
• 2 sword holders on sides designed for very long swords including Claymores
• 2 banner / spear holders on back
• Shelf which can hold a variety of smaller weapons and daggers
• Able to hold bows from the Advent of Decay wave
Measurements: 7" tall x 9 1/2" wide by 6" deep (without weapons)
I did a full review of it's construction and features in this YouTube Video:
https://www.youtube.com/watch?v=MUx84N9 ... e=youtu.be
It's been a crazy journey making this but a ton of fun. Thank you Four Horsemen for inspiring all of us!