Latest News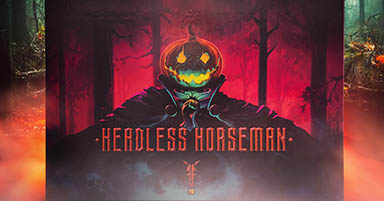 The Headless Horseman Joins Figura Obscura
The dark days of October creep forward, calling forth from the shadows the latest Figura Obscura release from Four Horsemen Stuidos!
Published on 10.01.22
Read more
---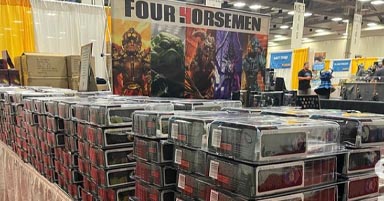 Four Horsemen Studios 2022 Remaining Event Plans
The year may be starting to wind down, but the event schedule for Four Horsemen Studios is just heating up! Here is a look at the plans for the remainder of 2022!
Published on 08.25.22
Read more
---
Four Horsemen Studios at Power-Con 2022
This coming weekend, August 5-7, Four Horsemen Studios will be descending upon Columbus, OH for Power-Con 2022!
Published on 08.01.22
Read more
---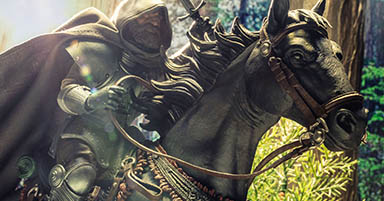 Boreus Introduced and All-In Price Revealed for the new All Stars Wave
The mighty steed, Boreus, joins Mythic Legions: All Stars 5+!
Published on 07.27.22
Read more
---
From the Blog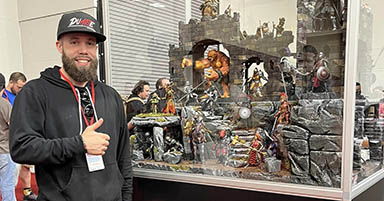 Artist Spotlight: Brian Almeida
A behind-the-scenes look at the massive Mythic Legions diorama that debuted at Power-con 2022, and an interview with the artist behind that stunning piece!
Published on 09.27.22
Read this full article
---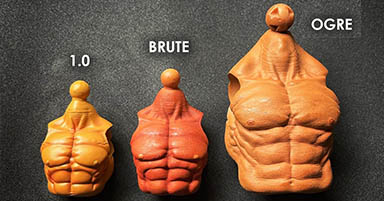 Frequently Asked Questions: "What is Brute Scale?"
A look at this brand new Legions figure scale and answers as to which existing parts the new "brute scale" pieces will pop and swap with.
Published on 09.21.22
Read this full article
---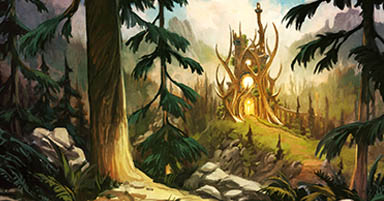 The Lore of Mythoss: Castle Silverhorn
Created by the Fae shortly after the events of the First Great War, Castle Silverhorn has been the seat of power in this wild kingdom since those early days in the Realm of Mythoss.
Published on 09.16.22
Read this full article
---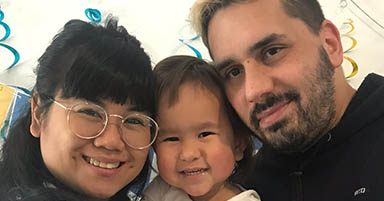 Artist Spotlight: Walter "MASS Customs" De Marco
A look at the work of this 3D-sculptor and artist
Published on 09.09.22
Read this full article
---
Release Status
Upcoming Events
Welcome to the Realm of Mythoss
Mythic Legions is a breathtaking fantasy world created by the award-winning Four Horsemen Studios. The Mythic Legions action figure line consists of an endless variety of characters ranging from heroic knights, dwarves, and elves to evil orcs, goblins, trolls, and skeleton soldiers. Interchangable parts and accessories give fans the chance to create their own characters or to customize their figures to establish completely new denizens of the Realm of Mythoss. All Mythic Legions figures are exquisitely detailed and highly articulated, allowing collectors the opportunity to build the legion of warriors that they have long dreamed of. Mythic Legions brings limitless possibilties to the world of fantasy action figures.
Journey into the Realm of Mythoss and learn more about the Mythic Legions property and toys.
Cosmic Legions Breaks Free
Transmission Received: The new science-fiction themed line from Four Horsemen Studios, Cosmic Legions, made its long awaited debut on 9/10/21 with a live reveal special followed by a preorder of the inaugural wave of these new figures. The world of Cosmerrium has just started to be revealed. There is so much more left to discover!
The Mysteries of Figura Obscura
There are stories that stretch beyond the borders of the Realms and Universes that we know. Legends, myths, and tales spun across various worlds, including our own, these characters are beginning to emerge from the shadows. Called forth by Four Horsemen Studios, they are known as "Figura Obscura".