Welcome to the Realm of Mythoss
In February 2015, Four Horsemen Studios and the action figure collecting world changed forever when the Realm of Mythoss was introduced and the very first Mythic Legions Kickstarter went live. Launched with an initial 22 figures offered, that Kickstarter went on to shatter its funding goal and "Mythic Legions 1.0" actually saw the release of 34 unique figures plus 6 weapons packs.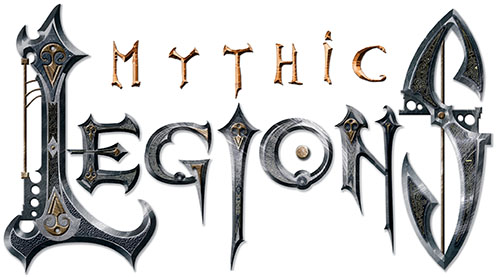 Since the release of the first wave of Mythic Legions, the Realm of Mythoss has grown significantly, with each new wave of figures expanding on this incredible toy line and bringing in new fans and collectors. If you are new to Mythic Legions and you are looking for a place to get up-to-speed on the history of this line and what has been released so far, you've come to the right place! Once you are done here, you may also wanted to check out our article on "How to Get Started Collecting Mythic Legions."
By the Numbers
To date (up to and including the Rising Sons figures and the Valiant Knight), Mythic Legions has had a total of 241 figures released! These break down as follows:
Standard figures, plus Deluxe and Legion Builders - 205
Trolls - 8
Ogres, Brutes, and Centaur - 17
Horses/Steeds (and a bear!) - 11
Additionally, we've released 18 different weapons/spell packs, 4 different wing attachments, 2 heads packs, 2 belt packs, and 7 sets of hands/feet packs to further outfit your Legions.
Waves Released So Far
You can select any of the waves listed below for more details on that wave, including the complete list of figures that were offered, when the wave was available, and more.

Mythic Legions Factions
Mythic Legions figures are broken down into separate factions, and those factions help shape the story for The Realm of Mythoss. The factions of Mythoss include 4 heroic groups and 4 evil ones, plus a pair of splinter factions. Select any faction below to learn more.
Each of these factions were created to have an opposing faction to battle and interact with as part of the larger storyline of the Realm of Mythoss.
Where Can You Buy Mythic Legions?
As a new collector to the line, one of the biggest challenges is hunting down previous releases, especially since some early Mythic Legions toys can command high prices on the secondary market! Here's what you need to know to complete your collection.
First off, you can check the Mythic Legions Checklist for a full listing of figures released so far.
The best way to get Mythic Legions figures is to pre-order them directly from StoreHorsemen.com. While these pre-orders can take anywhere from 6 to 18 months from pre-order to delivery, you will always pay the lowest price possible by supporting the line through a pre-order purchase. You are guaranteed to get any figures ordered during this period and there are no limits on the number of figures you can purchase!
Once a wave has arrived at our warehouse and all pre-orders have been filled, we offer "In Stock" sales of those figures. These sales are known to be quite hectic since the stock for sale is limited and the demand is usually very high! We do often limit the amount of any given character that can be ordered at one time during these sales, but stock still sells extremely quickly and there are no guarantees that the figure you want will be included in the sale or will be in stock when you place your order.
There are also a number of incredible online retailers who offer Mythic Legions figures both as pre-orders and as in-stock items ready to ship immediately.
When it comes to older figures, we have done a number of "All Star" waves in the past, and we are planning more of these waves for the future. Offered via pre-orders like our other waves, these reissues of popular, previously released figures allow you to get desirable characters that have since sold out (we even let the fans vote on which figures will be reissued).
Finally, if you really must have an older release and you can't wait to see if they will appear in a future All Stars assortment, you can turn to the secondary market. The official Mythic Legions Fan Community over at the Mythic Legions Cabal is a great way to connect with likeminded collectors to find some good deals on older releases. Of course, there is always eBay as well, but prices for sold out Mythic Legions tend to be the highest on eBay.
Customizing Mythic Legions
The potential to "swap" parts and customize characters was a part of Mythic Legions from the very beginning. Initially planned as a 1/18 scale line using the Glyos system of swappable parts, when the line was changed to 1/12 scale, the studio worked hard to maintain that interchangeability. The incredible community of Mythic Legions customizers and artists is proof that we achieved this goal!
Four Horsemen Studios loves seeing the creativity of the Mythic Legions community and we are incredibly thankful to all the fans who help add even more richness and variety to the Realm of Mythoss. You can see some example of Mythic Legions customs below. You can also read some of the feature articles we have posted here on our website focusing on Legions customizers.

Customs credit, left to right - Dru Grubbs, Dennis Derby, Jeremy Girard, Nikki Nicole Chaney, Jeremy Girard, Nikki Nicole Chaney, Joe Vasapollo, William Robert Post)
What's Next for Mythic Legions?
We've barely scratched the surface of all we have planned for the Realm of Mythoss. You can expect many more exciting releases to make their way into the Mythic Legions line over the coming months and years…and yes, we do plan on doing a gigantic dragon some day! If you want to be the first to find out what is new for Mythic Legions and Four Horsemen Studios, check this website's News section often and follow us on our various social media channels.