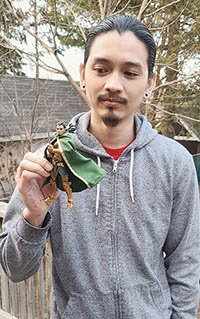 Introduce yourself and let readers know where they can see your work
Hi! My name's Christian, most people call me CJ. I own and run the website cjesim.com alongside my fiancé where we sell soft goods for 1/12 scale figures. You can also see our work from our Instagram page(@cjesim) We also make prototype clothing for toy companies.
How did you begin creating custom soft goods for figures?
It all began when I acquired those 1/12 Fighting JC figures by 3A. I figured one day I'd try and make ninja suits for them. I posted them on social media on the Spring of 2017 and people started to ask about them. After I sold a lot of them, I tried my hands on making some grey pants for the Mezco Punisher for the people who missed out on the exclusive version. From there, I started to make more products and with the help from my fiancé, we started cjesim.com
Do you have what you would call a signature piece, or any favorites that you have done?
My signature piece would have to be the Ninjas and the Old Man Logan Coat.
How did you begin working with Four Horsemen Studios?
One day I was talking to my good friend Johnny Wu (@sgtbananas) who had been using my products for his photos. He suggested that he'd refer me to them for a possible collaboration. Next thing you know, Eric Treadaway sent us an email and the rest was history!
We saw a number of your soft goods additions on the Illythia figures. How did it feel to see those projects finally revealed?
It was such an amazing feeling seeing it all over social media!
Tell us a bit about how you create your custom products?
I would have an image in my head of how I want it to look, figure out how to go about sewing the details into place and how it would attach to the figure, then I measure the figure's body. I tried sketching my plans before, but I feel like my work flow is better when I do it from the top of my head.
What kinds of figures do you personally collect?
I collect a little bit of everything, Mythic Legions, Black Series, Legends, Mezco, Neca, SHF, etc
What would people be surprised to learn about your customizing or collecting hobby?
Two things; I started out as a toy photographer on Instagram, I studied the craft learning about DSLR settings and photography fundamentals. Then a few years later, I eventually found myself making softgoods for the toys I shoot, which quickly turned into another passion of mine. Second one is the fact that I'm a self-taught tailor. I learned everything from reading books and watching youtube tutorials. I am quite obsessed about making softgoods for 1/12 figures. I actually sometimes make stuff in my dreams while I sleep, then wake up to make the thing that I dreamed of. It's kinda weird if you ask me haha.
Any tips or suggestions for Mythic fans looking to start customizing?
I think the biggest mistake most people make is, before starting anything, they're already thinking that they'll fail or their custom is gonna suck! Pick a figure and get started right away! Having people constructively criticize your work also helps a ton!
Final question - who is your favorite Mythic Legions figure?
Brother Mandibulus! Everything about him just clicks with me, from the visor down to the asymmetrical details all over the figure. He's in my top 5 figures of all time. I haven't stopped adding stuff to him ever since I got him!
Published on 06.08.21