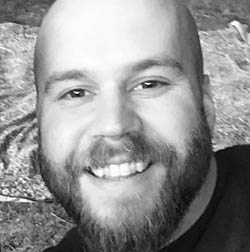 To get started, please introduce yourself!
Hello, my name is Josh Meczywor. I'm a CAD Teacher and Engineer from Massachusetts. My wife and I live in North Adams, MA along with lab partner Striker, our boxer. I've always loved toys and action figures since I was a kid and have always enjoyed collectibles of different kinds.
How did you first get introduced to Mythic Legions?
My best buddy, Dan Briggs, had pushed Legions on me for quite some time knowing I love fantasy style stuff and action figures in general. I really liked them and gave in and pre-ordered Arethyr. Before he came in, Dan insisted I just needed to get one in my hand. Eventually our other buddy, John Pike, sent me a Cavern Dwarf to measure to design weapons, but once I had the figure it was a wrap. I immediately started getting more of these amazing figures. I'm very lucky that my wife is very supportive of anything I'm passionate about. I've purchased a lot of Legions at this point in a very short period of time, haha.
You recently started creating custom weapons for Mythic Legions. How did that start?
Well, like I mentioned before it started with my first Legion in hand and being asked to try to design some weapons with my CAD background. Once I started messing around I realized it was a really fun and creative outlet for me. Admittedly the community that collects these figures was a huge draw as well. Everyone is extremely supportive and always willing to share some ideas and requests. Once people responded positively to my work, it made me extra excited to design more and more.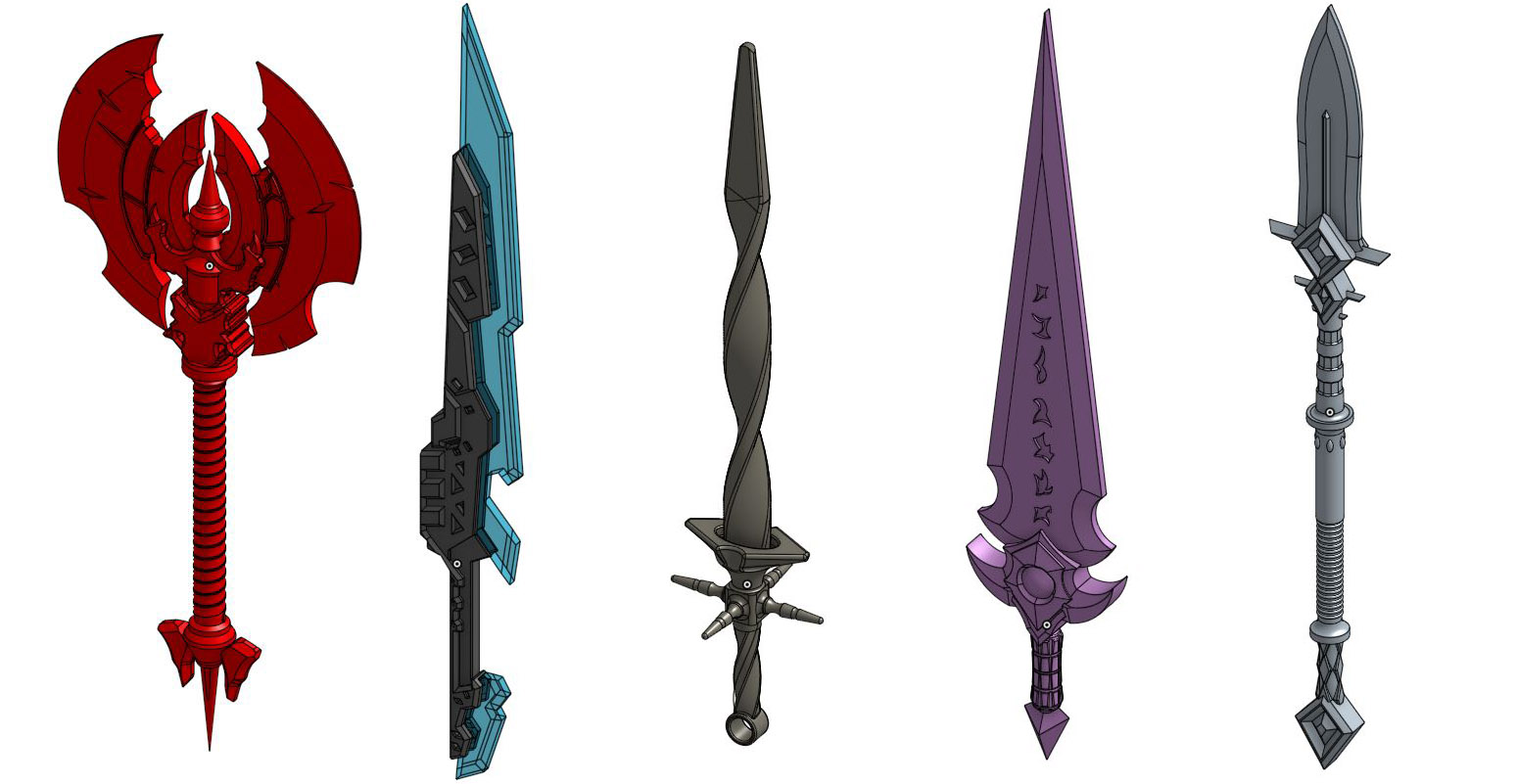 You have a bit of a different process for 3D-sculpting than some other artists do. Talk a little bit about your process as well as the tools you use.
Due to my CAD experience, I use parametric modeling software for all of my designs. For those unfamiliar with parametric modeling, this is the model structure and approach you use in programs like Creo, SolidWorks, OnShape, and Inventor if you've heard of those pieces of software. While I've used sculpting programs like zBrush, Mudbox, and Maya, I'm not as comfortable with them as the programs I've used for 20 years in industry. I prefer to model things feature by feature very precisely by defining all the parameters of sketches and features. This allows me to rapidly troubleshoot sizing and proportion issues without creating multiple versions. If I want a handle 10 mm longer, I can go into my sketch and add 10 to the dimensions driving that feature and I like that. My brain naturally works in a sort of rapid prototyping type method because that's how my mentors taught me to approach designs.
One fun thing you decided to include with your parts have been little "cases" for each piece. What is that all about?
The cases started as a fun way to protect the pieces, but then people started posting pictures and videos of them and sending me messages explaining how much fun it was to open the package and get to open something else. After that, it kind of became my thing and my way to add a little engineering to the order. My plan is to continue to utilize common engineering techniques like snaps and slides and threads just for my own fun. Different collectors have sent me videos of their kids playing with them too which is cool. Who knows, maybe some will become designers because of the cases like Legos did for me!
Overall, how has the community's reaction to your work been so far?
This is the best group of people with a common interest I've come across. I genuinely mean that. There are no arguments or hostile interactions. People are positive and the admins and more vocal members of the groups encourage that positivity. People prop each other up and it's really just great to see. I couldn't even begin to estimate the amount of kind and supportive messages I've received.
Do you have any favorite customs that you've seen that use your parts?
As much as I'd love to list some off, I don't want to forget to mention any of the awesome customs people have sent me, so instead I'll say that my favorite so far has been seeing all the variations of the Demon Axe. I've seen everything from evil axes, good axes, wild colors, and everything you can imagine. This community as a whole is very creative. I haven't seen one repeat of any color schemes on all the axes I've sent out. I ask people for pictures of their customs when they're done and I save all of them.
I know you've just gotten started with Mythic Legions custom weapons, so what kinds of stuff are you working on now?
I have a few things in the works. Some non-weapons and diorama assets as well as a number of types of weapons I haven't done before. The one big thing I'm working on is size. I want to make some really big "how the heck did he print that?!" type pieces as well as some thin very intricately detailed pieces as well down the road.
In closing, where can fans follow you and see more of your work?
The best place to see my work is on my Instagram page @MrMezCAD, my Facebook page @MrMezCAD, and The Cabal Facebook group! People can message me anytime with any ideas or requests they have!
I do offer items for sale both on my own website, mrmezcad.com, as well as on LegionsShop, which is where the vampire weapons shown below are featured!
Published on 08.17.21