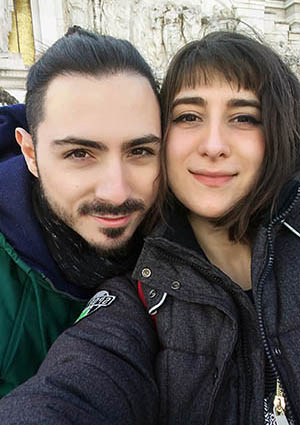 If you customize Mythic Legions figures, or follow others who customize them, you have undoubtedly seen the work of the artists featured in today's article. These two sculptors have created some amazing add-ons for the Mythic Legions line – and they are just getting started!
First off, please introduce yourselves!
We are Seba Dom (Sebastian Dominguez) and Juliet (Julieta in spanish). We were born in Argentina and recently moved to Spain. We are married and we are both artists working together on Planetary Dog Toys and several more projects.
How did you first get introduced to Mythic Legions?
Seba: In 2019 I got contacted by William Robert Post (Creator of My Action Figure Customs) to make some custom pieces for his private collection. He introduced me not only to Mythic Legions, but to Four Horsemen and their fantastic work, and their contribution to toy history, to a fantastic, loving, passionate and skilled community and to one my favourite activities: sculpting medieval stuff. I'm very grateful with Rob because if it wasn't for him I wouldn't have entered in the community the way I did.
Juli: I was introduced to ML figures by Seba, I had never seen them before. I've always been a fan of fantasy and medieval themes in general- magic, warriors, witches, all kinds of fantasy and mythical creatures, so naturally it was a very nice surprise holding them in my hands for the first time. ML has that perfect mix of real and magical that is very captivating and that I really dig. I remember how impressed I was on the quality and how good they felt in my hands, being flexible, having a nice weight - and the painting, even the colors were very nice to look at. Honestly the figures inspired me like crazy into making characters in my head. I loved them right away.
What are your favorite kinds of parts to sculpt?
Seba: I'm into volume, form and flow. All the pieces that I sculpt have a profound art research behind it to find a lifelike look and at the same time push reality into fantasy. The pieces I enjoy sculpting the most are faces since sculpting them involves diving deep into the personality or concept you want to imbue the sculpt with.
Juli: Faces, no doubt. I see entire backstories and personalities in my head that become characters. The easiest and most honest way I feel I can communicate that right now is through a face. It's very hard to explain, but it feels like an urge, I get very excited on one character and then I would like to already have a sketch and a book written on them. That cannot be, so sculpting a face is enough to soothe the urge of giving them life and bringing them into existence.
Talk a little bit about your process for sculpting heads and other parts, as well as the tools you use.
Seba: For sculpting I use Zbrush and for modeling I use 3D Max. Zbrush is more for organic and exploration and Max is more for accurate poly modeling and measurements.
To sculpt any piece I have 2 approaches.
The first one has to do with inspiration. Sometimes I'm watching a movie/playing a game, browsing internet or just sculpting and I may find something that ignites something inside me. I know the next few hours/days will be poured into that project until it's finished. Before starting I have to consider if I will be able to give that idea the time it needs to be developed and if I can't I just lay down on the couch and take note of all the ideas that that first idea sparked. Some cool stuff like the armored torsos, wakkau or feline heads came from that process.
As for the second way it has to do with the path of least resistance and what I feel is missing. When I sculpt I always think first of what I would like to exist and then I prioritize what's needed. Once I chose the topic/piece I gather references and start sculpting. Generally when I'm in the reference gathering I jump back to way 1 of sculpting since I always find something that start my engines and fuels my creativity.
As for sculpting in general I just keep all parts clean and divided in sub tools until it's time for preparing the model for printing. I try to keep parts of the sculpts readable and the design solid and consistent throughout the sculpting sessions. I have thrown away lots of files that I knew were going to be time wasters and would lead nowhere. Always be passionate about what you create. I know if I'm not passionate, to me the result won't be fulfilling in the end.
Juli: I'm always making heads. It's my jam. So I simply start them as I get inspired by picturing a character in my head. This isn't always good because they don't always fit with the style of the line, but I would rather sculpt what I feel makes justice to my characters than doing something that would maybe merge perfectly with the ML line. They are born with instant inspiration, I imagine them. I go to Zbrush and start sculpting. And then the flame gets fueled by watching how so many people like those heads and make their own characters with them. I see the pictures of each custom and I get really excited! I love it when they tag us.
Do you have any favorite customs that you've seen that use your parts?
Seba: oh I have sooo many that I just lost track! Generally my favorites are posted on my IG as a tribute to the amazing job that custom makers do. I can't say that I have a favourite custom but I must say that I'm surprised daily by how custom makers integrate my sculpted pieces with ML or just by their sheer painting/custom making skill. The community is bursting out with talent and I'm grateful with the community in general for choosing our pieces to set free their artistic energy.
Juli: I really cannot say, I've already seen so many kick-ass customs I've lost count!
Besides add-on parts for Mythic Legions, I know you've also done work on other projects for other companies. Talk about some of those.
Seba: I have worked for many amazing projects in the past couple of years but there 2 that deserve an honorable mention. Animal Warriors of the Kingdom and Plunderlings. Being part of this projects has been a blessing and it helped me meet with the most amazing people I have had the chance of working with. I have also worked in other type of projects like MAFC, Small Soldiers accurate recreations of the movie puppets, and Ghostbusters tributes. So far this has been an incredible journey!
Juli: I have not worked on any other 3d project than this one in my life. In relation to art, I've only done paintings and character design before starting to work on PDT.
Anything exciting that you are working on currently that you care to share with the readers?
Seba: I can't hold projects secret for long cause I love to share them and hear what the community has to say. Generally when I have something cooking you can find it in my IG. I like that people can give their feedback so it grows into a community project. There is one thing that has been cooking for some years now and maybe this year it will be ready to serve.
Juli: We really update constantly, we show work in progress all the time, you can see our projects develop as we upload renders on our personal Instagram accounts, and also on PDT's Insta account.
In closing, where can fans follow you and see more of your work?
Seba: All my stuff is generally posted on my Instagram (https://www.instagram.com/artofsebadom/ ) or my artstation (https://www.artstation.com/sebadom).
Juli: My name is Juli, short for Julieta - you can follow me on Instagram @julitartwork !
You can also follow our work on http://www.planetarydogtoys.com or http://www.instagram.com/planetarydogtoys.
Thanks for giving us the space to share our experience, keep rocking!
Published on 08.04.20