If you've been following the launch of Cosmic Legions, one thing you have undoubtedly noticed is how important the storyline is with this new line and to this first wave of characters. The figures released in this "Hvalkatar: Book One" wave were chosen because they played a critical role in the start of the Cosmic Legions story.
Because story was so important to the launch of this new series, we knew we wanted it to be reflected in the way we presented the figures to the world. We planned to take the standard "turn around" photos that we do for all our figures, but we also wanted scene-specific shots that tied directly into the narrative of Hvalkatar: Book One. To accomplish this, we knew we needed some very specific set pieces that the figures could be shot against.
Enter Crashbox Customs
We had long admired the custom diorama work of Crashbox Customs. We've featured this artistic team on our website in a "Customizing Corner" feature, and their "Mythic Pieces" have shown up in some of our product photography on the Mythic Legions line. For Cosmic, however, we didn't want to just use some of the creations they already had available. We needed those aforementioned specific set pieces, so we contacted the Crashbox team of Kris and Kellie Pinkerton to see if they wanted to take on this Cosmic challenge. They were excited for what we had in mind, and as we began talking with them about our needs, the ideas started to flow. We immediately knew we had chosen the right team, and when we started to see the products of their work, we were blown away. To see the Hvalkatar prison come to life in 3 dimensions was incredible.
In all our years of creating toys, we've never launched a line with as comprehensive and coordinated a plan as we did for Cosmic – and these set pieces were a key part of that plan. Kris and Kellie were kind enough to take lots of progress shots along the way to show us how these sets were coming along, and we present some of those images here in this article, along with some Q&A with the Crashbox team.
Q: What was it like to get that call from the Horsemen asking if you wanted to be part of the Cosmic Legions launch plans?
Trevor had mentioned this project when I saw him at ToyconNJ over the summer (in the sweatbox!) Fast forward to Zolocon - Trevor, Eric Treadway and myself were able to have a rather lengthy conversation about the direction they wanted to go with this project. Gritty, futuristic - Mad Max meets Blade Runner. Some reference material was sent over shortly thereafter, and it was off to the races.
Q: Tell us a little about the design process for these pieces. How did you get started?
I was sent one piece of artwork in the orange and gray - and that is what I used to create the first draft panel (note – the artwork Kris was sent is shown above). I use various software programs to put these things together - it's a different way to thinking, breaking everything down in your head to layers to create. Trevor and I bounced ideas back and forth until everyone was happy with the design. We created a quick mockup in foam just to make sure the size was right.
Q: What kinds of materials were used to create these Cosmic pieces?
The majority of the parts are laser cut MDF. The doorways are laser cut acrylic. Prepainting the panels and masking them before cutting allowed us the ability to have clean color breaks - like the orange to gray - as well as the details of the letters. Magnetic connections hold each cell together. The rust effect is a delicious trick I learned long ago - cinnamon. All the little panels and greebles were modeled and 3d printed in-house here at Crashbox, and all the wires were hand twisted or spiraled to add that last little bit of flair.
Q: I imagine it must have felt amazing to see those first images from Trevor using these pieces and showing the fully realized vision for Cosmic Legions?
We are always honored and humbled to see our work. This was a great reveal for us as well - we hadn't seen any of the figures before then! Trevor did a great job incorporating the dioramas into the photos.
Q: One very exciting announcement that has yet to be revealed is that these set pieces will be available for sale from your store at some point, allowing fans to display their figures in these exact environments. That must be very exciting for you to be able to offer!
We have had such a great reaction from the community and beyond! Walter even messaged us from Powercon to say how well received it was. We look forward to the opportunity to get these out to the fans who want them!
Q: Anything else you want to share about this incredible project?
This was a challenging build, with lots of outside the box ideas. Had a couple "let's put this down and take a walk" moments - but even more "EUREKA" moments! All in all a great experience with some great people.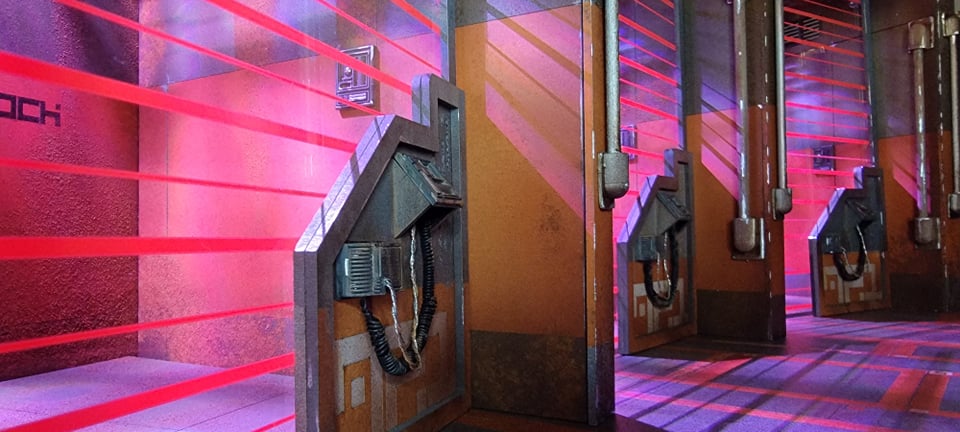 Published on 10.05.21