The release of Cosmic Legions – Hvalkatar: Book One included many surprises, including the various "unlocks" that were part of the Cosmic Power Meter. As the success of the line grew, so did the "charge" on the meter, with surprises unleashed as specific thresholds were met. The first of those surprise unlocks was the "Cosmic Coin". In this "Behind the Scenes" article, we will look at how this commemorative coin was conceived and designed to be included as a gift for Cosmic Legions' early supporters!
When a Coin is More Than Just a Coin
While we knew that a number of the surprise unlocks we had planned would be alternate head sculptures for specific figures, we wanted to also do something that was not necessarily figure related. Our plans were to create something that would be a memento of this first release of Cosmic Legions figures, which we could give away as a free gift to anyone who supported the line at this early stage by making an order during the initial pre-order period.
While a few different possibilities were discussed, the idea of a "coin" of some kind really took hold in those discussions. Not wanting to simply create a coin that would fit into our world, meaning a round piece of metal with the 4H logo on it, we began to consider how we could play with the idea of a coin to create something really different which would be at home in the universe of Cosmerrium. We started to consider how monetary units may look like in this universe to see if maybe the coin could look like it came from another world. Knowing that this first Cosmic Legions wave was focused on the Hvalkatar prison, we also started to think about ways we could tie the item into that theme, eventually landing on the idea that the "coin" could be shaped like a Hvalkatar key card. What exactly does a "Hvalkatar key card" look like? For that we turned to our good friend and frequent collaborator, Nate Baertsch.
Early Design Concepts
When we unveiled the teaser that was part of the first unlock for the wave, we didn't even have fully fleshed out artwork done for the coin yet. We had just begun to discuss the idea with Nate and he threw together some rough ideas based on that conversation. Those initial sketches, which are shown below, were what we ended up revealing.

Even in these early sketch concepts, you can see some of the elements that would make their way into the final design taking shape. The "rings of Cosmerrium" and the end of the coin almost having a tab-like design that looks like it could be inserted into a device of some kind are two examples of this. The box of "squiggly lines" under the rings is another element that remained consistent. In this concept sketch, those lines were meant to show that there would eventually be writing in that spot. We would see this area further fleshed out as Nate began to add more details to the design.
A More Refined Look
The initial sketches shown above allowed us and Nate to begin talking about what we wanted to carry forward and where changes needed to be made. With those notes, he started working on the coin design using Adobe Illustrator. You can see another pass at this coin design below.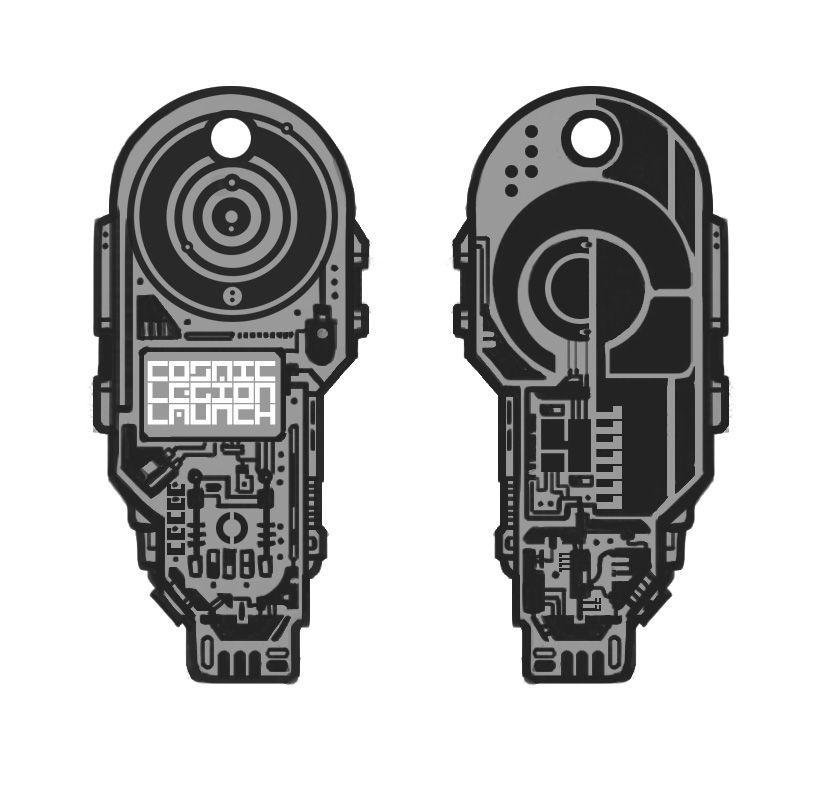 As mentioned previously, some of the elements from the first sketch concept can be seen here, while others have been updated. The shape of the coin is the most notable change on this version, along with the removal of the large CL that was present on the concept sketch. Instead, we now have the 4H logo worked into one side of the coin in a way that almost allows it to blend into the circuit-like design of the piece. You will also now see that the box of "squiggly lines" has text that says "Cosmic Legions Launch" written in the custom typeface that was created for Cosmic Legions. While an actual key card of Hvalkatar would clearly not have these words written on it, we really did want this to commemorate the early days of Cosmic Legions, and we loved having this designation on the piece itself.
The Final Design
While there were numerous small changes and updates during the coin's design process, many more than we are showing here, the 3 images that we have selected for this article represent key milestone stages in the design process for this piece. The image presented below is the final design for the coin.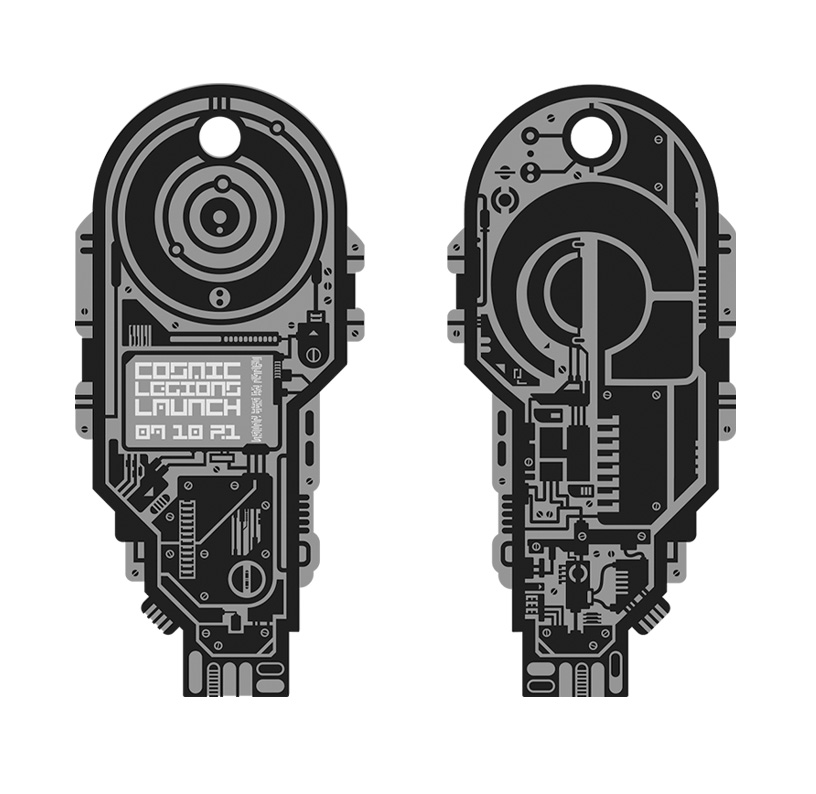 This version is very similar to the previous one shown, with some elements simply refined a bit. For example, the shape is a bit more defined and the commemorative text area now includes the date of the line's launch along with some "alien script" (which was another custom typeface designed for this line).
One thing you will not immediately get from these images is that this coin is not a purely "flat" piece. Like all coins, it will have areas that are raised above the surface of the metal coin. The areas in black in the design are meant to be raised pieces, adding some nice depth to the piece.
Launch Plans
As mentioned previously in this article, we wanted to include a "thank you" gift for fans who supported the initial preorder for the Cosmic Legions line, and this coin is that gift. Every single order placed on StoreHorsemen during the preorder period (9/10/21 – 10/24/21) will receive one of these coins, which will be colored gold similar to the other free gift we will include with each order – the Relic of the Lost Khronnen head. It is worth noting that these are one per ORDER, not per customer. So anyone who placed multiple orders will receive one of these in each order.
These coins will NOT be gifted with any Cosmic orders placed elsewhere after this time. This includes from any of our retail partners who will also offer preorders on the Cosmic Legions line. This was done because we really did want to keep this item as a special piece to commemorate this launch. At the same time, we love our retail partners and our fans who choose to order from them, so we may just find a way to give them something cool as a fun incentive as well. Stay tuned for more!
Making the Mold
Talk about perfect timing! Just as we published this article, this image of the steel mold for the Cosmic Key / Coin came over to us! We love seeing production process images like these, and we know our fans do as well, so we just had to share it here in the article to add even more to this "Behind the Scenes" look at this special commorative item!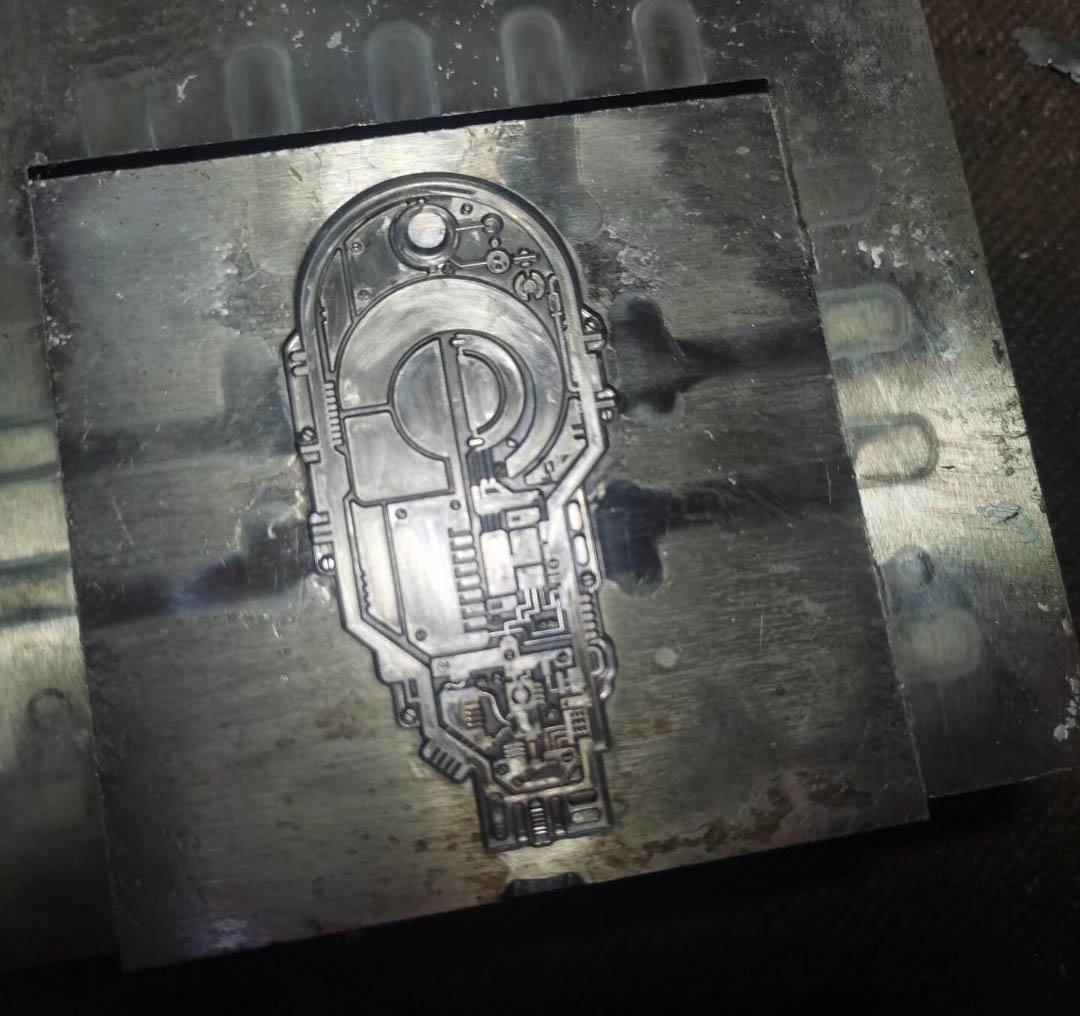 Published on 10.19.21