On Saturday, April 2, 2022, Four Horsemen Studios opened our doors for what has become one of our favorite events of the year. We are, of course, talking about the latest installment of our popular "Intern for a Day" event!
In this "Behind the Scenes" article, we will take a look at this Intern experience and recap all the fun from an event that we are convinced those of us at the studio enjoy even more than our invited Intern guests do!
Some History on "Intern for a Day"
The idea of opening up our studio to fans began back in 2013 as part of our first ever Kickstarter for the "Gothitropolis Ravens" figures. One of the reward levels for that event was an opportunity to visit the studio as an "Intern", and 12 backers selected this option. Yes, as crazy as it may seem now with how much interest this event has generated, back in 2013 we didn't even sell out of the available slots we had for this reward!
We eventually welcomed these loyal fans to our studio and treated them to tours of our space (this was years ago, in a MUCH smaller studio than we have now), activities, and some additional gifts for these guests.
The Intern event itself was such a success, that we would return to it again for a subsequent Kickstarter! Interestingly, however, we did not offer it in the first Mythic Legions Kickstarter. In fact, a fun bit of trivia is that the first Mythic Legions campaign is the only Kickstarter we've done where an Intern event was not an available reward! We did offer it during the "Advent of Decay" campaign in 2017, and 17 backers chose this reward level. We didn't know it at the time, but one of the guests at that event actually turned out to be a future Four Horsemen Studios employee! Our Director of Sales and Marketing, Jeremy Girard, attended that event, which was held on Memorial Day weekend in 2018, for his first ever visit to the studio! He recapped that experience right here.
The Intern event that took place on April 2022 was part of the campaign we ran for the "Mythic Legions Tactics: War of the Aetherblade" video game. We actually had two campaigns for that game, a private crowdfunding campaign in early 2021 and a public Kickstarter held a few months later. The interest level in the event this time was much more than we had seen in previous years! That interest, coupled with the challenges of scheduling live studio events during a pandemic, led us to break the Intern experience into 2 separate sessions. The first of these was held in November 2021 as part of our "Mythic Weekend" festivities. The second date was slated for a Saturday in April 2022 – and this date is the focus of the rest of this article!
Planning for our Interns
One of the challenges we had at the studio planning for this latest Intern experience was knowing that we had to try to live up to the awesome event we had held in November. This was not easy since the November date coincided with G-con and LegionsCon. Those events were not on the calendar in April, but we wanted to make sure we still gave our Interns some cool stuff to be a part of. One of the things we did to make this happen was actually move the date of a preorder we had planned! We had originally intended to launch the preorder for the Cosmic Legions - Hvalkatar: Book Two, Gravenight wave a few weeks before the scheduled Intern date, but we rearranged our plans so that we could host a live launch special while our Interns were at the studio, allowing them to be part of that event and get the first look at the prototypes of these new figures!
Another thing we decided to do for the Interns in April was to open up a "Legions Pop-Up Shop" right at our warehouse! Since there was no LegionsCon to score some figures from during this event, and we knew our fans would be bummed if they came to see us and didn't get a chance to walk away with toys, we provided each Intern with a small list of available figures and we went shopping for them from our inventory.
Welcoming our New Interns
As the day for the Intern event rolled around, we were excited to once again welcome fans to our studio. We know how much Legionnaires love to get a look behind the scenes at the work we do, but the truth is we really do love spending the day with these fans. The energy at an Intern for a Day event is incredible, and we count ourselves fortunate to have such amazing fans who want to hang out with us and let us talk about toys all day!
The event began with some coffee and refreshments. Jeremy welcomed Interns and set the stage for the day, and our Production Manager, Chris Gawrych, even made it a point to break out one of his costumes for the event!

The first session of the day was for the entire group, as Cornboy welcomed everyone before turning the presentation over to the team from Great Hall Game Studios. That team showed our Interns some brand new footage from the upcoming "Mythic Legions Tactics: War of the Aetherblade" game! This included an in-depth look at the "Character Customizer" features, the first listen to some music from the soundtrack of the game, and even some epic storyline footage showing a pivotal battle in the game and in the lore of Mythoss.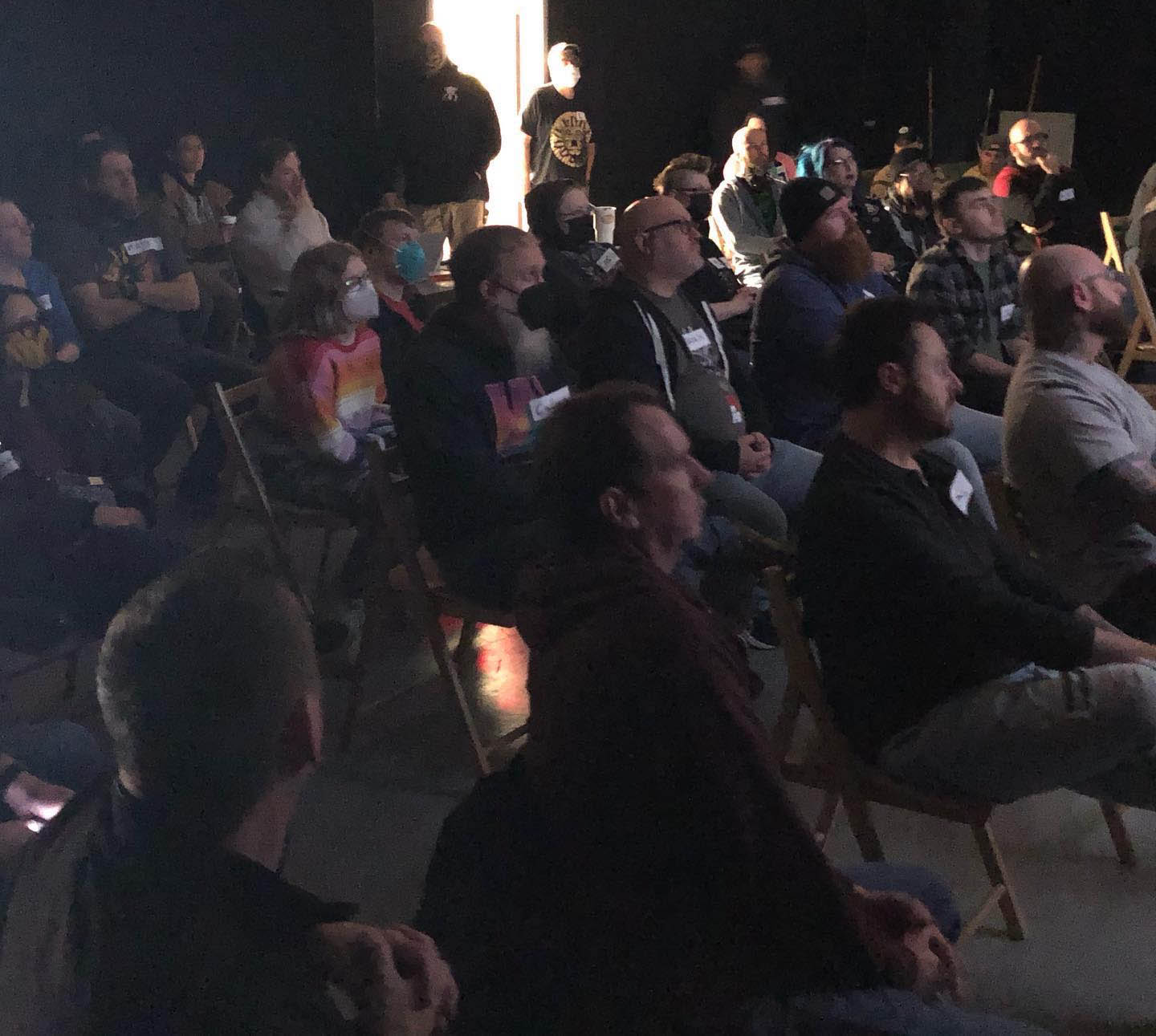 After this keynote presentation was done, the Interns were divided into groups. Throughout the day, these groups rotated through four workshop-style sessions, including:
3D-Sculpting Demo with Eric Treadaway

The Art and Photography of Legions, split session with Nate Baertsch and Trevor "One:Six Shooter" Williams

Painting Demo, split session with Sherri and Cameron

Building Tour with Jim Preziosi
Pictures from these various sessions can be seen below:

In addition to these formal sessions, fans also got to enjoy some New Jersey pizza and hang out and see all the fun displays and figures at the studio! As the day wound down, we brought everyone back together for a final session where the Interns were gifted a bust of Magnus that they were able to paint if they choose to do so. Interns and their guests also all got the cool "4H Intern" pin, done in a gold color specifically for this event.

Returning for More Fun
We kicked our Interns out around dinner-time so that we could prepare for that evening's live reveal broadcast – but we welcomed everyone back a few hours later so they could be part of a live audience and experience the out-of-this-world reveals together!
After we went "off air", we allowed all our guests to come back into the main part of the studio where we had the Gravenight figures all set up on display. The studio team answered questions about the new wave and allowed our guests to snap photos of the prototypes which others had just seen online for the very first time minutes beforehand.
To finish up the day, we asked everyone to gather together for a group photo capturing the Four Horsemen Studios Intern Class of April 2022!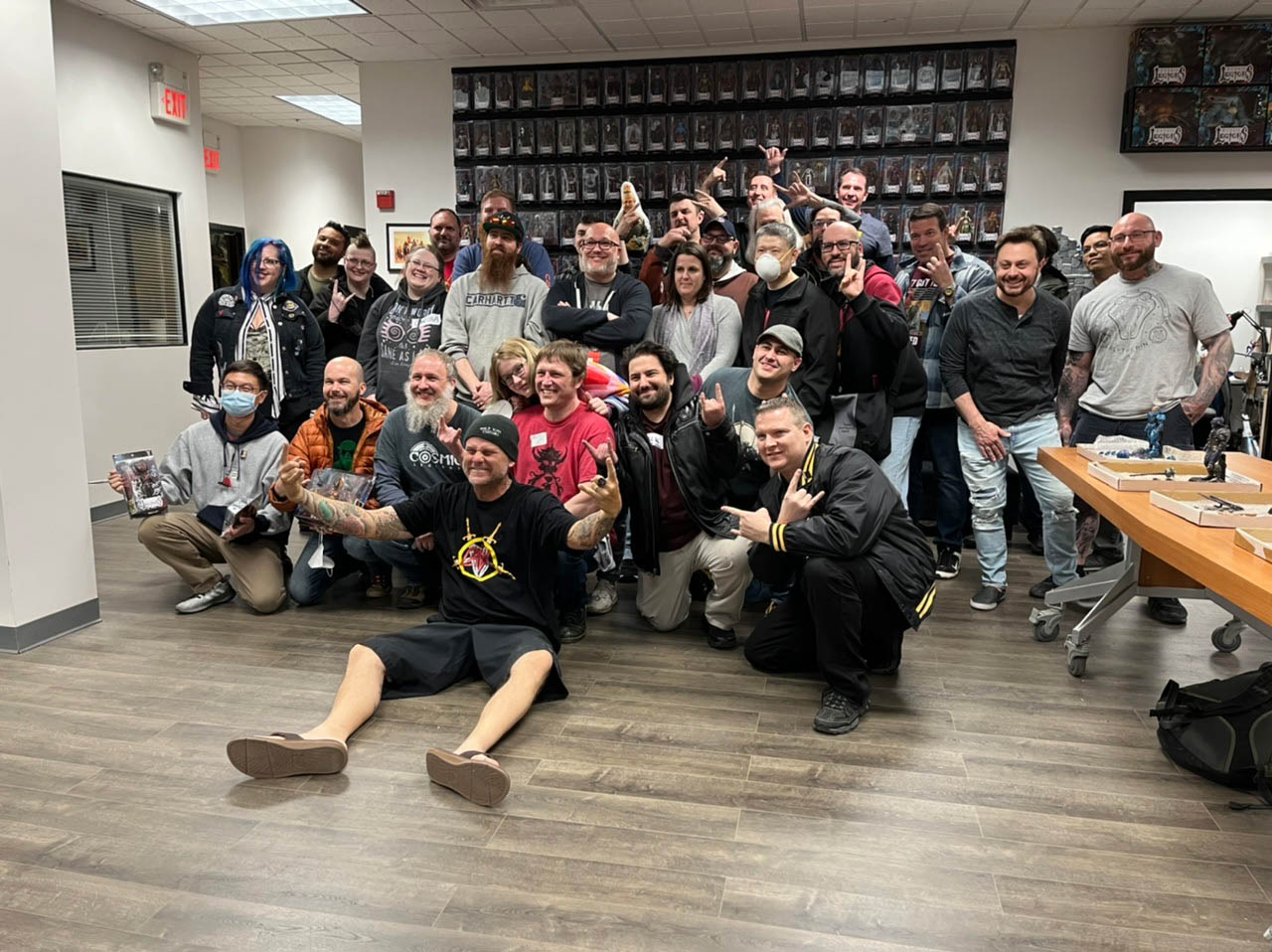 Do YOU Want to be an Intern?
It is clear that Intern for a Day has become an important part of Four Horsemen Studios, and we are excited to once again make it part of our "Mythic Weekend" activities for 2022! Due to the popularity of this event and the fact that our studio cannot accommodate everyone who wants to attend, we have implemented a lottery for selection for our November 3rd, 2022 date. You can learn more about this lottery and the next Intern event right here.
Published on 06.01.22