This coming Friday (11/12/21), a yearly Four Horsemen Studios tradition will take place once again – our very own G-con event! We have been doing this online event for 4 years now – well before a global pandemic forced many other companies to turn to virtual broadcasts to debut their new releases! In this "Blast from the Past" article, we will look back at the past 3 G-con events, and set the stage for this week's exciting announcements!

The Idea Behind G-con
For years, Four Horsemen Studios attended the hugely popular San Diego Comic Con. As amazing as SDCC is, it is an insane and expensive event, and we realized that our favorite part of the experience was getting to hang out with some of our friends and collaborators. We also realized that we could actually have more time with those people, and connect with so many more fans, by bringing our collaborators to our studio in New Jersey and doing a broadcast for 4H fans worldwide! This idea came to fruition in the Summer of 2018 as we made the decision to skip SDCC and plan to hold our own event instead!

G-con 2018: Apocalypticon!
The idea for G-con, which didn't even have a name at this early stage, was to hold it right after SDCC, which meant it was a Summer event. We put out invites to a number of friends and fans and told them what we intended to do – a day long broadcast of figure reveals and interviews, culminating in the pre-order debut of a brand new Mythic Legions line.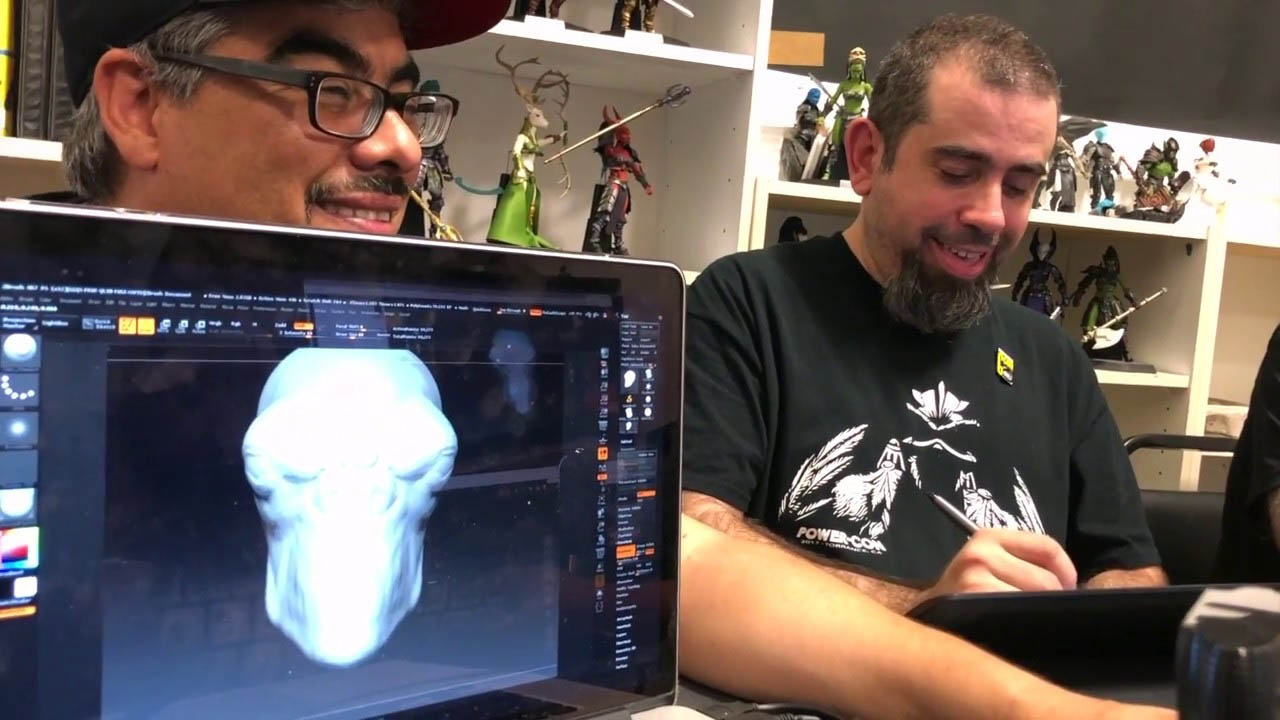 One of the fun things we did during this event was to allow our fans to suggest names for the show. The winning entry was "Apocalypticon!", which we used for the name of this first year's event, but for the event series itself, we decided on the name "New Jersey G-con" - more commonly just referred to as "G-con". This name was in honor of one of our friends and guests, George Gaspar. George is someone we have worked with for years (he is now a full-time member of the studio and one of the hosts of the weekly "4 Horsemen O'Clock" videos on our YouTube channel).
This first G-con broadcast was a ton of fun, if perhaps a bit less focused than what some of our subsequent years would be. We showed off a number of new figures which would actually become the "Soul Spiller" wave that went up for pre-order at the end of that event. Interestingly, this G-con broadcast also showed off some other items that were not related to the wave that debuted that day, most notably the Arethyr figure! This figure was shown in an early form, but it was not part of the sale that launched that evening. Fans would need to wait a whole additional year for a shot at this dark power of Mythoss!
One fun "highlight" of the first G-con was what we called TBF, or "Taco Bell Friday." This has been a tradition at Four Horsemen Studios since before our studio was even formed, back during the days of us working at McFarlane Toys. We figured it would be fun to enjoy some tacos with our fans – live on the air. This resulted in a fairly uncomfortable (for viewers at least, in the studio we were fine!) part of the broadcast where the cameras kept rolling, but we simply enjoyed our lunch, taco-crunching and all! Hey – you said you wanted a glimpse into life at the studio, and this certainly was that glimpse!
On the topic of "Taco Bell Friday", Cornboy adds this additional story, "Traditionally we had Taco Bell for lunch every Friday when we worked at McFarlane Toys. We even had a Taco Bell Friday eating contest with the crew from ToyFare Magazine one year, not too long after Four Horsemen Studios was formed. There is still a trophy for that floating around the studio somewhere. Needless to say, wee mopped the floor with them!"
Note: You can view the 2018 event here. It is multiple videos, so once one is done, you will have to access the others to see the full event, all of which are available in our Video Center.

G-con 2019: Arethyr
Our second G-con took place in the Summer of 2019. For this event, we decided to present only items that would be available as part of that evening's pre-order. This G-con was also the first one of what would be known as the "Horsemen" waves, as the previously teased Arethyr figure would lend his namesake to the event and the wave that was released!
The Arethyr wave was a change for us in many ways. First and foremost, it was the first wave that would pit two specific factions against each other. In this case, those factions were the Legion of Arethyr and the Army of Leodysseus.
The Arethyr wave would also introduce horses into Mythic Legions! The fiery Arethyr got a steed in Aethon, and the noble Balius was also unveiled during this broadcast. As in our previous year, we filled the daylong broadcast with not only reveals, but also with interviews with friends of the studio and giveaways to our amazing fanbase. We did, however, elect to eat the tacos off the air this year (you're welcome).
Note: You can watch the full 2019 event here.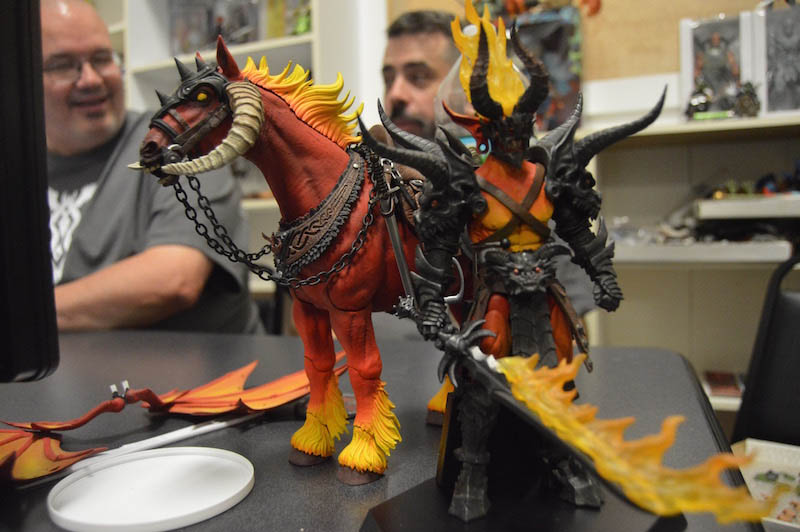 G-con 2020: Illythia
Like so many things in 2020, our annual G-con event went through some significant changes, many of them necessitated by a global pandemic.
While we had held the first two G-cons during the Summer, this just couldn't work for 2020. The pandemic was still very much a concern during that time, and we were very strictly limiting access to our studio. This meant we wouldn't be able to have guests in the studio, but on top of that concern, we simply did not feel right launching a large pre-order sale at that time. For these reasons, we decided to hold off 2020's G-con event, but there is often a silver lining on even the most unfortunate situations, and the move of G-con 2020 was certainly an example of this!
A year earlier, in November of 2019, we participated in a super-cool Legions-focused event called LegionsCon. Organized by Joe "Lord Veteris" Veteri and our very own Jeremy Girard, LegionsCon was a get-together for Legions customizers and fans to connect and share their work with each other. The first year of this event was a smashing success, and plans were made to grow LegionsCon for 2020. Of course, this event also had to shift gears due to Covid, and the organizers began to enact plans to translate the in-person event into a virtual one. Connecting with Joe and Jeremy, we decided to pair the two events together. G-con would be broadcast on Friday, November 13th, and LegionsCon would run the following day on the 14th. This created a one-two punch that we called a "Mythic Weekend." This ended up being a great pairing, as G-con focused on the studio, and LegionsCon focused on the amazing community of fans that we are so lucky to have. In the end, everyone had such a great time, that we decided that "Mythic Weekend" would be something we would absolutely do in following years!
As for the 2020 reveals, we continued the G-con trend of introducing a new Horseman, or "Horsewoman" as it was, since this was the year of Illythia! The fully virtual broadcast allowed us to reveal the figures from this new wave. This format and the new tools we deployed for G-con also allowed us to interview friends and collaborators who we normally would not have been able to connect with since they were not able to get to the studio on a normal year. Once again, this was a silver lining of having to do a 100% virtual broadcast!
Note: You can watch the full 2020 G-con event here. Note - once the video is done, use the dropdown in the top left corner where it says "Schedule" to move to the next part.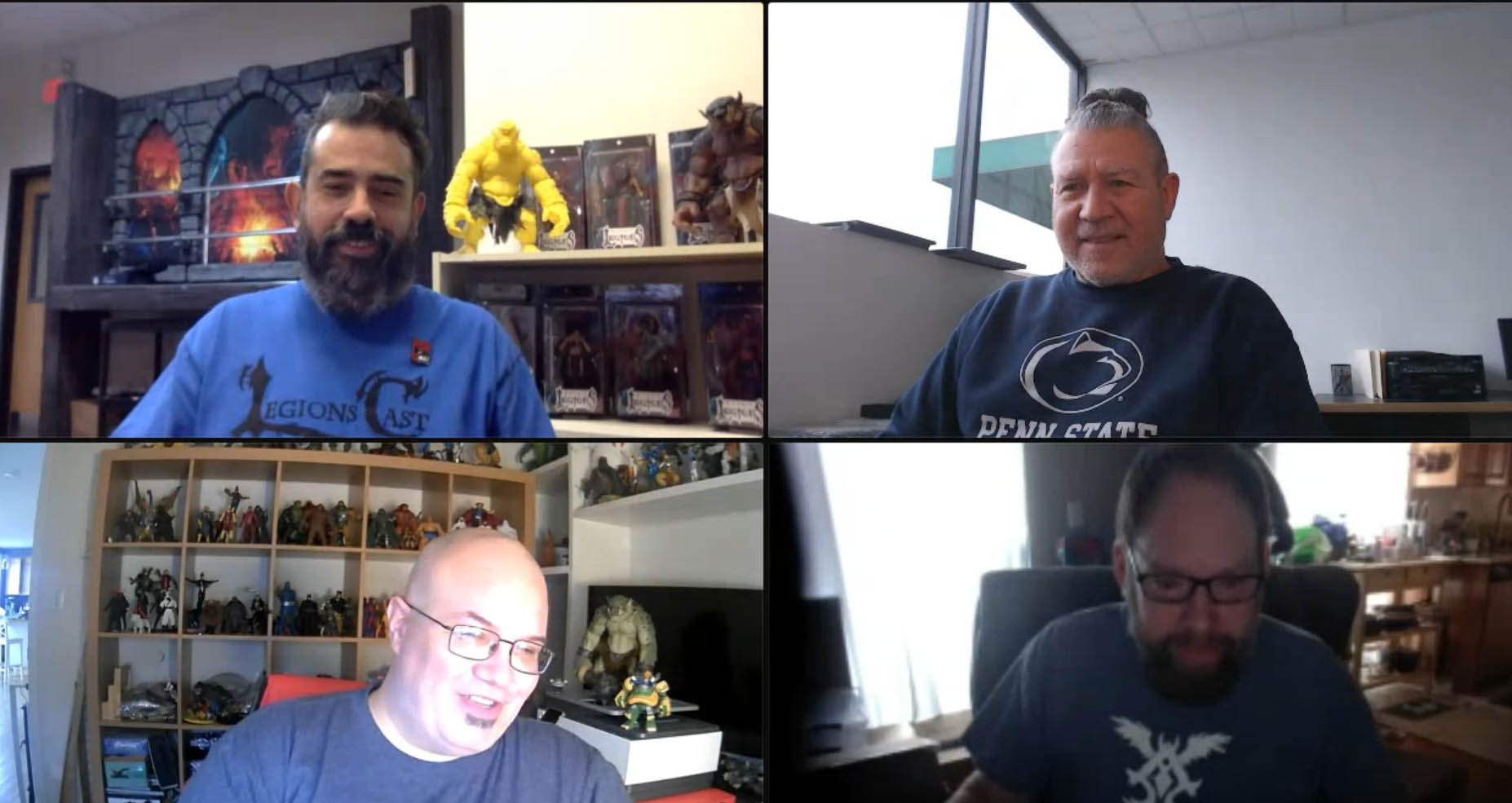 G-con 2021: Poxxus
As much as we enjoyed our fully virtual event in 2020, we are incredibly excited to get back to normal and back to welcoming guests to Four Horsemen Studios! We are also thrilled to be paired up again this year with LegionsCon - and to make the week even more awesome, we will also be inviting some "Interns" into the studio for a very special "Intern for a Day" event. Needless to say, 2021 is shaping up to be the biggest year yet for G-con and Mythic Weekend!
As part of this year's events, we recently announced the full schedule for the week! In that announcement we also unveiled the name of this year's event, which didn't come as much of a surprise to many Legions fans who had deduced that this year's Horseman would be none other than Poxxus!
To see the full schedule for this year, visit this link. Whether you will only be joining us online, or if you will be traveling to New Jersey for the in-person festivities, we are excited to share some cool stuff with you this coming weekend as part of Mythic Weekend 2021. The only question now is how we plan to top it for 2022!
You can view this year's G-con broadcast right here.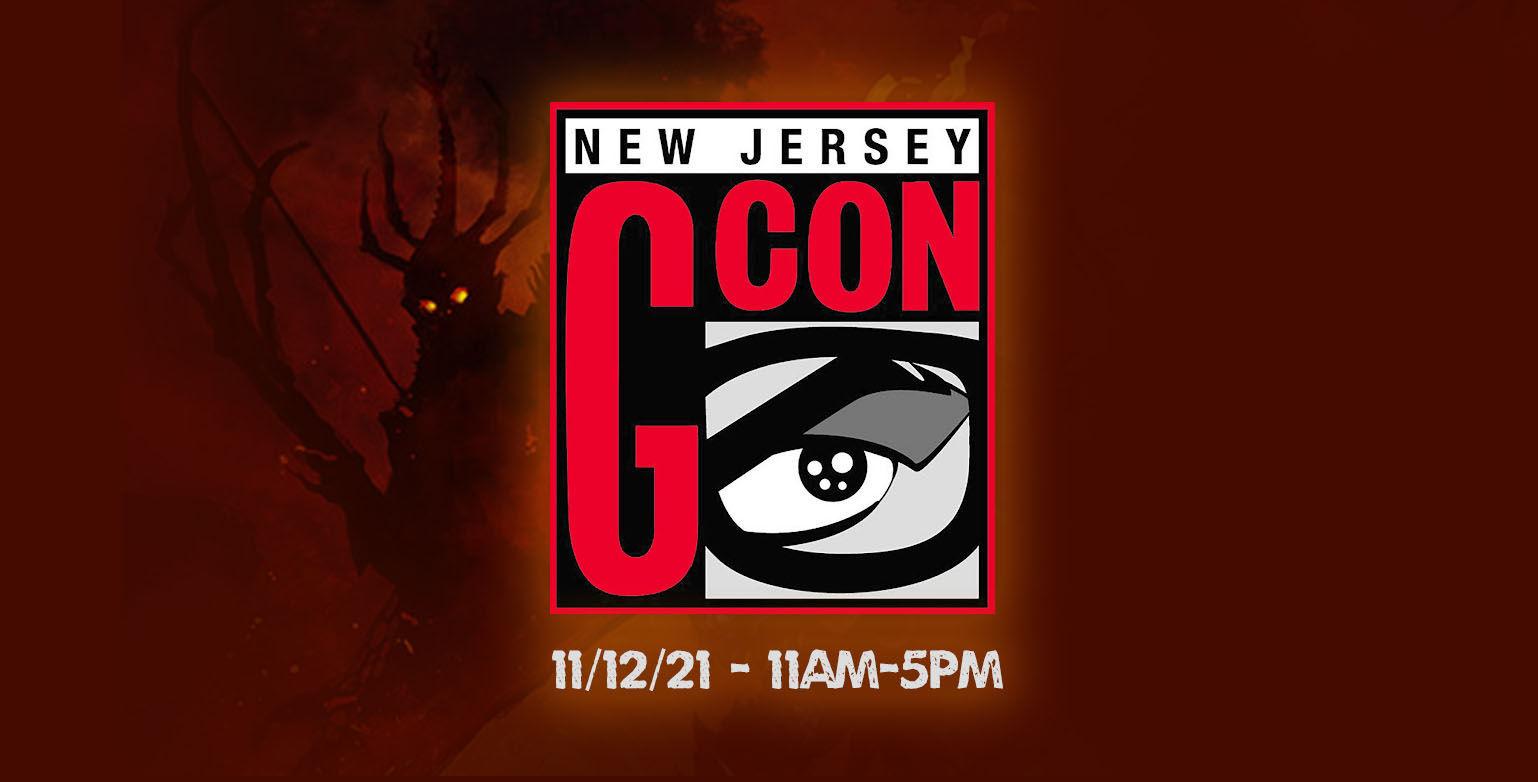 Published on 11.09.21