If you know anything about Four Horsemen Studios, you know that the current co-owners of the company met during their groundbreaking run together at McFarlane Toys. What you may not know is that for Eric Treadaway, this was his first job in the toy industry, and the very first toy of his to hit store shelves was the "bendy Violator" from Spawn: Series 1.
A Call from Todd
Eric Treadaway was actually still in college when he first began working with McFarlane Toys, which was actually named "Todd Toys" back then. Eric had done some sculpture work which came to the attention of Todd McFarlane. This was 1993, and Todd was the biggest name in comics at that time, but he was just getting his toy company started and he was looking for talent. Having seen Eric's work, he put in a personal call to Eric to see if he would be interested in doing some sculpting for the fledgling toy company.
A big comics fan, Eric explained how surreal it was to come home from his college classes to have his parents tell him that "someone named Todd McFarlane called for you about a job." After a call with one of his comic heroes, Eric was offered a job at McFarlane Toys – as long as he agreed to finish school (something which his parents were quite happy was part of the deal).
Eric's First Toy
While he wouldn't begin working full time at McFarlane Toys right away, Eric did have a hand in the first wave of figures from the company. In fact, Eric was tasked with designing the first figure of Spawn's most iconic enemy, the Violator!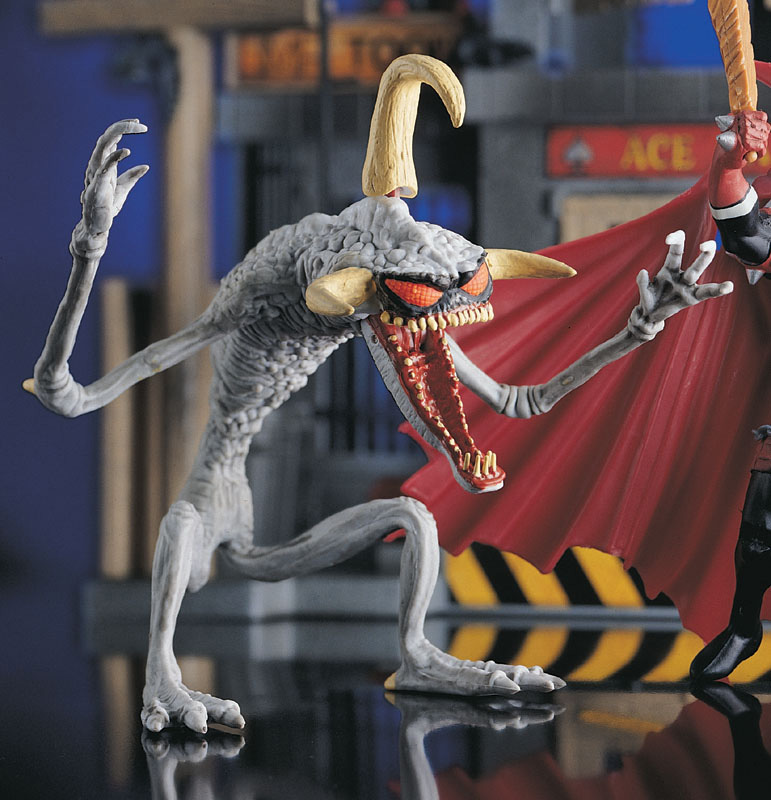 While those early Spawn figures, including Eric's "bendy Violator", as he came to be known, look dated by today's standards, they were a radically new kind of toy back in 1994 when they first his toy stores' shelves. Not only would this toy line, and the work that Eric and the rest of the Horsemen did on it, change the toy industry, but it would set the stage for so many of the incredible figures that toy fans have been able to add to our collections for well over 2 decades – and to think it all began with a bendy figure of a bloodthirsty demon.
Note: Image courtesy of McFarlane Toys
Published on 04.03.20