Believe it or not, but if it wasn't for this avian warrior and his feathered cohorts, we may never have gotten the Mythic Legions figures we all know and love.
Years before the first wave of Mythic Legions figures hit collectors' hands, Four Horsemen Studios released a number of figures as part of our "Fantastic Exclusive" banner. Started in 2005, this process allowed fans of the studio to vote on every aspect of a figure's creation, starting with the property, then onto the character, and finally to scale, articulation, accessories, and more! This process gave fans a variety of figures from the Seventh Kingdom line, and later from Gothitropolis, which is where Decimus Hrabban, the black raven, came from.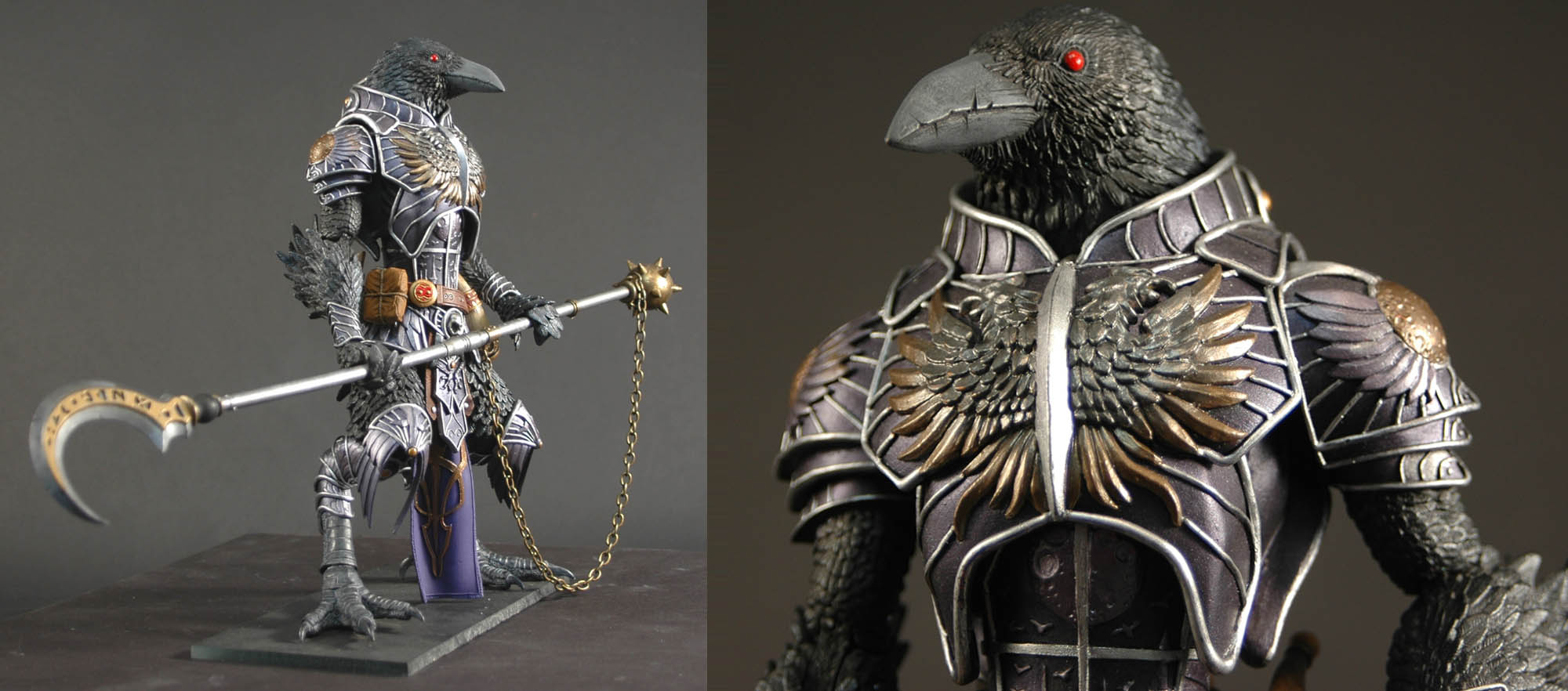 Decimus won the fourth "Fantastic" vote, but the studio hit a roadblock when it came time to produce this figure. Manufacturing costs had been steadily increasing in the years since the first Fan Exclusive figure had been created. The cost of tooling (creating the steel molds used in China to produce the figures) had doubled in that time, and the cost of creating a figure had nearly quadrupled. When the studio received the price quote from the factory, we knew we could not produce Decimus as planned, and the project laid dormant for a number of years.
Fast forward to 2013 and one of our long-time friends - George Gaspar: owner of "Double G Toys" and the namesake behind the our G-Con online convention - introduced us to the concept of Kickstarter. Fans had really been with Four Horsemen Studios since the very beginning, so we decided to ask for their help in making our black raven figure a reality. In July of 2013 we launched our first every Kickstarter campaign with an initial 6 figure assortment. Over 1500 fans stepped up and pledged their support for this project, allowing us to not only make Decimus and the other 5 figures we had launched with, but we also unlocked stretch goals for 7 more figures, plus multiple sets of wings and accessory packs! To say that we were blown away by the response these figures received would be an understatement – and that response got even bigger once the figures finally shipped out to fans in early 2015. The release of Decimus Hrabban helped introduce Four Horsemen Studios to tons of new collectors, and our experiment on Kickstarter set the stage for the first wave of Mythic Legions toys, which were also funded thanks to fan support via Kickstarter.
It's interesting to look back and realize how much has happened for Four Horsemen Studios in such a short time – and we owe a big part of that success to this guy and the fans who helped us finally get him made!
Here's some photos of Decimus Hrabban, including some shots of the prototype figure, which actually show a slightly different weapon than what the final figures shipped with!
Published on 01.03.20