Awhile back we posted an article looking at a figure which we designed, but unfortunately never had a chance to release – the Vampire Queen from our Gothitropolis property.
Like all of our releases, we also had variants planned for this series. In addition to the main figure of the Queen, we created variants that would use the same body mold, but with new heads, weapons, and paint decos to create all new figures and characters. Like the Queen herself, these figures never saw a release, but those who have been to our studio in New Jersey have seen these for themselves, or at least they've seen the 2-up prototypes of these toys!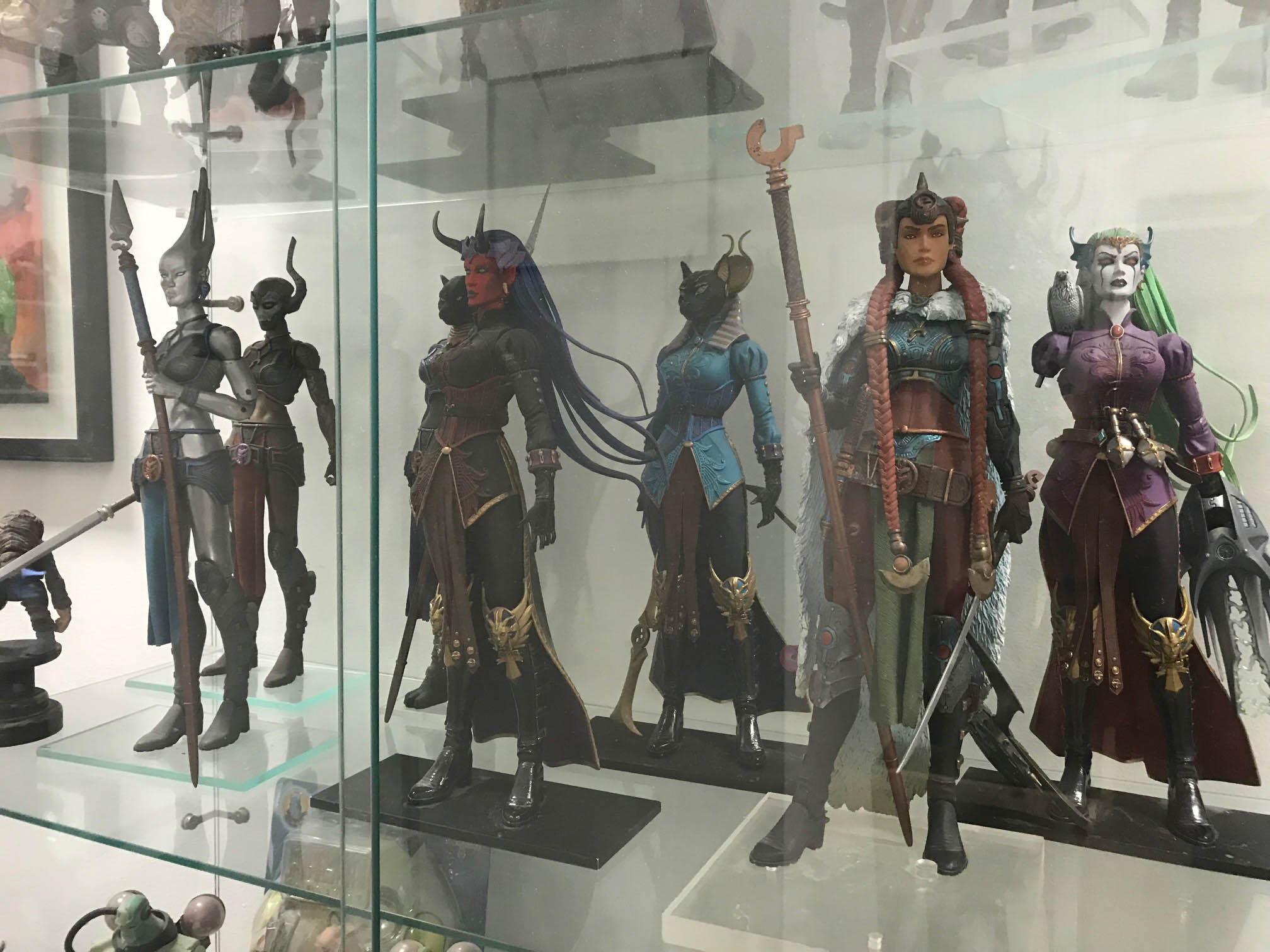 Regarding 2-Ups
Back when we designed these characters, we were still sculpting our figures traditionally rather than digitally like we do today. Part of that sculpting process was creating a "2-up" of the figure. The name comes from the fact that the toy is twice the size as what the intended release will be, so these prototypes are actually nearly 12" tall each!
In addition to these prototypes being on display in our studio, we also brought them to various shows many years ago – so if these toys look familiar to you, and you visited our booth at an event in the past, you may have seen these there.
Companions for Scarabus
A few of the variants we created for this planned series were meant as companion pieces for some of the designs we had done for another Gothitropolis release – Scarabus. One of these new designs featured a silver skull-like face that was very similar to the "Dormant Form Scarabus". There was also a red-skinned demonic variant that would've looked perfect alongside the "Demon Fire Scarabus."
Anthropomorphic Characters
Animal warriors have always been popular sellers for us, and they are something we've included in nearly every series we've done, including in our current Mythic Legions line. That being the case, it should come as no surprise that we created some anthropomorphic characters for the Vampire Queen variants. These included two characters with cat heads, one with a cow's head, and even one with the head of a snake!
Looking Back and Moving Forward
While it is always fun to look back at the figures and lines we've created in the past – or in this case figures which were prototyped but never released, but as we've said in previous articles for Gothitropolis characters, we have no plans to go back and revisit these toys for future release. Still, many of the themes and ideas we explored during these old lines are ones we may touch upon again in our Legions lines!
Published on 11.10.20