When Four Horsemen Studios first began offering our own action figures, long before the debut of Mythic Legions, we did so using a format we called "FANtastic Exclusive Voting".
Through this process, we allowed our fans to vote on every aspect of a figure's creation - from the property it would come from, to the character we would make, to individual aspects on the final toy - including size, articulation, and weapons. Our early figures from Seventh Kingdom and Gothitropolis were developed through this process, and Mythic Legions was almost the next line to receive the full FANEx treatment! This "Blast from the Past" article takes a look back to early plans for Mythic Legions and how the line could've been very different from what eventually launched in our first Kickstarter campaign.
Toypocalypse 2014
At our Toypocalypse event in 2014, we first showcased a fantasy line we called "Mythic Legions". While the figures that were displayed in a cool diorama battle at that event measured around 8" in height, this was because they were "2-UP" prototypes of what was initially planned to be a 4" line. This scale decision was eventually revisited to make Mythic Legions the 6"-7" scale we have today, but early on these smaller figures were meant to be closer to the Power Lords toys we had released rather than the Seventh Kingdom and Gothitropolis figures that we had started with.
In addition to a change in figure scale, early plans for Mythic Legions had us turning to the FANEx voting system to help us create the characters, and we had a display at Toypocalypse of how this voting may have eventually gone down. Boards showing various "Rounds" of parts were on display, and if you look at the photos of these boards below, you will see that these parts eventually became the library we used for Mythic Legions 1.0 (absent from these early pieces are the bare torso and limbs we used on the Barbarian and the "spikey" armor parts used on the orcs and many other characters since).
Before Our Characters Became Characters
Interestingly, the characters we have come to know from Mythic Legions, like Gorgo Aetherblade, Orn Steelhide, Sir Gideon Heavensbrand, and others, were on display at Toypocalypse, but they really weren't those characters just yet. According to a press release we sent shortly after Toypocalpypse:
"The fully painted Mythic Legions figures that were shown at Toypocalypse 4: FanEXtasy were only possible examples of what can be done with this line and not actual characters (although there seemed to be a few popular ones that may actually become characters)."
So those designs, which eventually did become the characters in our first Kickstarter wave, were really first intended only as examples to inspire fans as part of what we imagined would be a voting process! You can see some photos of the Toypocalypse diorama below. One interesting thing to notice in these pics is that the black and red knight, who would one day become Gorgo Aetherblade, actually had a plastic cape rather than the soft goods one that he eventually shipped with.
The Move to Kickstarter and How FANEx Still Played a Role
Obviously, these early plans for Mythic Legions changed quite a bit between Toypocalypse and the eventual launch of our Kickstarter campaign, but we did not totally abandon the FANEx voting process.
When Mythic Legions 1.0 launched, it did so with an initial offering of 22 figures, one of which was the "FANtastic Exclusive Winner". This figure, which was shown only as a silhouette when the campaign began, was designed through a voting process on the old SourceHorsemen.com message boards – just as we had once intended for the entire line!
Fans voted on the figure's armor and limb choices, the head that would be used, the helmet attachments, the character's weapons, and eventually the paints that he would come with. Our friend and collaborator, Ed Waysek, painted examples of the figures for fans to choose from, with the eventual winner being the red-armored "Blood Knight". This character became Vorgus Vermillius the Blood Armor in the final release of the figure. Below you can see a photo of the paints Ed did as part of this voting process. The eventual winner is displayed alongside some other options that fans considered, including the popular fan-dubbed "Jade Knight", who actually came very close to winning the vote!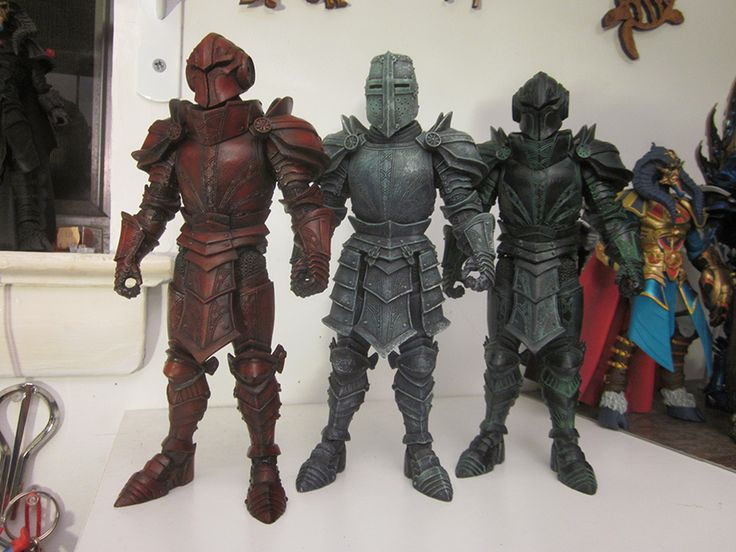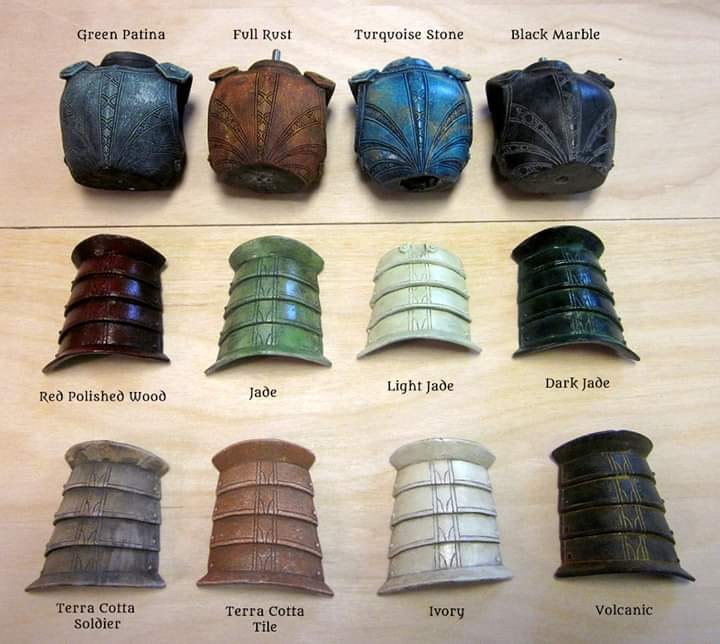 More Fan Feedback
The FANEx voting process would return for the second Mythic Legions Kickstarter and the creation of the Ravaena figure from the Advent of Decay wave.
While there have not been any fan-voted characters created for recent Mythic Legions waves, fan feedback has been an important factor that has helped shape the line as fans choose which characters would appear in both the All-Stars 2 and the upcoming All-Stars 3 wave.
So what does the future hold for Mythic Legions and FANEx? Who knows – but if there are more fan-creating figures in the future, you can hear all about their creation here on SourceHorsemen.com!
Published on 01.24.20