By 2009 we had already released two figure waves from our Seventh Kingdom property. The bovine warrior, Xetheus, and the elephant swordsman, Ramathorr, had won our first and second FANtastic Exclusive votes and were the first two original figures Four Horsemen Studios produced. While our third voting process would be won by Scarabus from the Gothitropolis line, we decided to first move forward with a character we had already developed as part the lore around the Seventh Kingdom property – Queen Alluxandra.

The Seventh Kingdom
As we develop an idea for a property, the studio discusses lots of ideas and produces sketches of different characters, weapons, accessories, and other items relevant to the potential toys that we would perhaps produce. As such, back when we were developing ideas for Seventh Kingdom, we created a number of characters beyond the handful we had released to fans. Queen Alluxandra was one of those characters we had created during the development stages for Seventh Kingdom.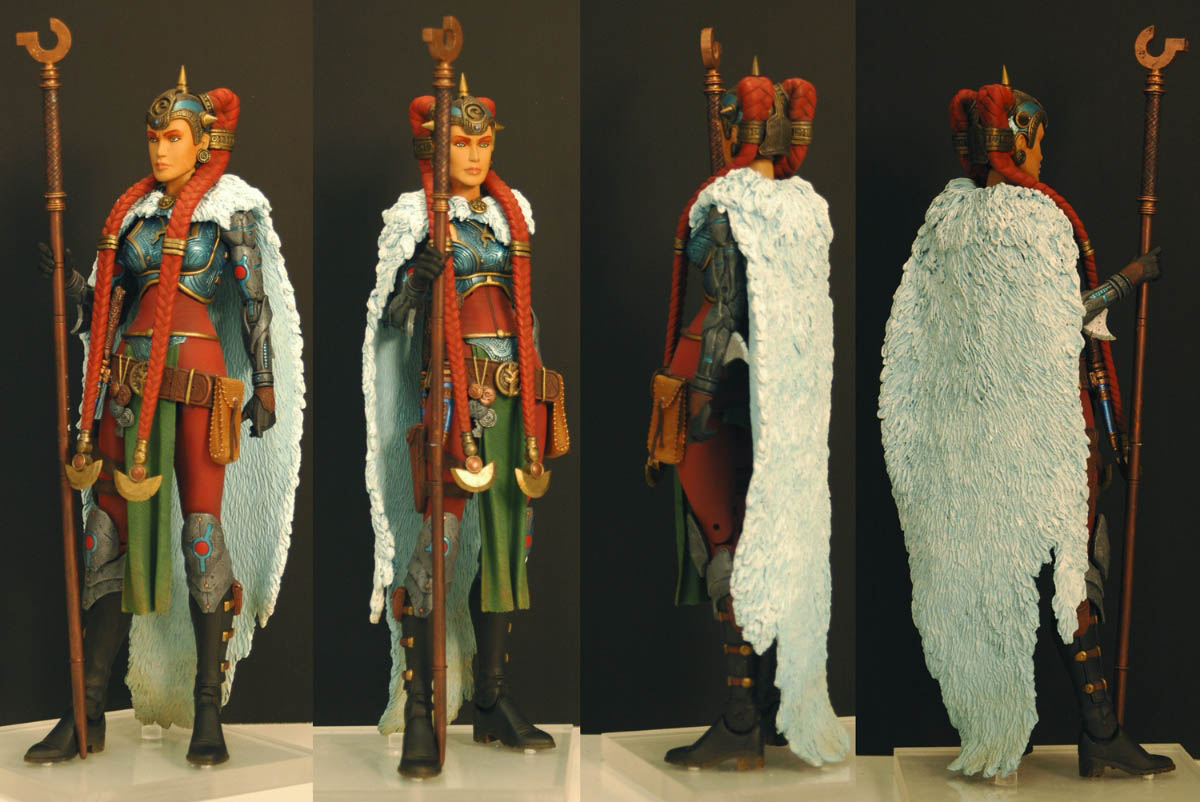 While we've had a hand in making many female action figures for other company's toy lines, we had yet to release an original female action figure of our own at this point, so we were excited for that challenge. Additionally, the smaller, more slender nature of these figures would allow us to get them produced a little easier than some of our previous releases, specifically the gigantic Anitherian Nine series, which were very large and heavy toys! Shifting our production plans, we moved Queen Alluxandra to the front of the line – but first we had to create some company for the Queen.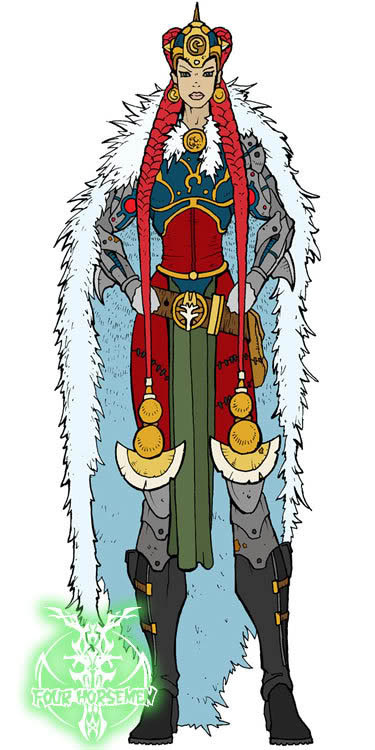 The Queen's Council
One constant through all our company's releases has been our approach of maximizing parts usage whenever possible and creating new characters and toys based off a single base body. We had done this with Xetheus and Ramathorr, and we continued the trend with Queen Alluxandra. We also continued to use the sales model from those first few figures by offering a number of variant figures as retailer exclusives, while also allowing fans to pick up the entire wave directly from StoreHorsemen.com. For this wave, which we dubbed "The Queen's Council", we created the heroic Queen Alluxandra of the Bluddmane Clan figure along with the evil Isaddora of the Ironspyne Clan. Both of those figures were available directly from the studio along with the mutant variant Siliskk. Other variants in the "Queen's Council" wave included two other mutants and 6 uniquely painted feline females for a total of 11 characters in the set. Look for future articles on these variant figures.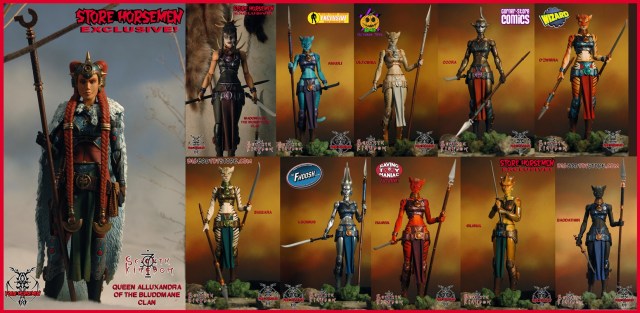 Swimsuit Alluxandra
In addition to the aforementioned variant characters, we also did a variant for the core Alluxandra figure, bringing the total number of figures from this wave to 12. Dubbed "Swimsuit Alluxandra", this version replaced her white fur cape with a more golden one and her midsection and legs were painted in flesh tones, perhaps preparing her for the warmer summer months in the Seventh Kingdom. This figure was also available directly from StoreHorsemen.com and the variant has become one of the most sought after from this long sold out wave (more on that in a moment).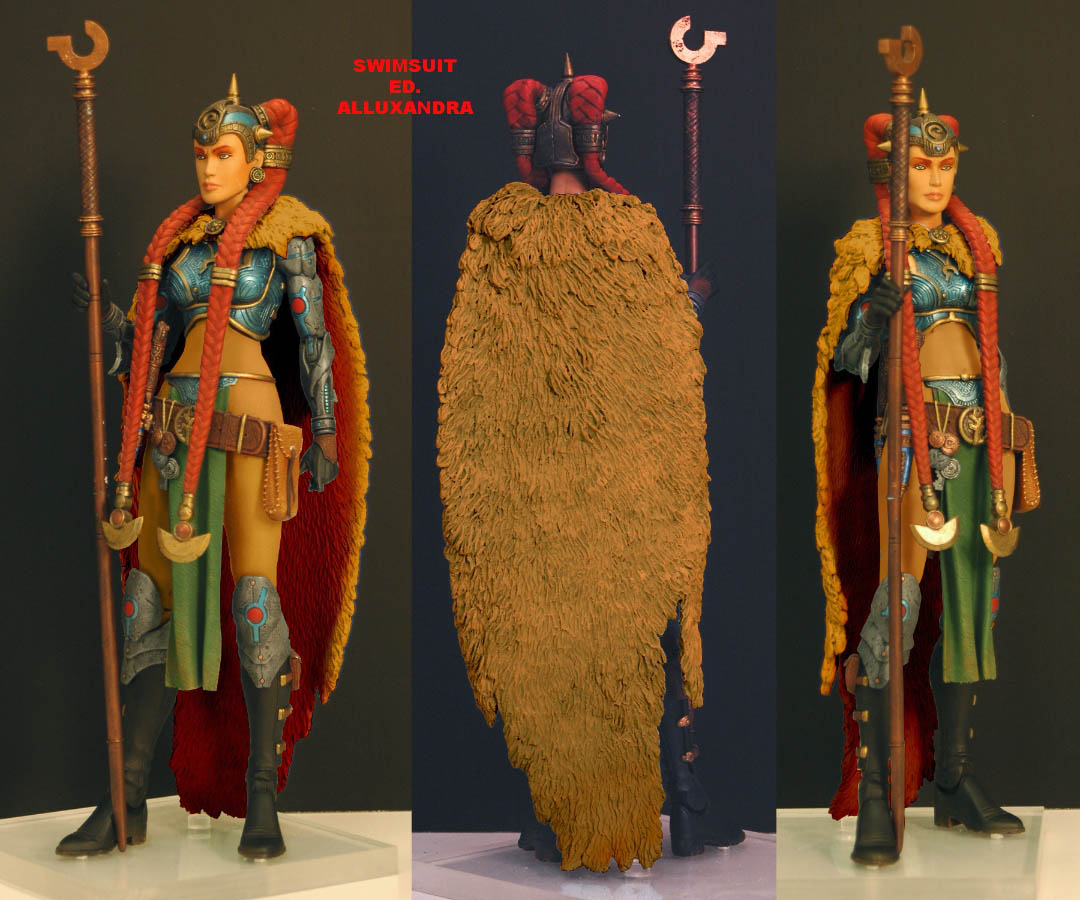 The photos below comes courtesy of studio archivist, Joshua Van Pelt, showing some paint samples of the Swimsuit Alluxandra as we were finalizing the colors on this variant.

Sales of the Council and Availability Today
While the figures from the Queen's Council series were very well received by fans of our studio, they did not sell as quickly as our previous releases did. We actually still had Alluxandra and Isadorra figures available for sale for years after they were initially released. Interestingly, as the popularity of Mythic Legions made more and more fans aware of our original work, interest in all our older lines, including the Queen's Council, grew. This was especially true in the time before the Advent of Decay wave shipped, since prior to that series there were no female characters in the Mythic Legions line. The Queen's Council figures served as a nice fill-in during that time, and we saw many people display Alluxandra alongside Attlus the Conqueror or Isadorra beside Gorgo Aetherblade! Because of this renewed interest, aftermarket prices on these Seventh Kingdom figures began to rise, and since these toys were produced in very small numbers to begin with, their availability became even scarcer.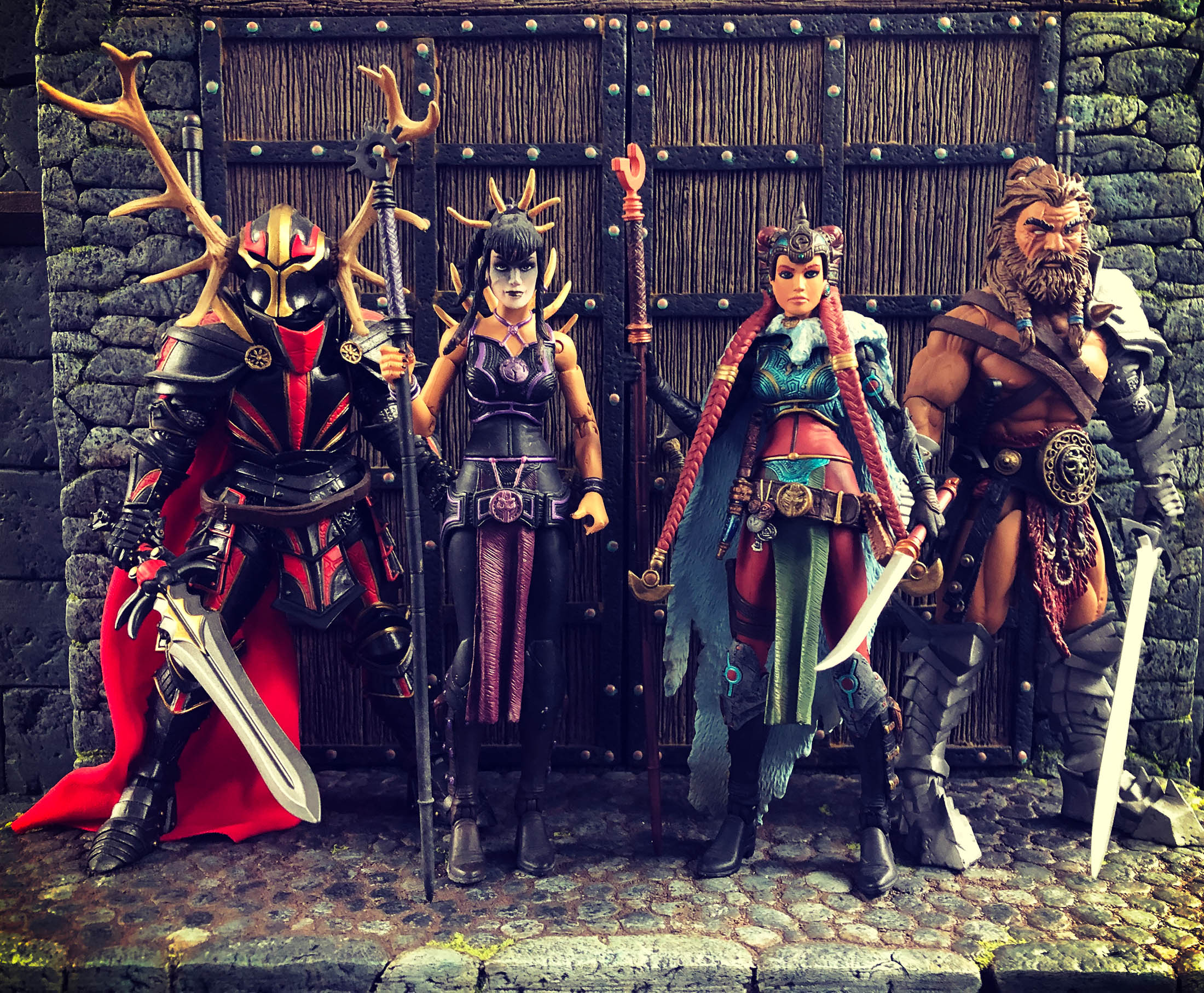 Today, these toys command significant prices on the secondary market, especially if they are still in their packages. While we do not have any plans to revisit any of these characters in the future, and the molds for the original toys are long gone, Four Horsemen Studios continues to create other female warriors to help you populate your version of Mythoss. The Queen's Council remains an important part of our company's history, helping up get to where we are today!
We will leave you with a wonderful piece of art from the amazing Nate Baertsch. This depiction of Alluxandra and some her her Council built off of the original Seventh Kingdom art Nate did for us for the Ramathorr figure, showing some of the earliest collaborations our studio had with Nate!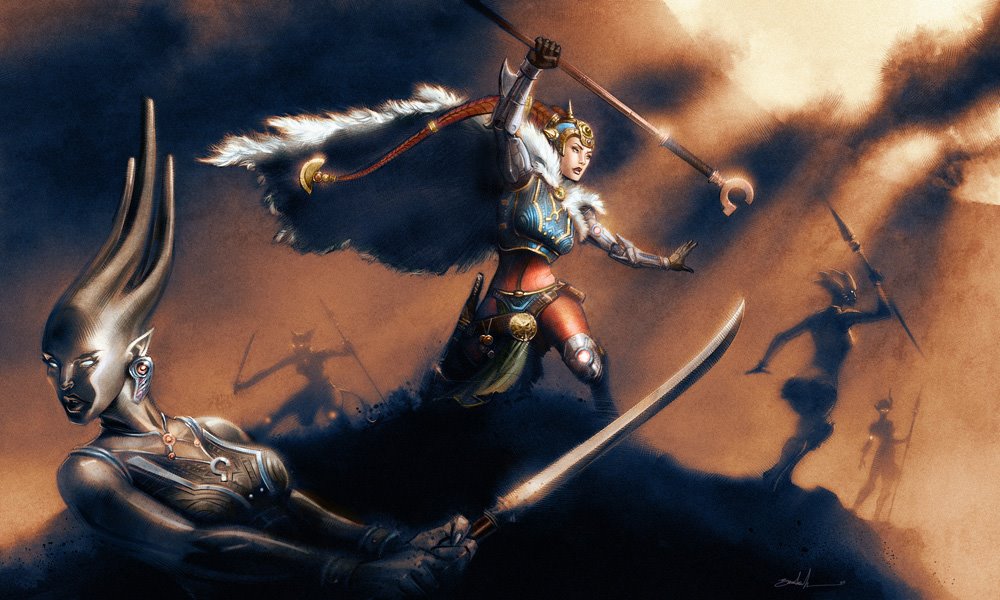 Published on 05.22.20