By 1997, McFarlane Toys was the dominant player in the "collectible action figures" market. Tapping into popular comics like Youngblood, Wetworks, the Maxx, and of course the company's flagship Spawn character, McFarlane Toys had absolutely changed the way that companies created action figures.
While comic-based properties fueled the company's early releases, as McFarlane Toys grew they began to look to other sources for their action figures, from movies to music to in-house properties that were the brainchild of these toys' creators, including the team known as the Four Horsemen. One of the in-house lines that this team helped to create was known as Total Chaos.
Introducing Total Chaos
Offered as a line of toys with no entertainment property behind them, Total Chaos was an opportunity for these creators to go wild and design some crazy characters and some cool toys. Series 1 of Total Chaos was released in 1996, followed by a second series in 1997. It was in that second series that the figure featured in this article was released – the cybernetic warrior known as Cornboy!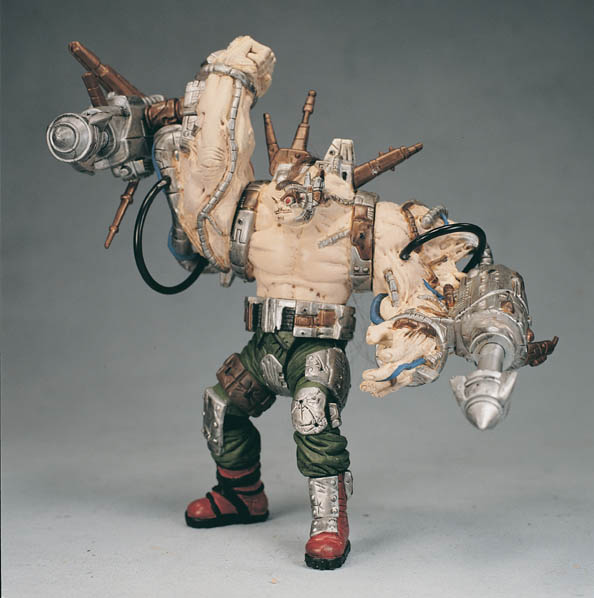 Immortalized in Plastic
The members of Four Horsemen Studios have actually snuck their likenesses into a number of action figures over the years (look for an article on that down the road), but the Cornboy figure remains the only figure that bears not only the likeness, but also the name of a Horseman! Of course, the toy's creators took some liberties with Cornboy's "likeness", turning him into a hulking cyborg with cannons grafted to his arms, as well as a cybernetic eye. They did include a nice ponytail on the figure, which harkens back to a time when Cornboy actually had long hair. In fact, the prototype figure of Cornboy that you see in all the product photos of this toy used actual strands of Cornboy's hair!
Get Your Own Cornboy!
If you want to add a little cyber-Cornboy to your collection, perhaps to display alongside the upcoming Legions line, then you can still find this figure and the rest of the Total Chaos line at toy shows, on eBay, and in figure bins at comic and toy shops. You can even take a page out of the "Elf on the Shelf" playbook and randomly add the Cornboy figure to different shelves in your toy display for a fun little game of "Cornboy in the Collection".
Published on 05.05.20