As part of our Gothitropolis property, the diminutive Time Keeper figures were developed as companions to the evil Scarabus figures. In fact, if you have Scarabus or any of his variants, you will have noticed that those toys came with a few accessories that did not go directly on Scarabus himself. This is because these pieces were actually add-ons for the Time Keepers.
The initial 2008 release of the Time Keepers consisted of three characters:
The blue and white Nybbas, the Harbinger of Hallucinations
The red and black Baraeth, the Messenger of Malice
The red and gold Aestorath, the Emissary of Avarice
Each of the Time Keepers featured a unique head sculpture and ankle wings, and they all came with their "Chrono-hammer" weapons. You can see prototype pictures of these 3 figures below.
The First Gothitropolis Figures
The Time Keepers were actually released before Scarabus. Their smaller stature and limited articulation allowed the studio to get them out more quickly than their "master" Scarabus. This set was intended as an early entry into the Gothitropolis property and something to tide over fans as we finalized the more complex tooling on Scarabus. Below are some prototype pictures of these figures, including the extra accessories that eventually came with Scarabus and a purple-colored Time Keeper variant that was never released (more on that in a moment).
Additional Time Keepers
While the initial reaction to the Time Keepers was positive, the figures did not sell as quickly as some of our previous releases and the studio actually still had these figures available for sale years after their initial release. Fans of our work who have tried to locate one of these now-sold-out figures may be surprised to learn that while they are hard to find today, there was a time when we were selling them by the case on StoreHorsemen.com!
At one point, we actually had plans to release additional variant colors of the Time Keepers, but those initials sales, as well as new projects like the release of Scarabus, caused us to shelf those plans. There are, however, a few examples of what could've been in some Time Keeper 2-UP figures that are still on display today in our studio! The photo below shows the unreleased Time Keepers. It is also a great example of just how much bigger a 2-UP actually is, as you can see these giant Time Keepers next to the boxed versions of the figures that eventually were released.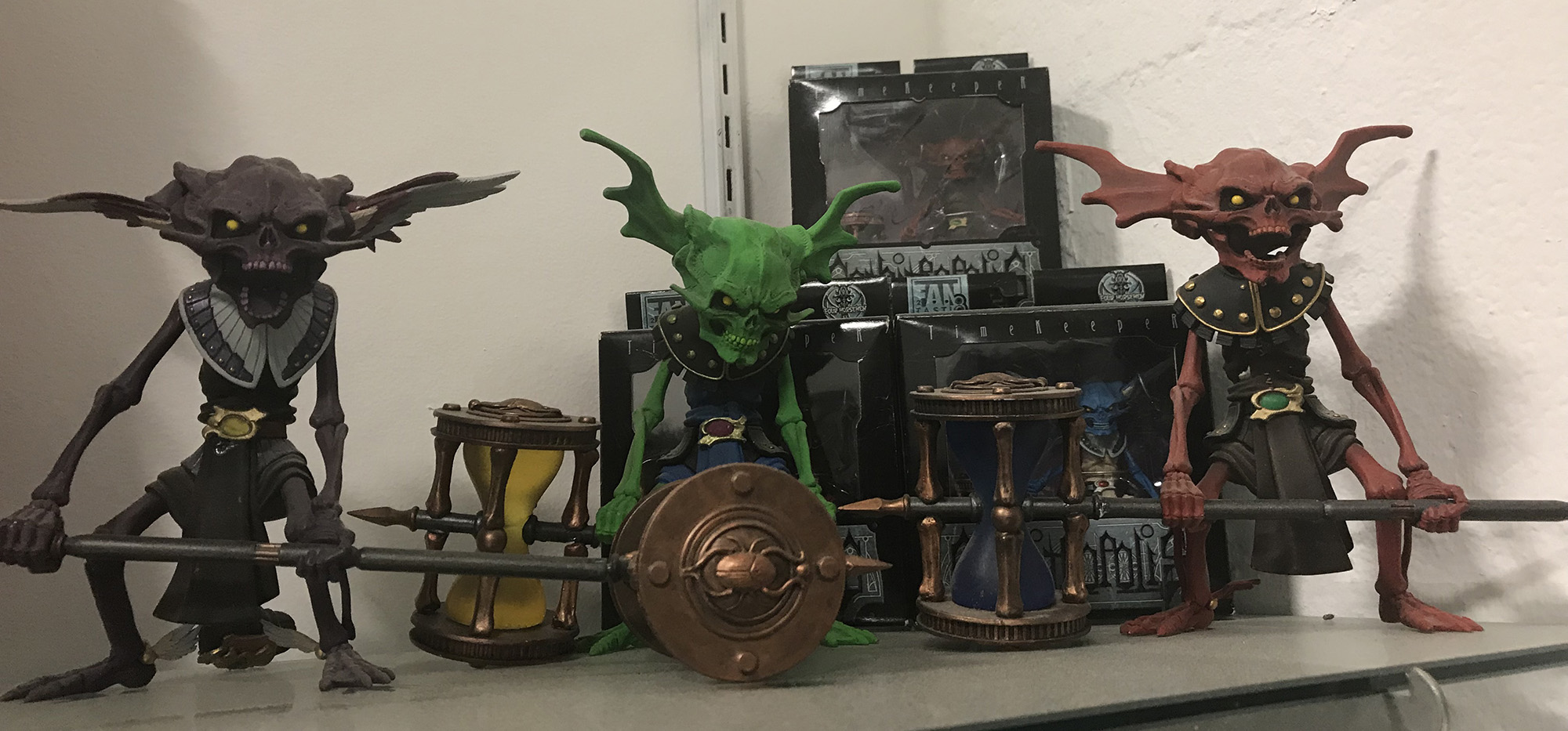 Published on 03.03.20