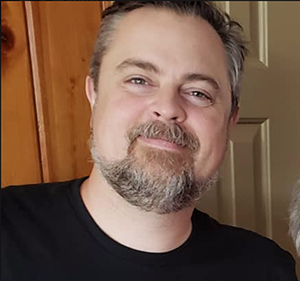 Introduce yourself and let readers know where they can see your work.
Hello! My name is Andy Spinks. I live in Alabama with my wife, daughter, and newborn son. When I'm not being a corporate drone I love to collect and customize action figures. You can see my work in the Mythic Legions Cabal Facebook group and on Instagram @mkultracustoms
How long have you been customizing action figures?
I think I got started 12 or 13 years making custom Green Lantern customs. I wanted more figures than were available at retail. Customs were way too expensive on eBay, so I started making my own. Since then I have worked extensively with Masters of the Universe Classics and 3.75-inch Star Wars/sci-fi/fantasy figures. These days I am focusing on Mythic Legions.
What got you into Mythic Legions?
I was big into customizing MOTCU figures when I heard about Mythic Legions. I loved the sculptures by The Four Horsemen, paint applications, accessories, and characters. But since MOTUC was my main hobby, I decided to only get the skeletons and a few bad guys in the first Kickstarter. If only I could go back in time! I got more interested when I saw so many amazing pictures and customs online. Now I'm all in!
Do you have what you would call a signature custom, or any favorite customs you have done?
Some of my favorites are the dwarf I painted in Thor colors (Thorodin Hammerslinger), Red Sonja, and the Goblin Wizard.
What are your favorite kinds of Mythic Legions customs to do?
I really love the Mythic Legions Goblins! Though I have sold some, I still have more than 20 in my collection with more planned. You can see some here for the first time: Snayr the frost goblin and Glokfig with the four skulls on his armor. Thanks to the many wonderful 3D printed heads I think my next favorite will be dwarves!
Do you have any "wish list" character types or races that you would like to see from Mythic Legions, and which you would love to be able to work with as a customizer?
I would like to see a few Gandalf-style wizards. Those would be fun to customize.
What kinds of tools do you use your customs work, including paints and brushes?
I mainly use Testors Model Master Acrylic paints. I love Vallejo for metallics and Citadel for those unique colors that really pop. I'm also starting to use Formula P3 and Turbo Dork. I use a wide variety of brushes – everything from the cheap 6-packs at Hobby Lobby to fine specialty brushes. I always use X-ACTO knives, sandpaper, a Craftsman drill, and Krazy glue. I'm pretty low tech!
What would people be surprised to learn about your customizing or collecting hobby?
I'm a huge Hulk fan. I think I have almost every Hulk action figure ever made. I collect other lines like Marvel Legends, Star Wars, and anything Cthulhu. I'm also a sucker for vintage 3.75 lines like Dragon Riders of the Styx and Adventure People.
Any tips or suggestions for Mythic fans looking to start customizing?
I'd start by doing something simple with an affordable figure, like a part swap or simple repaint. Remember – use acrylic paint, not enamel! Watch some of the many great videos on YouTube like Jeremy Girard's Mythic Conversations. Check out some customizers on Instagram. I can't name them all, but some great ones are @cityofgreyharbor @3rdearthcustoms @nikkinikole_customs and @inccu7311. Follow some tags on Instagram like #mythiclegions and #mythiclegionscustom. Lastly – Don't be afraid to ask! I learned many new tricks from both masters and novices. Most people in the Mythic Legions community are happy to help.
Final question – who is your favorite non-customized Mythic Legions figure?
My all-time favorite is the Barbarian Builder!
Published on 12.01.20