If you follow Mythic Legions postings on Instagram and over at the Mythic Legions Cabal Facebook group, you have undoubtedly seen the amazing work of Dean Wright. Combining some epic, custom-made dioramas with wonderful photography, Dean's shots really capture the dynamic qualities of these toys in a way that few others have done! For this "Customizing Corner" article, we decided to connect with Dean to learn a little bit more about his incredible creations.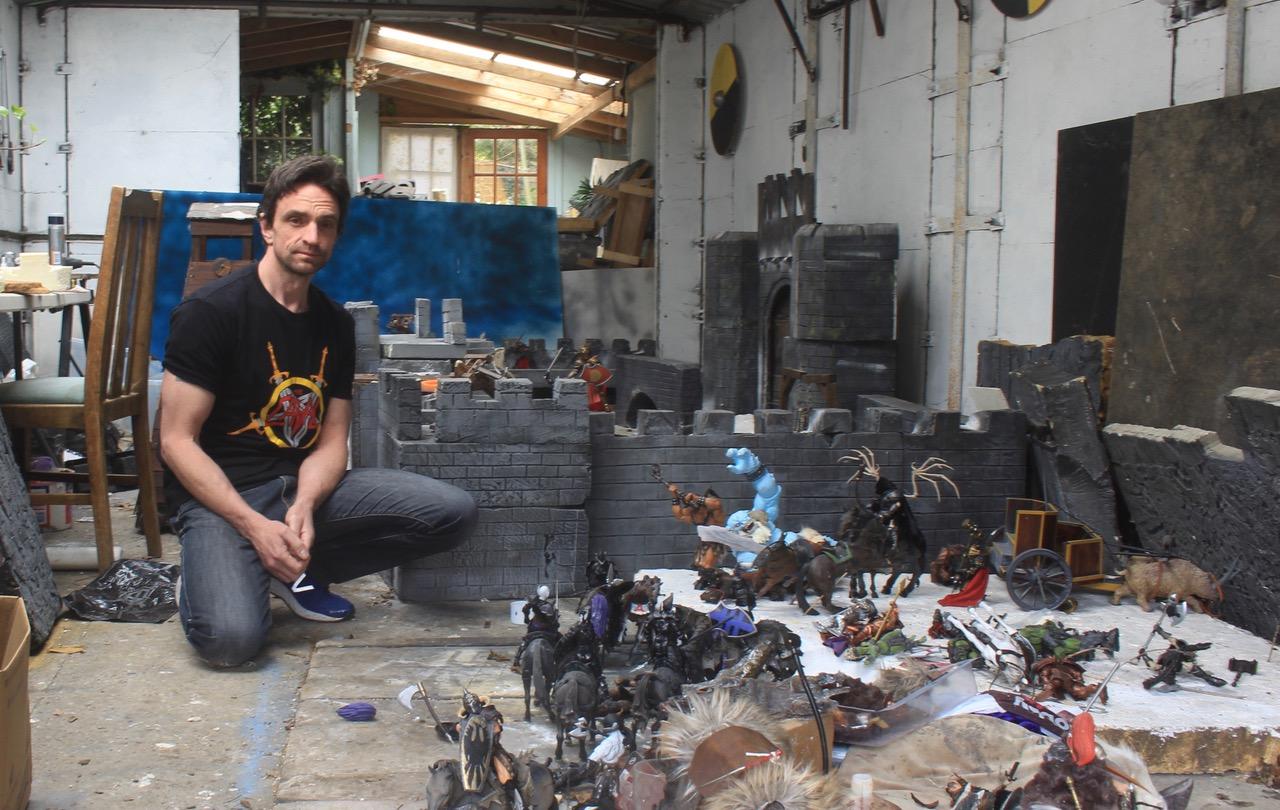 Introduce yourself and let readers know where they can see your work.
Hi guys, my name is Dean Wright. I'm from the UK and work as firefighter by trade, but I'm a Mythic Legions collector and diorama builder as my hobby. I post my work on my Instagram account @geek.turtle and some in Mythic Legions Cabal too.
How long have you been making dioramas?
I've been making dioramas pretty much since I started collecting action figures again back in the late 90s. I felt the need to see the figures I collect in cool surroundings or at least try to!
What got you into Mythic Legions?
I'm fairly new to Mythic Legions, only been collecting them a couple of years. I suffered a heart attack and cardiac arrest at a large fire back on New Years Eve 2017 and while I was recovering I stumbled across the pre-order for the Skeleton Legion Builders whilst browsing online and thought "I must have them". So I ordered them then followed the 4HM site for other available figures and pretty much went from there.
Do you have a favorite dio you have done?
I guess my favourite dio I've made is the castle, it took about a month or so and I just kept adding to it. Although the original piece was the gate for Helms Deep, which I made for the original LotR Toy Biz figures back in 2008, I just added a keep and the outer walls, stairs, prison and execution platform. I got a bit carried away, lol.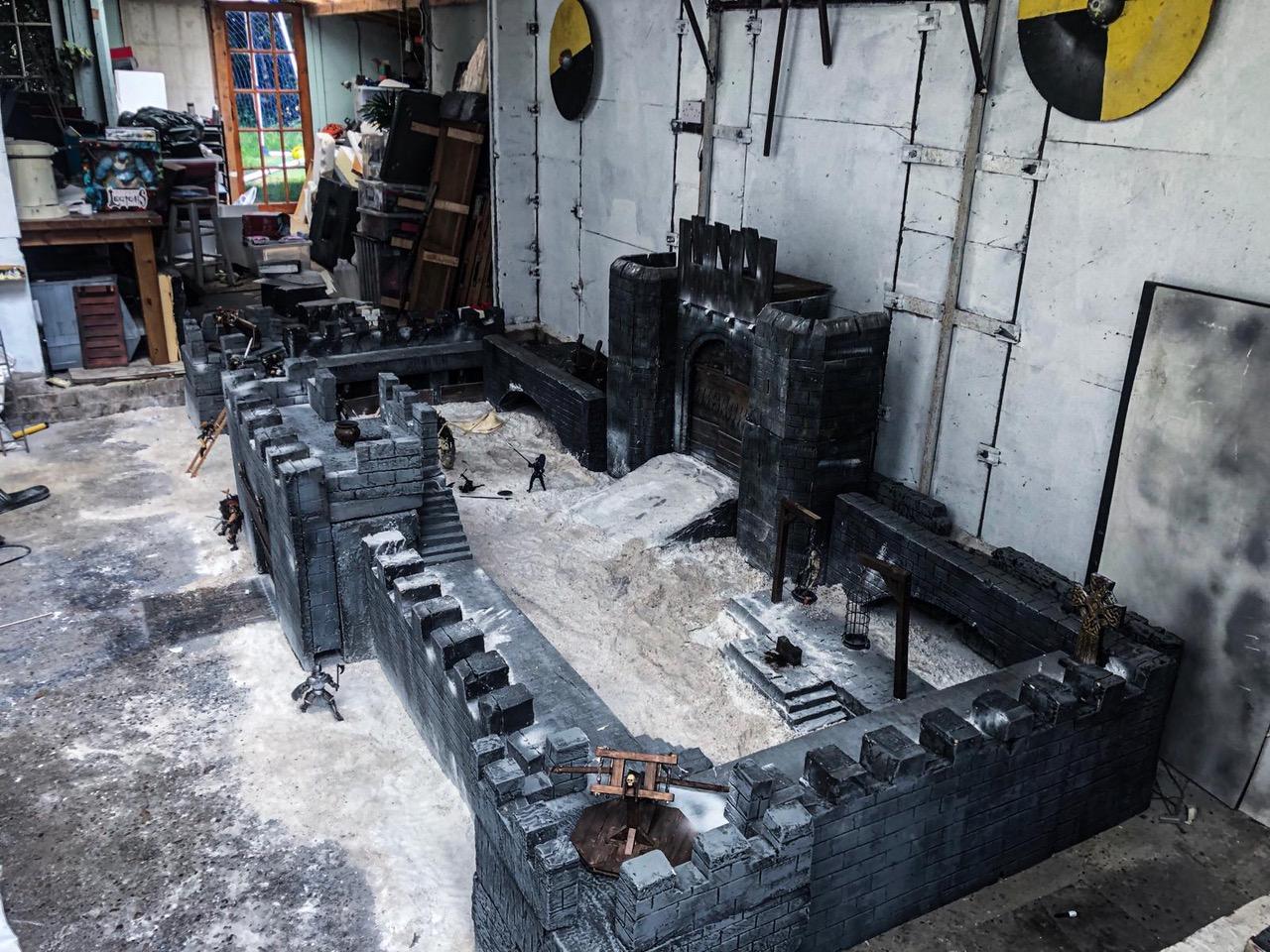 Take us through the process of how you make your dios, including which tools you use and how you create these amazing pieces?
I pretty much make all my dioramas out of simple insulation board. It's easy to cut and shape and you can, with a little patience, create effective scenery for your figures without having to be a master craftsman. I usually use a basic wood saw and modelling knife to cut out the desired shape, and use plenty of glue and wooden kebab sticks to join parts together. To create the brick work effect I usually use anything that can indent the foam like a stick or pencil. Then obviously plenty of paint! If I'm going for a woodland effect I simply cut off some branches and use them to look like trees - very easy! For things like chariots or the siege tower, I've made them pretty much out of wood. I usually reference them from history and fantasy books then try to go for my own version.
In addition to your dios, your photographs are also stunning. Tell us a bit about how you take your Mythic Legions photos.
I've noticed that most action figure photographers have their own style, so its quite easy to pick out a certain artist's pics simply by looking at them. I try to go for a cinematic effect, so I often employ a small smoke machine for atmosphere and use plenty of depth of field techniques to create an atmospheric shot. It's all trial by error and thankfully with a decent digital it's not too difficult to create a decent shot.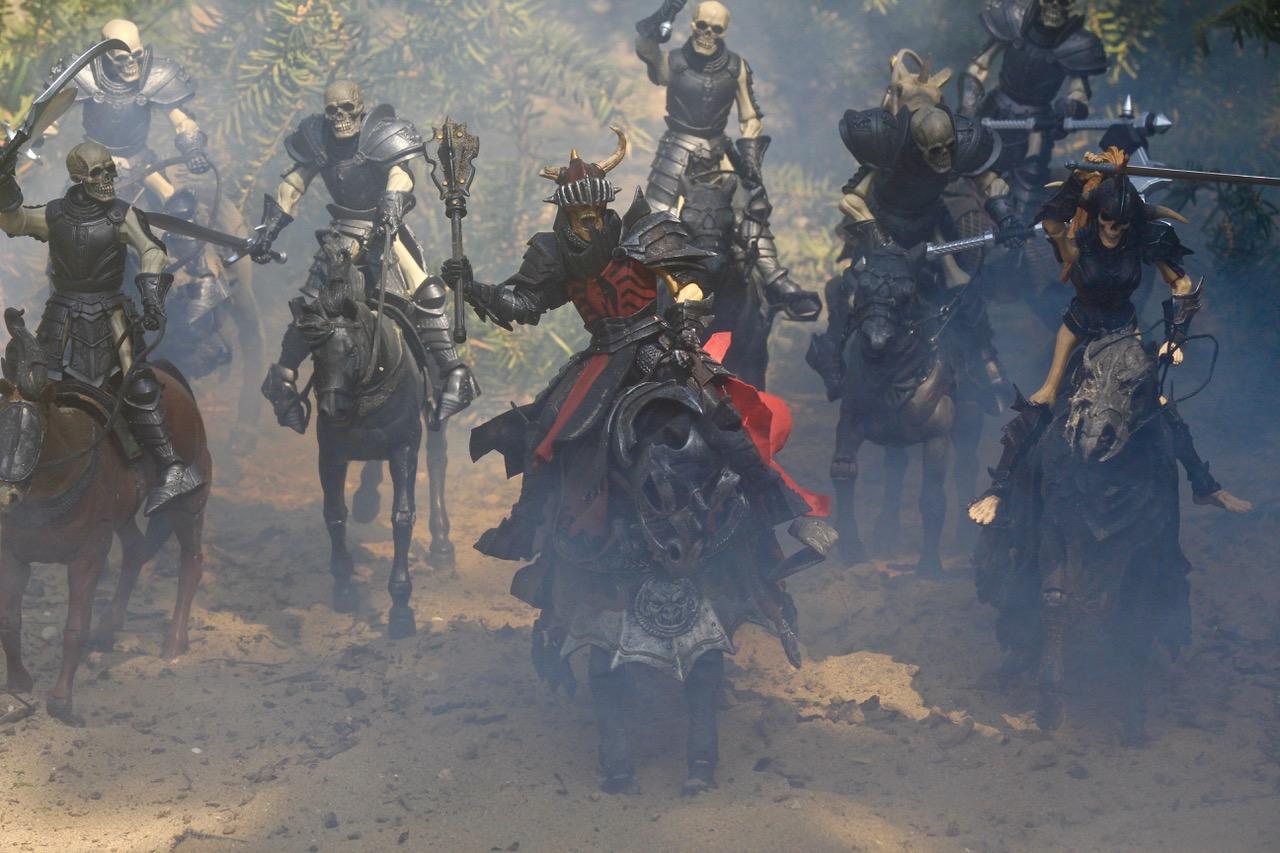 What would people be surprised to learn about your customizing or collecting hobby?
I think the most surprising thing about the stuff I make is that it isn't actually that hard. With a little patience and imagination, pretty much anyone could do the kind of stuff I've done.
Any tips or suggestions for Mythic fans looking to start creating dios?
The best tip I can give is to be get an image in your head of what you want to create - then just do it! Try to get some of the materials I've mentioned and just use trial by error. It really is easier than you think to create a great scene!
What other kinds of figures do you collect outside of Mythic Legions?
Other than collecting Mythic Legions, I do collect Star Wars Black series. I do have quite a few Toy Biz LotR figures and McFarlane Halo figures. I'm also looking forward to the Warhammer Space Marines coming from Bandai and McFarlane. Other than that its just random figures like Three A Judge Dredd and the Neca Predator, Alien, and Gears of War figures…so quite a bit lol.
Final question - who are your favorite Mythic Legions figures?
My favourite Mythic Legions figures are with out a doubt, Baron Volligar, Vorgus, most of the skeletons, and the Templar legion builders.
Published on 04.10.20