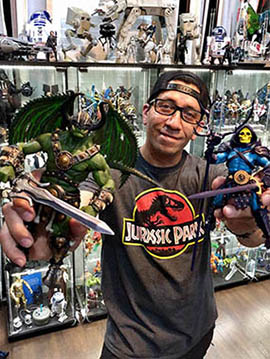 Many of the customizers in the Mythic Legions community have been working with the line since the very beginning - but not all of them. Mythic Legions continues to attract new fans and new customizers with every wave released. Today we have an interview with one of those newer customizers who has already made a sizable impact with his awesome custom creations!
Introduce yourself and let readers know where they can see your work.
Hello my name is Eric Lebron, I'm 47 years old from Southern California. Married with a 15 year old son, and I work as a manager for a local grocery store. All my work can be seen on the Cabal FB page. I do have an Instagram page @ezrider73, which I hope to utilize more frequently sometime.
How long have you been customizing action figures?
This may come as a surprise to some, but I actually did my very first custom piece ever in December of 2019. I'd never tried customizing before, but Mythics has reignited an artist hunger that's been dormant for over 30 years.
What got you into Mythic Legions?
My good friend Andrew Hanzo who I met through another toy group on FB (OpenBoxMafia) had contacted me about attending Power Con 2019 in Anaheim with him. I've always been a Motu fan and had just started attending my very first conventions that year. Some other friends from the same group also contacted me asking if I could pick up the Mythic Legions Con exclusives for them. Since I didn't collect Mythics at the time, I agreed. August 17th, 2019 was the first time I had ever seen or held a Mythics figure in hand. I was literally blown away by how cool these figures were. I had heard of the line and thought it was based off some sort of roll playing game like D&D or Magik which I'm completely ignorant to who the characters are. After reading a few bio cards I realized that this line was tied to nothing at all, and loved the idea that the continuation of the story was really up to the collectors' imagination. I thought that's probably the coolest and most original thing any toy line could ever do! Across from the 4H both was another vendor who was displaying his custom versions of multiple Mythic Legions figures and it was there that a light turned on inside me. I've collected figures for over 30 years and not once had I ever dared to think of changing anything on a figure only to avoid the ridicule from every elitist fanboy who thinks Superman's cape could never be Black, or why would the Incredible Hulk ever be blue??!!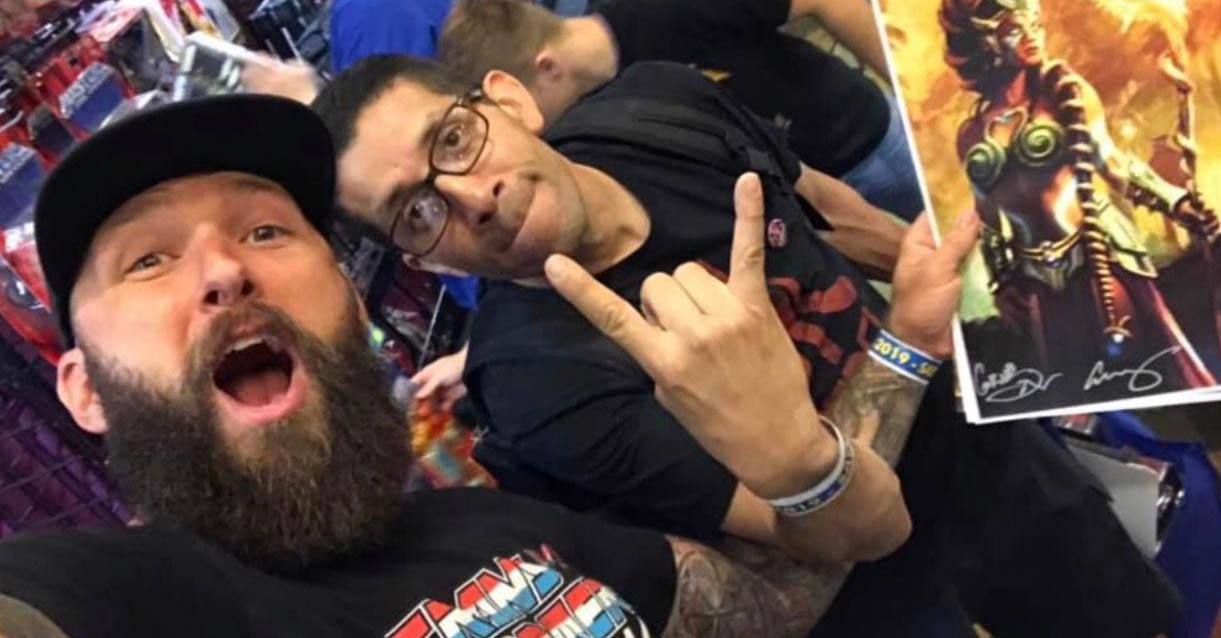 But with this line for the first time in my life, I saw that you could do whatever your imagination wanted and it was not only excepted but encouraged by the fans and the line itself. On that day I hadn't picked up a paint brush since I was 15 years old. Today I currently own over 100 Mythic Legions figures including over 40 custom pieces I have made.
To say this line and the wonderful community surrounding it has changed my collecting life would be an understatement. Thanks to Jeremy Girard, Nikki Nikole Chaney, Dennis Derby, Kang Nguyen, Brian Burke, Dru Grubbs, and so many other amazing artists in this community who have openly shared their talents, recipes, and inspiration with me. The Cabal is by far the most talented and inspirational group I've ever been a part of and all credit goes to Walter Hagen for bringing this community together.
Do you have what you would call a signature custom, or any favorite customs you have done?
I guess the first custom I did which was Bulldaron would be my signature piece..lol
I actually made him as a joke related to a conversation I had with Walter Hagen about what to do with the thousands of back adapter pieces that came with Mythics. Aside from that my favorite customs have definitely been the Shogun/Samurai series I've created utilizing some of Jeremy Girard's recipes.
What are your favorite kinds of Mythic Legions customs to do?
I would particularly say I have a favorite kind but I do have some favorite body types I enjoy more than others. Dwarves and Knight bodies like Bala'm are so great to work with. I wish I could get my hands on tons of these!!
Do you have any "wish list" character types or races that you would like to see from Mythic Legions, and which you would love to be able to work with as a customizer?
I think a faction of Wizards or Dark male and female Sorcerers would be really cool.
I would also love to see more monster type characters that could be utilized as companions or minions.
What kinds of tools do you use your customs work, including paints and brushes?
I use an assortment of brushes but find more than anything the super fine tipped ones are what I go to the most. Citadel paints have changed my life completely, love love love this brand. It doesn't mean as a customizer you can't get some great results from cheaper brands like Craftsmart or Apple Barrel which I have tons of. A healthy supply of sharp Exacto blades, Gorilla brand Super Glue Gel, and a continually growing fodder parts bin.
What would people be surprised to learn about your customizing or collecting hobby?
I guess it would be how virtually new I am to this line and to customizing altogether. Hopefully what I have done can inspire new collectors and artists as those who have inspired me. I'm happy to think that this mark I make may have an impact for years to come on people all over the world. Not many people can say that, and we should all be proud.
Any tips or suggestions for Mythic fans looking to start customizing?
Definitely start by asking tons of questions. Before diving right into and possibly ruining an expensive Mythics figure, start with something less expensive. I've utilized WWE wrestling figures I picked up at 5 Below many times. Start gathering fodder parts even if you don't necessarily know what you're going to use them for, eventually it'll all be useful. Let your imagination run wild and be inspired by other customizers work.
Final question - who is your favorite non-customized Mythic Legions figure?
My favorite non customized character of the entire Mythic Legions line has always been Calavius. It's the helmet and that nostalgic gladiator look. Truly the figure that sold me on this line.
Published on 09.29.20