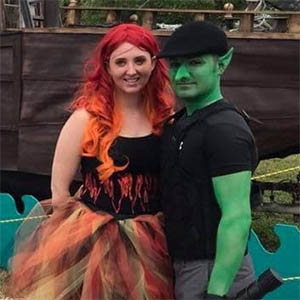 Every Mythic Legions fan has a race or kind of figure that they like best. For some, the undead evil of the skeletons is their favorite. Others like the rugged power of the barbarians. Still others dig the mischievous grins of the goblin armies. For this article's "Featured Fan", Eddie Salvatore III, the choice of favorite type of Mythic Legions has been the same from the start – the dwarves!
We decided to connect with Eddie to learn more about his collection and his obsession with the dwarven warriors of Mythoss!
First off, why the dwarves?
It all started on December 19, 2001. That was the day that The Lord of the Rings: The Fellowship of the Ring debuted in theaters in the United States. I was at the local cinema with my family and I remember watching Gimli, Son of Gloin, in action. Baruk Khazâd! Khazâd ai-mênu! He was absolutely terrific! Short in stature, but mighty in so many more important ways; fierce, loyal, courageous, caring, etc. I learned that night, that this is the way of the dwarf. More of an enlightening moment, I also discovered that this was the way that I would want to live my life. Gimli ignited a spark within me that I would carry for the rest of my days in this world and into the world of Mythic Legions.
How many dwarves do you currently have in your legion?
Including both MOC and opened Mythic Legions dwarf figures, I have a total of 158, and I'm not stopping there!
What initially turned you onto Mythic Legions?
I remember seeing an article posted on The Fwoosh in early 2015 about the 1.0 Kickstarter. As cool as all of the figures were in the Kickstarter, the Bronze Dwarf Legion Builder was the figure that initially grabbed my attention. He was your basic battle dwarf. Nothing too fancy and not necessarily the classy dwarf that you'd bring home to mom, but I envisioned an army of these hardened warriors in battle stance and could not pass them up! After I planned on investing in these Legion Builders, I wanted other dwarves and numerous figures of different races from the line as well. Once I opened up my 1st group of these Four Horsemen figures, I was amazed with how awesome they were and have been collecting Mythic Legions ever since.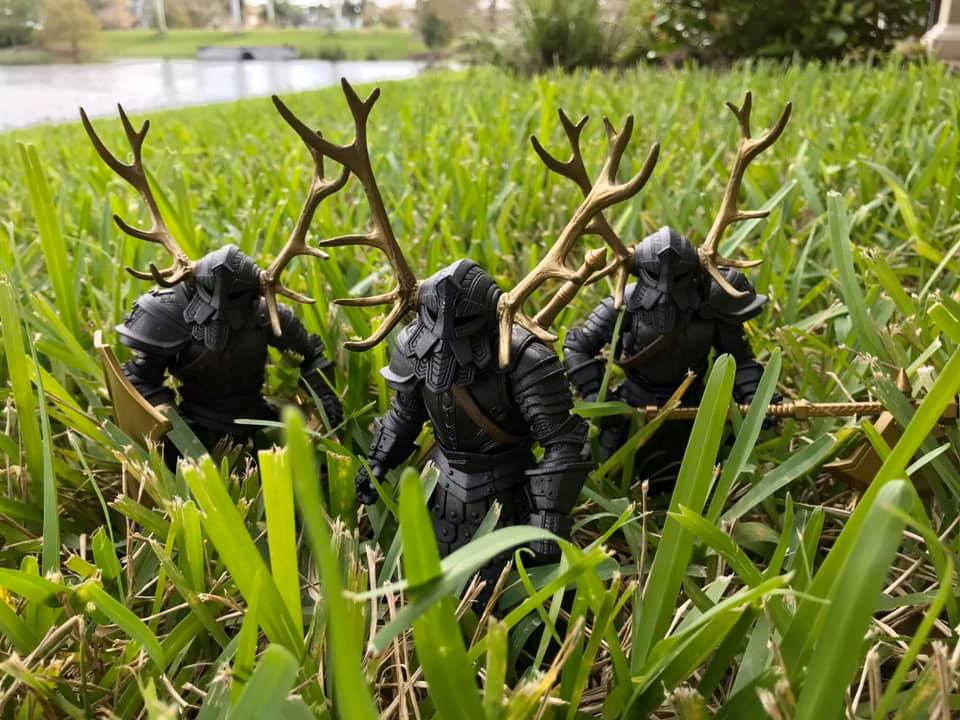 Besides all the standard releases, you also have lots of custom dwarves. Any favorites?
While several of my custom dwarf characters have been created by me, I am a firm believer in giving credit where credit is due. I have purchased numerous custom items from the very talented skills of Castle of Power, Jim Pansen Creations, LuvNidlness Customs, My Action Figure Customs, Seba Dom, Travis Canning, and many others. Some of my favorites include Boldur Goblin Basher, The Beore Brothers; Bruggurr and Breggurr, The Woodland Guardians, and Sir Mulvoch.
What kinds of dwarves would you love to see as official Mythic Legions releases?
We definitely need more dwarves in the mix that may not be of noble birth, such as bartenders, blacksmiths, butchers, and tavern owners, amongst many others. I would also be keen to see more warriors and magic users including archers, berserkers, mages, paladins, rangers, riflemen, rogues, scouts, wizards, and so on. Similar to the Deluxe Barbarian Builder Set from 1.0, I'd really like a Deluxe Dwarf Warrior Builder Set, with a ton of accessories. More than anything and now that I've seen how incredible the mounts are from the Arethyr Wave, I would LOVE to have an Armored Mountain Goat with Dwarf Rider Set. I can see 2 versions; A) the Single Armored Goat and Dwarf Rider and B) the Deluxe Set, which would consist of 2 Armored Goats pulling a Battlewagon with 1 or 2 Dwarf Riders. These sets would be EPIC!
Outside of the dwarves, what other kinds of Mythic Legions do you have in your collection?
The creativity of the Mythic Legions line knows no bounds and I fully embrace that concept along with the creativity behind it. Beyond the Proud Dwarves of Edebor from House Salvatore, I have everything in my collection stemming from Animal Characters to Demons, Goblins to Elves, Humans, Orcs, Ogres, Trolls, Skeletons, etc. With the fantastic designs that are being released, it is very difficult to pass up any of these figures. Even if I see a figure that I may not be too fond of at first glance, I remind myself that there is always the ability to customize that figure. This a chance to create something both brand new and wonderful!
You actually had a custom dwarf head sculpted of yourself! Tell us about that.
Unbeknownst to many, there are quite a few versions of my likeness that were produced and none of them were requested by me. LOL My wife, Heather Salvatore, actually commissioned Seba Dom to create a human version of my head for my 35th birthday. Seba offered to create a dwarf and goblin version in addition to the human version. Heather gladly commissioned those too. That dwarf head was actually produced and sold via My Action Figure Customs and I was truly honored to see how many consumers purchased the dwarf head in my image. Special thanks to William Robert Post for his help with that. Next, LuvNidlesness Customs offered to produce a human and goblin version so those were commissioned by Heather as well. Finally, 2 of my good friends that I actually met through collecting Mythic Legions, Justin Wirtjes and Travis Canning, took it upon themselves to create a custom for me too. They strapped this custom King Salvatore head that Travis created onto a Silver Dwarf body that Justin provided and gave the king his very own bio.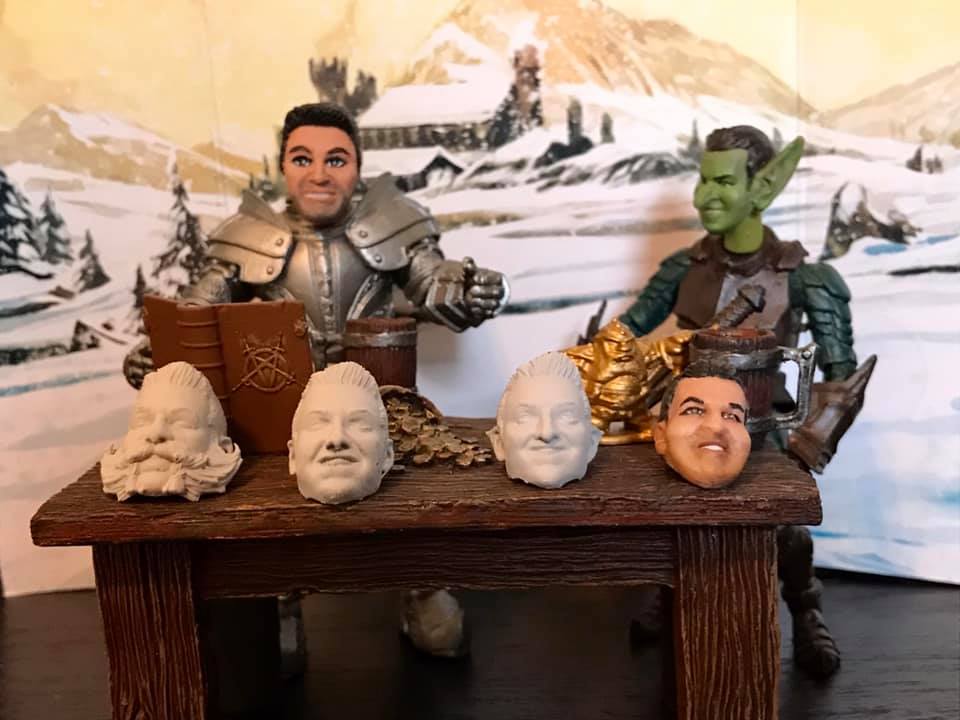 If you could only keep 3 of your dwarves, which ones would they be?
That's a tough question. If I had to keep three dwarves, they would have to be Sir Valgard, Jorund Runeshaper, and Orn Steelhide. Not only is he a 1.0 Kickstarter Exclusive, Sir Valgard is a figure that really pops with color and he bears The Order of Eathyron 1.0 shield, which is an excellent accessory! He has the heart of a most loyal veteran dwarf, providing his services to Gabriel and then onto Gideon Heavensbrand. Jorund Runeshaper is amazing! Besides being the only dwarf magic user to date and serving as a mentor to many others, his cape is a nice touch and with the alternate bucket helmet, you can easily transform him into a dwarf knight. Orn Steelhide may have not been one of the most popular dwarves during the 1.0 Kickstarter, but his unique green armor is fantastic! He also comes with a sweet, alternate bearded head that adds so much to the figure. Plus, if you're looking for a dwarf to lead you into battle against an angry forest troll or a raiding band of bloodthirsty orcs, Orn Steelhide is the best.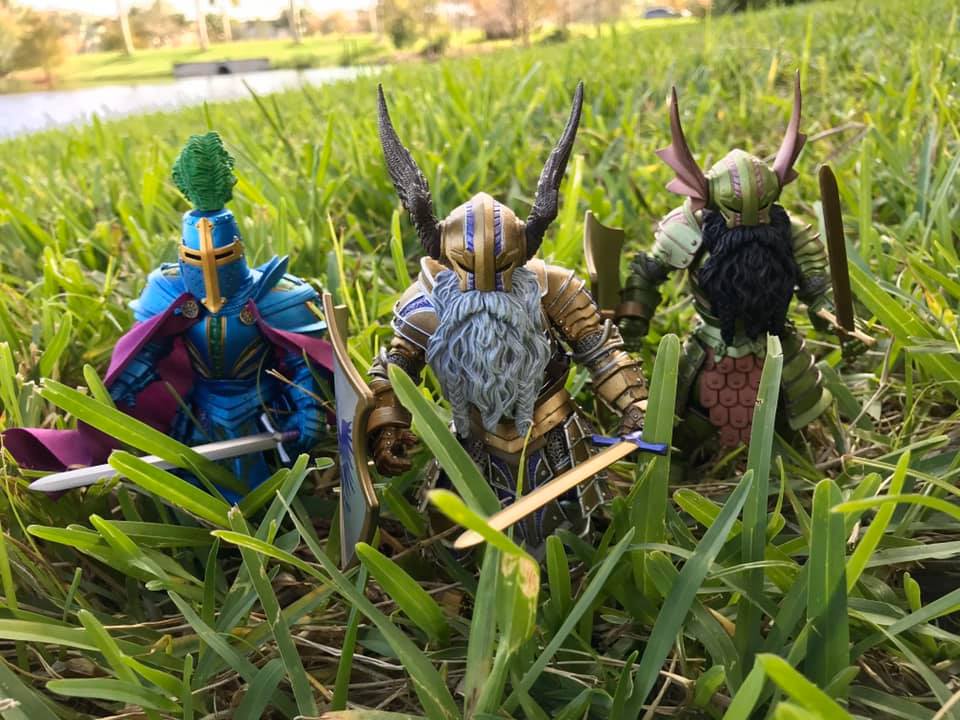 Is there anywhere where people can connect with you or see your ongoing collection of dwarves?
Surely! People can send me a friend request me on Facebook under Eddie Salvatore III. I have a photo album titled "Mythic Legions" containing my Mythic Legions factory produced items and my custom items. They can also follow me Instagram at runeshaper_cubed as an alternate option. Finally, I am an active member on the Mythic Legions Cabal page, where I have made many friends and collectors alike. I'd like to conclude by saying thank you to Four Horsemen and staff for all of the fabulous products that have been produced along with whatever else is coming, and for giving me the opportunity to be featured on their website. It's truly an honor. In addition, I'd like to thank all of those who read this article and I wish you the very best of luck with your collections!
Published on 02.25.20