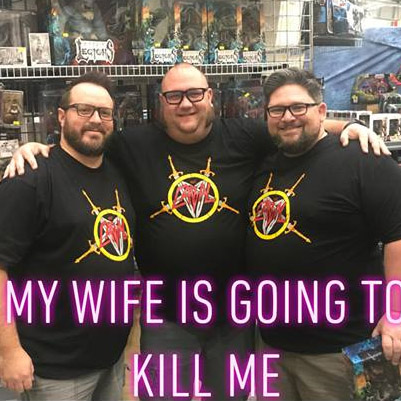 A key reason why Mythic Legions has continued to grow so rapidly is because of the line's loyal fans who are always eager to share their love of these toys with others. Three fans who have definitely helped spread the word on Mythic Legions are Steve Biesiada, Pete McCarthy, and Travis Bolles, collectively known as the "My Wife Is Going to Kill Me Podcast."
A weekly podcast covering action figure news, "toy drama", and much more, these guys are unabashed Four Horsemen Studios fans. They have had Cornboy on as a guest a number of times and they have also conducted a handful of interviews with well-known Mythic Legions customizers. We hear fans tell us all the time that they were turned onto the line by these guys, so we knew we wanted to connect with them for this "Featured Fan" spotlight!
Note – by their own admission, the My Wife Is Going to Kill Me Podcast "is not for everyone!" It is hysterical, but it is decidedly NSFW. If you are easily offended, rest assured that this show will offend you! Listen to these knuckleheads at your own risk.You have been warned!
First, for those readers who may not be familiar with your podcast, why don't you introduce yourselves.
Steve - Our podcast unites three of the dumbest toy enthusiasts on the planet. It's meant to make people laugh while they hear about a wide variety of toys from the 1980s, all the way to currently released stuff. Since the original Mythic Legions Kickstarter we have been in love with this particular line of action figures, and this toy line has become a major part of our show. Our podcast frequently goes off the rails, is full of adult content, and may not be for those easily offended, but I assure you we mean no harm to anyone, and I hope our love for toys shines through as something all collectors can identify with.
Pete - My name is Peter McCarthy. Most people call me Pete. I am 1/3 of the hosts of the My Wife Is Going To Kill Me Podcast. ½ of the overall weight, ¾ of the overall talent.
How did the three of you first get into podcasting about action figures?
Steve - I have been a podcast listener for years and love the format. I was a regular listener of quite a few toy related podcasts and would find myself wishing I could express my thoughts as I listened to my favorite shows. Early on, I pitched the idea of starting a podcast to Travis Bolles. He sort of shrugged the idea off and said, "If you figure out how to do it, I'll do a show with you." I basically did nothing with the idea for about a year, but would bring it up to Travis once in a while and he would give me the same response as before. It was on a Memorial Day camping trip that I brought the idea up to Pete McCarthy. Pete was very excited about the prospect of hearing his own voice. He and I went to work and bought the equipment, and researched how to get a podcast on the internet. A few days later the equipment showed up from Amazon.com and a few days after the three of us recorded Episode 0. We were not sure how long we would continue at first, but over two hundred recordings later we see no end in sight.
Pete - I began hanging out with Travis, reading comics. Saw his figures and got back into collecting. He introduced me to Steve. Steve had a cool idea about doing a podcast to talk about nerd culture. Asked me to be a part of it. I said that I was in and we ordered the equipment. That's what I do- I turn people's dreams into a reality.
How did you first get introduced to Mythic Legions?
Steve - I am a hardcore Masters of the Universe fan, so I was aware of Fourhorsemen Studios from their work on the Masters of the Universe Classics line. I was watching some toy coverage on YouTube and saw some Pixel Dan coverage of a new 3.75" figure line with knights, skeletons and dwarves called Mythic Legions. I loved the idea and the designs from the start. Of course, when the figures actually came out they were almost twice that size, which in my opinion was even better.
Pete - Travis backed them on Kickstarter. Got the Gothotroplis birds and I thought they were ridiculous. The design and quality was amazing, I just couldn't figure out of all the things in this world- why birds? Then the ML dropped. Then as more waves came I totally changed my opinion and eventually started buying them myself.
Travis - I remember seeing something in a toy group in regards to the legions. I had been buying the birds because I thought they were interesting but the Mythic Legion Line blew me away when I first saw it. I have been on board since the beginning and it keeps getting better. I have always been a fantasy fan including D&D and LOTR so this was exactly what I had been waiting for!
I know you have introduced many other toy collectors to this line. If you could give a toy fan 1 Mythic Legions figure to show them how awesome these toys are, which one would it be?
Steve - Attlus. He is my favorite. Actually my favorite changes often, but he was the one I loved from that first wave. He epitomizes the aesthetic of the line to me. Vitus is a close second.
Pete - Brother Mandibulus. I think that it showcases a few of my favorite things about ML- color scheme, armor and weaponry.
Travis - Original Barbarian builder! The figure is just amazing and the fact that it comes with so many pieces will help a causal fan understand how great this line is for customization
Travis - you are a well-known toy seller in your area. When people who are not familiar with Mythic Legions see them in your booth, which ones do they gravitate towards?
Travis - The skeletons and the knights! The skeletons are just so creepy looking that they immediately draw attention. The knights are so well done and the fact that both of these figures are poorly represented in the toy world outside of Mythic Legions really help catch peoples eye. I get a lot of "WOWS" at toy shows when they see a wall of Mythic Legions.
For your own collections, which kinds of Mythic Legions figures are your favorites?
Steve - The ones that are mostly naked. I'm a He-Man fan remember. Skeletons, Ogres and Barbarians are always the best.
Pete - I really like the skeletons and animals. The ogres and trolls are great. Boarrier is one of my all time faves. So I guess, non-human are the best. LOL.
Travis - I gravitate towards the bad guys. The Orcs, Skeletons and Vampires! With that said, the goblins certainly have made me happy! The Horsemen nailed it with their evil little grins!
Name one Mythic Legions figure that you didn't care for when you first saw it in pictures, but which blew you away once you had it in hand.
Steve - Lord Veteris. I was totally not excited for that one. I got him, and once you put him together his colors really pop. I love his eyes, and his bio helps too. A rich guy who chooses to fight with skeletons is super cool.
Pete - Gadriel. I wasn't sold on the face in pics, but in person it's amazing - plus it being a deluxe figure just puts it over the edge. You don't get how much of a step up it is in photos until you get that big ole blister box.
Travis - Faustia. It amazes me every time I open one of these figure how the paint job can just create a new character with reused parts! That red/gold/black paint scheme just blew me away in person.
OK, so imagine this scenario. They are casting "Mythic Legions: the Movie" and Cornboy has asked the three of you to join the cast. Which existing Mythic Legions character would each of you play in the film?
Steve - Haha… I'd be an Ice Troll. I love winter and rarely get cold, and my fat would fit the character.
Pete – a Bog Goblin. We look similar, I think he would be a trash talker like me, and he is my favorite custom figure I own!
Travis - Pete would be the forest troll - big and ugly! Steve would be the stone troll - big and dumb. I would be the Ice troll - big and cool!
I know you like to play games on your podcast, so here's a little game for you called "Wed, Woo, Wipe Out." Imagine you exist in the Realm of Mythoss and all the characters from the toy line are your fellow denizens of the Realm. Which one would you Wed, which one would you Woo, and which one would you Wipe Out?
Steve - Wed Myria Goldenbranch because she's pretty, and according to her bio she's ageless and has heightened dexterity. Woo Thallyn Frostbow. She's super-hot! She hasn't seen much so she might be easy to impress and I need all the help I can get. Wipe Out Purrrplor, because I'm not cleaning an evil man cat's litterbox.
Pete - I would Woo Juno, Wipe Out Gadriel and Wed Xarria. You got to crush the crusher, wipe out the angelic influence, and marry the evil.
Travis - Wed Gwendolyn because of the money, Woo Jjuno because duh! And wipe out Morgolyth.
Finally, if people have read this interview and thought, "I'd like to hear more from these three characters", where can they find you?
Steve - You can catch us on most places podcasts can be found, but look for us on Apple Podcasts, Stitcher, Spotify, and Podomatic. You can also find us on Facebook @my wife is going to kill me, and on Instagram @wifeiskillingme. If you enjoy the show and like salty humor, join our closed Facebook group @my wife is going to kill me support group.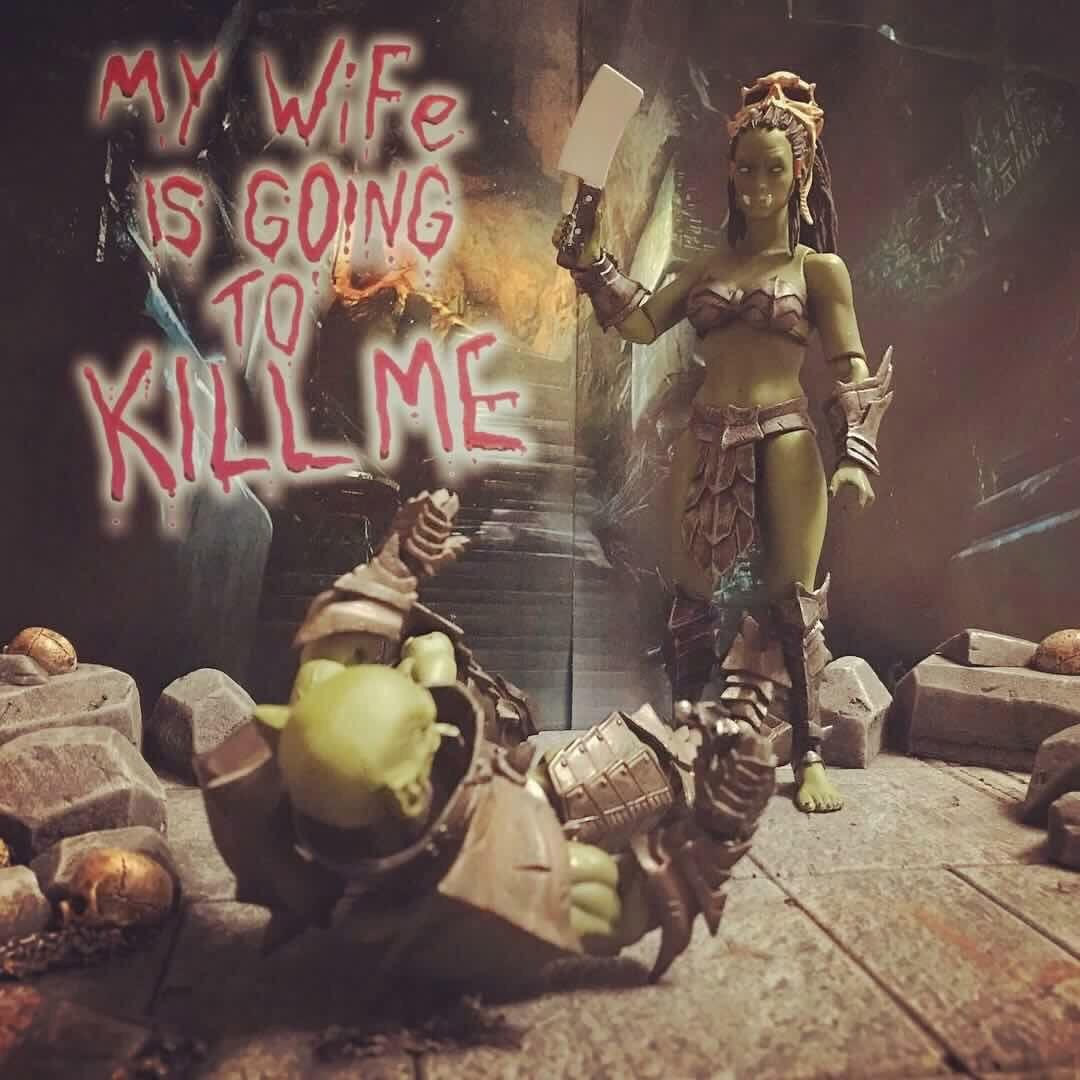 Published on 12.03.19