Released in the "Advent of Decay" wave, the ghostly warrior Hagnon clearly stands out amongst any Mythic Legions display with his transparent body and armor. For this "Figure in Focus" article, we decided to dig a little deeper into the "once proud soldier of the Order of Eathyron" who was hunted down by the evil Brother Mandibulus, only to be killed and resurrected by his sister, Morgolyth, and cursed to fight as a reluctant member of the Congregation of Necronominus.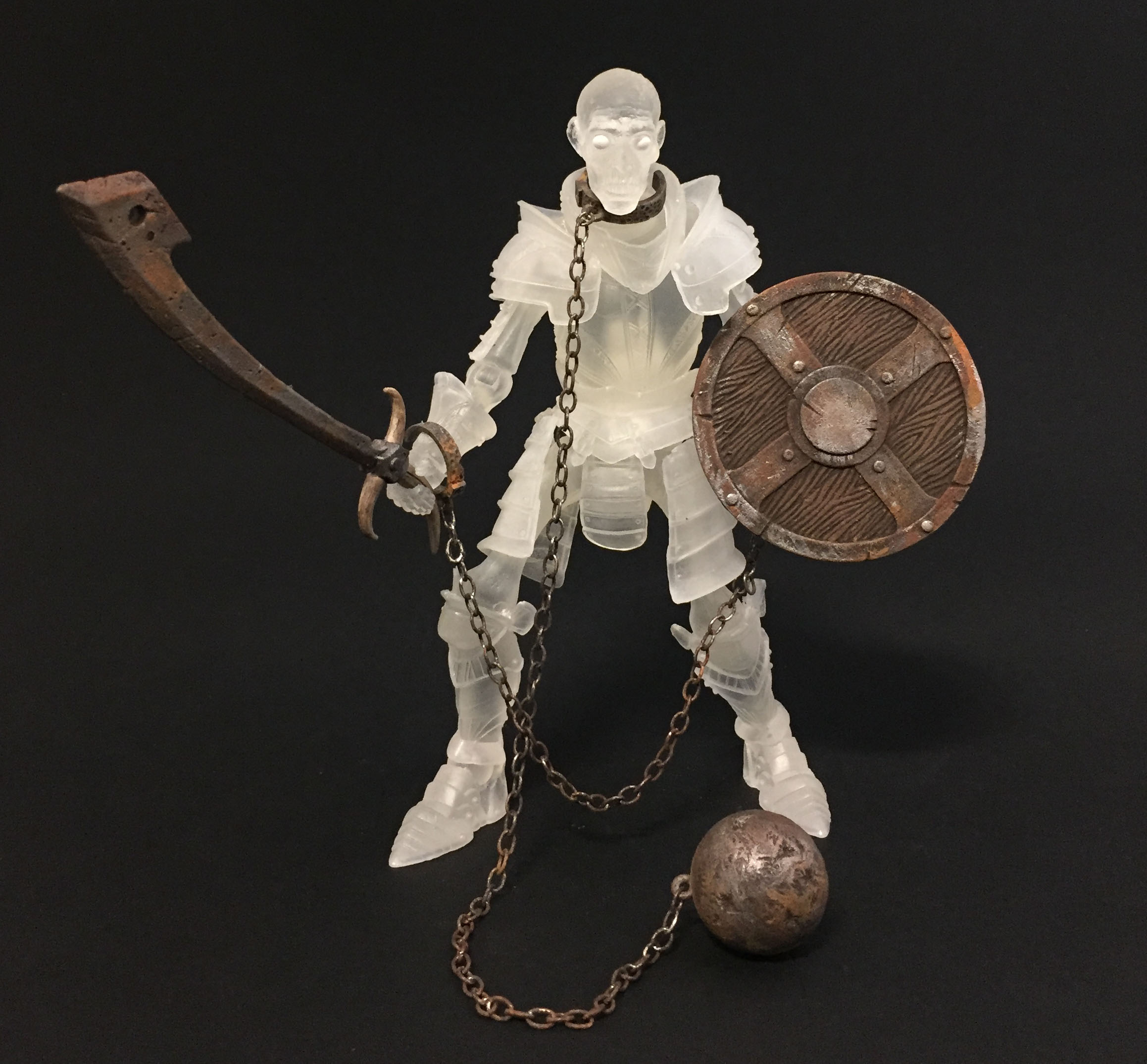 Hagnon's Debut
The Hagnon figure was actually shown long before the Advent of Decay wave's Kickstarter, which is where he was first offered for sale. Because Hagnon uses "1.0-style" parts with a new head and accessories, he was something we put together to display at the New York Toy Fair in 2016 alongside B'alam, Boarrior, and Calavius - all of whom are also 1.0 bodies with a new head added. These figures were initially planned to be part of a mini-wave of new figures offered before our second Kickstarter, but they were eventually moved into the Advent of Decay series alongside the new body types and races that debuted in that series. The photo below shows Hagnon and these other characters on display for the first time at this show.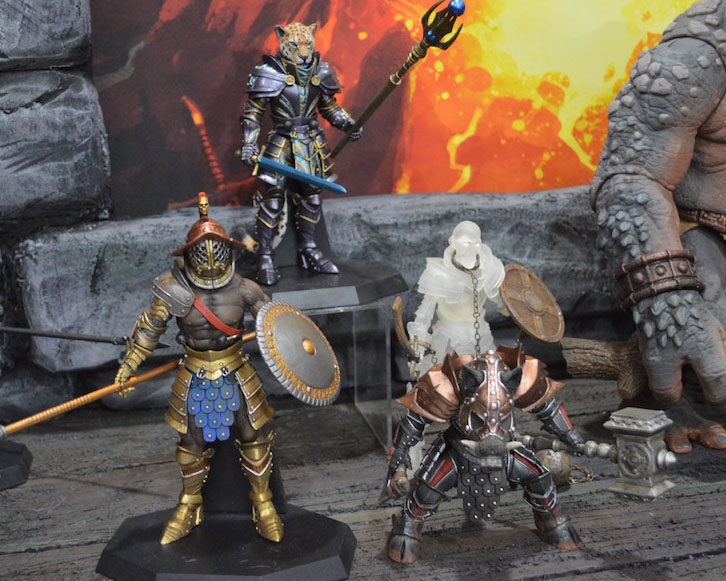 Adding Some Glow
As soon as fans saw Hagnon offered as part of "Advent of Decay", the requests to have him glow-in-the-dark started. We are suckers for GITD toys, so we loved this idea and started to explore how we could add this feature to Hagnon. Initially we had tossed around the idea of doing both a "blue" glow and a "green" glow version of Hagnon and packing them randomly for orders. Of course, since you wouldn't be able to tell what color glow you had simply by looking at the figure under normal light, this would add a surprise element to the toy and we hoped that fans would interact to maybe trade one glow version for the one they may have been missing! The community of Mythic Legions fans is already so cool and helpful, and we thought this would be just another way to encourage interaction amongst those fans. Alas, the multiple glow options were not to be, but the idea did give us a fun story to tell about the creation of Halfnon!
Halfnon Rises
We have already posted an article about "Halfnon", which is what we dubbed this fun character pictured below. You can read the full story of his creation on that article, but to summarize here – we initially asked our factory in China if they would be able to produce "half the Hagnon figures in blue, and half in green". The language barrier between our studio and our factory in China gave us this gem as the first prototype they sent us.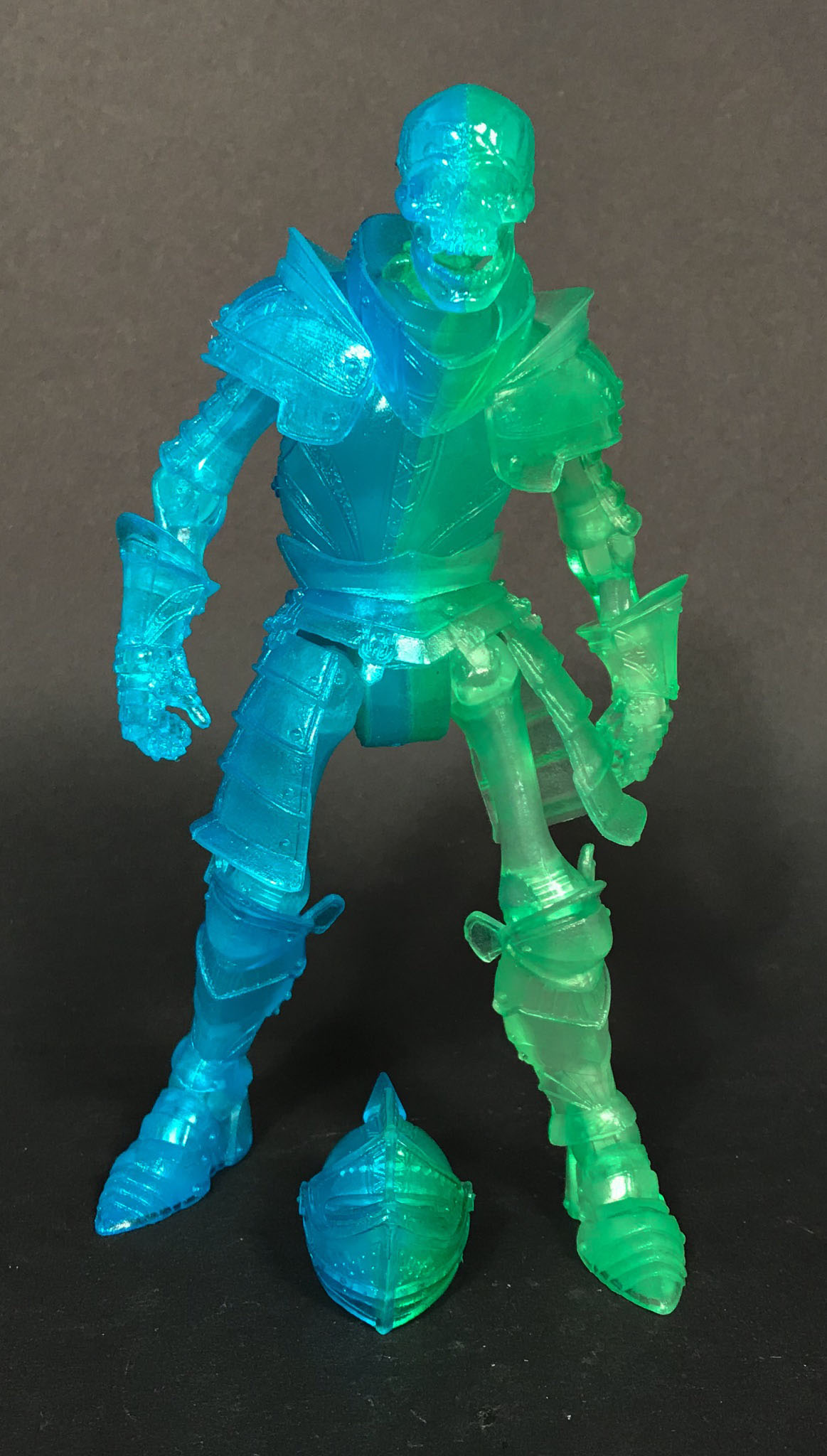 Going Green
Once the miscommunication on Hagnon was cleared up, our factory pressed ahead trying to get the green and blue glow effects in place. They nailed the green glow pretty quickly, but the blue option proved to be more of a challenge, and we began to worry that this would delay production on that figure. To avoid this, we ended up just going ahead with the green glow version of Hagnon, which is what made it out as part of Advent of Decay. Along the way, the factory did send us a variety of other cool prototypes of Hagnon, beyond just the "Halfnon" figure. Some of those early examples actually had the figure cast not in clear plastic, but in a color that reflected the glow they were going for. The photo below shows some of these prototype pieces on display in our studio, including a cool "ice blue" Hagnon.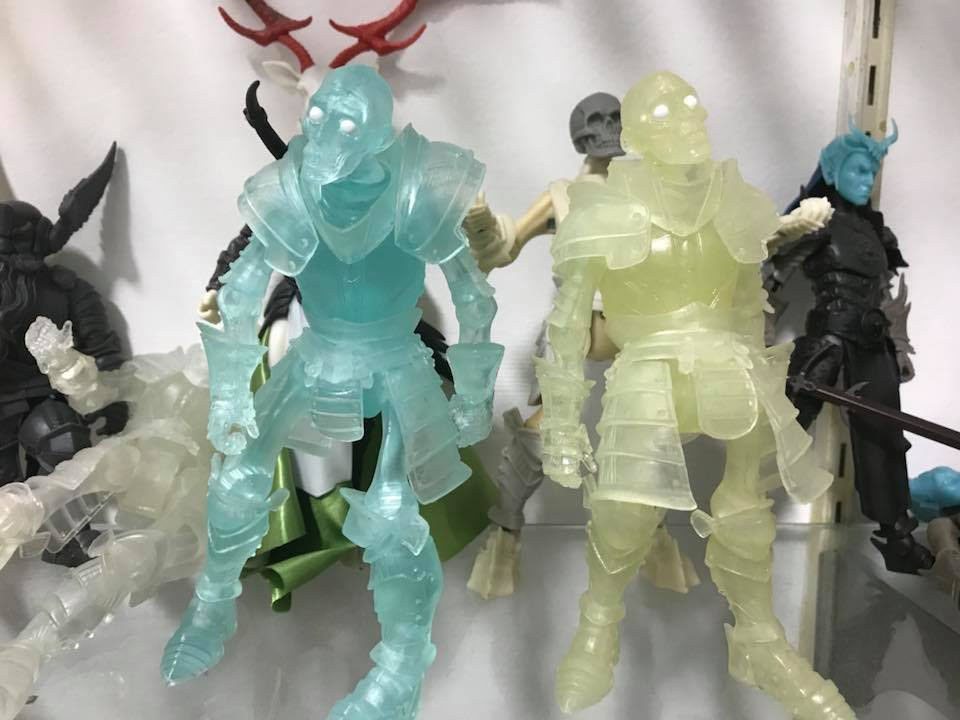 Hagnon Stretch Goals
When the ghostly Hagnon was revealed at the start of our Advent of Decay Kickstarter, he was shown with just his normal, "zombie-like" head. The incredible success of that Kickstarter not only allowed us to release the initial figures we had planned for that wave, but we also opened up a number of stretch goals along the way! Some of those stretch goals were new figures, while others were the addition of new weapons or heads for other figures who were already planned for the wave. Hagnon fell into this latter category, and we eventually decided to include 3 total heads with the ghost. In addition to the standard head, he also came with transparent versions of the skull head with the hinged jaw and the knight head that was first available in our 1.0 wave on Sir Owain and which has been used on a number of other figures since then. The addition of 3 unique heads, plus Hagnon's chains and other accessories, would allow fans to "army build" this figure and create larger displays of ghostly characters!

Hagnon the All-Star?
When we announced the options that fans would have to vote on for our All-Stars 3 wave, a lot of those fans were surprised to see Hagnon amongst the choices available to them. He was a much newer release than the other figures on the list, and he was even still available from some of our approved online retailers when the vote happened. So why was he included in that vote?
We included Hagnon in our potential All-Stars lineup for a very specific reason – because we wanted to add something "new" to the mix. Had Hagnon been one of the top vote-getters for the wave, he would've been released with a "blue" glow rather than the original green! Alas, the fans did not show much love for Hagnon (he came in last place in the voting), and so we continue to live in a world where "blue Hagnon" is nothing but a dream.
Customizing Hagnon
Because of the transparent nature of the Hagnon figure, the details of the head sculpture are not as defined as they would be had the figure been fully painted, or even just made in non-transparent plastic. The Hagnon test shot shown below, which is from the impressive test shot collection of Toshi Hingst, shows this sculpture in much clearer detail than the transparent version.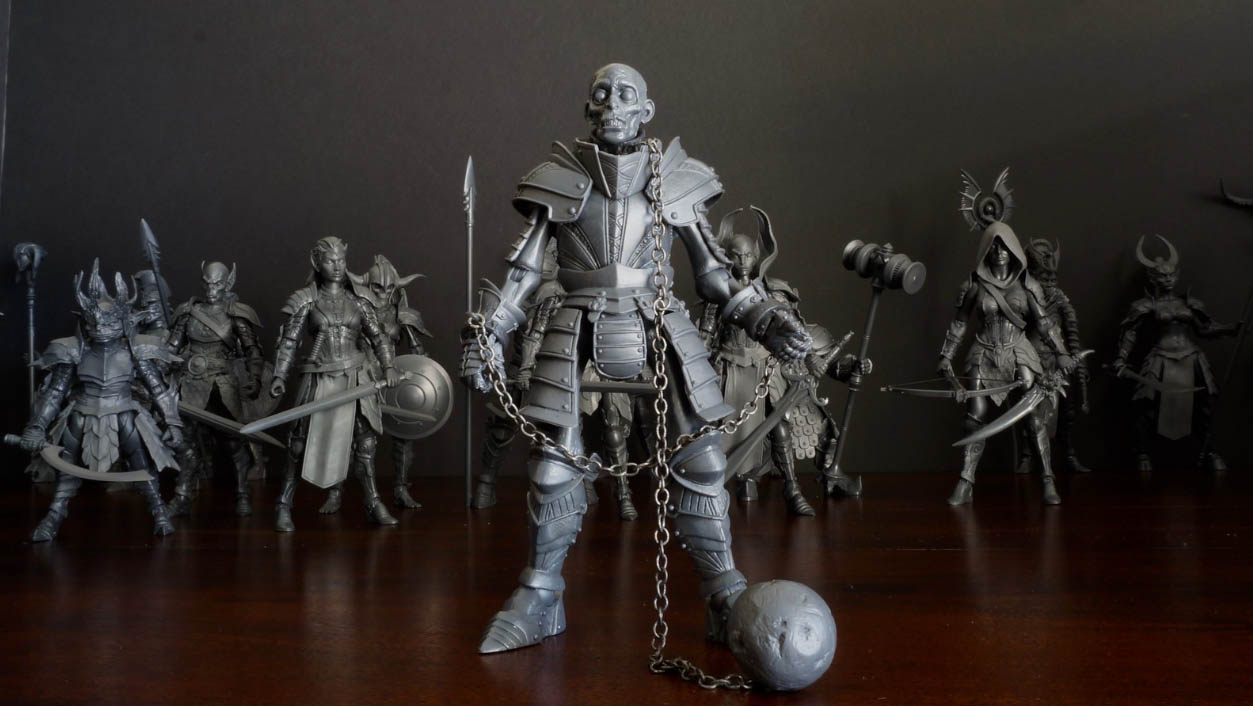 Going beyond simply showing Hagnon's head as the single color test shot, when that head is painted, the full details come to life…or maybe I should say to "death", since he is a zombie after all. Of course, with such a robust group of customizers in the Mythic Legions community, it didn't take long for some of them to use the Hagnon head in their customs and get some paint on that ugly mug! Below are a few customs from Jeremy Girard, including his "Wasteland Ravager" and a "Zombie Templar", and one from Dennis Derby. For his custom, Dennis actually dyed the entire figure brown and then painted the armor and added some drybrushing to the head to really bring out those details!

Will we eventually see this head released painted on a production Mythic Legions figure, or will the elusive blue glowing ghost will ever be seen? Who knows what the future may hold, but for now you can grab this unique figure to help reinforce your display of the Congregation of Necronominus!
Published on 06.02.20