In some of our past Figure in Focus articles, we have met a few of the inmates of the Hvalkatar prison. These have included a number of unfortunate characters who find themselves locked up in the dreaded Cell Block 5, or the "GraveRing." We've met Zeerian Spyre, a bioengineer whose discovery of the formula known as Thryxium made her an enemy of the powers-that-be at Hvalkatar and landed her in that lowest of cell blocks. We've also been introduced to multiple characters whose lives were "stolen away" (Kanoxx and Thygar) when they were transported to Hvalkatar either to compete in the brutal fights that happen in the arena known as The Grave, or in the case of Thygar, for reasons yet to be revealed.
These previously featured stories may give one the impression that all the inmates of Hvalkatar are there unjustly. That is very far from the truth, as some of the universe's most hardened and dangerous criminals are locked in the cells of Hvalkatar. In this "Figure in Focus" article, we meet one of these vile individuals – the "ruthless Carzynian called Noveunn Leen."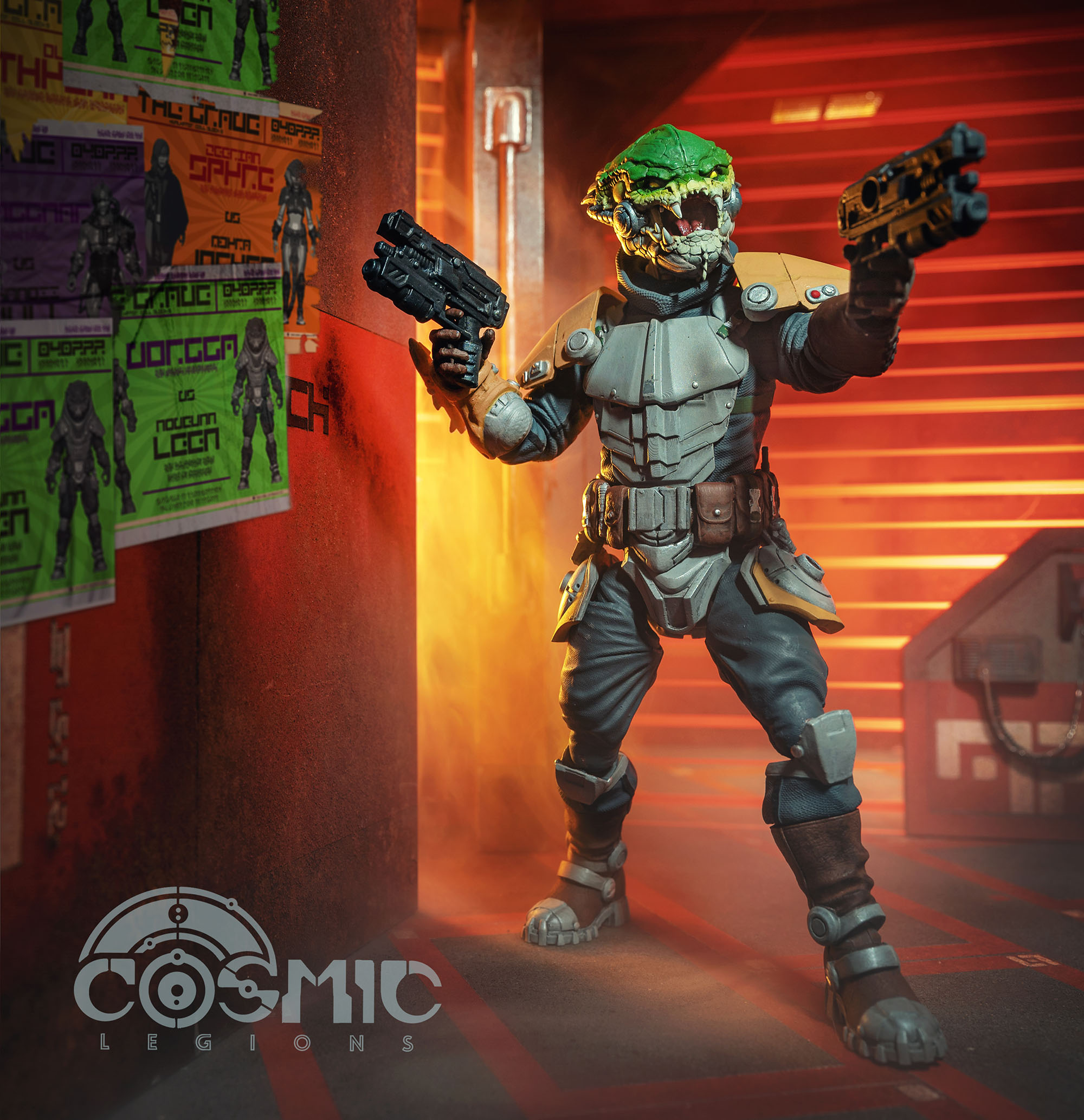 Enter The Bleeder's Guild
The introduction of the Noveunn Leen character not only gave Cosmic Legions an original new alien race (Carzynian), it also came with a new "affiliation" – The Bleeder's Guild.
Quietly one of the most terrifying affiliations in all of Cosmerrium, The Bleeder's Guild is a skilled and dangerous group of agents trained to extract and trade information from those with valuable knowledge. Generally tasked with jobs requiring a discreet touch, Bleeders are as renowned for their ability to keep their work in the shadows as they are for their effectiveness. While their rates are often exorbitant, their results are undeniably worth the price.
This description contains some interesting pieces of information on The Bleeder's Guild. Clearly they deal in information, but from the sounds of this data, they are more akin to interrogators than they are to spies. The fact that they "extract and trade information" is a chilling description, as is the statement that they are "as renowned for their ability to keep their work in the shadows as they are for their effectiveness."
So how did Noveunn find himself captured and sent to Hvalkatar prison? Well, whatever crime he committed to earn his sentence, he likely did not do it alone, as we will learn in his expanded bio below.
Rivals Become Partners
The initial bio presented for Noveunn Leen details a bit about not only The Bleeder's Guild, but also the planet of Ozarra where this organization has taken root. This bio reads:
One of the most feared organizations in the known worlds, The Bleeder's Guild is a barbarous collection of sadist thugs that are specially trained to extract information. The tropical planet Ozarra's hostile environment offers a fertile training ground and home base for this despised organization. Infamous even among his corrupt associates is the ruthless Carzynian called Noveunn Leen.

Digging further into details on Noveunn Leen, we learn a bit about another member of The Bleeder's Guild who Noveunn finds himself partnered with:
Formerly a rival of the Scorrox fiend Mbyra Jmgyra, the two now form a cruelly effective partnership. Noveunn's innate tracking abilities are aided by an anatomy built for speed and an incomparable sense of smell enhanced by a complex network of organs implanted in his mouth and tongue, which are further amplified by cybernetic olfactory enhancement devices. As the duo's tracker, Noveunn's unique skill set is perfectly paired with his quiet and cunning personality.
These few sentences certainly add some additional depth to the character of Noveunn and to his race. We learn that Carzynians have "innate tracking abilities" as well as anatomies built for speed. Noveunn has enhanced these natural abilities through implants and cybernetics, making him an expert tracker.
Looking through the inmate roster of Hvalkatar's Cell Block 5, we see Noveunn's Scorrox partner, Mbyra Jmgyra, listed alongside the Carzynian's tracker. This reinforces the idea that the pair of Bleeders somehow failed to evade capture and landed themselves in Hvalkatar – or did they?
Consider the nature of The Bleeder's Guild as experts in finding individuals who possess valuable information and extracting that intelligence through any means necessary. There is no doubt that there are many inmates in Hvalkatar who possess very useful and valuable knowledge, and if anyone could get into that prison to be able to retrieve that intelligence, it would be members of The Bleeder's Guild. Perhaps this pair of inmates are in Hvalkatar by choice, rather than due to unfortunate circumstances? There is certainly more intelligence to be uncovered as this story continues to unfold.
Designing Noveunn
One of the more popular aspects of our Figure in Focus articles is when we share images from the development of those characters. Noveunn is actually a figure who went through a pretty significant evolution during his creation, as you will see here.
When Eric first began sketching out this character, he had a specific idea for "an inmate in prison gear with a gigantic mouth filled with teeth." He even toyed around with the idea of the character having some kind of locking mouth restraint. You can see some of these early sketches here.

Taking these ideas into ZBrush, Eric began to sculpt the "gigantic mouth" that he had in mind. Some of this early work is presented below. Obviously, this character design looks much different than what we eventually got with Noveunn, but these are great examples of how characters and figure designs evolve during the process. (Note: for anyone who sees these images and thinks, "I want that figure too!", just remember that no idea is ever truly abandoned! So this toothy inmate may still find his way into Cosmerrium at some point in the future!)

As the concept for the Noveunn character evolved, and the idea of The Bleeder's Guild formed, Eric felt that the design was looking too "thuggish." This is how the more cunning, reptilian look first began to emerge. You can see this change in direction in the images below. The forms that would eventually become the Noveunn Leen we are familiar with emerge, culimating in the final image which shows a colorized version of the final ZBrush sculpture for this character.

One final fun note on Noveunn that you may have heard if you watched the Gravenight reveal special is that this Carzynian thug is actually named after Eric Treadaway's son, Nolan! This is not the first time a Legions character's name has been a nod to young Nolan, as the ruler of Gobhollow, King No'Glin, is also named after him. In fact, Nolan is the first person who can claim that he has figures named after him in both of the Legions lines!
Published on 04.19.22