Some of the most popular figures we have released to date in the Mythic Legions line are the Templars. With a design that was clearly influenced by the Templar Knights, many fans loved seeing warriors they recognized from a historical setting make their way into the Realm of Mythoss. In fact, these figures have become a favorite of many Legions fans, and many collections we have seen boast small armies of these Templar figures! In this "Figure in Focus" article, we will look at the Templars that have been released for this line, including some of the running changes that have been made to the figures along the way.
The First Templar
The very first Templar figures we released, Sir Godfrey, was offered all the way back in the "1.5" wave. This wave is an unusual one in the history of Mythic Legions. Not only is it one of the smallest waves we've ever offered at just 4 regular figures plus the first two trolls, it was also put up for pre-order at a point where fans had not yet even gotten their hands on the first Mythic Legions wave from Kickstarter!
This was obviously very early in the line, and the fanbase supporting Mythic Legions was much smaller than it is today. While we were incredibly happy with the number of orders we received at the time, those order numbers pale in comparison to what our new waves have sold as the line has caught on with more and more collectors. For this reason, Sir Godfrey and the rest of that 1.5 wave became some of the most sought-after figures in the line for new collectors. Many of those new fans wanted a Templar Knight for their display, but no one was selling Sir Godfrey. Thankfully, those collections would not be Templarless for long, for there was an army waiting to join the line!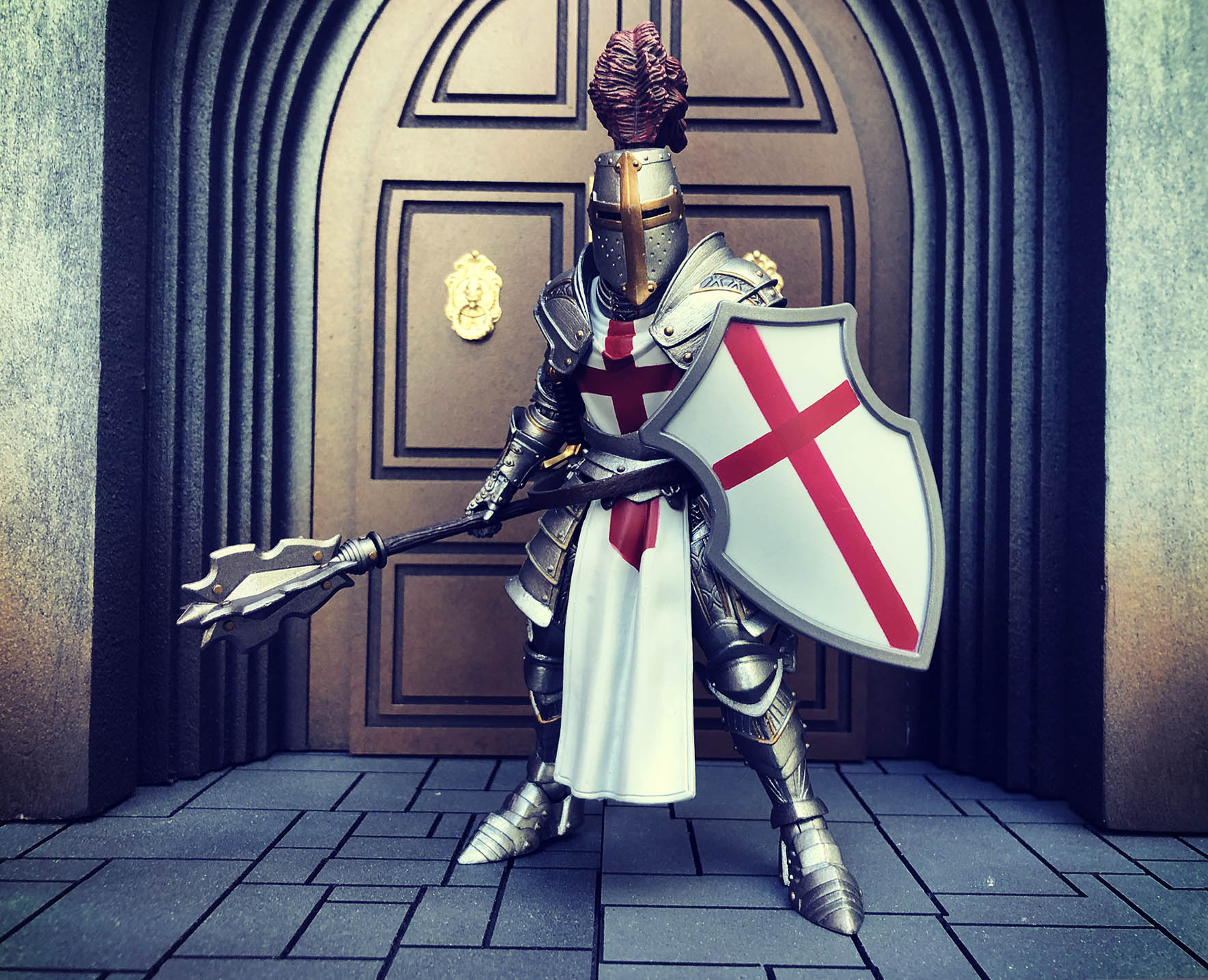 The Templar Army
As we were planning out the third wave of Mythic Legions figures, a series which would come to be called Covenant of Shadow, we knew we had to address the calls for a rerelease of the Templar figure. Not wanting to simply reissue Sir Godfrey, we came up with the idea of creating a new Legion Builder figure – the Templar Knight Legion Builder.
This figure was actually dubbed a "Deluxe Legion Builder" since he came with a bit more than twhat a standard Legion Builder would include. This release featured two different neck armor pieces, a sword, halberd, Templar shield, and even a white banner emblazoned with the red cross emblem of these Templar Knights.
The Templar Knight Legion Builder became one of our best-selling figures to date at that time, and he allowed new fans to finally grab one of these elusive knights, while existing fans were able to build up their armies with this new release.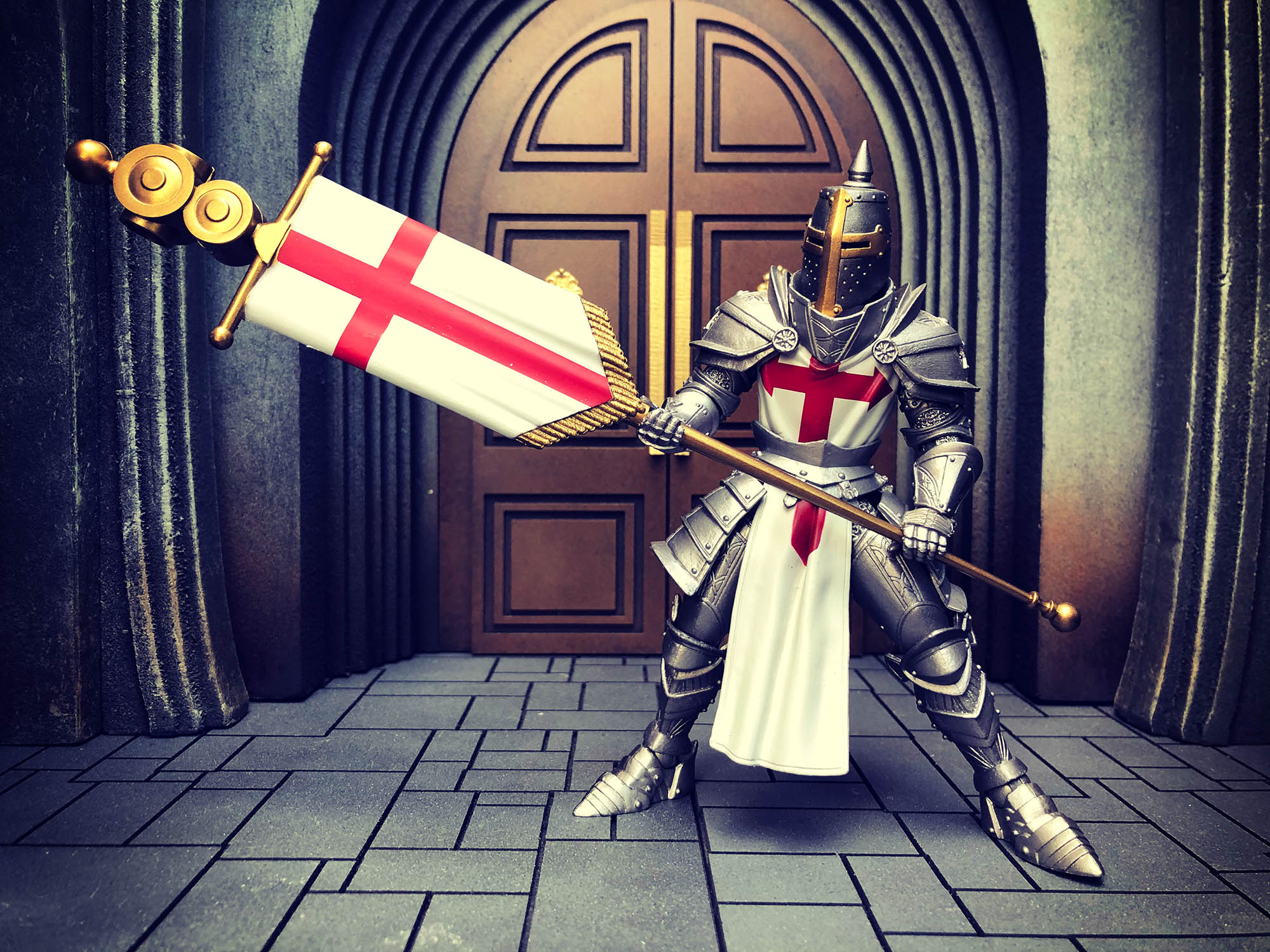 Templar All-Stars
By the time that the All Stars 2 voting came around, the Mythic Legions fan base had continued to grow and the calls for "More Templars!" were heard once again. To keep the mobs of torch-bearing toy fans happy, we decided to add the Templar Knight Legion Builder to that second All Stars wave, even though he was not among those characters voted into the wave by fans. Once again, new fans to the line were able to grab their first Templars, and longtime Legionnaires added some Templar reinforcements to their armies. Little did any of us know that when this new round of Templars would hit, they would bring some surprises with them.
When the All Stars version of the Templar Knight Legion Builder finally shipped, our fans immediately noticed some differences between this new version and the Covenant of Shadow release. Specifically, the All Stars version came with extra paint applications. In fact, he had so many extra paint applications that his armor looked closer to the Sir Godfrey release than it did to the original Templar Legion Builder! This was a mistake from the factory – but it actually turned out to be a mistake that made for a cooler figure than before!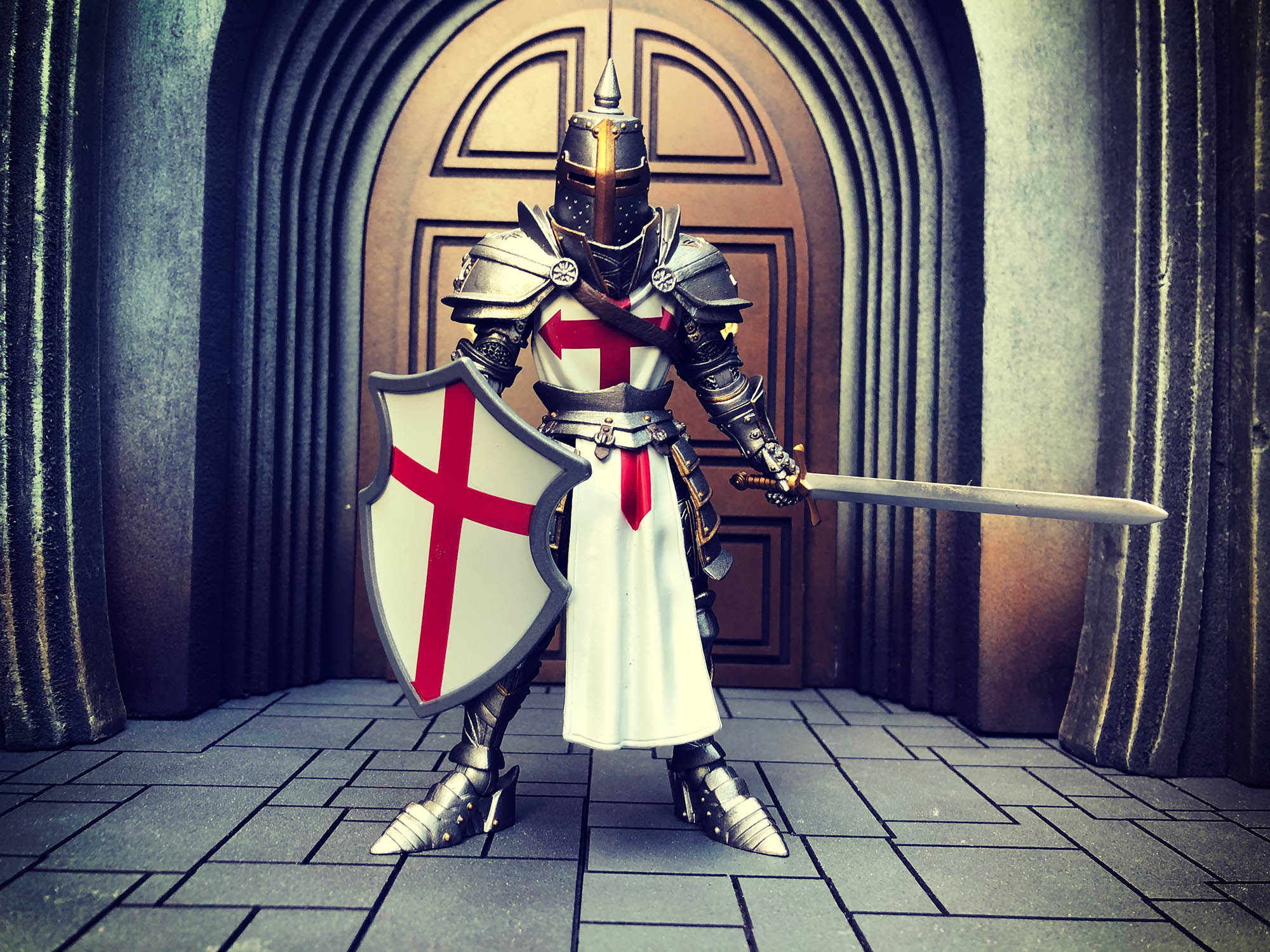 Legion Builders, by design, are meant to have minimal paint applications on them. This is how we are able to offer them at a lower price point than the standard edition figures. The original Templar Builder had armor that was a single silver color, but the All Star version had many of the details of that armor painted with gold accents, making this All Star Templar an amazing value! Fans basically got the paint applications of a standard release figure at a Deluxe Legion Builder price!
Female Templars
Our Advent of Decay wave introduced a number of new parts into the Mythic Legions line, including female characters. Of course we had to use those parts to create a female Templar Knight in the Delphina of Eathyross character. This figure came with 2 heads - one helmeted head, and in a first for a Legions Templar, an unhelmeted head! This would allow fans to not only add numerous female Templars to their forces, but they could also use the unhelmeted head to portray a named character for these warriors!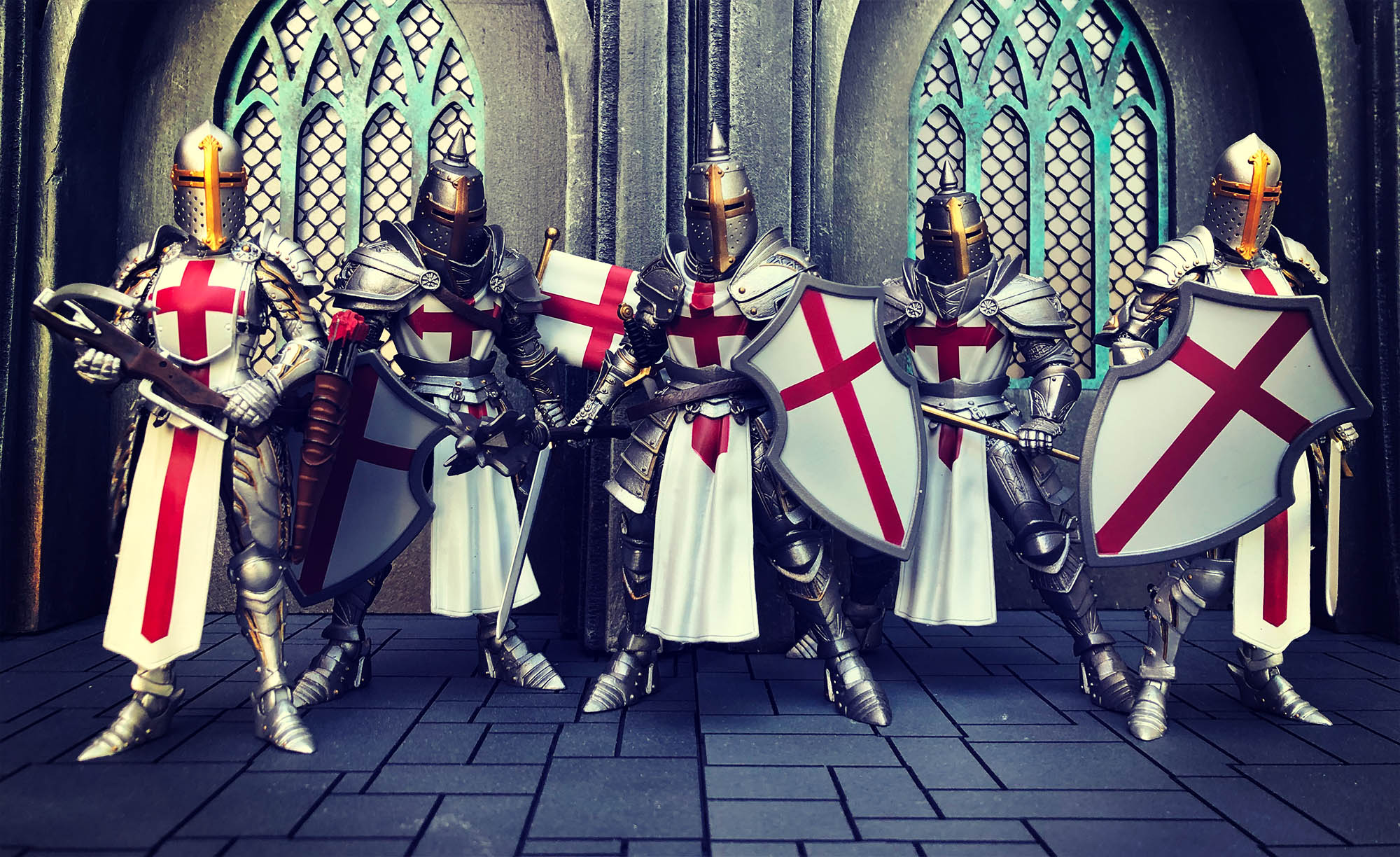 The Templars Return
In late 2020, a third release of the Templar Knight Legion Builder hit fans' collections. This release was part of a run of figures that our factories ran to compensate for a shortage that select retailers had experienced on a previous order. The Templar Knight was one of these figures, and fans eagerly wondered if this run would be like the original Legion Builder or if they would come with the same extra paint applications that the All Stars did. Interestingly, the answer was neither of these.
This latest release of the Templar Builder would indeed have more paint applications than the original, but those paint details would be different than the All Stars release. Mythic Legions fan, Julian Potier, sent us these photos below comparing the All Stars paints to the newest Templar. In these photos, the All Stars version is on the left while the new Templar is on the right.
Getting Dark
When the studio unveiled their "Deluxe Legion Builders 1" wave in May 2021, a familiar, and yet very new, character wa including - the Dark Templar!
According to Eric Treadaway, this figure is "a play on the Teutonic Knight look, refashioned for Mythic Legions." This connection to a historical warrior, but reimagined for this fantasy property is one that has been very popular in the past and based on intial reactions to this Dark Templar, that popularity continues with this latest release.
One incredibly interesting note on this figure is that, unlike the previous Templars who were part of the heroic Order of Eathyron factions, these dark versions fight with the mercaneries of the Sons of the Red Star. Their "race"is listed as 'various", since the idea is that different kinds of races could be hidden by that dark helm and armor. It becomes a uniform for these mercenaries, but they could be humans, skeletons, orcs, or any the races of Mythoss which we have yet to formally see introduced into the line. That "you never know what is hidden under the helmet" aspect of this character is sure to make him a favorite of collectors and customizers alike!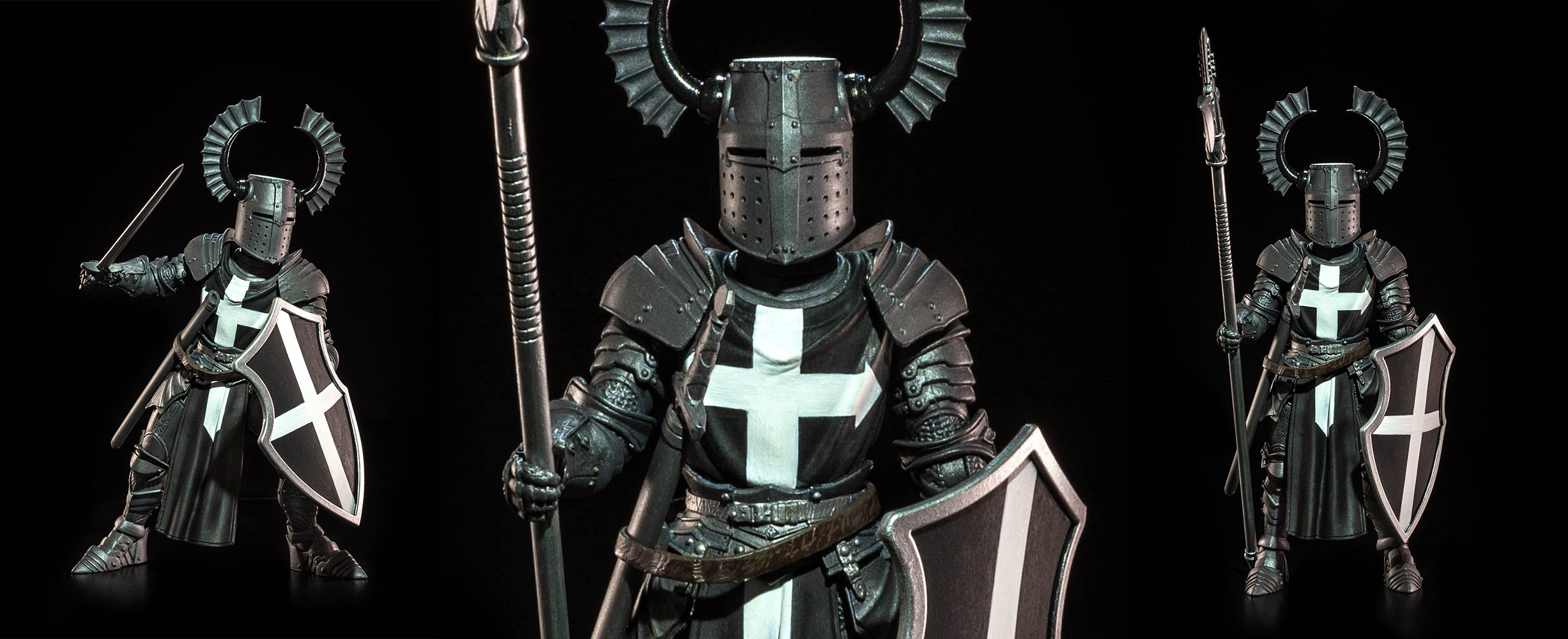 A Gallery of Knights
As we said at the start of this article – the Templar Knights have become some of our fans' favorite figures in the Mythic Legions line. We put a call out to those fans to send us their Templar pics! Below is a gallery of some of those submissions.
Published on 01.26.21