The skeletons are easily one of the most popular races in Mythoss, and most fans of Mythic Legions have their favorite undead warrior. For many, that favorite is Malleus, while others love his savage sibling, Brother Mandibulus. Fans of classic 1980's toy lines are likely to gravitate towards Keltuss while some prefer the simplicity of the Skeleton Legion Builder. My personal pick for "favorite skeleton", however, has always been Tibius. Something about that skeletal head with the red face paint has always appealed to me, but this skeleton swordman almost looked much different than the final release of the toy. In this "Figure in Focus" article, we look at this release from the very first Mythic Legions wave.
Tibius: The Early Years
Tibius was a part of the Mythic Legions lineup from the earliest days. Back when the line was intended as 4"-scale figures, and they were shown at the company's Toypocalypse event in 2014, Tibius was in the mix as a silver armored skeleton ready to fight alongside the forces of evil. You can see some shots of him below in the Mythic Legions diorama that was on display at that event.
When Mythic Legions was scaled up to its current size and the first Kickstarter was launched, Tibius was one of the initial figures offered. Fan reaction to the figure was lukewarm at best, however. The initial look of Tibius, which is shown below, did not include the red facepaint or the tattered cape he eventually came with. That first version of this figure also included less of a "rust effect" on the armor, leading some fans to suggest that he was really not much more detailed than the lower cost Skeleton Legion Builder was.
The Fans Have Spoken!
Fan feedback has always been something that Four Horsemen Studios takes seriously, and in this case they heard the comments and made some changes to Tibius. In "Update #35" of the first Kickstarter campaign, the "Tibus Update" was announced, showing off this skeletal warrior's more detailed look – including additional "rust" effects on the armor, a pair of shoulder pauldrons, his black fabric cape, and most strikingly his newly painted head with the red warpaint. The character was completely transformed by these changes, which clearly added value to the figure. Of course, you can't please everyone, and some fans bemoaned the addition of the "racing stripe" facepaint in place of a standard skull head. Well, anyone who has the Tibius figure knows that he not only came with that warpaint head, but he also included a second head without the face paint, and that head featured the awesome "movable" jaw that was first shown on the Malleus character! In short order, Tibius went from a toy that some people felt included too few details and little value, to a meticulously detailed figure with 2 heads, 4 weapons, removable armor, and soft goods!
The story of Tibius' evolution is a perfect example of how a figure can change during the course of its development. Sometimes those changes are part of large shift, like when the entire line was scaled to 6"-7", and sometimes they are directly because of fan response and ideas. Either way, we end up with a very cool Mythic Legions toy to add to our collections!
Tibius Artwork
After this article was originally posted, I was contacted by a Mythic Legions fan named Chris Miller who remembered the first Kickstarter campaign where Tibius was offered, as well as the fan campaign to get some additional pieces added to this skeleton. He shared the below piece of artwork that he had created on the old website forum during this time, showing his very cool take on the skeleton swordsmanI I thought this art was so cool that I had to share it with fellow Tibius fans here in this article!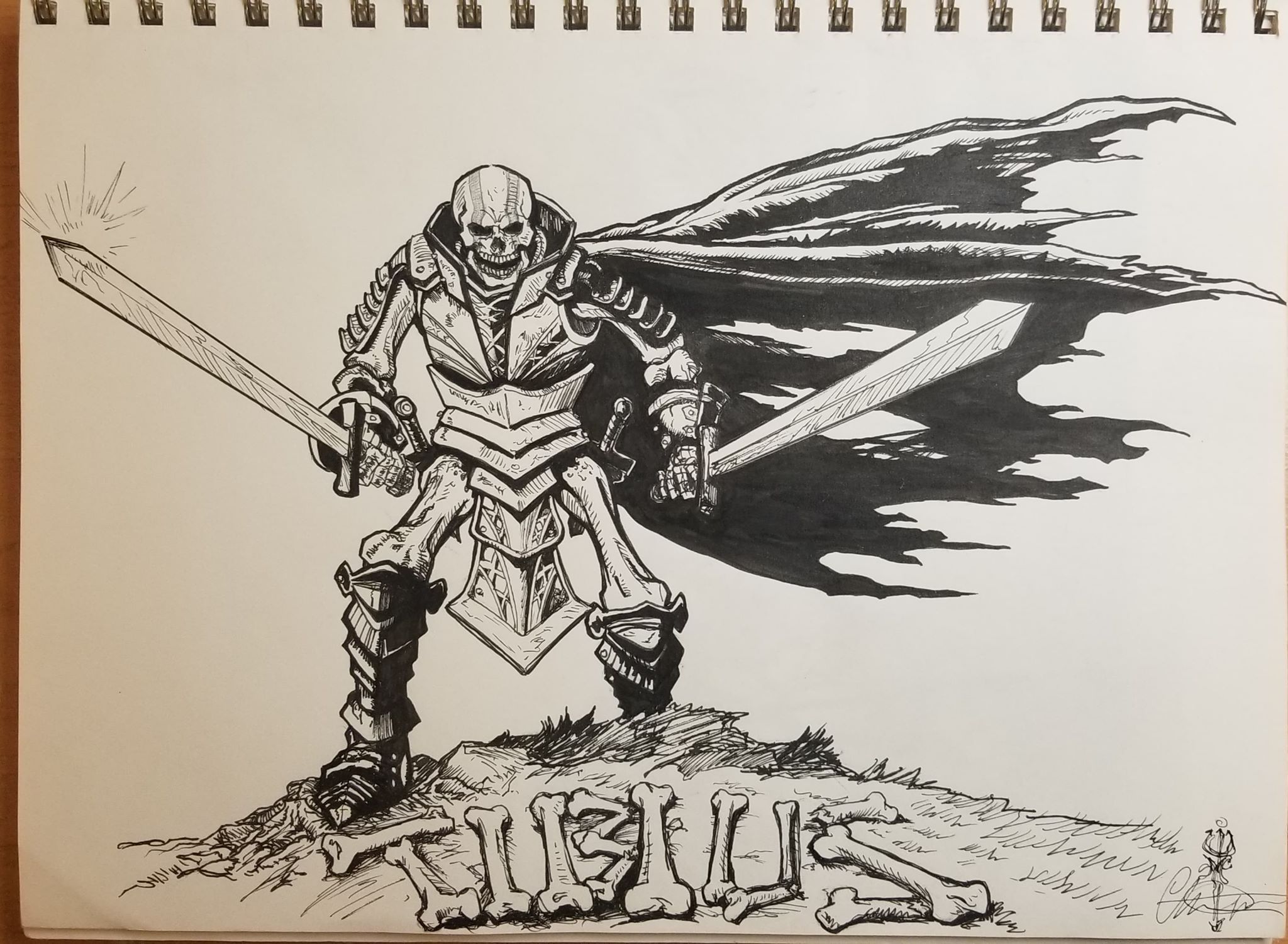 Tibius the All-Star
In early 2021, Four Horsemen Studios held fan voting for their fourth "All-Stars" wave. From the ashes of that heated battle, Tibius emerged as one of the victorious fighters and was named a Mythic Legions: All-Star. The photos below show some new shots of Tibius as taken by Trevor "One-Six Shooter" Williams in honor of this prestigious achievement.
Published on 01.31.20