The reaction to Cosmic Legions – Hvalkatar: Book One has been amazing. As expected, everyone seems to have their favorites from the revealed figures. One character we are hearing many Legions fans list as an instant favorite is Zeerian Spyre, commonly known as "Zeeri". In this Figure in Focus article, we will take a deeper look at this important player in the Cosmic Legions storyline.
Cosmic Teasers and the Benefits of Mythic Parts
In the lead-up to the launch of Cosmic Legions, the studio released a number of "teaser" shots to build excitement. Zeeri was the second of these teasers to be revealed. Initially presented with her face hidden the shadows, this striking image from Trevor Williams was later fully revealed to show Zeeri in her cell at Hvalkatar.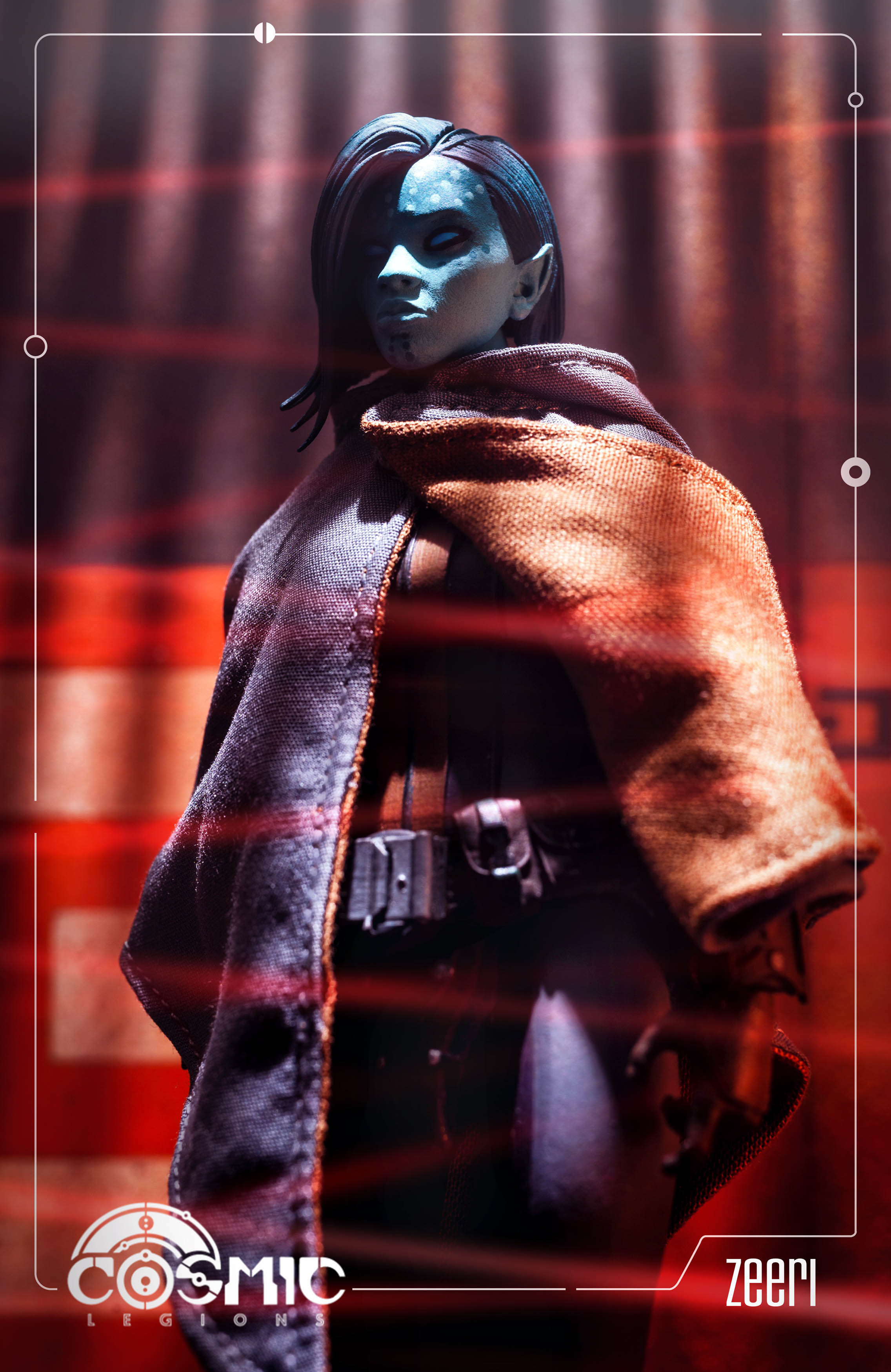 One thing that was important for us as we planned out this inaugural wave of Cosmic Legions was to ensure we had some nice variety in the figures from the start. This meant a diverse selection of races, colors, and figure sizes. For Mythic Legions, it took a few years for us to get the "2.0 style" bodies into the line. Those are the pieces that allowed for more slender characters like elves and females. For Cosmic, we already had access to those parts, so we were able to take advantage of that for Hvalkatar: Book One. In fact, if you look closely at Zeeri, you may notice that she includes body parts previously used on Mythic Legions. Her upper legs and arms are both from the "Mythic library" of parts. By adding a few new pieces and using an appropriate paint scheme, those parts totally transform from how they have been used on characters like Jjuno the Crusher and Queen Urkza into the outfit seen on Zeeri.
Designing Zeerian Spyre
Zeeri is a character whose development was done completely digitally. Even though some of the Cosmic characters, like the T.U.5.C.C. soldiers, were initially worked out in clay very early on in their development, Zeeri was a character who came later. As such, she only ever existed as a digital sculpture. Below you can see some of Eric Treadaway's digital design work on Zeeri. One thing that is nice about this process is that even an element like her cloak, which we knew would eventually be a soft goods piece (more on that shortly) can be represented digitally and modified as needed. The images below show this cloak in different configurations, allowing us to really get a sense for the ways this figure will eventually be displayed. These images also allowed us to share the concept with CJESIM, who would eventually work on the prototype for that cloak, and give him a sense of how it should fit onto the final figure.


Another benefit to taking this digital path is the ability to play around with different colors on those completed digital sculptures. For a character like Zeeri, we considered a variety of colors for her design, and the digital sculpture allows us to explore those ideas without needing to actually paint the prototypes in this exploration stage. Some of the color options we considered were subtle, like what you see below in the different colors we played around with for her cloak. Other changes are far more drastic, like the third image below. This "pink Zeeri" shows one color choice we considered for the character before landing on the colors she would eventually be seen with.
The Creator of Thryxium
The substance known as Thryxium has already been shown to be an important part of the unfolding Cosmic Legions storyline. In our previously posted "Figure in Focus" article on the T.U.5.C.C. soldiers, we discovered that this serum is one of the products manufactured in the hidden labs that are part of the Hvalkatar prison complex. This serum is also essential to the "big boss" of Hvalkatar – Highwarden Slogg. Reading Zeerian Spyre's data profile, we learn that this valuable substance was actually discovered by her:
Once a famous bioengineer on her homeworld of Theerius, Zeeri rejected the unwanted celebrity status that was thrust upon her. Known for her breakthrough discovery of the regenerative formula eventually known as Thryxium, she disappeared from sight when her discovery was forcefully taken away and used for motives that were less-than-benevolent.
Here we get more details on Thryxium, as this is the first time we are told it is a "regenerative formula." We also have learned that this discovery made her an unwilling celebrity and that the secret of Thryxium was taken without her consent to be used by individuals whose intentions were "less-than-benevolent." Additional intelligence on Zeeri expands on this situation to explain a bit more about what happened after her groundbreaking discovery was stolen from her:
Zeeri's disillusionment over the loss of her discovery led her to seek solace among the ranks of the controversial and illusive organization known as The Mortal Thorn. Although her association with The Thorn eventually led to her incarceration, it was that very experience which prepared her for survival within the lethal halls of Hvalkatar.

Here is the first mention we get of the group called The Mortal Thorn. It is also the first time we see a character with more than one faction/affiliation in the Legions lines. Details on The Mortal Thorn remain scarce, but breaking down what little we know we can surmise that Zeeri escaped to this "controversial and illusive organization" and that her association with them led to her being captured and sent to the Hvalkatar prison, but the skills she learned during her time with The Mortal Thorn also allowed her to survive in that prison.
In addition to whatever alligience she still feels toward The Thorn, Zeeri is also a member of The GraveRing affiliation. This means she is housed in that infamous section of Hvalkatar known as "The Grave". We have learned previously that inmates who exhibit "violent outbursts, open defiance, and attempted escape" are transferred to this Block. You have to wonder if Zeeri's move to The Grave is because of these offenses, or if someone has put her there to silence her and destroy what she knows. Remember, Zeerian Spyre discovered Thryxium, and you would have to imagine that the powers-that-be at Hvalkatar would like to keep her quiet. A move to Block 5, and the fighting ring at its center, would certainly seem to serve that purpose. Of course, we can also assume that whoever placed Zeeri in this dreaded section of the prison did not count on her making an alliance with the likes of Olek Thygar, Vorgga, and Kraggnar. They may have put this former bioengineer amongst the unruliest inmates in Hvalkatar to cause her quick demise, but it looks like this decision is actually what will save Zeeri and even, perhaps, lead to her regaining her freedom.
Adding Value to Zeeri
Whenever we develop new figures, we always strive to ensure that fans get real value for what they spend on these toys. Of course, various elements add to the cost of a figure – from the detail of the paint apps they include to the variety of pieces they come with. In Zeeri's case, she is a fully painted figure, which would make her a standard release, but she does also include an item which added some cost to the production of the toy – her soft goods cloak.
When fans first saw the reveal of Zeeri, the cloak is one of the first things they began talking about. That wonderful piece, which is wired for poseability, was created through our ongoing work with CJSEIM. This cloak also includes a hood and it features the logo of The Mortal Thorn on the back, reinforcing Zeeri's connection to this organization.
The cloak was an essential piece to establishing the tone we wanted for this character, but its inclusion raised the production costs on Zeeri. We wanted her to remain a standard figure and not a deluxe, so we decided to take some of the extra hands that she initially was supposed to come with and move them into a hands pack. This also allowed us to do the same with the Vorgga figure, creating what we called the "Heroes Hand Pack" set.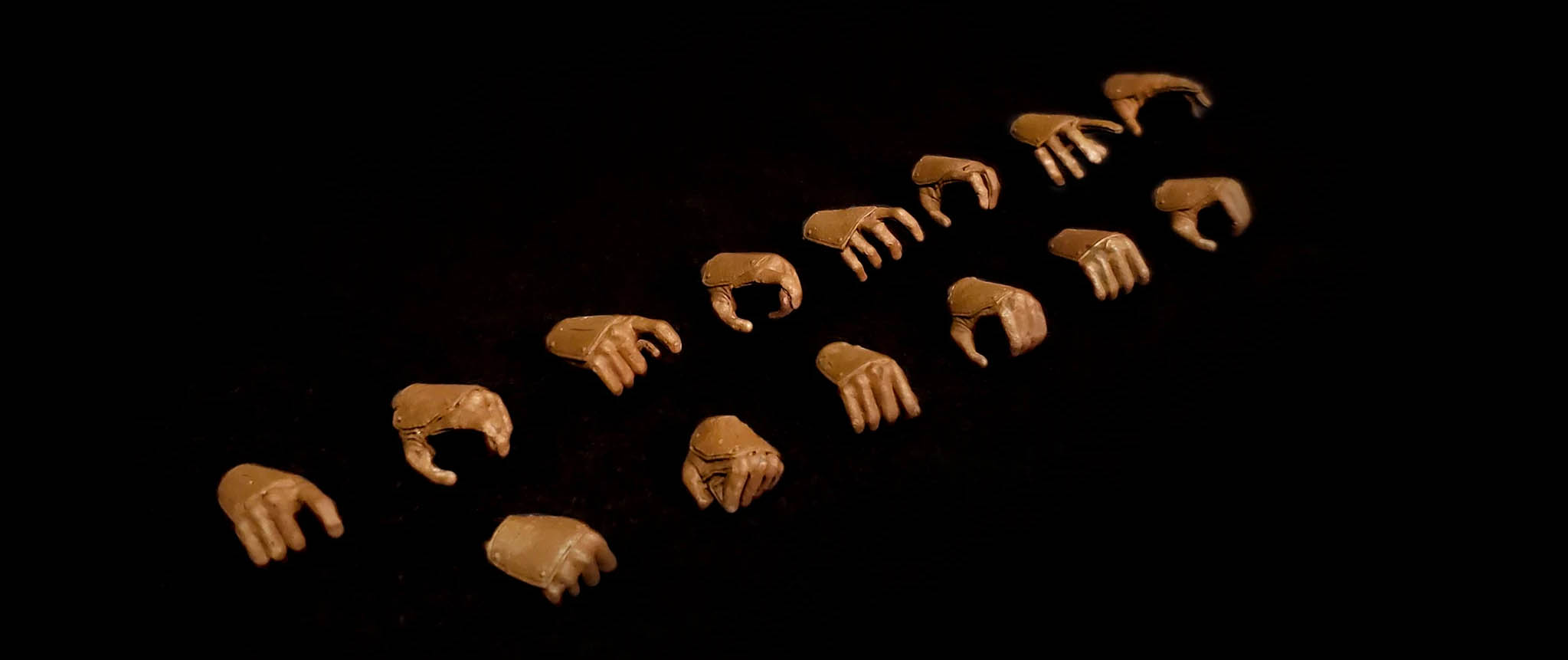 Of course, we were not done adding value to Zeeri yet! One of the fun things we decided to add to this campaign was the "Power Meter" stretch goals. When the second of those stretch goals was unlocked, it was revealed to be an extra head and removable mask for Zeeri! Below you can see some images of this head/mask in place on this figure. These images are the first time Zeeri has been shown with this alternate head in place.
The Story Continues
There is clearly so much left to unfold in Zeeri's story. What will happen now that she has aligned herself with her fellow inmates in The GraveRing? How with her association with The Mortal Thorn come into play, and when will we learn more about this illusive organization? What exactly is this Thryxium serum that has been developed, and exactly what lengths will those in power go to in order to keep its secrets to themselves? Hvalkatar: Book One is just the start of the Cosmic Legions story. There really is so much more to discover in this new universe known as Cosmerrium.
Published on 09.21.21