One of our studio's favorite events to attend each year is Power-Con! We absolutely love this event and are honored that the organizers have chosen to include us as guests over the years. Wanting to give something back to Power-Con, we contributed to a fun charity raffle back in 2013, repainting some of our "birds" 2-ups as some specific avian characters. These pieces, which were limited to 1 of each, were auctioned off for a good cause, and the process of rethinking our in-house characters as tribute figures was clearly something that stuck with us, because we started doing these Power-Con figures just a few years later!
In this "Figures in Focus", we will look back at some of the most popular figures we have released in the Mythic Legions line – the subset of characters known as the Power-Con Debuts.
What is a "Power-Con Debut"?
First off, let's take a moment to define the term "Power-Con Debut."
These are not "exclusive" figures. In fact, outside of the Sir Valgard figure from our first Kickstarter campaign for Legions, we have never done a true "exclusive" in the line. This is because we want ALL our fans to have access to our toys, even if they can't make it out to a Con. So instead of "exclusives", we do what we call "Show Versions". These are figures which are offered for the first time, sometimes months in advance, at a show or con. Some of these show versions may also include an additional head or accessory not found in the standard release, as well as unique packaging. Those figures are always also offered either as an in-stock item or as a pre-order in one of our normal waves, however. This allows attendees at Power-Con (or ToyCon NJ or LegionsCon, etc.) to get early access to something cool without leaving out any of our other fans!
Unkann
When we created our first Power-Con Debut figure, we honestly did not know if it would take off and become a regular part of the line. We simply thought it was a fun idea that we wanted to explore!
The orc weapons master, Unkann, was created for the 2016 Power-Con event. This was at a very early stage in the Mythic Legions line, and the first wave of figures had yet to even get into fans' hands when we were designing this character, who was also included in the "Mythic Legions 1.5" wave.
Like the rest of the 1.5 wave, Unkann was produced in much smaller numbers than the waves that are being released today. He is by far the rarest of all the Power-Con Debut figures, and interestingly he is the only one that did NOT come with an alternate head!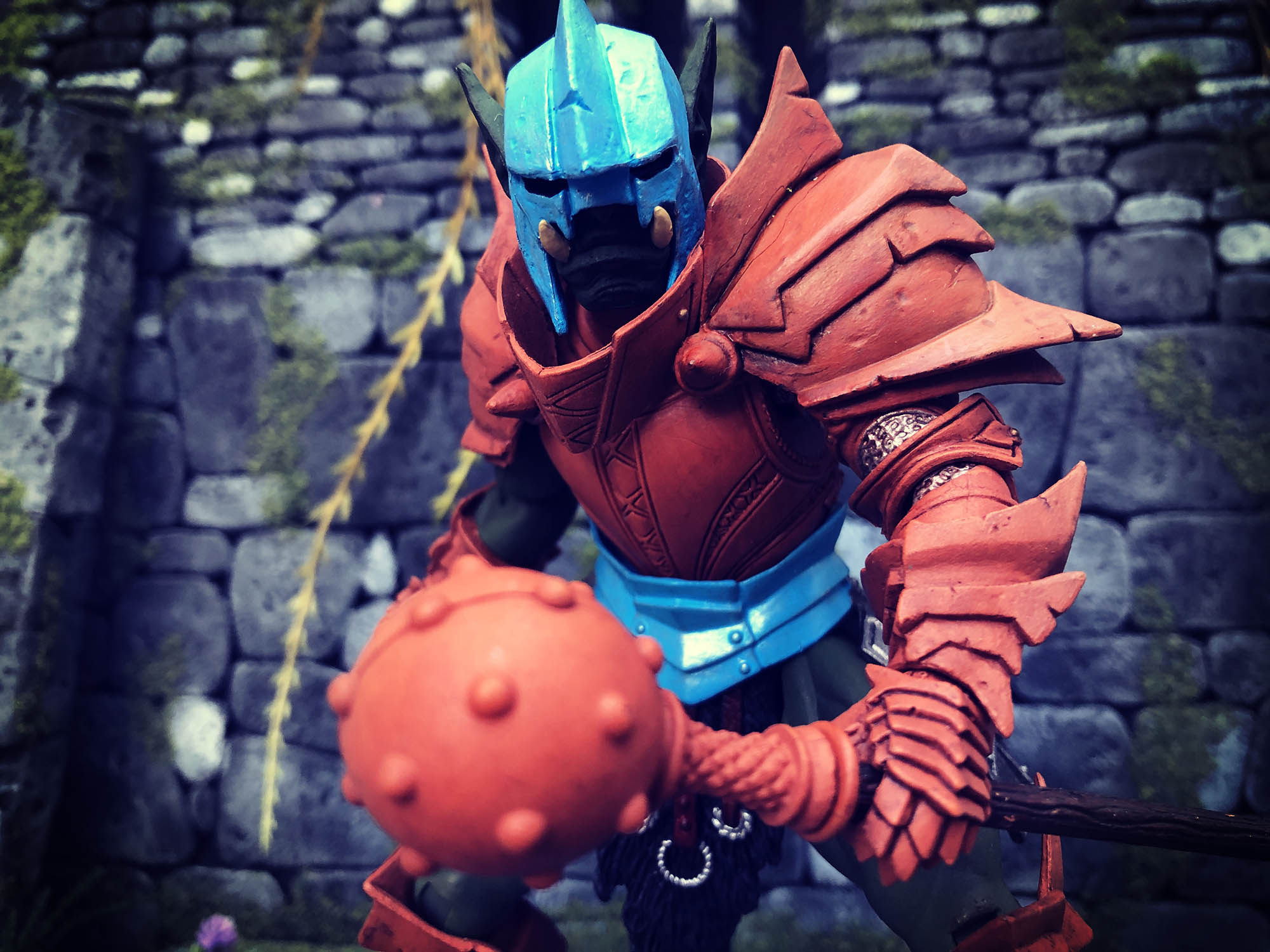 Adamonn and Keltuss
By the time the planning started for the 2017 Power-Con, Mythic Legions was a hit and growing in popularity. We knew we wanted to do something extra special for that second year of Power-Con Debuts, so we brought out the big guns and released the warriors Adamonn and Keltuss!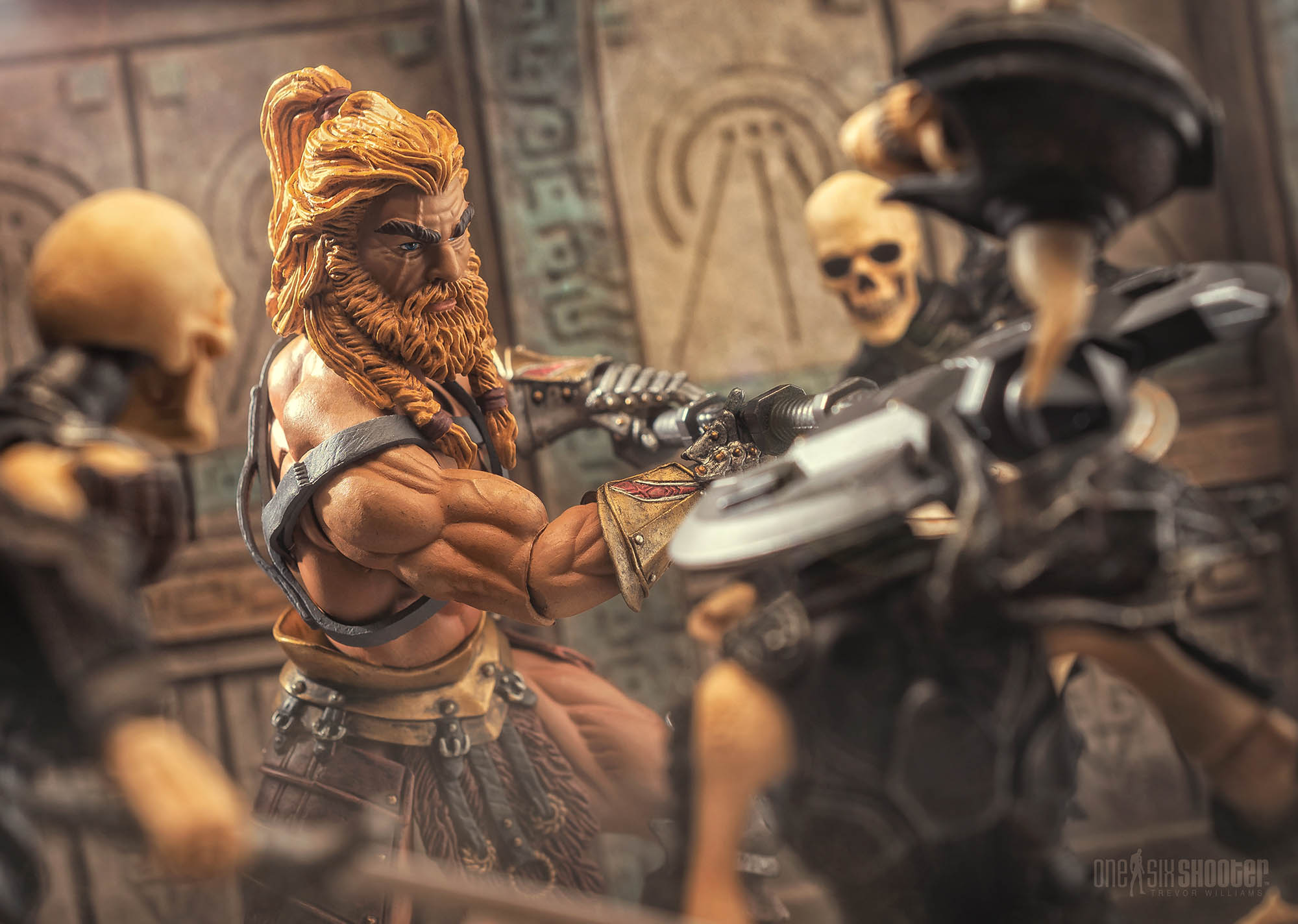 Also released in the popular Coliseum wave, these two figures were an immediate hit at Power-Con, and our supply of each of them sold quickly at the event! Fans loved these characters, and we loved being able to share them with those fans! Over time, the Power-Con figures have helped to introduce our brand to fans who may otherwise not have given it a shot. Of course, we know what happens when someone gets a few Legions in hand – they often want to get more, and these figures have absolutely helped Mythic Legions continue to grow! Because of that, we decided that as long as we were involved with Power-Con, we wanted to do what we could to create some special figures for the event!
We've been asked many times over the years if we will ever reissue these Power-Con Debit figures, especially these two. We have been clear that Power-Con Debuts are "one and done", and we will not reissue these figures in this form ever again. That doesn't mean that we wouldn't consider perhaps a new version of these characters. That is certainly something that could be a possibility for a future Power-Con Debut release.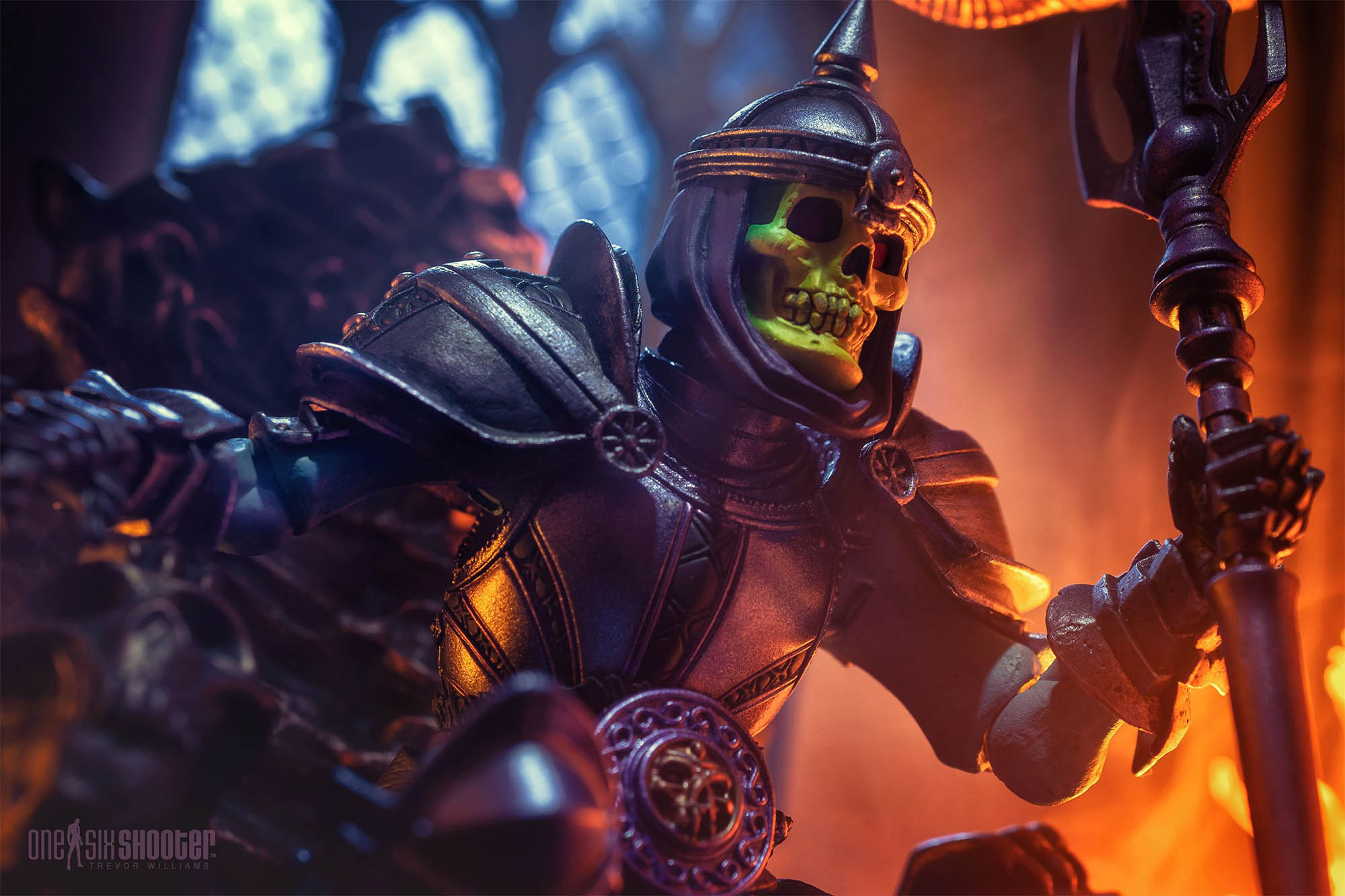 Cowaross and Malynna
The 2018 Power-Con event saw the debut release of the green-furred Cowaross figure as well as Malynna, our first female Power-Con figure!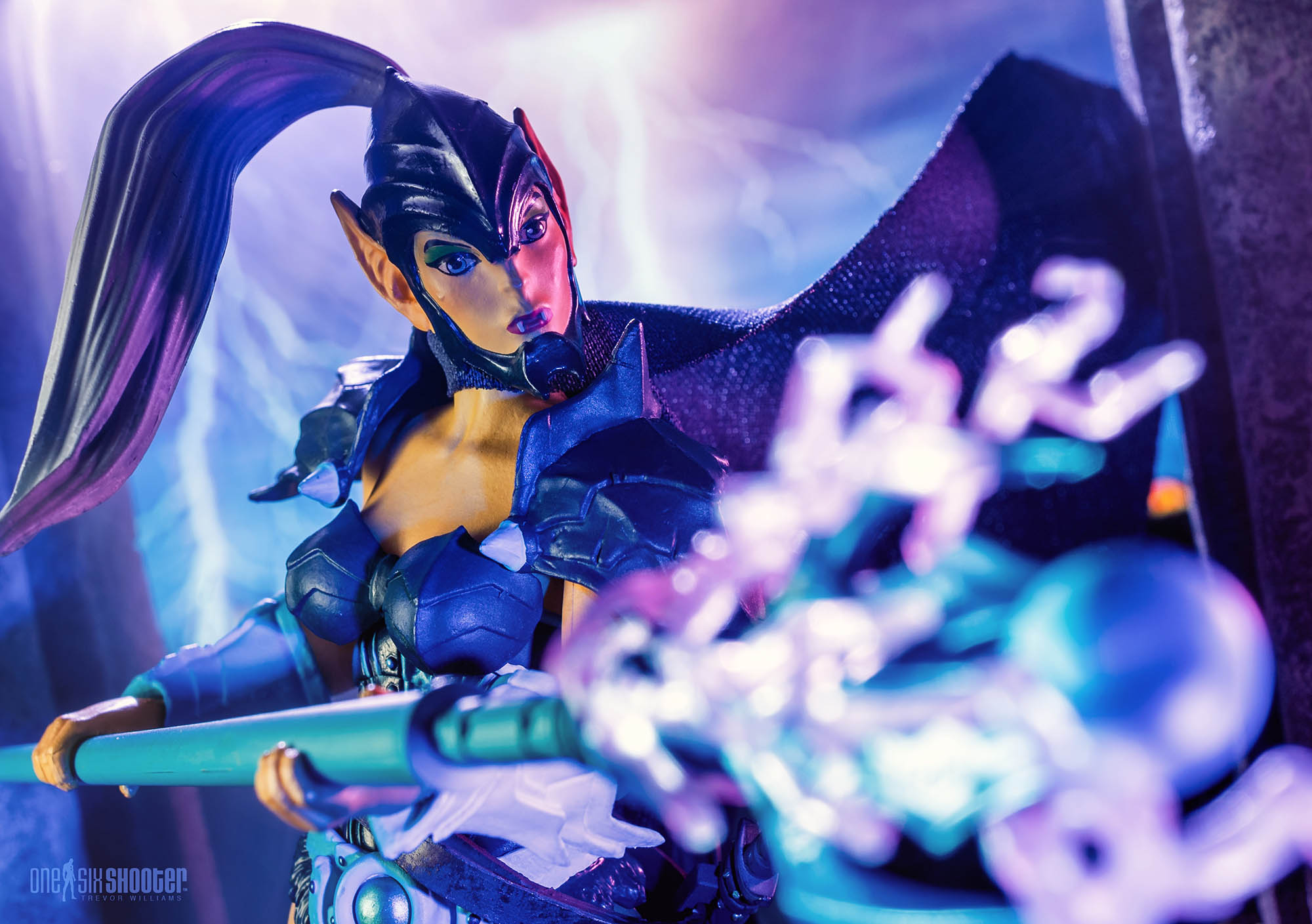 The "cat" head that had made its debut on the B'alam figure was a perfect choice to create this Jaguallian warrior for Power-Con, while Malynna used a vampire head that introduced a new sub-race into the Realm of Mythoss – the deadly Uubyr race, which is a mix of bloodlines from orcs and vampires!
These two figures were also made available for pre-order as part of the Soul Spiller wave.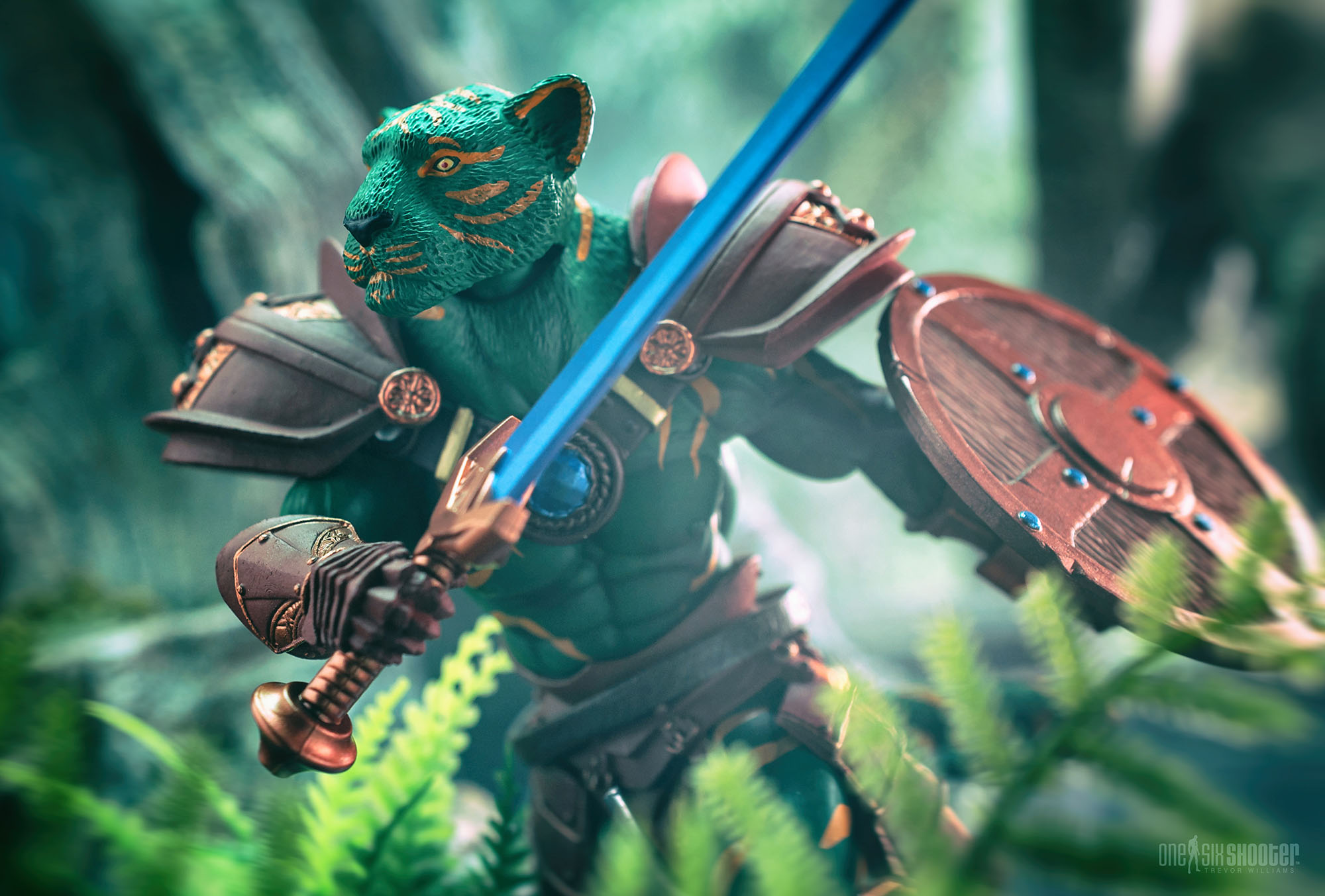 Purrrplor and Kronnaw
The evil warriors came out in force for the 2019 Power-Con Debuts! The purple-furred Purrrplor (credit to Mr. Bill Mancuso for that wonderful name) was joined by the terror known as Kronnaw for this set.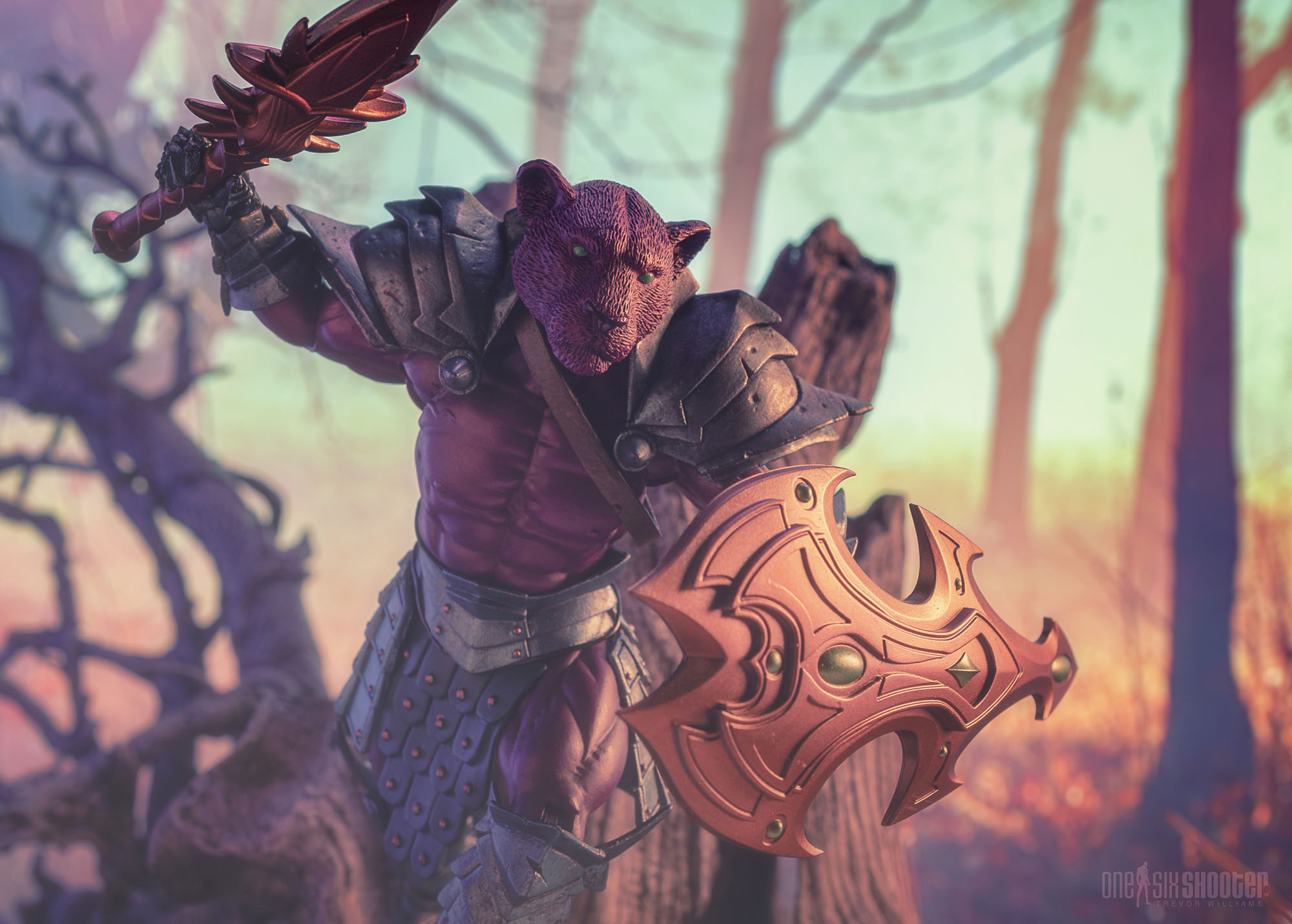 Every set of Power-Con Debut figures we have done has been more popular than the set before, and we were blown away by the response to these two figures. At Power-Con, the line in front of the Four Horsemen Studios' table stretched out the door on both days of the event as soon as the show floor opened! There were WAY more people in line than we had figures allocated for each day, so even with a 1-per-person limit, we unfortunately had to turn some fans away empty handed. Luckily, this event was not the only way to get these figures!
Both Purrrplor and Kronnaw were included in the Wasteland wave, and fans ordered these in amazing quantities, making them our most popular Power-Con Debuts to date and raising the bar for us on what we would need to include in subsequent years for these incredibly popular sub-set of Legions figures!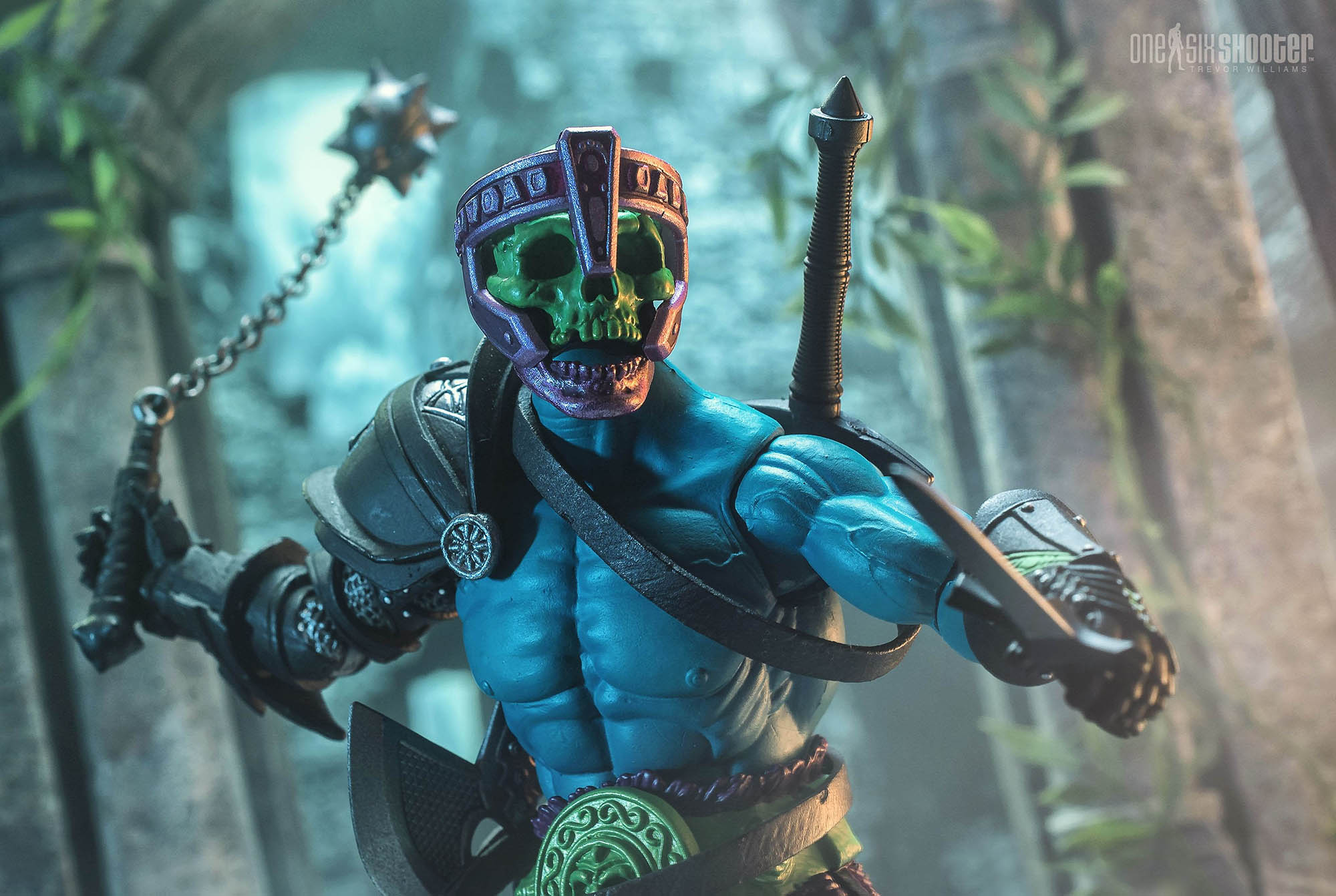 Dorina Onoris and Lord Draguul
2020 was a strange year all around, and the Power-Con Debut figures would be unique for us in a number of ways.
This year was the first time that we included the Power-Con Debut figures as part of a "Mythic Legions: All-Stars" wave – All-Stars 3 to be specific. The voting for that wave was held in January of 2020, and when the winners were announced and the pre-order began, fans were delighted to see a few surprises added – the Stone Troll 2, and the pair of Power-Con Debuts in Dorina Onoris and Lord Draguul.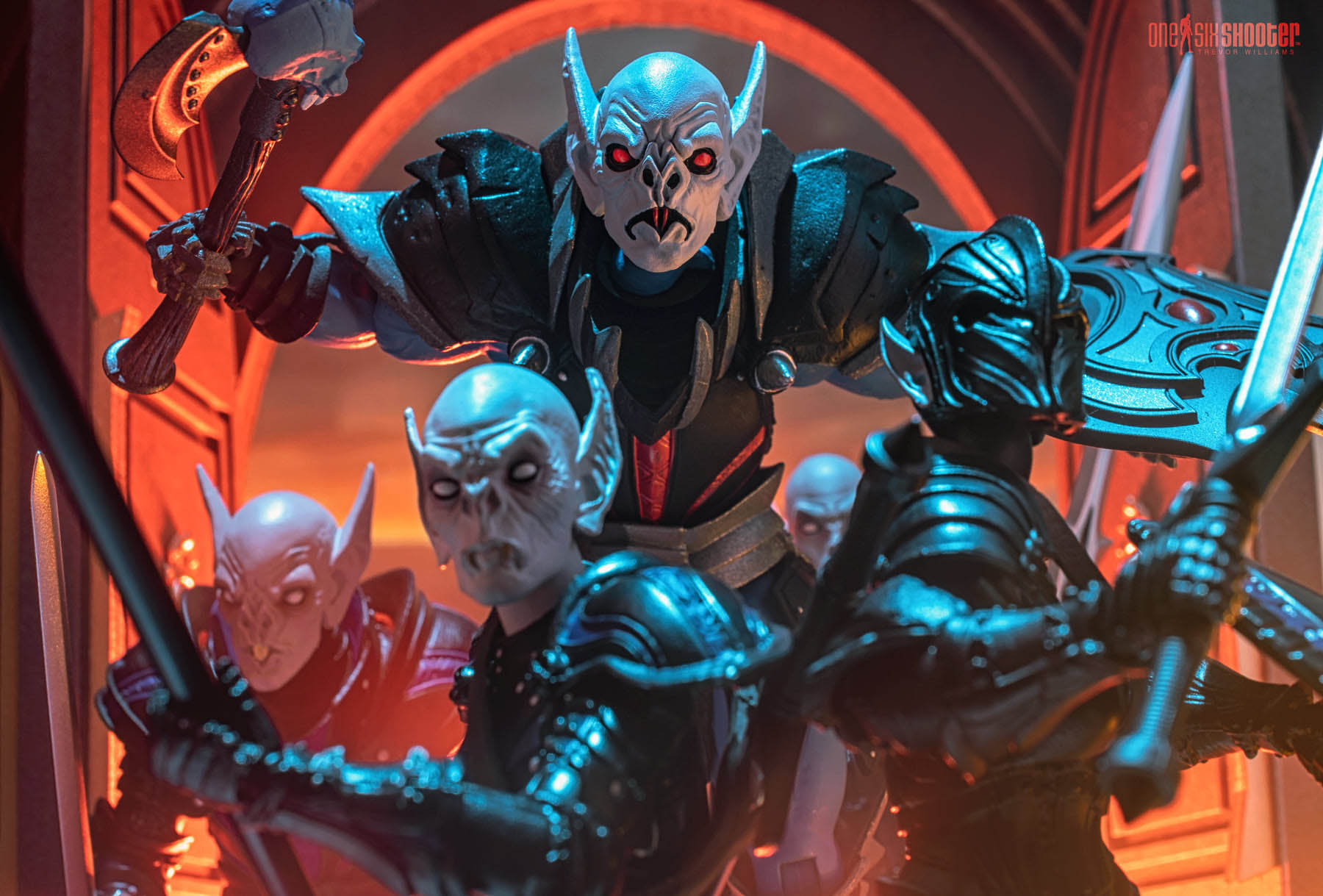 Of course, this vote and the Power-Con planning all happened in the first few months of the year, right before the COVID-19 pandemic changed not only our plans for the year, but the entire world around us! The live Power-Con event was eventually cancelled, yet we had already placed our order for a run of Dorina and Draguul to be sold at the event. Looking to make the best out of the situation and give fans at least a small taste of Power-Con, we decided to sell the Dorina Onoris and Lord Draguul figures we had set aside for the show on StoreHorsemen.com during the same days that the event would have run in Anaheim. We even split the allotment up and only sold a portion of the run each day, just like we would've done at our table at Power-Con!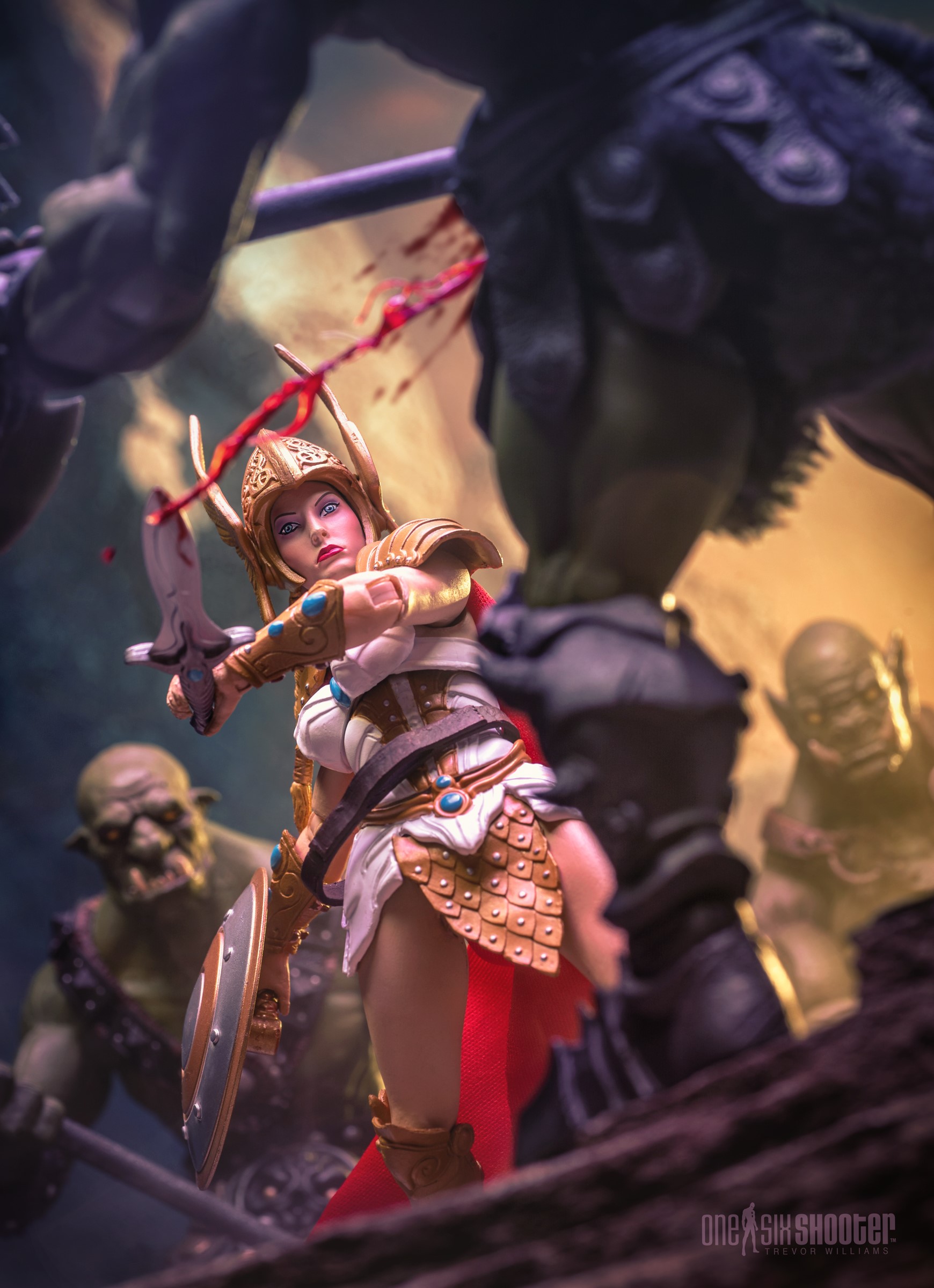 While the cancellation of the event was understandable, it was a bummer for all the fans, and we were happy to at least be able to ship Legions fans some cool figures months before the main shipments hit with the rest of All-Stars 3.
Mephitor and Bryophtus
The idea of pairing Power-Con Debut figures with an All-Stars wave proved to be a success for us, so when voting wrapped up for All-Stars 4 at the end of February 2020, that year's Power-Con Debuts were shown along with the winners. This year's additions to this sub-set of Mythic Legions were none other than the emerald enigma of the swamps of Mythoss - Bryophytus, and the disgusting denizen of the dark woodlands of Mythoss - Mephitor!
These figures were offered for sale as part of the All-Stars 4 wave, joining the winners selected from the fan vote for that series, and the massive Forest Troll 2 (who is shown below alongside Bryophytus and Mephitor). They were also available at the Power-con event in Anaheim, CA for this year.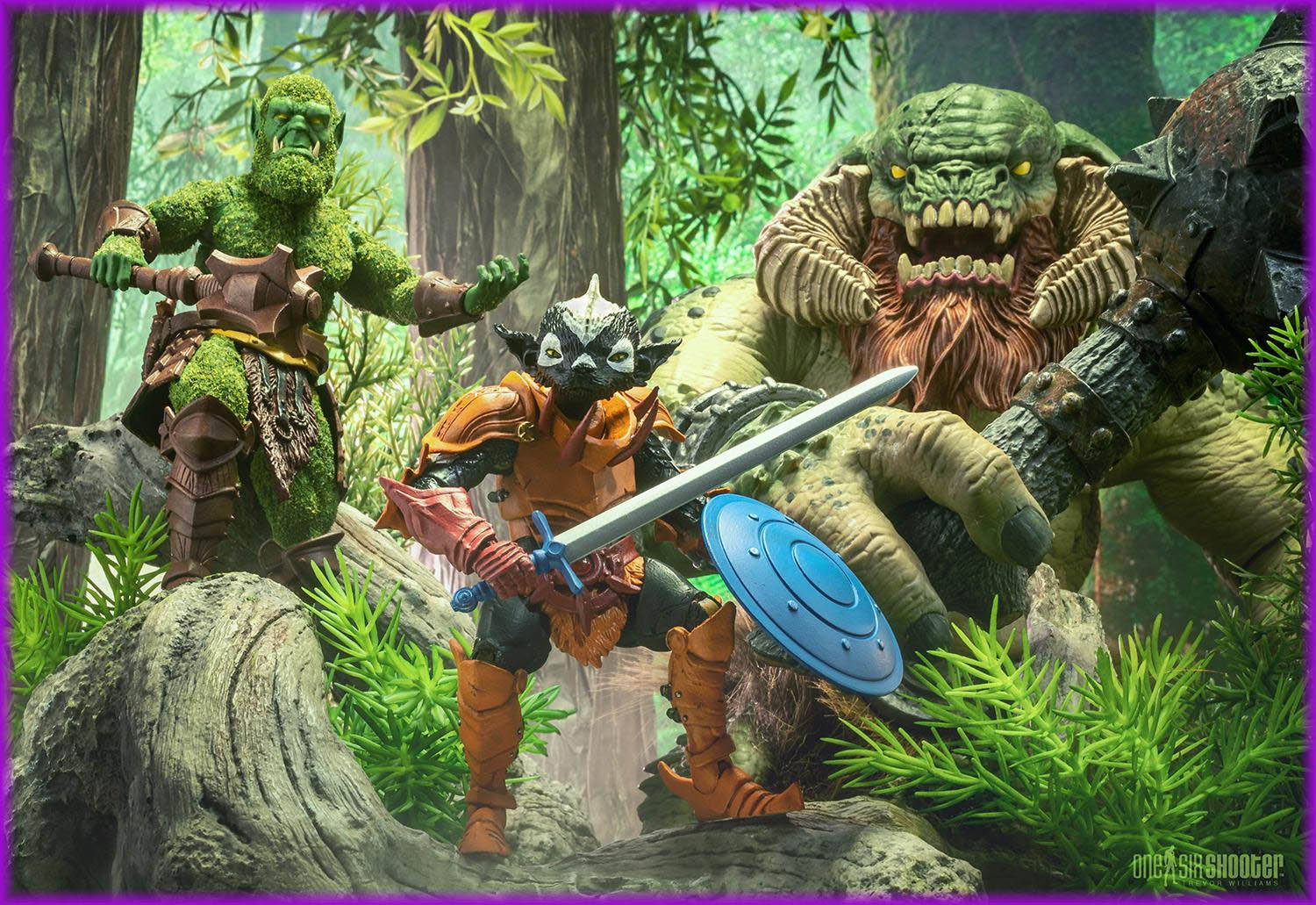 Okeaetos and Zenithon
For 2022's All Stars wave, we decided to mix things up a bit and add some brand new items alongside the fan-voted reissue figures (which is why the wave was dubbed "All Stars 5+"). One thing we did not change was the inclusion of the Power-Con debut figures! This time we offered the winged messenger of Xylona's Flock, Zenithon, and the 8-limbed arrakighast assassin, Okeaetos!
One of the other new things we did with the All Stars 5+ wave was engage with the amazing community of fans and creators who support our lines by having them take part in the reveals for this wave! The Zenithon figure was first revealed by Pixel Dan on his YouTube channel, while the Okeaetos figure was presented by the crew from LegionsCast! You can click the links below to watch those reveal videos.
Okeaetos reveal by LegionsCast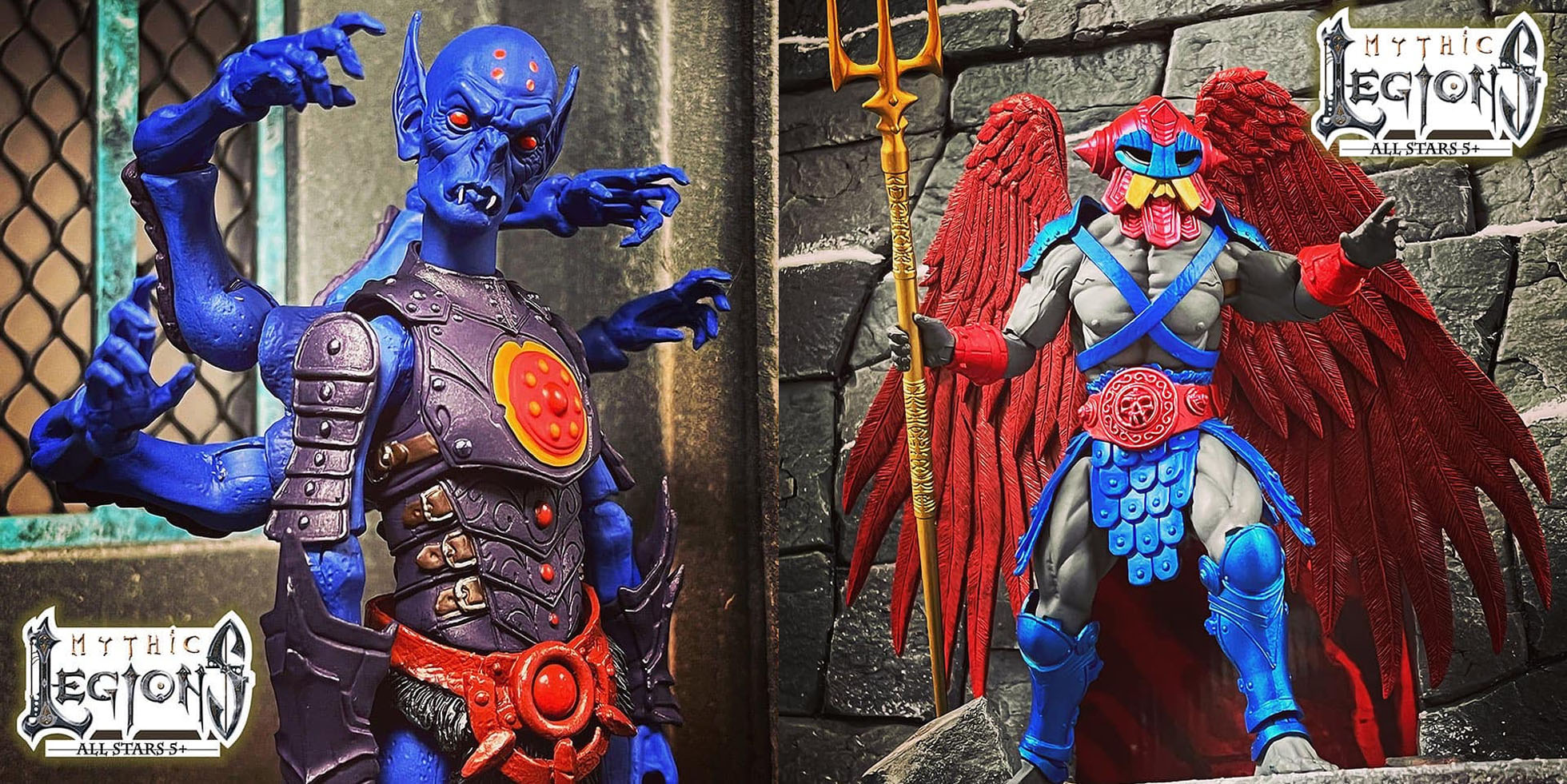 Opor-A-Tiv83 and Sskur'ge
For the 2023 Power-Con Debut figures, we decided to change once again (you can probably see a pattern here - we like to have fun and give fans some surprises). First off, this was the first year since 2020 that these figures would not be included in that year's "All Stars" wave. Instead, these two figures were revealed as part of the Cosmic Legions: Outpost Zaxxius wave! That's right, 2023 marked the first time that the Power-Con figures were part of Cosmic Legions rather than Mythic Legions!
Since the introduction of Cosmic Legions, we've known we wanted to add some Power-Con Debuts to the line. The introduction of the new body parts and accessories in the Cosmic line will allow us to create a new range of characters that would not be possible with Mythic parts alone. Many fans speculated we would do this with Cosmic, and there were a number of guesses as to which characters we would start with. As we've just said, we always enjoy surprising fans, so rather than kick off the Cosmic Power-Con figures with the most obvious choices, we did a few characters no one seemed to expect - the spy Opor-A-Tiv83 and the reptilian thug Sskur'ge! The later of these also marks a first for Power-Con Debut in that Sskur'ge is the first ogre-scale figure we have done for this subset of characters in the Legions lines.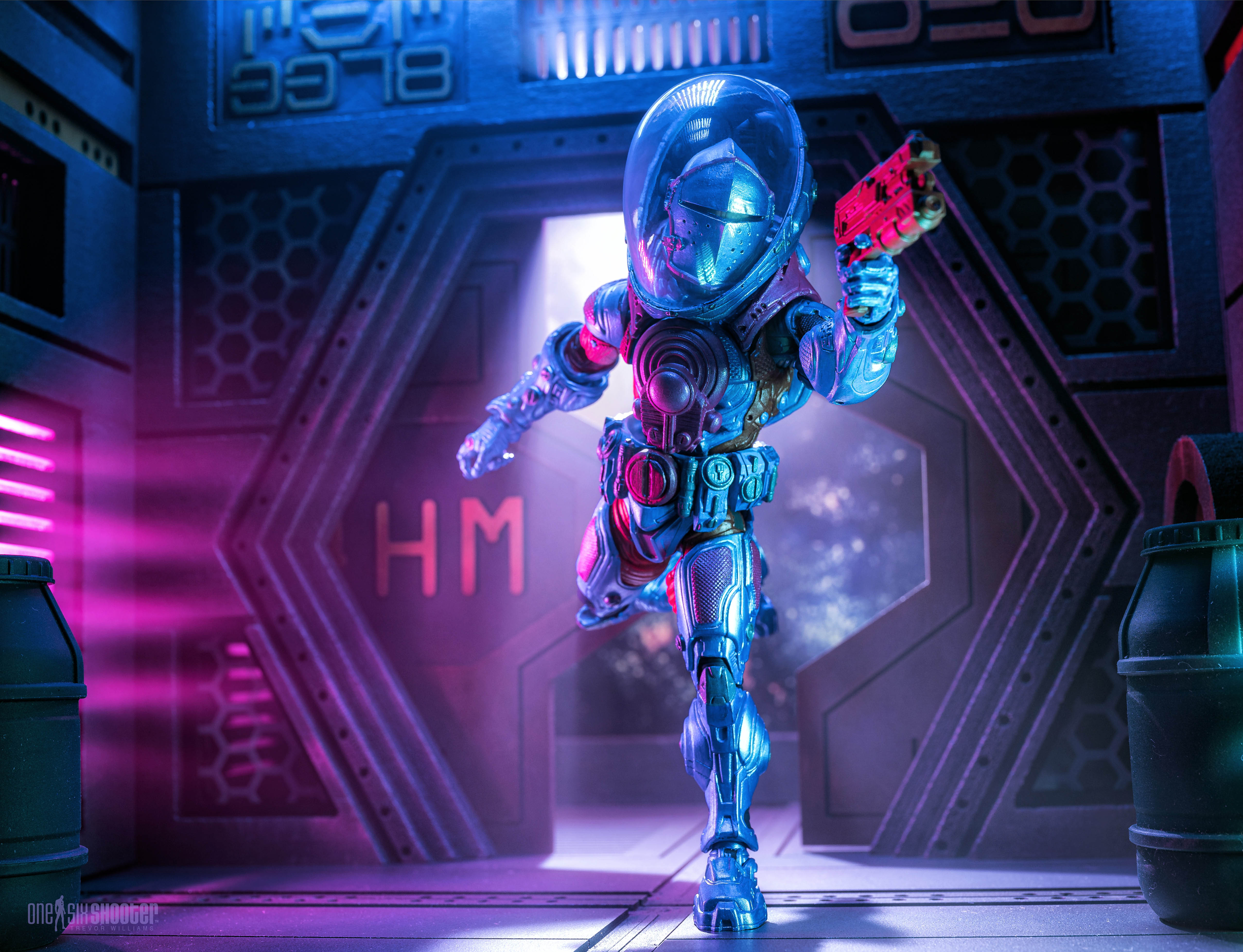 Both Opor-A-Tiv83 and Sskur'ge were part of the preorder for the Cosmic Legions: Outpost Zaxxius wave, and a small number of these will also be available for sale at the live Power-Con 2023 event.
Want to learn more about these two characters? For the Outpost Zaxxius wave, we released a series of short stories – one for each character in the wave. The stories for Opor-A-Tiv83 and Sskur'ge go together and show the interaction between these two Power-Con Debut characters. You can read those short stories below.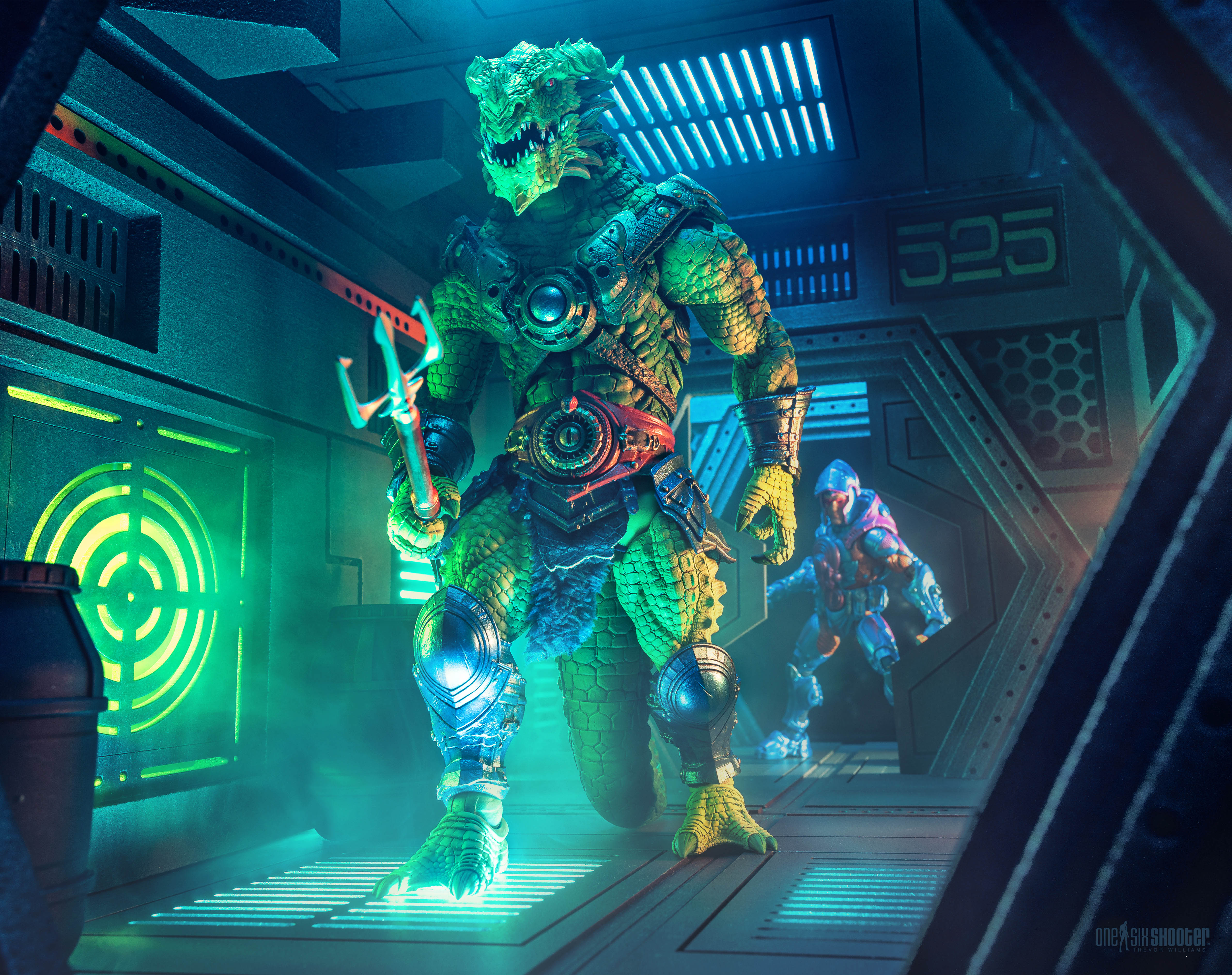 Are Power-Con Debut Characters Canon?
Many fans ask us whether or not the Power-Con characters are indeed part of the official lore of Mythic and Cosmic Legions. The simple answer is "not really."
We write bios for all these figures (and in the case of the Zaxxius figures we added some short stories) that place them within the prospective worlds of Mythoss and Cosmerrium. That being said, none of these characters are players in any of the key storylines for these worlds, and none of the Power-Con characters will appear in any books, comics, video games, movies, or any other forms of media that may come in the future for the Legions properties.
You may ask yourself why we would bother to create characters who are not part of our core stories, and the answer is simple - they make cool toys! At the end of the day, we have stories to tell, but we also want to make cool action figures! With lines as expansive as Mythic and Cosmic Legions, not every released character is going to be a major player, and some of the characters will be toys only. This is where the Power-Con Debut figures reside, as cool toys only - but the great thing about Legions is that the world is what YOU make of it! Many fans put their own spin on the lore for their collections and displays, so if you love the Power-Con Debut figures and wish to make them key heroes and villains in your canon, you have the ability to do so!
Fan-Created Tribute Figures
We would be remiss if we did not acknowledge the incredible creativity of our fans, many of whom have embraced this idea of using Legions figures to make characters that would be pretty cool Power-Con Debuts. We have seen so many cool and inventive creations – from Eric Miller's vampire that was donated as a prize on the Cabal years ago, to the range of customs that Matt Rhoads showed off at the first LegionsCon event, we love seeing the creativity of our fan base and what amazing recipes they can come up with too!
POWERFUL Reviews!
Want to learn some more about a few of the Power-Con Debut figures? The always amazing, ever POWERFUL reviewer, Alberto Arribas, does some of the funniest and best toys reviews we have ever seen – and he loves to review these Power-con tributes! Check out his reviews right here!
First published on 03.09.21
Published on 04.11.23