As lifelong Masters of the Universe fans, the opportunities we have had at Four Horsemen Studios to be a part of the ongoing MOTU lines has been nothing short of amazing. From our time redesigning iconic characters in the 200x series to the expansive work we did on MOTU Classics, these projects really have been a dream come true for us as toy fans! Still, as cool as all these experiences have been, they paled in comparison to the chance we had in 2012 when Mattel asked us to create a brand new character for the line – one that would become a permanent part of Masters of the Universe lore!
Creating a New Character
By 2012, we had helped create hundreds of Masters of the Universe figures across a variety of lines. All of these, however, had been new versions of existing characters either from the original toy line, comics, artwork, or the cartoons. Having an opportunity to develop a brand new, totally original character for the line was something we had never imagined we would get to do for Classics, so when the conversation around the line's 30th Anniversary began and we were asked to contribute a new design for a figure, we were honored and excited beyond words!
Enter the Dragon
Looking at the MOTU releases over the years, all the way back to the original toy line, we realized that there had never been an actual dragon released (the gigantic Granymr figure from Classics wouldn't be released until after this point). We decided to create a "dragon man" for our 30th Anniversary figure.
Using the tail piece that the Classics line had already utilized for the Whiplash figure, we designed a new chest armor piece, as well as a large set of wings and a brand new head for the character we dubbed Draego-Man. We also decked this figure out with some great paint applications and accessories, including a flaming sword, whip, and shield! Unfortunately, because of the large, detailed nature of this toy, Mattel had to cut back on his accessory pack-out, and he was only released with his sword. His other weapons, along with a "non-flaming" version of the sword, were eventually made available as part of the "Great Unrest" weapons pack that was released later in 2012.
A Favorite of Ours and of the Fans
The 30th Anniversary sub-wave of MOTU Classics gave fans some of the most unique designs in the entire line, and we were thrilled when fans overwhelmingly embraced our entry into the MOTU Universe. Today, Draego-Man actually remains the most sought after figure from that set. In fact, many Mythic Legions fans even even worked this character into their displays, treating Draego-Man as an honorary resident of the Realm of Mythoss.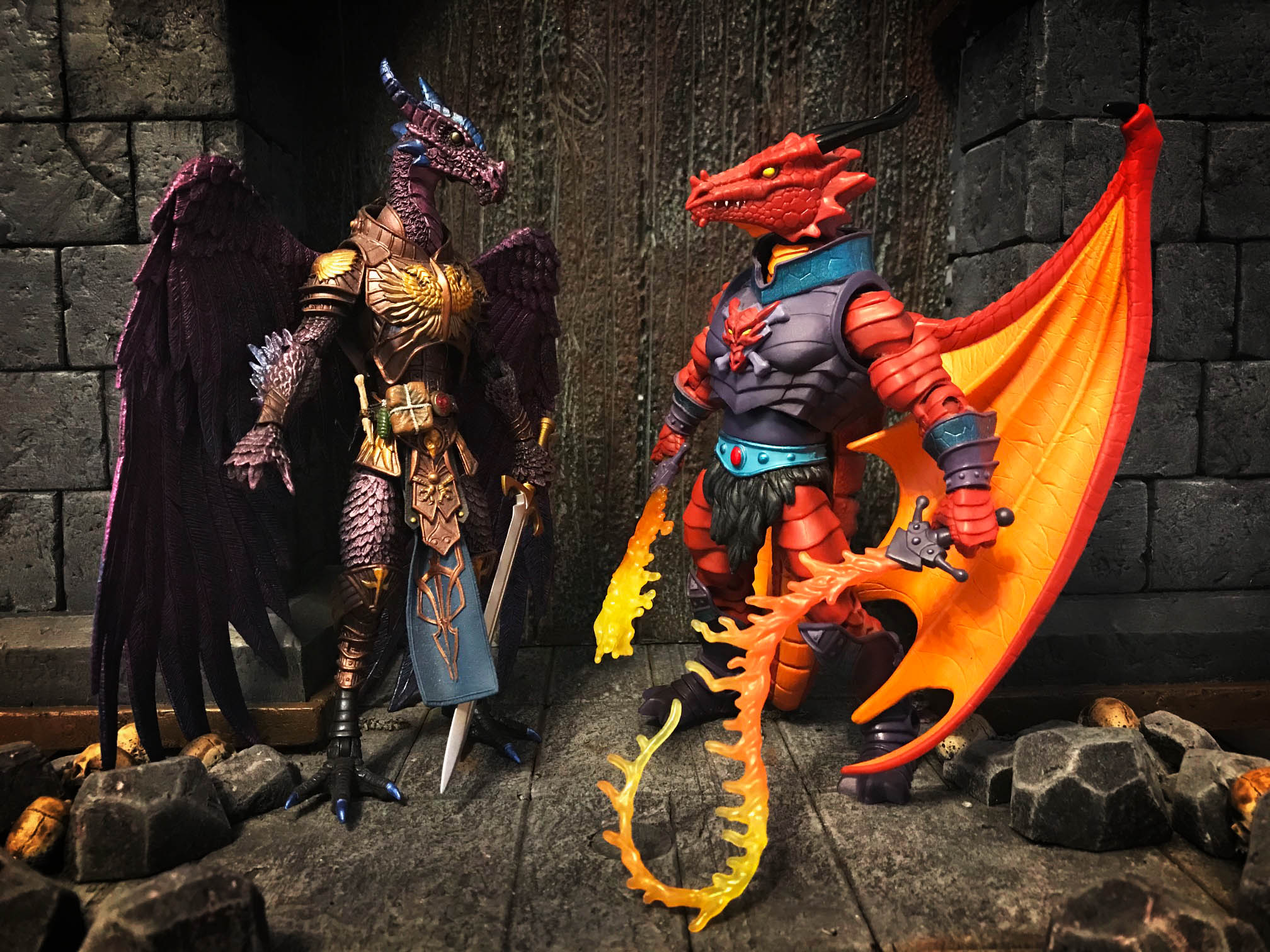 The entire process of Draego-Man's creation remains one of the most rewarding experiences we have had during our 20+ years in business, and who knows, with the renewed interest in Masters of the Universe thanks to upcoming movies and shows, we may even get to see more of this draconian warrior!
Published on 04.14.20