When Lanard Toys contacted our studio back in 2017, they had a very interesting project to discuss with us – the "monster" figures from the upcoming Rampage movie starring Dwayne "The Rock" Johnson!
Loosely based on a video game originally released in 1986, Rampage told the story of 3 creatures who would grow to enormous proportions after a freak accident, setting off a citywide chain of mayhem and destruction! In the video game, these beasts are thinly veiled versions of King Kong, Godzilla, and a giant Werewolf. For the movie, these characters were tweaked to be a gorilla, a crocodile, and a mutated wolf.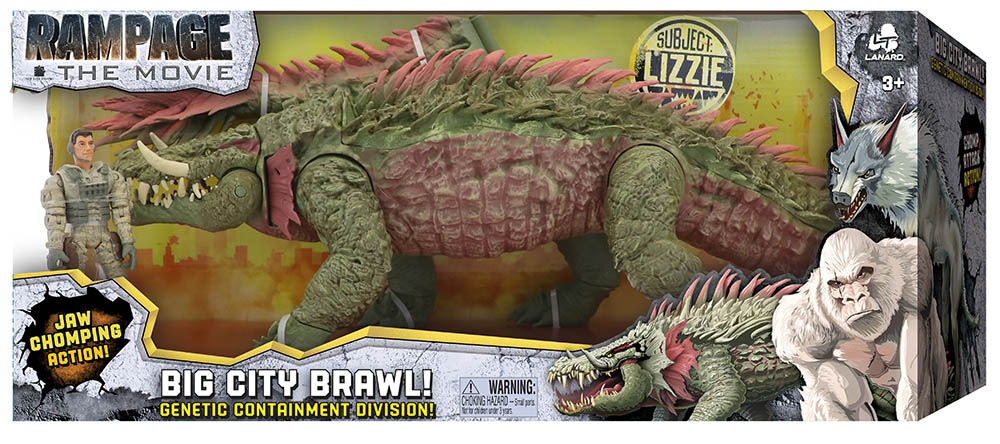 Lanard had acquired the toy license for this film, and they had a variety of sizes and sets planned for release. What they needed help with was translating the movie monsters into toy form, something we were excited to tackle at Four Horsemen Studios!
Building Off the Movie Models
The look and feel of these characters were already established based on the movie itself, so our job on this project was less about designing new creatures, but really taking what already existed and turning it into cool toys. In fact, the figures were already pretty fleshed out with a 3D models that were provided to us. For the gorillia, George, all we really did was engineer the appropriate articulation points that the final figure would include. For the other two characters of Lizzie and Ralph, we had a bit more creative freedom since the models needed a little more work to get them ready for toy form!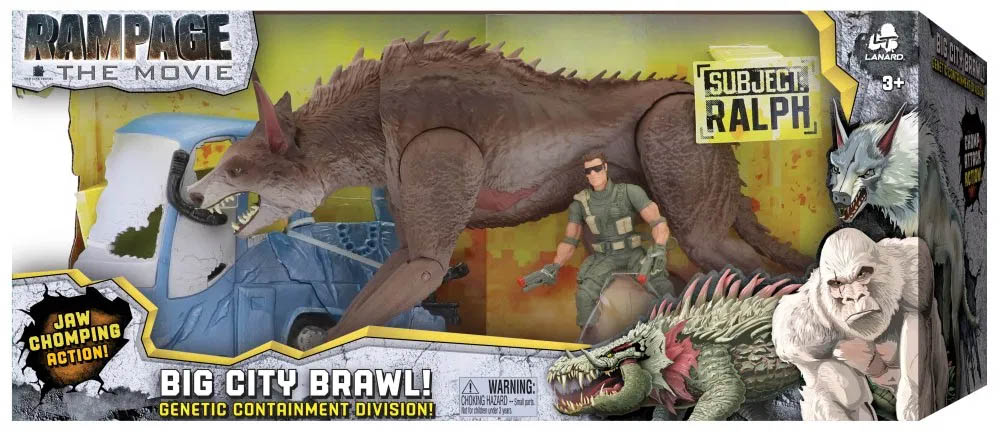 The Lanard Business Model
If you are unfamiliar with Landard, they are a company that produces a number of different toys. In the realm of action figures, they are probably best known for their line of military figures and vehicles called "The Corps", as well as their licensed products for movies including Kong, Jumanji, and of course Rampage. The Landard action figure lines are lower cost products meant to appeal to a wide range of buyers, including kids who are excited for the play features that many of these toys contain!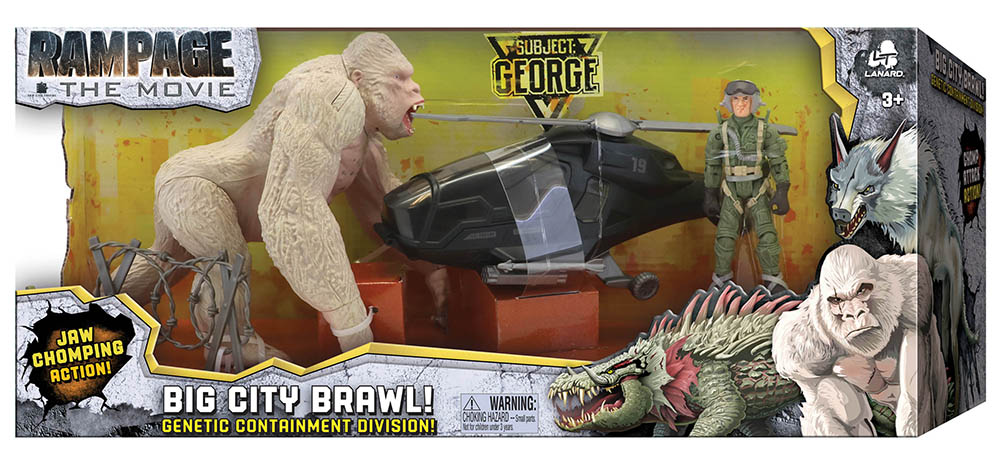 Working for Landard was honestly an interesting change for our studio. We do so much work for companies whose products are more targeted to the collector market and on figures with price points of $35 to $50 or more per figure, so to work on the Rampage line was a change of pace for us. These large-scale monsters would be released in multi-packs called the "Big City Brawl" series. The beasts would be sold alongside human characters (which we did not develop) for around $20 per set! Considering the large size of these figures, especially the huge Lizzie monster, that is an incredible value. We worked hard to engineer a toy that would look great, but still meet Landard's price point needs. Honestly, we are amazed at how much value they packed into these toys! They are a ton of fun for kids, but they also look great for collectors. Speaking of collectors…
Adding Beasts to Mythoss
When the Rampage figures were finally released in 2018, it did not take long for Mythic Legions fans to find them and integrate them into their displays. At this point we had not even mentioned our work on the line. We had been sworn to secrecy since we had seen the monster models long before the movie hit the screen! When we did finally comment that we had, indeed, had a hand in designing some of those toys, our studio's fans responded incredibly positively, hunting down these figures for their Mythic Legions collections. Many fans picked up the large wolf figure of Ralph and the giant crocodile Lizzie to use as mounts for their orcs and bog goblins. The photos below show these two monsters used in the custom work of Jeremy Girard. While Jeremy added lots of extra parts to these toys, including the saddles which were not on the original figures, these photos are one example of how these toys could be used to add to some "rampaging" beasts to an existing Mythic Legions collection!

Finding The Beasts Today
While the initial retail prices for these figures was incredibly reasonable, the limited nature of these toys' release (there were exclusively sold at WalMart and Smyths stores) made them difficult to find for some collectors, and that limited supply has long since dried up from retail. Aftermarket prices for the "Big City Brawl" Ralph and Lizzie can run extremely high at times, especially for packaged versions of these large toys. If you do hunt one down, however, you will have a pretty amazing beast for your Legions to ride into battle!
Published on 05.19.20