"Mythic Weekend" has come and gone – and what a great weekend it was! The combination of G-Con 2020: Illythia on Friday, 11.13.20, followed by the fan-focused LegionsCon 2020 on Saturday, 11.14.20, gave Legions fans worldwide a ton of great content to enjoy, along with many exciting new reveals! Judging from the fan reaction we saw, and all the wonderful comments and "thank yous" we received, this weekend was a big hit! Expect us to do more events like these in the future! For now, let's recap this amazing weekend.
Catch the Replay
First off, if you missed these events live, or if you simply want to relive all the fun and watch again, both G-Con and LegionsCon replays are available now!
G-Con is totally free to watch. You can view all 5+ hours of the event at https://www.crowdcast.io/e/g-con-2020
LegionsCon is an event run by Veteri Productions, and it does have a small ticket cost of $6, but for that price you get over 25 hours of Legions content! You can view the replay at https://www.crowdcast.io/e/legionscon
(Note: To watch all the breakout sessions and panel discussions from LegionsCon, once logged in click the "Schedule" link the top left corner to see all these sessions. On mobile, you will click the "down arrow" at the top middle of the screen to see these sessions and access any you want to watch).


G-Con 2020: Illythia
Our third annual G-Con event brought together a variety of guests who are connect with Four Horsemen Studios. Throughout the day we revealed new figures from the Mythic Legions: Illythia wave (more on that in a moment), and interspersed those reveals with interviews of our guests, including how they came to be involved with the studio. It was a chance for fans to hear from some key players who are behind the scenes, but vitally important to the work we do at Four Horsemen Studios and in promoting our work to the world. These guests included:
Our in-house studio team, including painters Sherri Cook and Cameron Smith, all-around utility man Bill Mancuso, and production and warehouse manager (and master of the giveaways) Chris Garwych

Long time friends and invaluable members of the Horsemen family, our product manager George Gaspar (who is literally the "G" in G-Con), and the ever awesome Israel "Izdawiz" Ramirez

Some of the amazing sculptors and creators we work with, including Brian Baity, Ben Misenar, Aaron Doyle, Brodie Perkins, as well as Christian Baluyot of CJESIM Soft Goods Company (many of the new releases we showed off including his work!)

The artists who help bring the world of Mythic Legions to life, including Nate Baertsch and Trevor Williams aka One:Six Shooter, whose stunning photos really helped us showcase these new releases.

The amazing people who help us promote Mythic Legions to the world, including our webmaster and Digital Marketing Manager Jeremy Girard, the POWERFUL YouTube reviewer Alberto Arribas, Lord Veteris himself – Joe Veteri, and the supreme leader of the Mythic Legions Cabal, Waltor "the Mad" Hagen!

And last, but certainly not least – making the BEST appearance on-screen at G-Con 2020 - Travis Bolles, along with the rest of the podcasting trio from Michigan known as My Wife Is Going to Kill Me / LegionsCast, Steve Bushotee and Pete McCarthy.
Of course, the whole point of any G-Con event is to reveal new stuff, and the 2020 edition delivered a wave that pits the vampires of Illythia's Brood against the heroic warriors of Xylona's Flock.
Aptly named "Illythia", this wave follows the pattern established last G-Con by releasing one of the dark gods or "Horsemen" of the Mythic Legions storyline along with some of their followers. Besides Illythia and her horse, Phobus, we revealed the Vampire Falconer Vallak, a new version of Baron Volligar, the previously shown minion Vargg, and at long last – the Vampire Brute, Decebalus!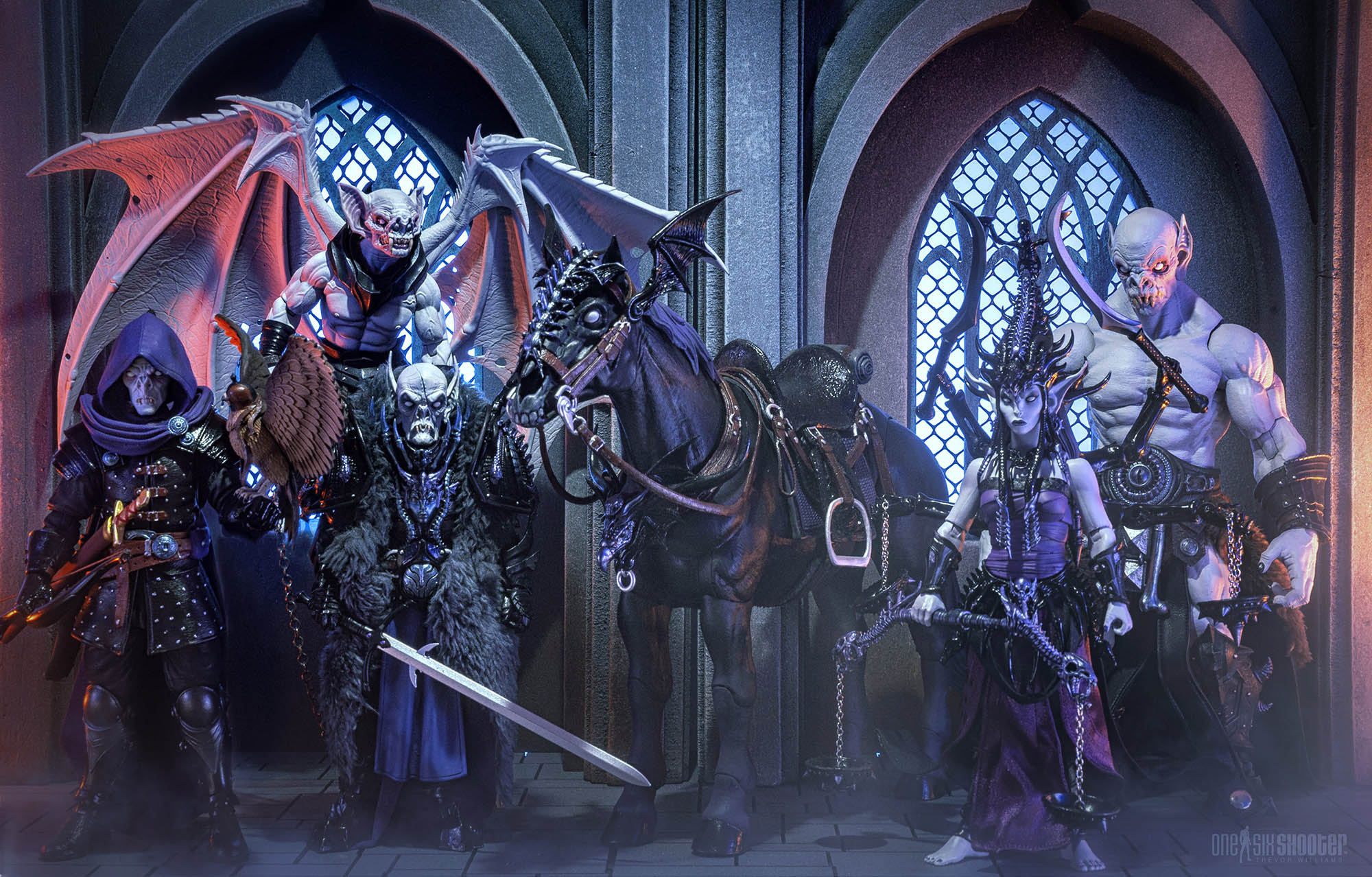 On the side of good is a new version of the leader of Xylona's Flock, Arteymss Silverchord, along with her mighty mount, the moose Alder. Joining the Faerie Elf in this wave are the Satyr healer Krotos, the Elven Lord Bardric, and filling a request that many fans have had since they first saw a Legions' horse - the line's first Centaur in Aphareus.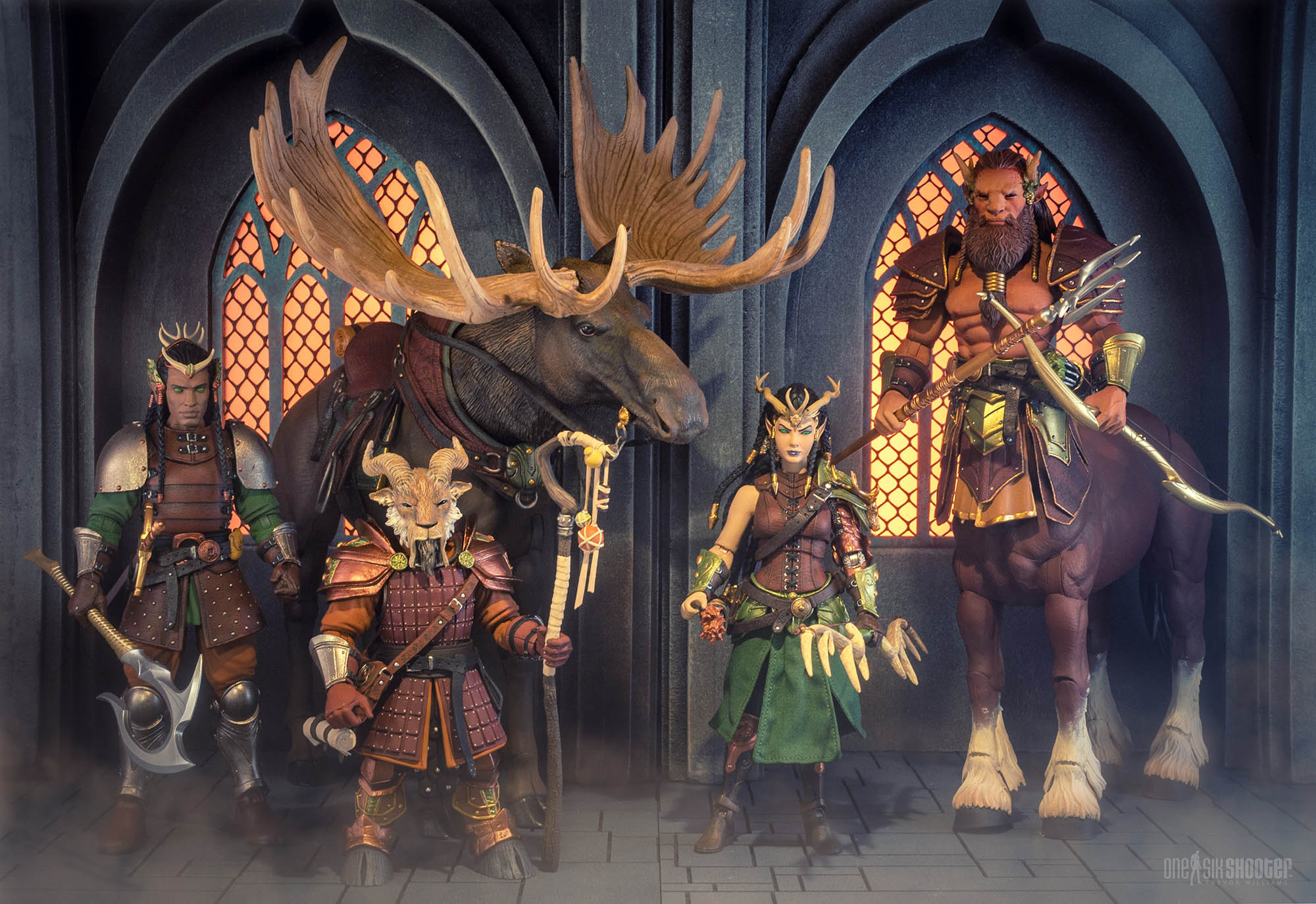 The entire Mythic Legions: Illythia wave is available for pre-order now from StoreHorsemen.com.
LegionsCon 2020
After a day focused on the studio itself, Day 2 of Mythic Weekend was a community-centric event in LegionsCon 2020. Created and hosted by Joe "Lord Veteris" Veteri and Jeremy "Mythic Customs" Girard, this event began with a number of breakout rooms where different artists and creators met with fans and showed off new projects and past creations.
As the breakout rooms wound down, the panel discussions began. Throughout the day, viewers of LegionsCon were able to enjoy conversations around "Customizing Mythic Legions Figures", "The Art of Mythic Legions", "Creating 3D-Printed Add-Ons for Mythic Legions", and "Building Diorama for Mythic Legions Display and Photography".
These panels led into our own 1-hr session towards the end of the day. For those fans who thought we revealed everything we had the day before at G-Con, they were in for a treat!
First off we announced that a "Deluxe Legions Builder" wave is planned for 2021. This is NOT the "always in stock" Legion Builders that we've mentioned in the past (we are still working on those too) - this is a wave of all new Legion Builders, and it was announced that each of them would come with new heads! No dates were given on when to expect these to be available for pre-order, but look for them to be revealed in 2021.
Many questions were asked about other kinds of mounts, including bears and wolves – and of course fans wanted to know about that "3-foot dragon" we've mentioned numerous times. While there is nothing to report on those fronts, we are aware of the desire for them all and we share your enthusiam for those ideas!
At about the halfway mark of our panel, we turned the conversation to the future and officially unveiled our next "Legions" line – Cosmic Legions! While we didn't want to show too much (this was a teaser reveal after all), we did have a few images to share.
These images, which feature the artwork of Nate Baertsch for the Cosmic Legions logo, as well as our latest version of the "Horsemen skull" for this line, set the tone for what you can expect from this new series, which is set to debut in 2021! While no exact date was given, Quarter 2 was the tentative timeline that was shared.
One cool note, that "Horsemen skull" was actually revealed by Eric to have been created by him in Z-Brush, so it is a fully digital asset that we may see on a production figure one day!
Additional information about the Cosmic Legions line that was shared included:
It will include an all new world, story, and characters (this is NOT Attlus in space!)
The parts will be interchangable with Mythic Legions toys (so technically, YOU can make an Attlus in space if you want)
It will be integrated with Mythic Legions release schedules (no, Mythic is not going anywhere, don't worry!)
Diverse characters and creatures with varied races, shapes, and sizes
Symbiotic system of parts sharing with Mythic Legions (not only will parts be swappable between lines, but some parts introduce in one line will show up later in new ways in the other!)
Unique mix of materials and finishes (clear visors, vac-metal, etc,)
All of this information is also found on the new "Cosmic Legions" page of this website. You can expect more reveals and information to be added there in the future!
Finally on the Cosmic front, we showed a stunning image courtesy of Trevor Williams, which is shown below.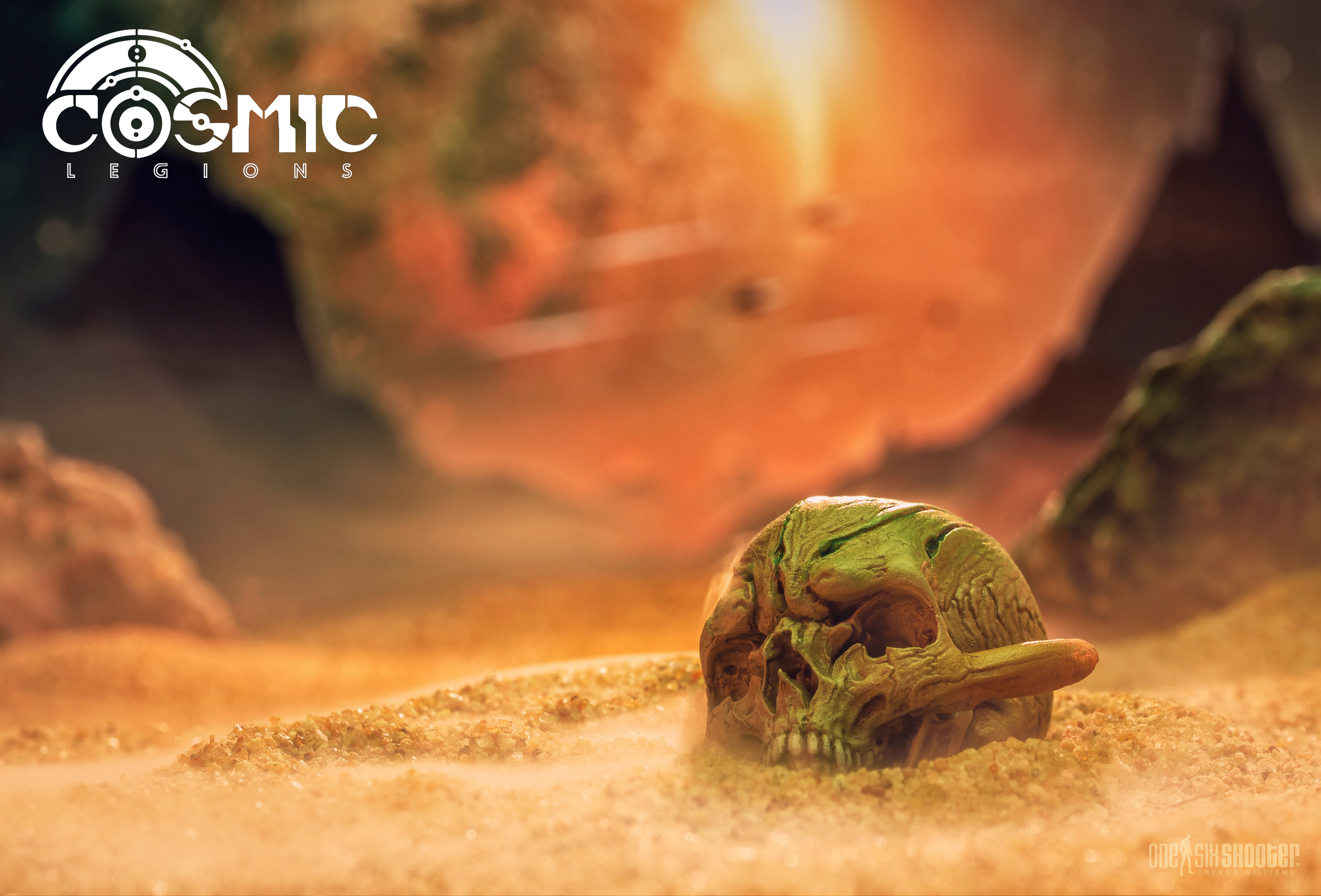 As the Horsemen panel was ending, we did have time for one more surprise – a teaser video for "Mythic Legions Tactics", a new video game project we are working on, including the first chapter of this story – "The War of the Aetherblade". You can see that video below.

While no additional information on this new game was revealed, you can visit MythicLegionsGames.com to sign up for what will be a very special Legionnaire-only opportunity to help make this game a reality and shape the very nature of this project. You can expect lots more info on this very soon!
Finally we came to the perfect way to cap off a perfect weekend as LegionsCon turned to the LegionsCast crew to try to summarize the excitement that all Legions fans were feeling after 2 days of wonderful interviews, panels, giveaways, and reveals.
See You in 2021!
One thing we definitely took from this past weekend's events is how much we enjoyed interacting with all our fans again! With in-person cons largely cancelled for 2020 due to COVID, it was great to get the Legions community together for these 2 days and have some fun! While both G-Con and LegionsCon are annual events, look for the studio to host some smaller virtual events in 2021 as a way to bring the fans together and share more cool stuff with you all!
THANK YOU to everyone who participated in Mythic Weekend either as a host, guest, panelist, moderator, or attendee. We were truly blown away by the turnout and it once again shows what we always say – WE HAVE THE BEST FANS IN THE ENTIRE WORLD - or maybe that should now we should say the entire UNIVERSE!!!
Published on 11.17.20