On a recent interview with Pixel Dan, Cornboy referenced a character that newer Mythic Legions fans may not be familiar with - "Minotaur the Duck" from our Gothitropolis Birds Kickstarter. The story behind the creation of this character is a tale of a hero emerging amidst the chaos of battle. A powerful warrior waterfowl who would become our company's first Kickstarter exclusive release. This is the strange, illogical origin of Minotaur the Duck.
A Champion Rises
The creation of Minotaur the Duck goes back to the old Four Horsemen website forums, back during the days of the FANtastic Exclusive voting. Credit for the following recap goes to Israel "Iz" Ramirez, who sent us this write-up of the character's creation.
"Minotaur the Duck became the unofficial FANtastic Exclusive Forum board mascot after a spirited discussion in which one board member began arguing that Scarabus should not have won the FANex 3 contest, because the character he preferred, the Gargoyle, was "the most logical choice." He argued that the Scarabus concept was inherently flawed and illogical because he was not a scarab. Then he touched off a firestorm by claiming that voting for Scarabus was akin to voting for a duck character that donned armor and a horned helmet and called himself "The Minotaur."
'Dude, that duck sound awesome!' someone replied. Others agreed, and before long artists on the board began drawing pictures of Minotaur the Duck and customizers began creating their own custom duck figures. Board member Ryan Yaconiello, the inaptly named "Mr. Yac" (who lacks horns), took the Duck character under his wing and wrote a thrilling backstory explaining his logical inconsistencies.
Mr. Yac became so enamored with the character that he printed up t-shirts and promotional magnets for the Four Horsemen and started a lobbying campaign to have the duck made into a real figure."
You can see some initial fan-created concept art for Minotaur the Duck below.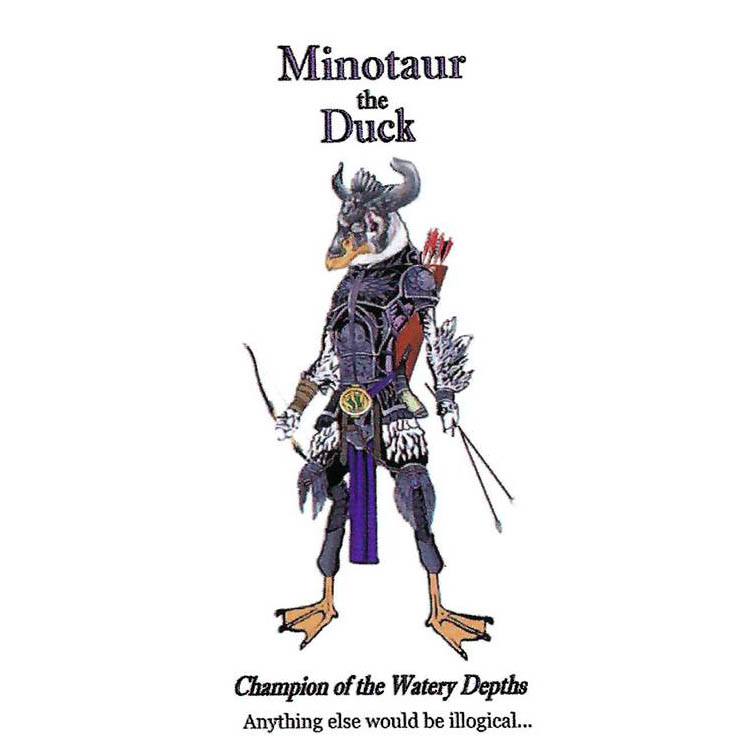 Minotaur the Duck Conquers Kickstarter
As we prepared for our first ever Kickstarter, a campaign that would finally see our long awaited Gothitropolis Black Raven figure produced, we began to ask our fans what other kinds of bird variants they would like to see in the line. As we had done with our previous figures, including Xetheus, Ramathorr, and others, we planned to add new heads to a single base body to create a number of additional characters that could be offered as part of our Kickstarter. Our fans made tons of great suggestions, but the most common request we heard during this time was to make Minotaur the Duck available!
When our Kickstarter launched in July of 2013, we offered 6 different characters as the initial offering, as well as 6 "stretch goal" characters (we would add additional stretch goals later, including a seventh character). Amongst those initially offered figures was the glorious Kickstarter Exclusive – Minotaur the Duck! Making this character a special release really was the most logical choice, and the fans who had been with our studio since the early days rejoiced at seeing Minotaur emerge victorious from a hard-fought battle. What had begun as a fan-fueled joke had been transformed into an actual product release. All hail Minotaur the Duck, champion of Kickstarter-powered avian action figure waves!
A Duck and His Friends
Below you can see a shot of this mighty duck hanging out with his fellow Kickstarter exclusives. It's a pretty fun club to be a part of.
Additionally, it is worth noting that Minotaur is not the only waterfowl warrior that we have released. His cousin, Mallatard, was also available as part of the Eathyron's Dozen wave - but it would only be logical to save that story for another day and another article!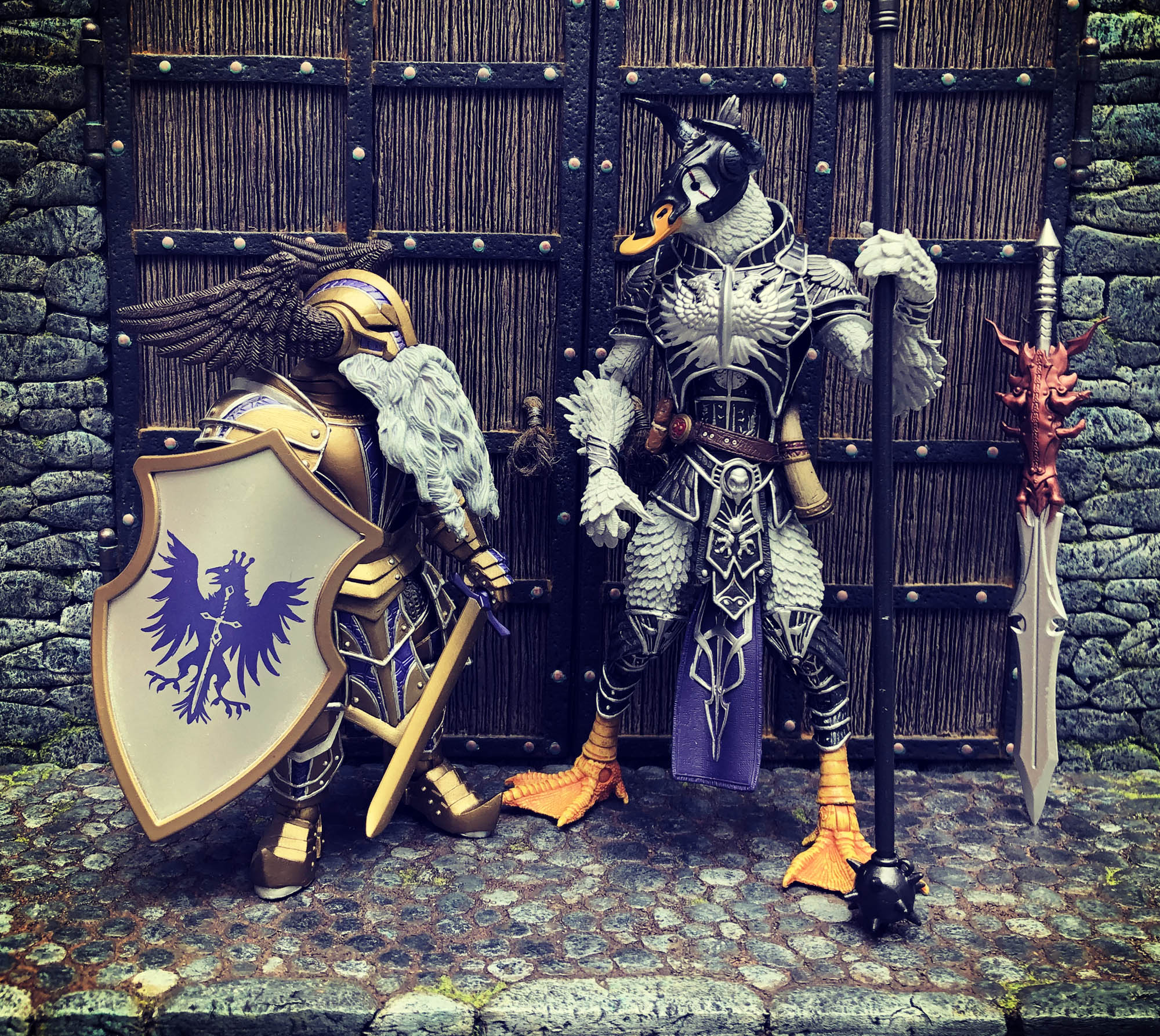 Published on 06.16.20