With the recent announcement that voting is about to begin for Mythic Legions: All Stars 6, we expect that some newer fans of the line may be wondering, "what exactly is a Mythic Legions All-Star?" Let's take a look at the history of this voting process, and why these rereleases have become such an important part of collecting Mythic Legions figures.
The Beginnings of Mythic Legions
With every wave that is offered, the fanbase for Mythic Legions grows. The word of mouth that our fans spread on these toys and the incredible community that has formed around them has gotten more and more people into Mythic Legions – and we all know what happens when you order a few Legions figures "just to see what the fuss is all about." That is almost always a recipe for someone who quickly decides they need to "collect them all"! That, of course, is not always easy – but we will get to that shortly.
When Mythic Legions was first introduced in a Kickstarter campaign in 2015, it was an incredible success for our studio, but the reality is that the community of fans backing the line back then was MUCH smaller than it is today. Only 1166 people backed that first campaign. By comparison, by the time we did our second Mythic Kickstarter just a few years later, the number of backers grew by over 60%, a testament to how the line was catching on with fans!
The nominal number of backers for what became known as Mythic Legions 1.0 equated to much smaller production runs on those figures than our more recent waves have seen. This meant that there were fewer figures available for trade or sale once fans had them in hand – and what we discovered was that once fans did have them in hand, they wanted more!
As soon as Mythic Legions 1.0 shipped, we heard the calls from fans to reissue some of these toys as a second run. There were two distinct reasons fans wanted another shot at these toys. In some cases, some of the most popular figures from that wave (like the Barbarian Builder or Asterionn the minotaur) were ones that fans just wanted extras of for customizing or display purposes. In other cases, fans wanted a shot at less popular characters that they had skipped in the initial sales and now regretted passing up. Sir Ignatius and Orn Steelhide were two characters who were ordered in fairly small numbers in that first round of figures, but once fans saw pictures of them from other collectors who had them in hand, and they realized how wonderful their armor colors were, they wanted one of their own. Of course, as we just stated, there were very few of these to go around, and we saw aftermarket prices begin to skyrocket on some of those early figures. This is when we sat down and discussed the idea of what we called an "All-Stars" wave.
The First All Stars
The first Mythic Legions series was by far the most ambitious toy line we had ever created as in in-house property. The number of unique parts and characters dwarfed anything we had done up to that point. While some fans asked for us to reissue the entire 1.0 series, we knew that to get these out in a timely fashion, it made more sense to do a subset of figures who we saw people clamoring for. This is how the first All-Stars wave was born.
For this first wave, we included some of those popular characters who fans wanted more of (Barbarian, Asterionn, Sir Gideon, Skapular), along with some of the lesser produced characters who were simply so scarce that there were none even on the secondary market (Sir Ignatius, Orn Steelhide). These figures were offered for sale in June of 2016, only a short time after the shipments of Mythic Legions 1.0 landed in fans' hands.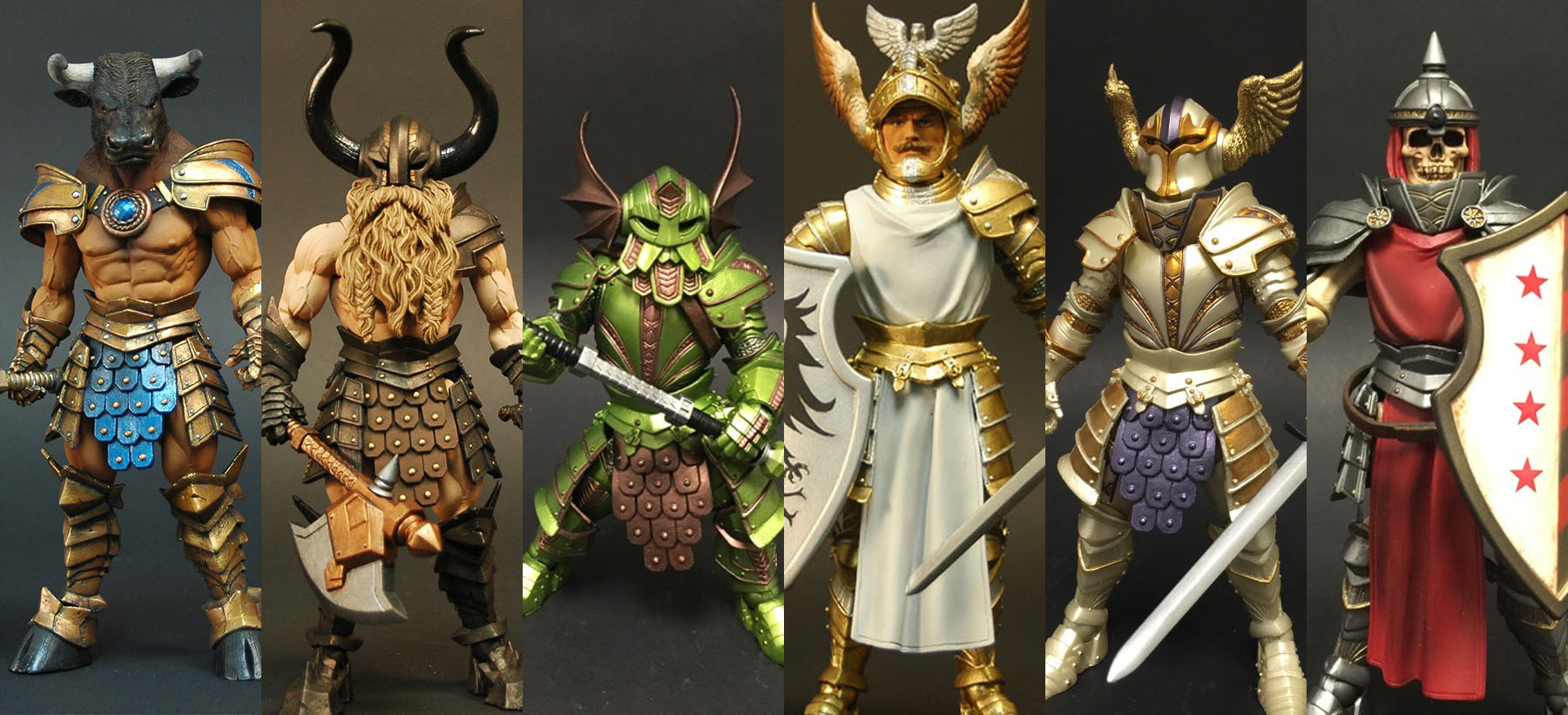 Having a second chance at previously released characters, some of which had been commanding $200 - $300 on the secondary market, was a welcome surprise for Mythic fans, allowing them to fill some gaps in their collections or grab extras of figures for the customizing hobby which had really started to take off around this line. It was also a wonderful way for new fans to jump on board and pick up some of the most popular characters we had created. Still, as much of a success as All-Stars 1 was, we had bigger plans for the next installment of this series.
The Fans Get a Choice for All Stars 2
With the first All-Stars wave, the studio selected the lineup. As we were preparing for our second All-Stars series, we decided to let the fans have a say in what would be offered!
Four Horsemen Studios has always had a history of letting fans help us shape the toys we release. From the earliest days of our FANtastic Exclusive voting to the fan-voted characters of Vorgus and Raveana from our Kickstarter campaigns, we love getting our fans involved! Mythic Legions: All-Stars 2 was a perfect opportunity for us to do this again.
In late 2017, we kicked off the voting process for what would be Mythic Legions: All-Stars 2. We gave fans the chance to select from ANY figure we had released to date!. This meant that the 1.0 series, the 1.5 wave, and Covenant of Shadow were all available to choose from. Yes, as crazy as it may seem now - Gorgo, Urzokk, Otho, Thord, and more were ALL available as choices in that voting process but NONE of them made it to the top of the polls!
The voting process for this series got pretty intense and hilarious. All-Stars 2 was where we first began seeing the use of "campaign" posts to help make the case for certain characters to be selected. The campaign to get the Silver Dwarf Legion Builder included was particularly noteworthy and fun!
Despite some claims that the evil forces of Mythoss were afoot during this voting process, in the end we believe that the right characters won. We got a nice mix of major characters like Attila Leossyr and Attlus the Conqueror along with a rerelease of the fan-created character of Vorgus Vermillius the Blood Armor. This wave also saw the first 1.5 series figure reissued in the form of Pixxus. To round out this series, which also included Carpathias, Jorund Runeshaper, and the Bog Goblin, we also added in a trio of Legion Builders (Templar, Skeleton, and the much-campaigned for Silver Dwarf). We also did something unexpected with this wave – adding two new figures into the mix! These included a new version of Eagalus, and the first-ever Mythic Legions figure featuring a fan's likeness - Deltigar the Destroyer. This idea of adding "new" releases alongside the fan-voted All-Stars was something we would do again in future All Stars series.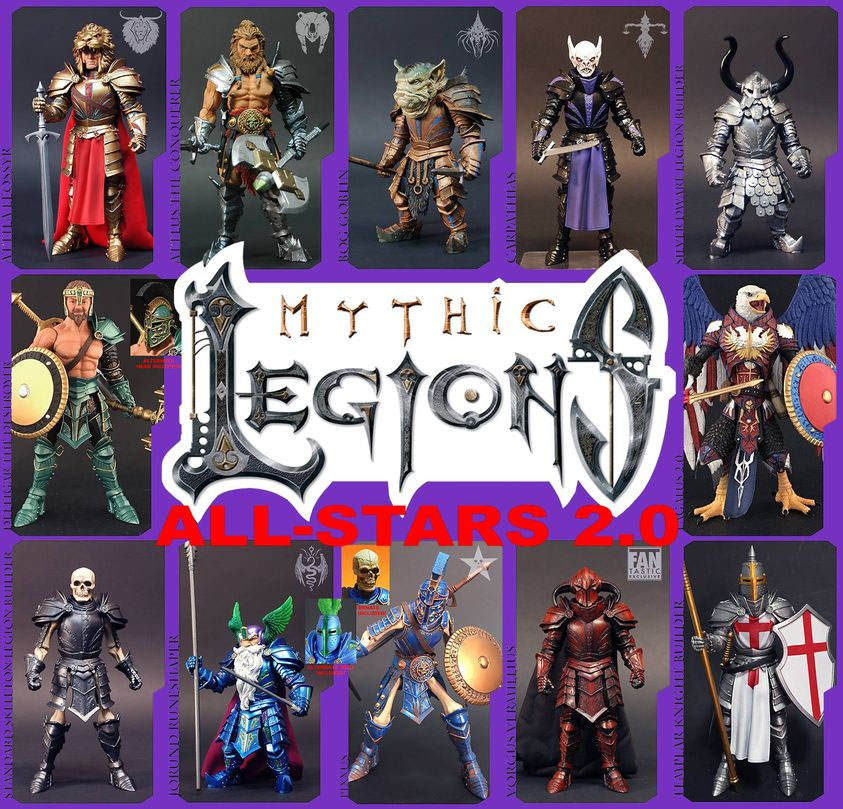 Third Times a Charm with All Stars 3
As the community of fans collecting Mythic Legions continued to grow, the chance to get older figures at original retail prices through an All-Stars wave became an incredibly welcome option for Legions collectors. We cannot think of any other lines which regularly reissue previously sold-out figures, and who give the fans a direct voice in which of those toys will be offered. It has always been important to us to take care of our loyal supporters. By continuing to offer All Stars waves, we hope fans new and old can enjoy another shot at some sold out characters! In January of 2020, we opened the polls once again for the All-Stars 3 voting, this time with a few changes.
For All-Stars 3, the studio selected a specific number of characters which would be part of the vote. Fans were able to choose their top 4 picks, with the winners becoming that year's All-Stars. Once the available choices were shown, the fans immediately began to ask – "Where is Gorgo?", and "I don't see Otho!".
The choices presented for All-Stars 3 were deliberate, including the absence of some of those "heavy hitter" characters. As we've said in the past – we had plans for Gorgo, Urzokk, Otho and others, so even though they may not be an All-Star option, we promise that you will see them again at some point! In the case of Gorgo Aetherblade, he made an appearance as an updated version in the Mythic Legions Tactics: War of the Aetherblade 2-pack set along with Attila Leossyr!
When the dust settled on the battle for All-Stars 3, the fan-voted selections were Torrion the Shadow Minotaur, Zazhar the blue-skinned demon, Malleus the child of Necromoninus (and favorite figure of Cabal-founder Walter Hagen), and finally the vampire lord Baron Volligar. These ended up being a mix of 2 figures from our first series and 2 figures from the Covenant of Shadow wave.
When the final lineup for All-Stars 3 was eventually announced, joining the four winners were that year's two Power-Com debut figures – Lord Draguul and Dorina Onoris. This would be the first All Stars wave that would include these fun tribute-style figures, a trend which would continue in some future All Stars waves.
Rounding out this wave of All Stars was the final (and BIGGEST) addition - the first ever Troll All Star in the Stone Troll 2. This troll not only came with the original Stone Troll head, but the figure was also adjusted to allow for swappable troll heads, and he came with a repainted version of the head that originally was found on the Forest Troll figure.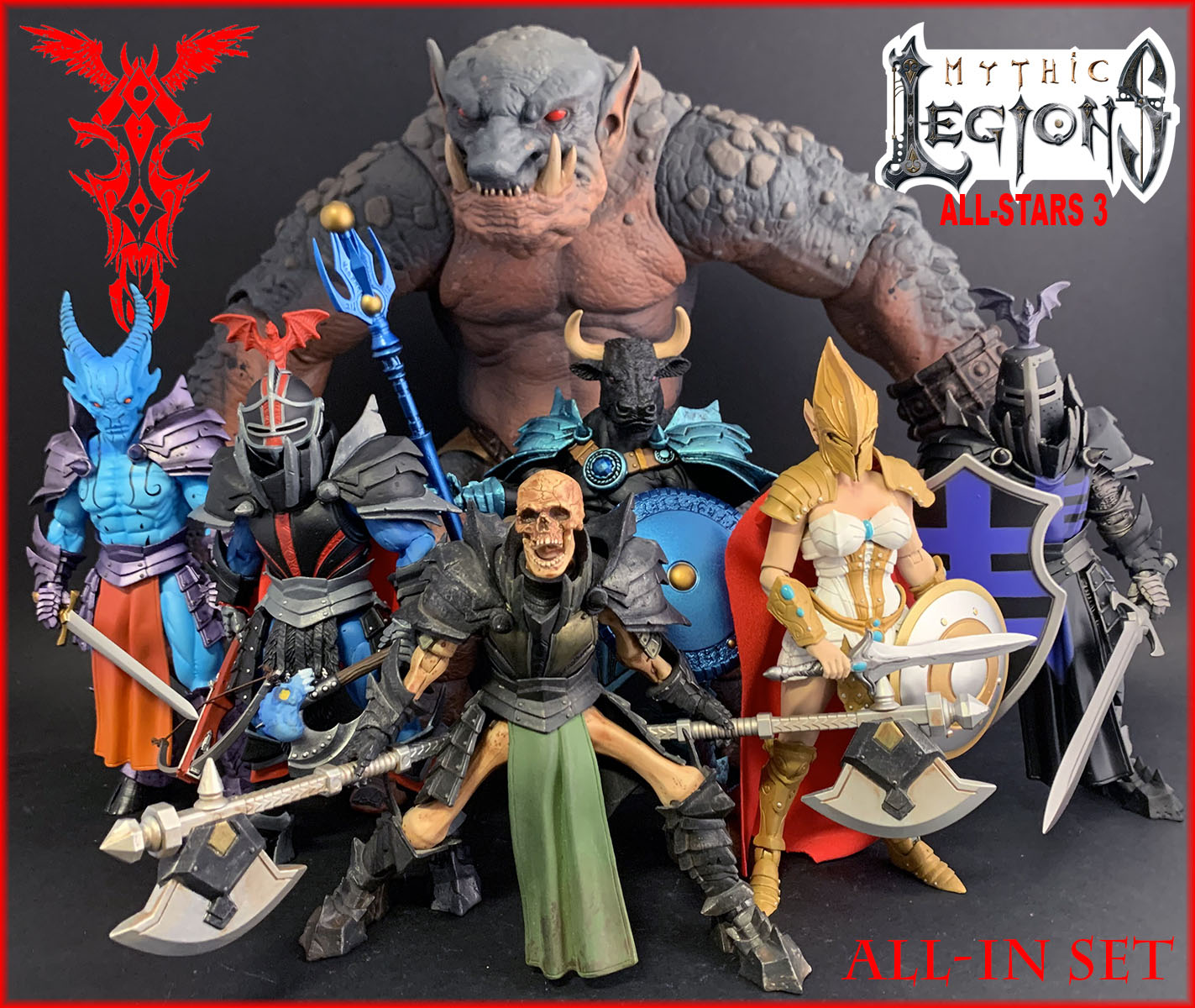 Four for 4
In February 2021, the voting process for Mythic Legions: All-Stars 4 kicked off, with fans allowed to select up to 6 mighty warriors to be named an All-Star. When the dust settled, the top 4 vote getters were named a Mythic Legions: All-Star, including Vitus the Mercurian warrior, Tibius the skeleton swordman, the heroic Sir Owain, and the green-boned poison skeleton known as Scaphoid.
Like in All-Stars 3, these 4 fan-voted winners were joined by a pair of Power-Con Debut figures, namely the emerald enigma of the forests of Mythoss - Bryophytus, and the disgusting denizen of dark woodlands of the Realm - Mephitor! Rounding out the wave was another reissued Troll, the massive monstrosity known as the Forest Troll 2!!


The All Stars Trolls Step Out
Both the All Stars 3 and All Stars 4 waves included a reissued Troll figure, and fans expected that All Stars 5 would follow this same pattern by reissuing the highly-sought-after Brontus figure. Behind the scenes, we were planning to add some brand new items to this latest All Stars wave as a way to get some new characters into the line. Unfortunately, having a gigantic Troll in the wave limited how many new items we could include, so we had to decide if it made more sense to include a reissued Troll in the next All Stars wave, or 3 brand new figures instead. In the end, we did both by creating the Mythic Legions: All Stars Trolls wave!
As expected, Brontus the Arena Troll was the next one in line for the All Stars treatment. He was reissued with his original head, as well as a repaint of the head initiallty found on the Stone Troll figure. Joining Brontus in this special wave, much to the surprise of many fans, was a reissue of the fourth and final Troll we had done to this date - the Ice Troll! This monster came with his original head, as well as a repaint of the cyclopean Brontus head.
All Stars Trolls was not a wave which fans had a voting say in, but it did fill the final two gaps in Troll reissues and it set the stage for the changes that would be added to that year's All Stars wave with All Stars 5+!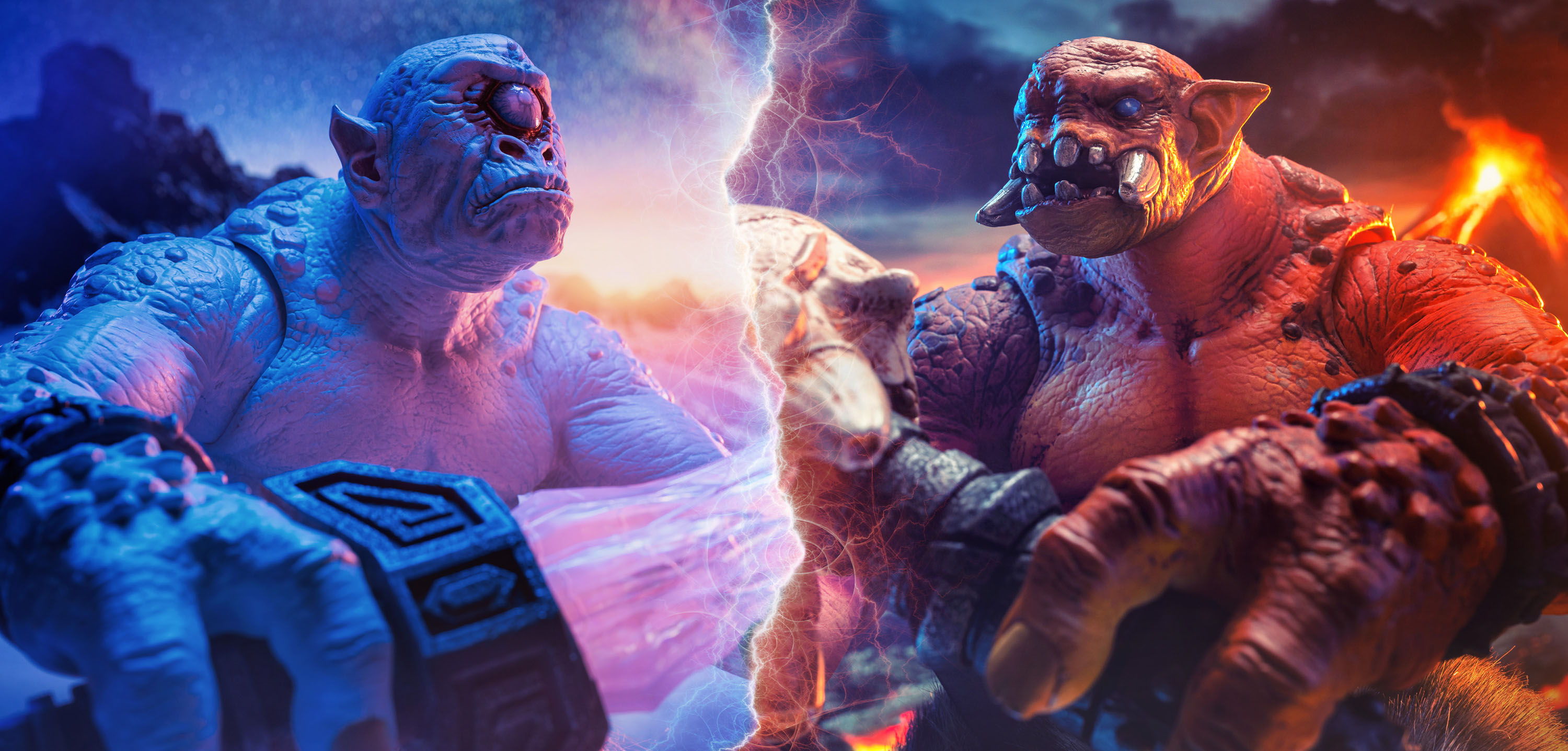 5 is More Than an All Stars Wave!
As the early months of 2022 began, the calls for another All Stars vote rang out from the community of die-hard Legionairres. The campaigns for Ilgar, Blue Hagnon, Silverhorn Sentry, and many other worthy warriors began to flood the Mythic Legions Cabal as loyal fans proposed their favorite choices to become an All Star.
As in previous years, certain important characters were left out of the vote due to possible future plans for new versions of those figures, and when the 20 combatants who would compete for this year's crown were revealed, there were some notable differences. Unlike in previous years, where all the possible All Star choices were presented in one group where fans would vote for their favorites, in 2022 the combatants were grouped into 3 distinct categories - heroic figures, evil figures, and 2.0-style figures. Fans were able to select their ONE choice from each group. This created confusion and dissent on the battefield, as many fans' favorite choices were in the SAME group, meaning hard decisions had to be made!
As the campaigning continued and the voting began, clear winners began to emerge from the crowd, but the surprises were not done! In a mid-battle twist, it was revealed that the "grouped" round was actually a preliminary battle meant to narrow the field from 20 combatants down to only 10! These remaining fighters would eventually meet in a battle-royal style competition (similar format to previous years) where the top 3 fighters standing would move on and be crowned this year's Mythic Legions: All Stars!
One final change worth mentioning that was part of the 2022 voting process was the addition of a vote for the first ever Mythic Legions: Heads Pack release. Initially teased in late 2021, 8 previously released head portraits were presented for fans to choose from (they were allowed to select 2). The winners of this vote would be included in the Heads Pack, BUT they would be repainted as brand new versions.
When the voting was done and the dust settled on the 2022 All Stars vote, the winners were announced as Rahmulus, Ilgar, and Azhar - but they would not be alone in the new All Stars wave! Joining them would be a pair of Power-Con Debut figures, namely Zenithon and Okeatos! Rounding out the wave, which was eventually announced to be called "All Stars 5+", were 5 brand new figures never before released in the line! The protector of the forested kingdom of Xylernia, the Xylernian Guard - the vile goblin alchemist, Swigg - the vengeful Lady Avarona - the noble Northern ranger Duban - and finally a brand new horse, the migthy Boreus! The Heads Pack was also revealed to include new deco versions of the Dwarf and Female Knight (the two voted on by fans), plus a red demon, a black Jaguallian, an open-mouthed Bog Goblin and a brand new head - the savage open-mouthed vampire!
To reveal this exciting new wave, the studio turned to the community and partnered with a number of our fans to actually join in the fun and reveal the new figures themselves on their YouTube shows, websites, social channels, and more! Fans have been such a big part of the All Stars program over the years, so it made sense to get some of those fans involved in this way.


All Stars 6 in the Year of Necronominus
At the end of the 2022 G-con broadcast for the Mythic Legions: Necronominus wave, it was announced that the next wave of Mythic Legions All Stars (which sequentially would be All Stars 6) would follow the "plus" format started with All Stars 5. This meant that a number of brand-new items would accompany that year's vote winners in the final wave. In fact, these new items were announced as a "continuation" of the Necronominus wave, allowing fans to speculate on what those new additions to the Congregation of Necronominus and the Order of Eathyron will look like!
As for the All Stars vote itself, the list of 2023's combatants was revealed on Monday, May 1st - and as the studio likes to do, it included some surprises!
As in past years, a list of 20 previously released characters (which have not been an All Star in the past) were revealed as the "Main Attraction". Fans would be allowed to select 3 characters from this list, and once the ballots are all counted the top 3 vote getters in this group will be reissued as part of this year's All Stars wave.
For the first time ever in an All Stars wave, this latest vote also adds an "Alumni" selection, allowing fans to choose one character from 4 available figures which have previously been All Stars reissues. The top vote getter in this group will get a second All Stars reissue.
This wave is obviously yet to be revealed, and this article will be updated once the winners and the new additions to this wave are finalized! Stay tuned – All Stars 6 is shaping up to be the best All Stars wave to date!
For full details on this year's All Stars voting process, check out this news article!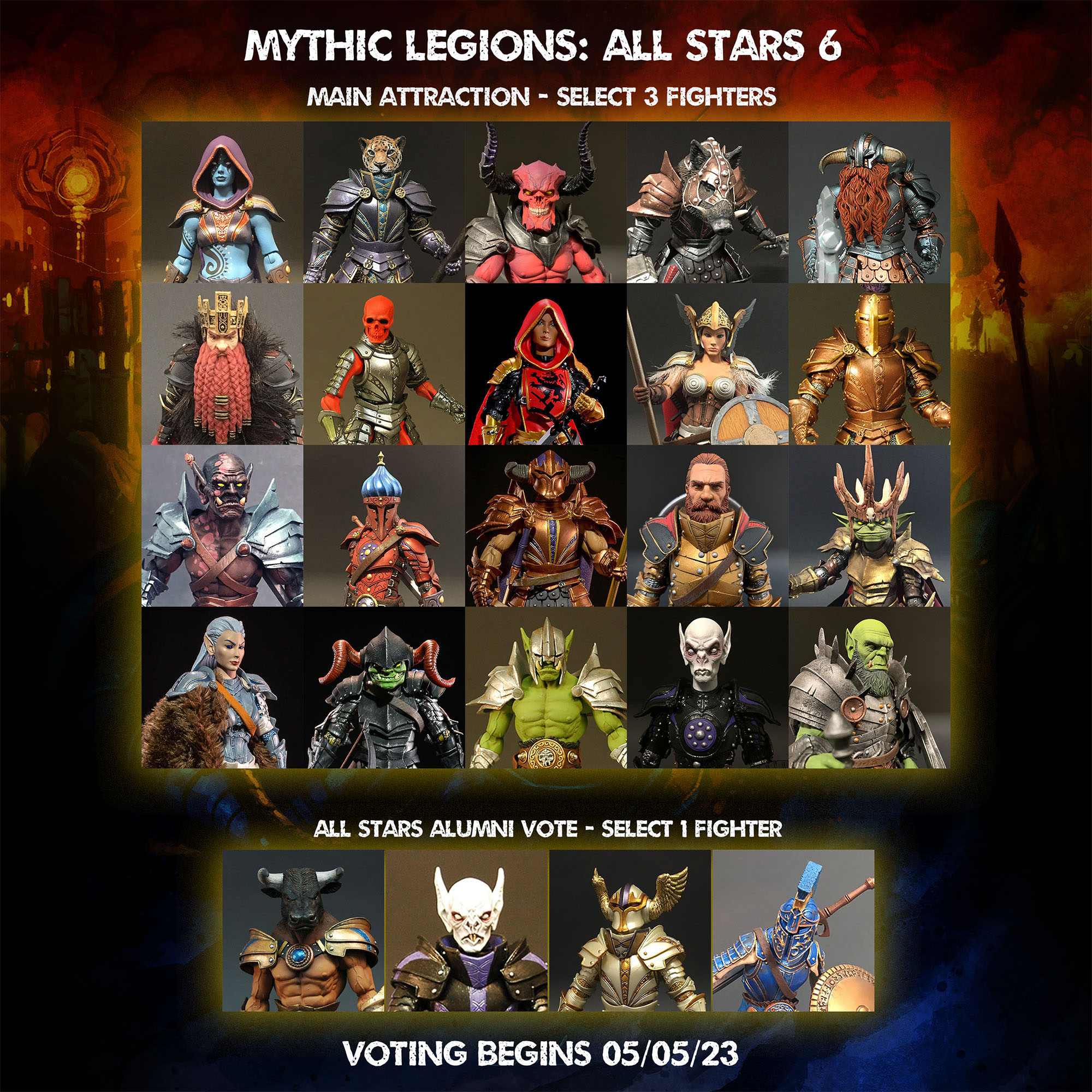 First published on 02.23.21
Published on 05.04.23