News Update
We are excited to announce plans for what we expect is going to get lots of Legionnaires excited – 4 weeks of sales at StoreHorsemen.com! All of the items offered during these sales will be IN STOCK and they will ship quickly so you get them in hand fast! So what exactly will we be offering? Here's the schedule:
Saturday, January 28th at 12pm EST – Mythic Legions: Illythia wave test shots

Saturday, February 4th at 12pm EST – Deluxe Legion Builder wave test shots, plus LegionsCon 2022 test shots and the Figura Obscura: Headless Horseman test shot

Saturday, February 11th at 12pm EST – Cosmic Legions: Hvalkatar, Book One test shots

Saturday, February 18th at 12pm EST – Standard versions of the LegionsCon figures, including The Unknown One, Lord Bushotee/Pelvicus, and Peterionn/Uuwit
So the BIG news here is obviously the reveal that we will have test shots from the first Cosmic Legions wave available for sale! This is actually a bit of a throwback to the first Mythic Legions wave. For that wave, we surprised fans with a limited drop of test shots of that entire set a few months before the normal figures began to ship. With Cosmic Legions entering the final stages of production and getting ready to ship out from the factory after Chinese New Year, we figured it would be fun to do this again and get some Cosmic test shots into fans' hands a few months early! We will have VERY limited numbers of these test shots available and strict order limits will be imposed (more on that shortly).
In addition to the Cosmic sale, you can see on the schedule that we will also be selling test shots from a pair of Mythic Legions waves – Illythia and Deluxe Legion Builders, as well as test shots of the Figura Obscura Headless Horseman set and the LegionsCon 2022 figures as test shots! LIke in the past, these test shots are produced in very low numbers, and buyers will be limited to 1 of any figure, and a maximum of 2 test shots for each week of these sales! Any orders that break these limits will be cancelled – so please adhere to these order limits! Even with these limits in place, items will go FAST. Our suggestion is to decide which character you want most, get in, add it to your cart, and check out to give yourself the best chance at one of these limited items. Prices on the test shots will vary based on the characters.


The fourth week of this sales blitz will feature the "standard" versions of the characters originally released at LegionsCon 2022 – the Unknown One and the Furious Four! These standard editions come in normal packaging, and they do not include the show exclusive pieces (the Unknown will NOT come with the skeleton head/neck or the soft goods skirt and the Furious Four figures do not include the Jaguallian cat head and tail). To clear up any confusion, the Furious Four characters are being sold as 2 different figures. The "Lord Bushotte/Pelvicus" set includes the single body and both of the heads to make those characters, while the "Peteorionn/Uuwitt" set includes the other single body and both of the heads for those characters (see image below). These sets were made in much larger numbers than the test shots, and they will be limited to a maximum of 12 of each per person for the first 24 hours of the sale. If any are available after that time period is done, purchase limits on these sets will be lifted. The Unknown One will be offered for $45 and each of the Furious Four figures will be $37.
Mark your calendars and get ready for 4 weeks of Four Horsemen in-stock sales, only at StoreHorsemen.com!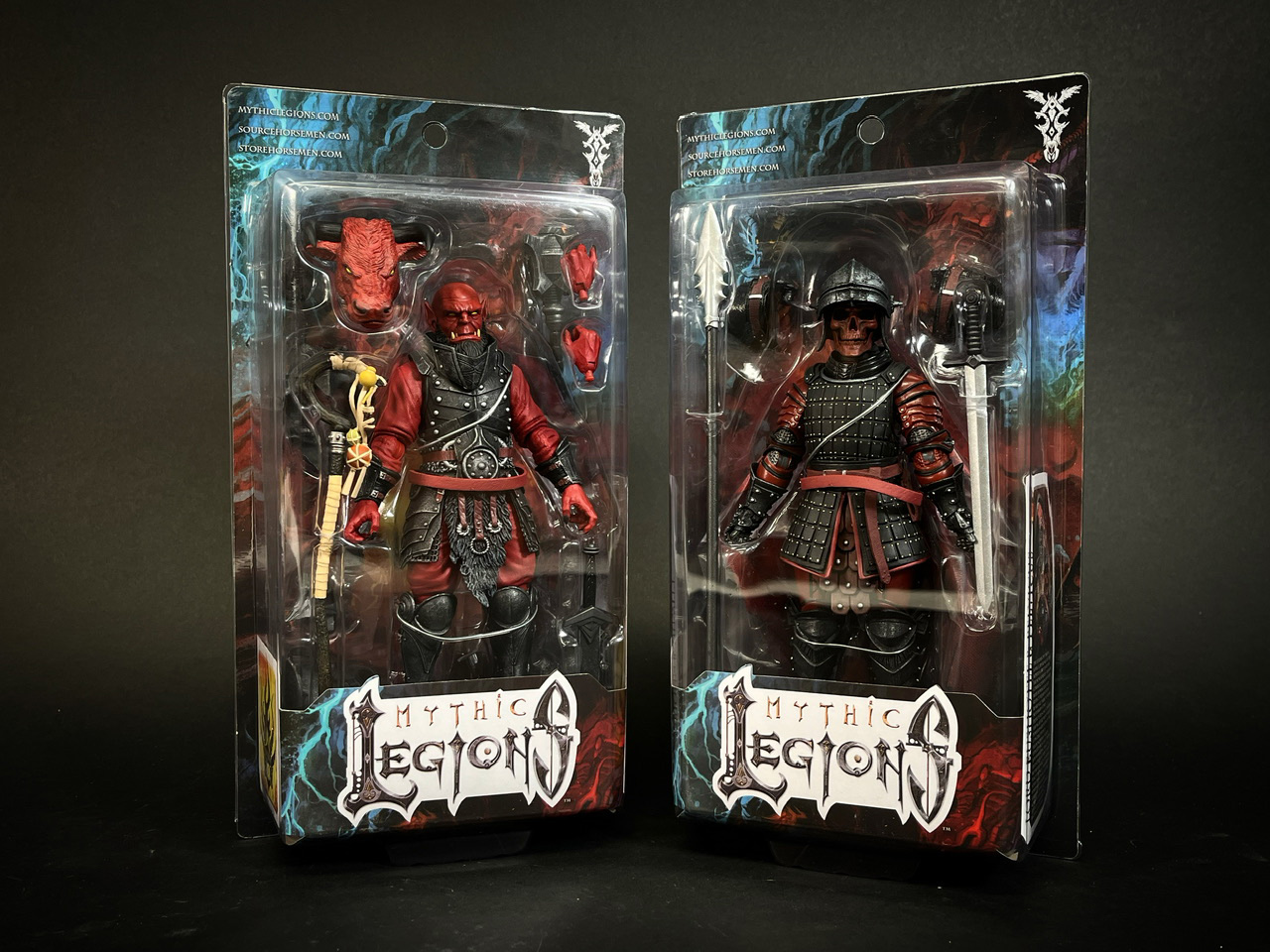 Published on 01.20.23