News Update
Updated 2/17/21: The private crowdfunding campaign for Mythic Legions Tactics: War of the Aetherblade is now done! THANK YOU to everyone who backed the Mythic Legions Tactics: war of the Aetherblade campaign. Not only did we crush our minimum funding goal, we hit EVERY ONE of our game-focused stretch goals! The ending total that the campaign pledges came to was an amazing $254,389.30! WOW!
Look for more details on the next steps for this campaign, including the Backerkit surveys where you will select your rewards, soon!
Updated 2/8/21: Here are the latest developments in the Mythic Legions Tactics: War of the Aetherblade Crowdfunding Campaign!
Stretch Goals in Sight
As of this writing, the campaign is less the $5k away from the next stretch goal, which is another fan-voted class unlock! We have already hot one class unlock in the campaign, so this would be the second fan-voted addition to the game. What are some of the options fans will be able to vote on? Tinkers - Bards - Druids - Trappers - Samurai - and Pikeman are just SOME of the amazing new character classes that these fan votes may unlock!
Storyline Unveiled
There have been a TON of storyline reveals posted at MythicLegionsGames.com! These reveals have started to flesh out the way that this game's storyline will play out - and what amazing battles will ensure! Check ot the campaign for these storyline reveals!
Update Video
Our own webmaster, Jeremy Girard, worked with the game developers to shoot a short video detailing some of the latest news and updates from the game. You can check that video out on our YouTube page, or check it out below.

Eric Talks Toys and More!
Speaking of videos - Eric Treadaway was a recent guest on the Jay & Rob Toy Show where he dicussed, amoung other topics, Mythic Legions Tactics. Check it out below:
2/1/21Update:
We Are Funded!
The campaign crossed the minimum funding threshhold of $100k on Saturday 1/30! We are incredibly thankful to everyone who has backed it thus far, and excited to see that the momentum has not slowed down at all! In fact, we've just recently hit our first stretch goal! To that end, we have just updated the list of stetch goals for this game.
Stretch Goals
As of this writing, the campaign has reached it's first stretch goals! The first one reached is a fan-voted Class Unlock for the game! That means that backers will have a chance to select a new class that will be added to the game - and the choices available are very, very cool (see the chart below).
The next stetch goal of $150k has also been met! This is a big one since at that level the Army of Leodysseus faction is now unlocked! This means gamers will get 30+ missions, characters, and storyline added to the game! Additionally, the Leodysseus Sygil Coin will also be made available to order.
Future stretch goals include additional fan-vote class unlocks, the addition of the House of Noble Bear faction and Sygil Coin at $200k, and there is even a fan-voted faction fnlock available at $250k! If we can make it to that level, fans will actually get to choose from one of the remaining factions to be added to Mythic Legions Tactics.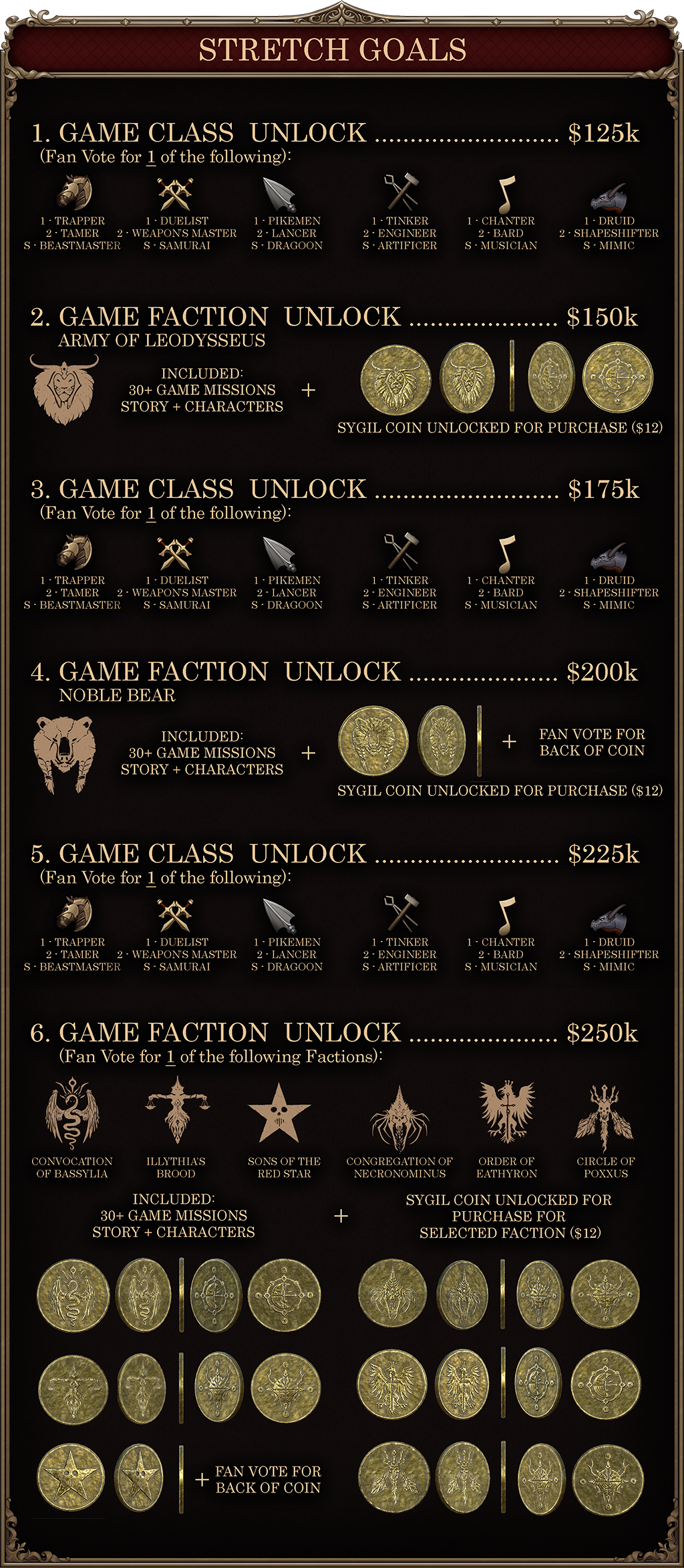 Campaign Extended!
You asked and we listened - the Mythic Legions Tactics campaign has been extended until February 16th! Hopefully this will help our loyal Legionaires who requested a bit more time to back this game and the figures at the level they wanted. Speaking of figures...
New Figure Options and Bonus Heads!
It was recently announced that as a "thank you" to backers of this private crowdfunding campaign, that a BONUS head is being added to each of the 4 Deluxe Legion Builder sets included here. While these packs could be offered as part of a future game campaign, these bonus heads will ONLY be part of this first campaign! You can see images of these heads below.
Additionally, the incredible "Mighty Mythic" Builder Pack Bundle was announced. This is a massive reward of 48 builder packs (12 of each) and it is offered at a discounted per-pack price. It is a great option for those looking to build an army of orcs or elves, or someone who wants to have extras of these packs for the future!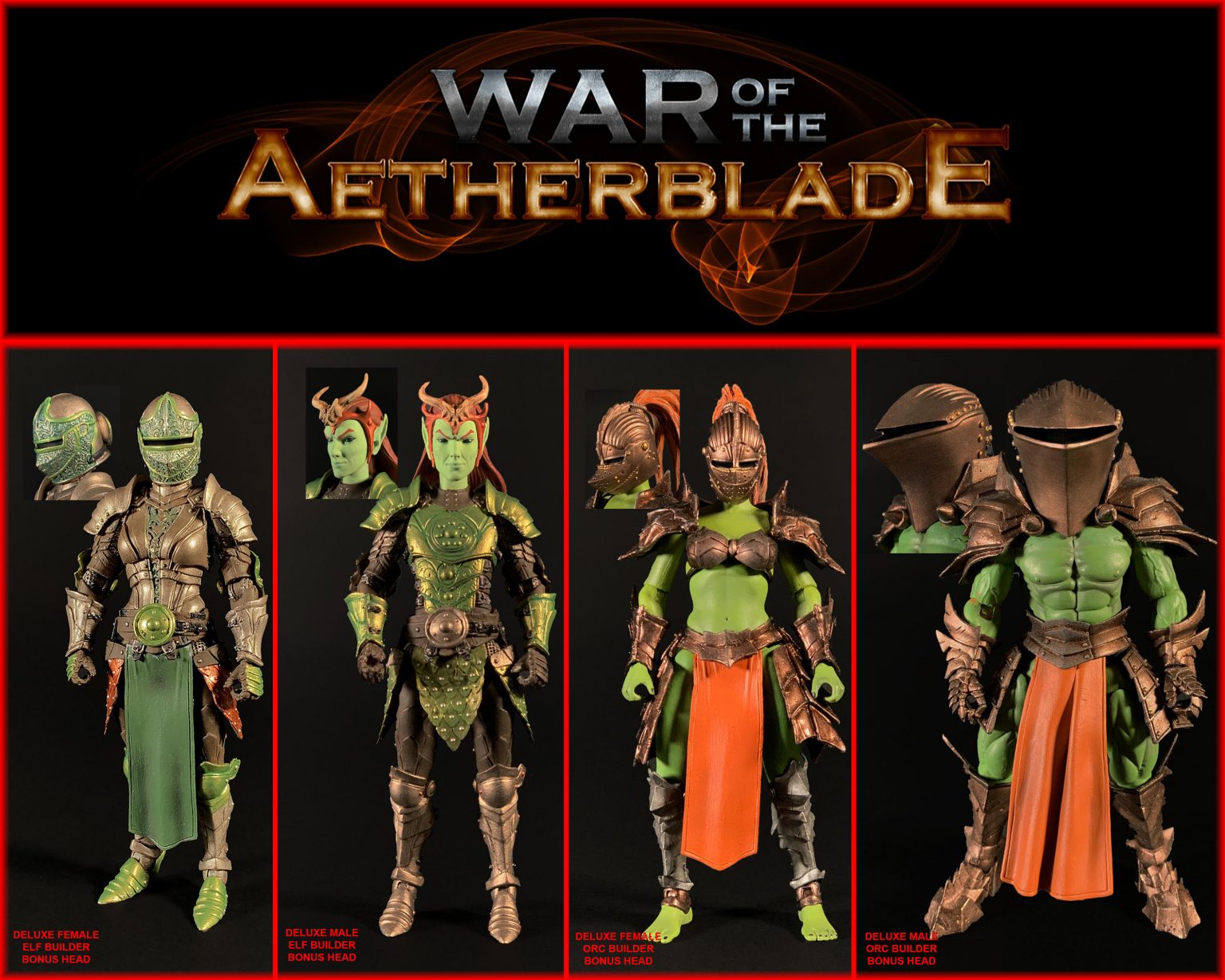 From the Horsemen's Mouth
Check out the campaign page at MythicLegionsGames.com to see a video interview with Cornboy, Eric, and Jim as they chat about the studio, Mythic Legions, and the Tactics campaign!
Published on 02.17.21