News Update
If you caught the recent livestream that Jeremy did along with the crew from the My Wife Is Going to Kill Me Podcast, you saw them reveal the first information on one of the figure sets which will be available at this year's LegionsCon event – the "Furious Four" 2-pack!
This exciting new figure set features characters from the popular Fury Clan! First introduced with the "Fury Clan Orc" figure from our Soul Spiller wave, we have long said that the Fury Clan is not exclusive to orcs, and that other races of Mythoss are part of this popular subrace known for their red skin. This new figure set gives us a number of members of the Fury Clan and includes an incredible amount of popping-and-swapping possibilities!
The "Furious Four" set is a 2-pack which will include two figure bodies and 4 distinct heads, allowing you to create some special characters. These characters include Lord Bushotee the Alpha, Pelvicus, Peteorionn, and Uuwitt – each one based loosely on the members of the MWIGTKM podcast. Those guys are longtime supporters of Four Horsemen Studios, so it was fun to create these tributes to that crew (fair warning – their podcast is not for the easily offended and contains lots of language – listen at your own peril). The body parts on these figures all use the same color scheme, and those colors are also shared with the Fury Clan Orc, encouraging fans to mix and match these parts to create some new and unique looks!
In addition to the heads that are part of this set's main characters, the version offered at LegionsCon will also include two pieces not available in the standard editions – a Fury Clan Jaguallian head and tail! Those parts will be included in the show version release, and that entire set will come in special packaging unique to LegionsCon (complete with brand new art by Nate Baertsch!). So in the LegionsCon set, you get 2 bodies, 5 heads, 2 tails, 2 swords, a spear, a shield, a staff, 3 sets of feet, 2 red belts, and 2 sets of shoulder pauldrons. You can see this breakdown of parts below (note that the cat tail is not shown in the image).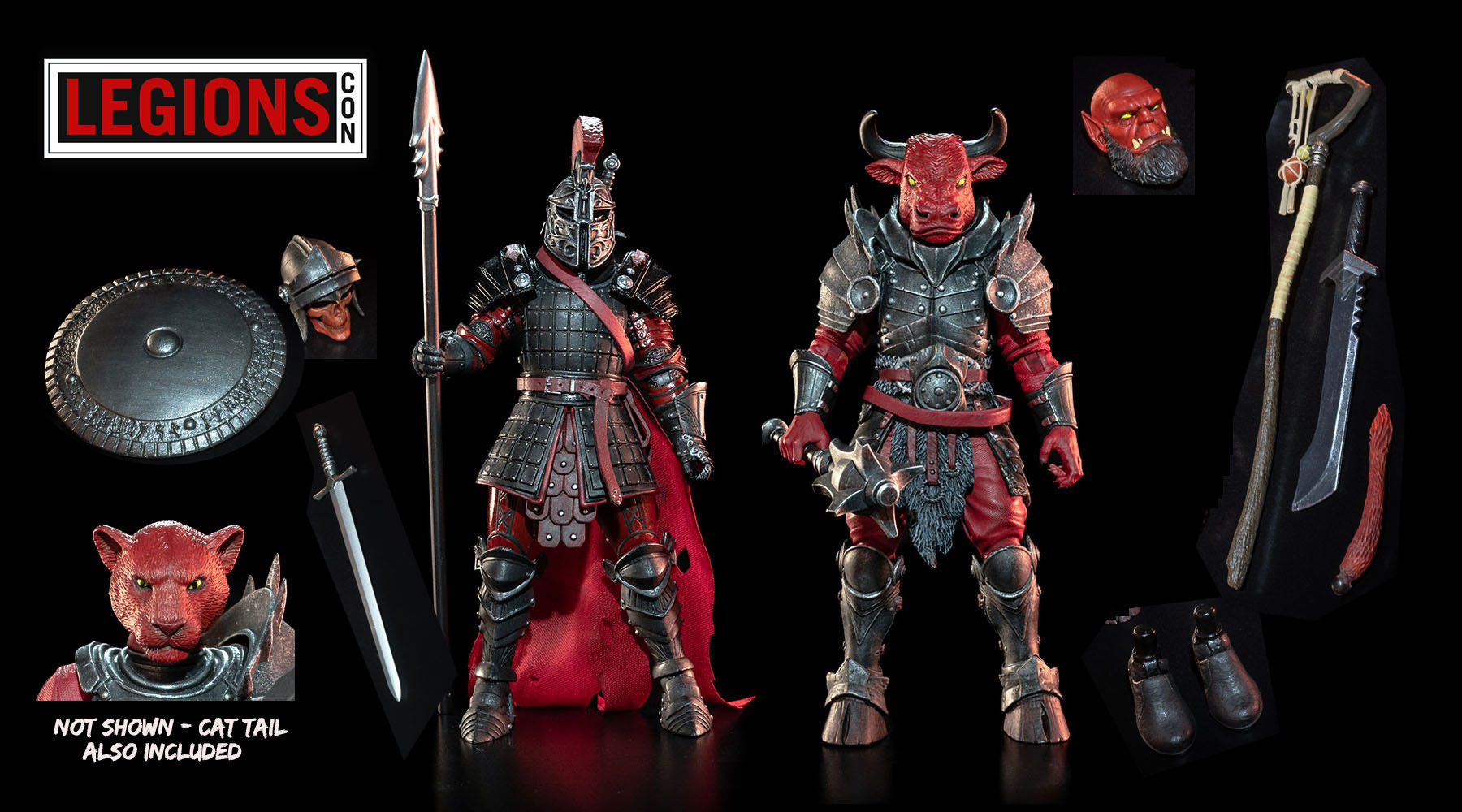 The "Furious Four" LegionsCon set will be available on Day 2 of the con – Sunday, November 6th. It will retail for $100 and will be limited to 2 sets per person at the show. A very small number of these sets will be held back and sold online after the show by the LegionsCon team, but the best place to get these is definitely at the live event! You can get more details on LegionsCon 2022, and purchase advance tickets, at www.LegionsCon.com.
Like we did last year with the Sir Girard figure, after LegionsCon is done, these Fury Clan characters will also be offered as "standard edition" releases. They will be available as two different, normally carded releases at a future date.
Want more details on the "Furious Four"? Be sure to check out Jeremy's "Mythic Conversations" show this coming Wednesday night (6/18) on his YouTube channel where he will be taking a closer look at these new releases!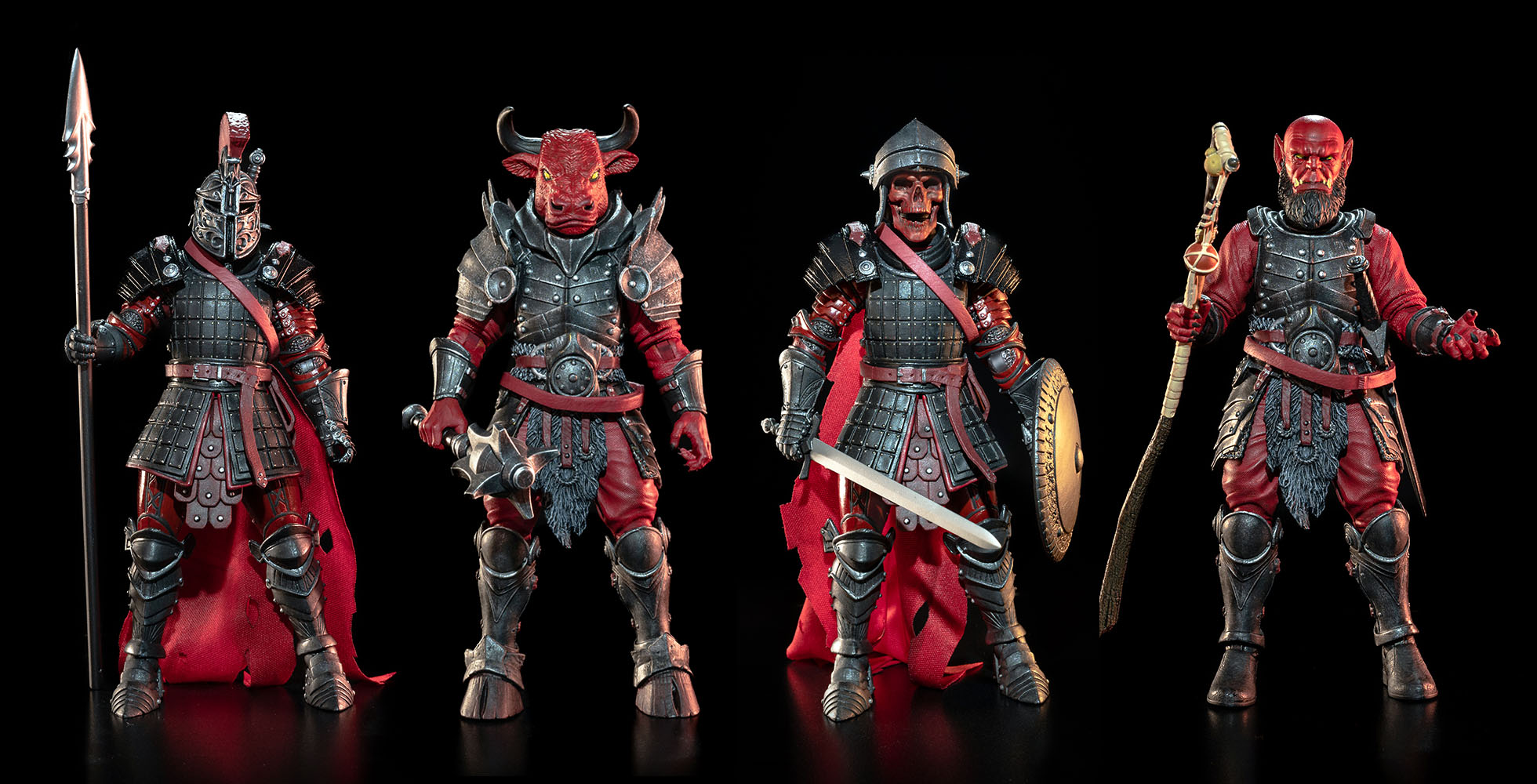 Published on 05.16.22