News Update
Zero Cool Films has dated their broadcast for "The Ultimate Action Figure Auction" as August 13, 2020 at 8pm EST and available for the entire world to view at www.ActionFigureAdventure.com and www.Facebook.com/ActionFigureAdventure. The auction will feature iconic toys like a boxed original Optimus Prime and Megatron, a sealed Ecto-1 from The Real Ghostbusters, a "loose" Yak Face from Star Wars, a 12-back carded Skeletor from Masters of the Universe plus some really BIG pieces that every collector would love such as the biggest playset ever created, the U.S.S. Flagg from G.I. Joe: A Real American Hero.
These figures were collected by Jay Bartlett, who set out on a mission last year to create the coolest action figure auction ever. Bartlett provided the initial seed funds to acquire the items and hopes they will auction off for big bucks, as the difference collected from his starting budget will go to support the Child Life program that's run by the Children's Health Foundation based out of his hometown of London, Ontario, Canada. Bartlett's journey was captured on film, and will be part of an upcoming series called "Action Figure Adventure" directed by longtime collaborator, Rob McCallum (Nintendo Quest, Power of Grayskull, Video Game Box Art). "Nothing beats the ability to take action figures which represent figures of enormous power, and turn it into real power by donating money to kids who need it the most," McCallum said.
The broadcast event features host, April Rose and panelists Brett Baugh, Justice Cury and "MOTU Joe" Teague, making it a fun group of toy enthusiasts with lots of points of articulation. The group will discuss each item, it's fabled history and little-known facts as the clock ticks down on each item, which will be staggered apart from one another for the sake of the show. Zero Cool Films' six-time Emmy winner, Justin Schoenrock is producing the auction event, who also serves as an executive producers on "Action Figure Adventure," hopes that the glitz and glam of this event helps drive interest in the auction items that support a unique and worthy cause. "Our on-air talent are going to talk all these items up and will be joined by slick video packages that really bring the entire viewing audience in the world and culture of action figure collecting – and that's coming from a guy who isn't a collector but someone who understands the importance of helping children" said Schoenrock.
The auctions, which will utilize eBay, will launch in the coming days and people will be able to find them by visiting www.ActionFigureAdventure.com.
For a complete list of the action figure auction items and for more information, please visit www.actionfigureadventure.com, For press inquiries, please contact Rob McCallum at 213-393-
5943 or via email at pyreusa@gmail.com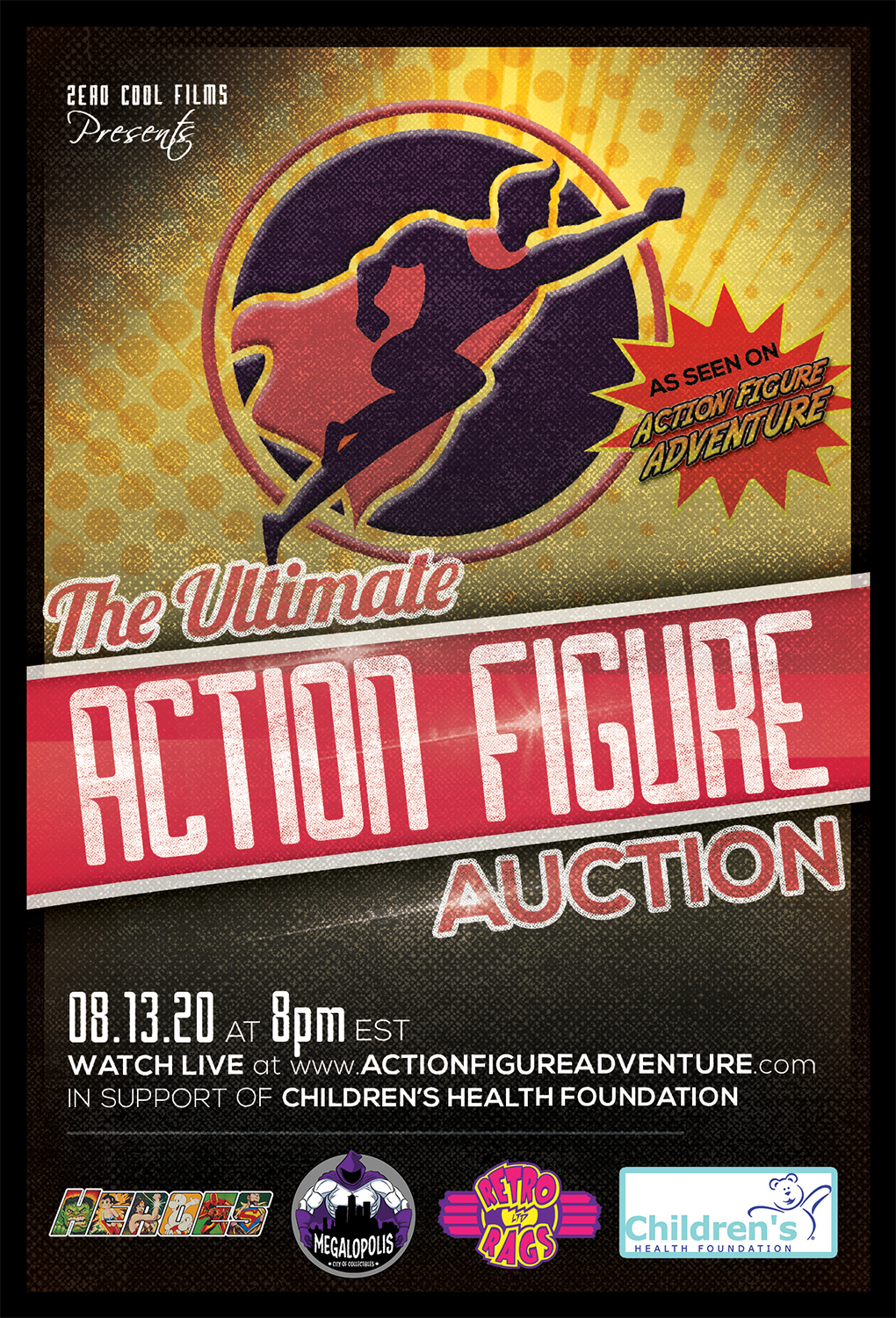 Published on 08.05.20