The second figure released as part of the studio's FANtastic Exclusive voting process was a character from the Seventh Kingdom property – the gigantic elephant warrior Rammathorr.
As part of this sophomore release, the studio also developed a number of variants dubbed "The Anitherian Nine". These variants included other animal characters, a few mutants, and a handful of elephants presented in different colors, including a figure released in bright pink. This is the story of "The Chalice of Guudenuph".
Happy Little Accidents
When we are producing action figures, and specifically when we are considering new color variations for a figure, one of the ways we can experiment with color options is to turn to Photoshop to do some quick "digital mockups." This was exactly what Cornboy was doing when he "accidentally came up with the color scheme" for this pink elephant. According to Cornboy:
"I adjusted the color balance way too far in one direction on one of the other elephants in Photoshop. Then Eric Treadaway refined those colors on the figure itself when he painted it. These final colors really aren't all that far off at all from that original PS screw-up though!"
So we owe the release of this pink elephant, who was actually offered exclusively through StoreHorsemen.com, to Cornboy's overzealous Photoshop skills! But where did that name come from…
Good Enough Jim
One again we turn to Cornboy for his recollection of this figure's creation and exactly how it was named:
"While I named the other big beasts of this wave of Seventh Kingdom after legendary weapons and pieces of armor, the story behind the name "The Chalice of Guudenuph" is a little different. Seeing pink elephants has sometimes been associated with having one too many cocktails (or at least it was in the old cartoons I used to watch). During a different time or reality, one might drink one of those cocktails out of a chalice. It could happen.
Jim Preziosi of Four Horsemen Studios used to be known to have an extra cocktail or three quite a bit more than he does today. One of the nicknames Jim was known by for quite a few years was "Good Enough Jim" (another story behind that). So this guy was kinda named in honor of our love for our studio cuddle buddy, Jim. #truth."
So there you have it – the story behind the creation and the naming of the Antherian Nine's powerful pink champion!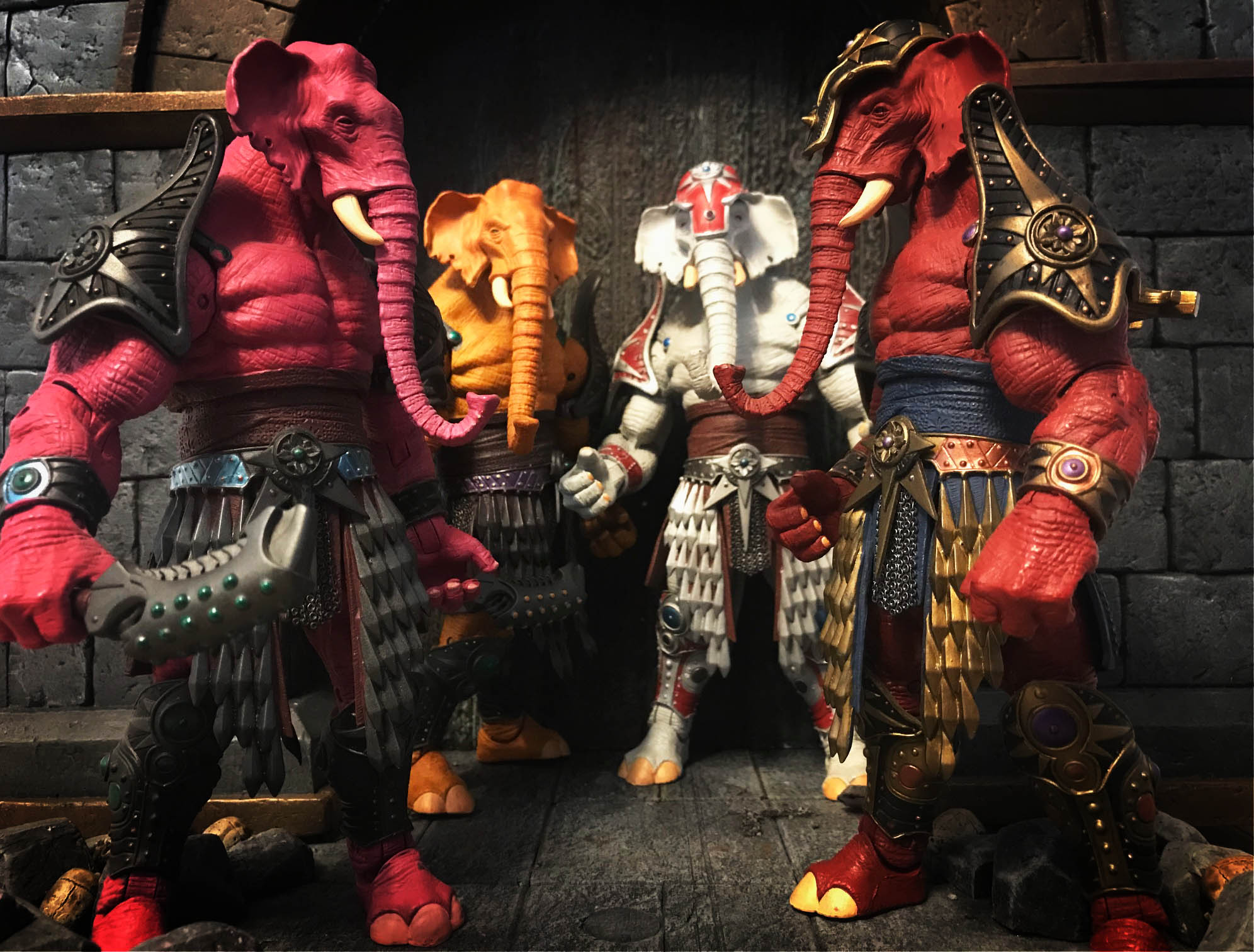 Published on 07.28.20