From the very beginning of Mythic Legions, Four Horsemen Studios knew that we wanted fans to have the ability to "army build" these toys. This idea started during the early development of the line, when it was conceived as a 1/18 scale series. We imagined fans stockpiling knights or skeletons to create large dioramas and battle scenes with these figures, similar to how we first displayed these toys at our Toypocalypse event (shown below).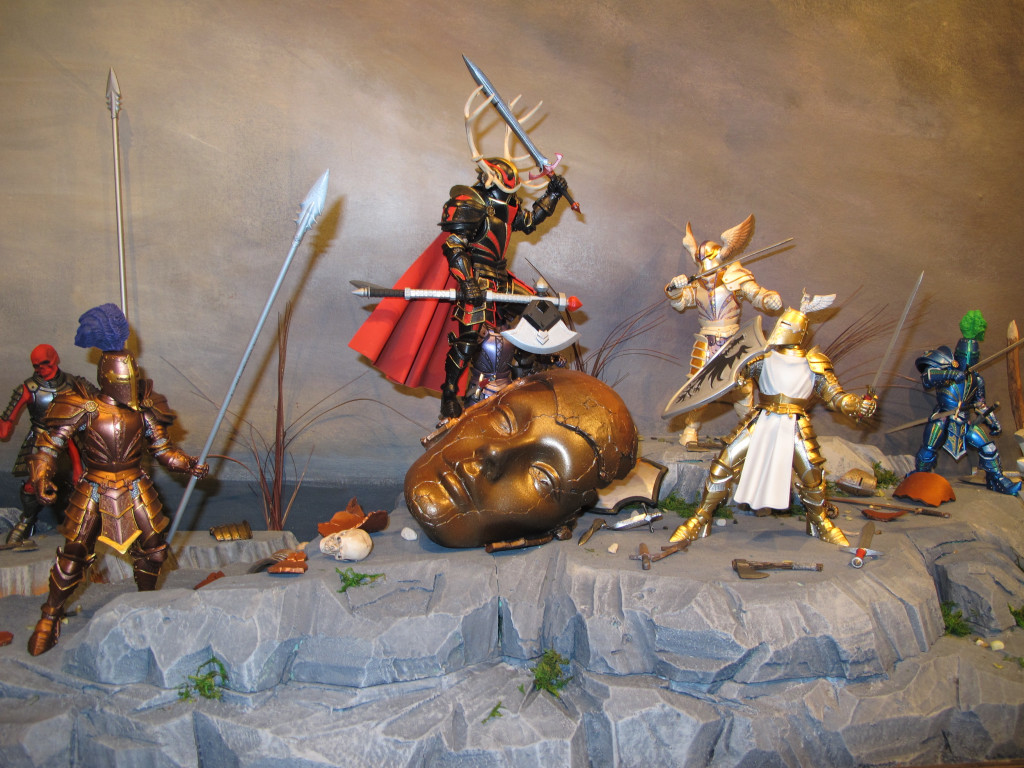 Of course, if you know the history of Mythic Legions' development, you know that the line was changed from a 1:18 (approx 4") series to a 1:12 scale (approx 6"-7") before the toys were ever offered to fans. This decision was made after the incredible success of the studio's 7" Gothitropolis Ravens figures, but also because early pricing estimates from the factory revealed that the cost of a 4" figure would actually be almost identical to the cost for the larger scale. We knew that the larger size would offer fans more value for their money, and so the decision was made to produce these toys in the scale we now have today – but what about the ability to army build? The studio sat down and considered ways we could offer these amazing toys at a lower price point that would still allow fans to buy multiples to create larger armies and scenes. Enter the concept of "Legion Builders."
Fewer Paint Hits Means Lower Cost
The most expensive part of producing action figures like Mythic Legions is creating the steel molds from which all the individual parts of the figures will be made. Those molds can be used over and over again, as you have seen with Mythic Legions and the way that we use our growing parts library to create new characters and toys. Because of this, the expense of creating the molds is actually spread across all the figures who will eventually use the parts which come from those molds.
When it comes to the cost associated with individual figures, paint applications, or "hits", is the factor which most dramatically impacts the cost of producing that figure. The more paint applications a figure has, and the more detailed those applications are, the more it costs to produce that figure. While the addition of accessories, soft goods, and other factors all contribute to pricing, paint applications remain one of the primary factors in our costs on a figure. With this reality in mind, we wondered if we could release select figures in the Mythic Legions line which included the same highly detailed sculptures featured on all our figures, but with far fewer paint applications. Instead of painting every rivet and buckle on a character's armor, we would leave those parts largely one color, greatly reducing the cost of producing those figures. We could pass those savings onto our fans and create figures which could be offered at a lower price point, allowing those fans to buy extras to create the vast dioramas and scenes we had imagined. These were the Legions Builders!
The First Legion Builders
The very first figures shown on our initial Kickstarter campaign were that wave's Legion Builders. Looking at the types of characters we had available in that wave, we took some of the key races and figure types and offered them as these lower price point releases. Mythic Legions 1.0 included a pair each of Dwarves, Knight, and Skeletons – the very first Legion Builders.


Later on in that 1.0 campaign, responding to fan requests, we also released an Orc Legion Builder. This particular figure did require a few more paint hits than the others we had designed for this wave, so he was dubbed a "Deluxe" Legion Builder. His final pricing was a bit more than normal Legion Builders, but still well under the cost of the normal figures in the line.
We Need More Legion Builders!
The lower price points on our Legion Builder figures proved to be incredibly popular, and fans clamored for more! The studio would respond by releasing a number of Legion Builders across various waves, including the super popular Templar Legion Builder in the Covenant of Shadows wave and the Coliseum Orc and the Black Knight in the Coliseum wave (those last two were actually initially offered after Advent of Decay).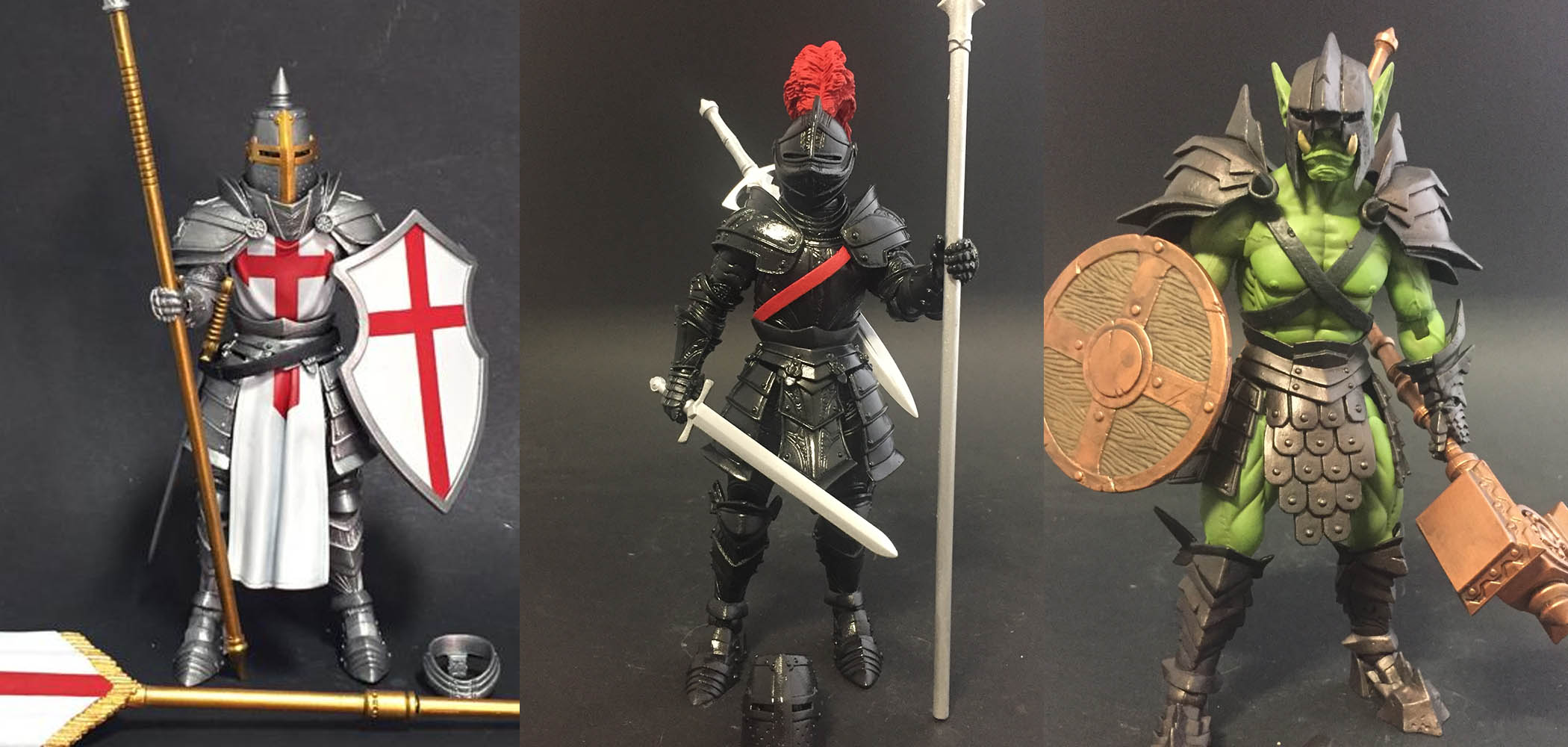 With our second Kickstarter came the introduction of brand new races and body types into the line, and along with them came new Legion Builders! Advent of Decay gave fans an Elf, a Vampire, a pair of Knights, a new Dwarf, and one of our most popular figures to date - the Goblin Legion Builder. There was also another "deluxe" Orc Legion Builder (known as Orc Legion Builder 2), which was a female orc warrior!


Not All Builders Are Legions Builders
One point of confusion that many fans have when discussing the line is the concept of "builder" figures. This phrase has been used on a number of our releases over time, but not all "builder" figures are "Legion Builders". Once again, Legion Builders are releases with fewer paint applications which are offered at lower prices. It is a product classification within the catalog of figures we offer, and is not strictly a term used for figures that can be used to build out armies and displays.
Over time, we have indeed also released other "builders" which fans can use to create those aforementioned armies with, but these releases were not priced lower than normal releases because they included much more detailed paint applications and, in some cases, many additional parts which prevented us from offering them at the Legion Builder price point.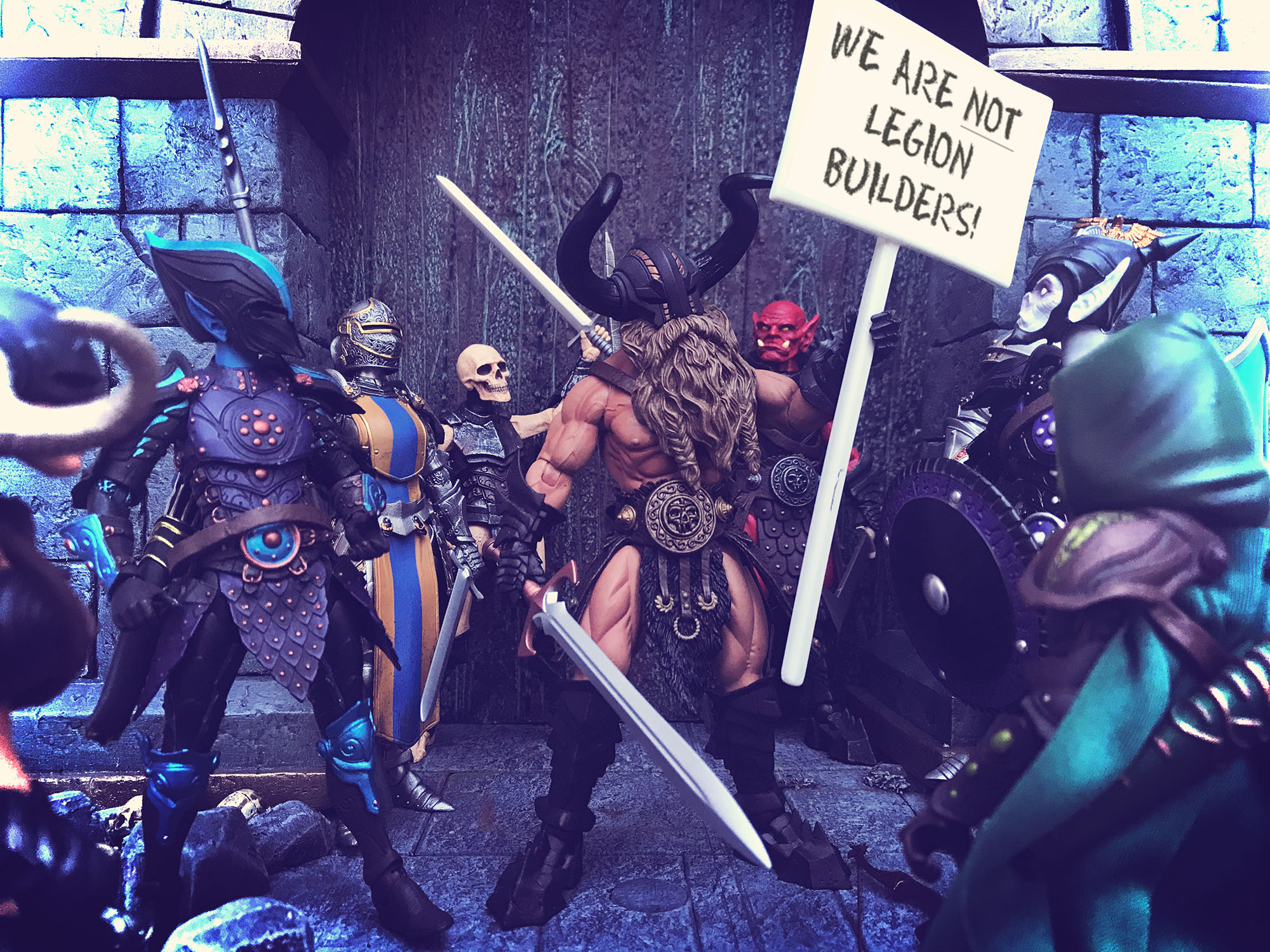 For example, in the Advent of Decay wave we released a Barbarian Warrior, a Boarrior, an Elf Ranger, a Shadow Elf, a Vampire Knight, and a Skeleton Soldier. That last one even came with a pair of torsos, allowing you to display the figure as a male skeleton or a female! All of these releases were "generic", unnamed characters. They could be displayed in groups to create the sizable armies, but each of these figures included as much paint detail as the "named" figures in the line. Therefore, they were priced like normal releases and do not carry the "Legion Builder" product classification. This is where the confusion often arrives, between the difference between a figure that can be USED to build legions, and the actual product classification of "Legion Builder."
Future waves would add additional unnamed characters, including the Fury Clan Orc and Shadow Elf Ranger from the Soul Spiller series, and the Red Shield Soldier and Helphyre Goblin from the Arethyr wave. Each of these releases were detailed and priced like normal, named characters.
Above and beyond these generic figures, we have also offered a few "Deluxe Builder Sets". These should not be confused with Deluxe Legion Builders (yeah, we realize in retrospect that we didn't do ourselves any favors with the names we chose!). The Builder SETS are actually some of our most expensive figures since they come with an array of weapons and parts. The Barbarian Builder from our first Kickstarter is an example of one of these sets. We also released a pair of Knight Builder sets, including a male knight in our Covenant of Shadows wave and a female version in Advent of Decay, and a foursome of sets (male and female orcs, and male and female elves) as part of our Mythic Legions Tactics crowdfunding campaign. Those are all larger sets with lots of extra weapons and parts, making them "Deluxe Builder Sets".

A Whole Wave of (Deluxe) Legion Builders!
In May 2021, a whole wave dedicated to legion builders was unveiled with the "Deluxe Legion Builders 1" wave. Similar to past "deluxe" legion builders, this wave featured figures that had fewer paint applications than a normal release, but more than a standard legion builder would have. The entire wave also came with brand new head sculptures, adding even more uniqueness to this wave, which hit on a number of desired figure types by giving fans a dwarf, a goblin, a barbarian, a skeleton, a gladiator, a knight, and even an ogre-scale half giant with an amazing accessory pack set!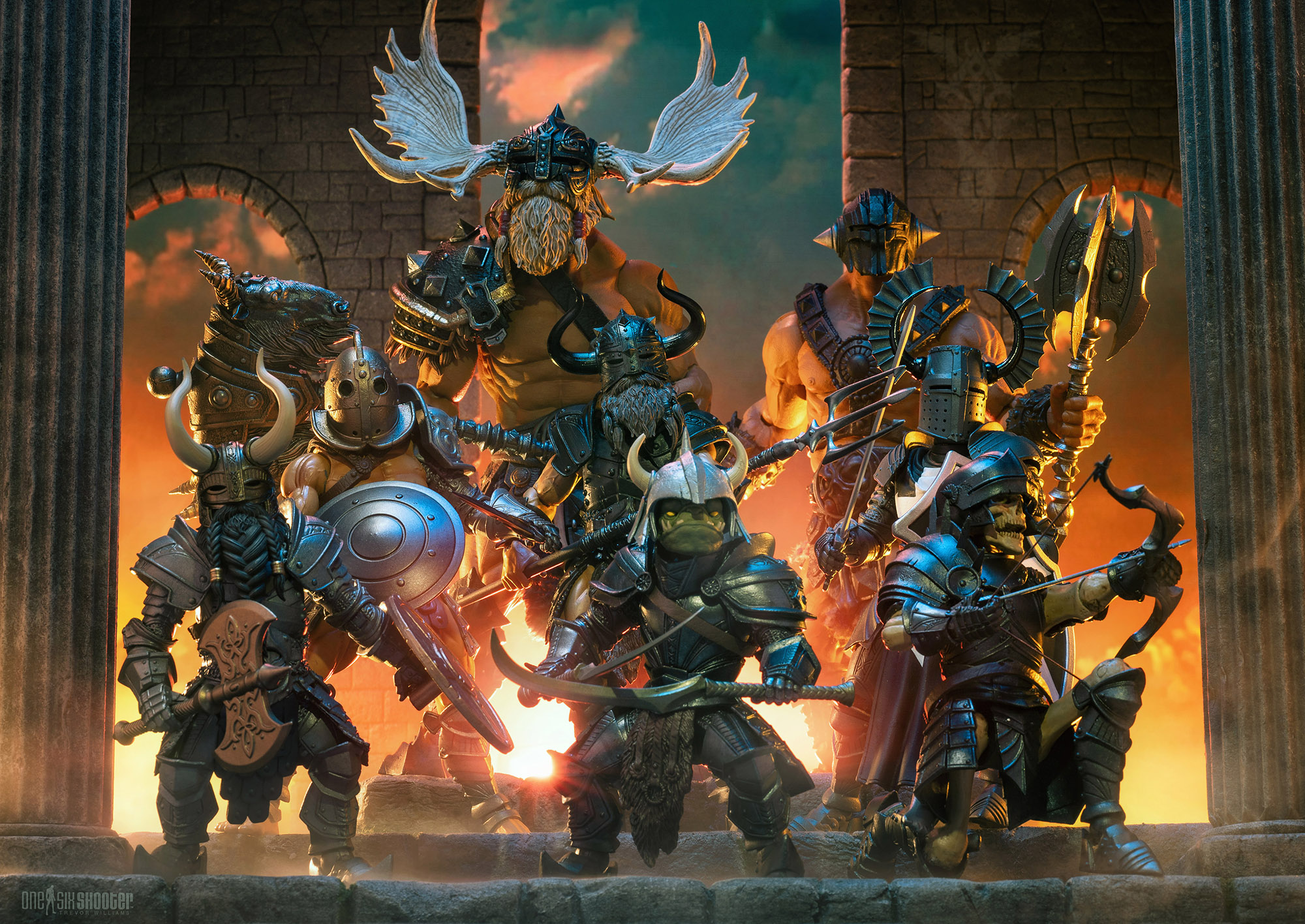 Additionally, during the LIVE reveal special for this new wave, it was announced that some previously-released Legion Builder figures would be put into production. These reissued Legions Builders were, at one point or another, referred to as "Evergreen Legion Builders" or "Always In Stock Legion Builders", but in the end these returning warriors would be dubbed "Reinforcements."

Call in the Reinforcements!
Decided on by a fan vote in mid-2021, 5 previously offered Legion Builder figures were selected for the inaugural "Mythic Legions: Legion Builder Reinforcements" wave. These fan selections actually covered a nice range of figure styles, as they choose the Bronze Dwarf and Skeleton from our first ever Legions wave, the ultra-popular Goblin and Templar Knight, and winning that vote by a landslide margin was the Black Knight from the elusive Coliseum wave. To add to this already awesome line-up, we threw in a few other figures from the 1.0 wave - the Orc Legion Builder 1 and the Deluxe Barbarian Build set!
This set of 7 figures became the first ever Legions wave that was not offered via preorder. Instead, these figures were produced and shipped to Four Horsemen Studios' warehouse so they could be sold as In Stock items, shipping out to fans shortly after purchase! That highly anticipated sale is set for Saturday, January 22 starting at 11am EST. Just like with the emergence of reinforcement ranks into any skirmish, we expect the arrival of these returning warriors will change the tide of battle for many! Arm yourself and be prepared - the Reinforcements are entering the battlefield!


Customizers Rejoice!
While Legion Builders were initially conceived as a way to allow fans to create larger displays of these toys, one element we did not completely expect is what a boon these releases would be for the amazing customizing community that has sprung up around the Mythic Legions line. The ability to get figures at a lower price point, and to have those figures act as somewhat of a blank canvas, has proven incredibly welcome for Mythic Legions customizers, and we have seen some unbelievable creations which have started with these simple Legion Builder figures.
The custom figures below were all created by Jeremy Girard / MythicCustoms. While these creations have all had additional parts and paints added, each one started with a base Legion Builder figure. From left to right they used a Black Knight, Silver Dwarf, Goblin, Skeleton (1.0 version), Steel Knight, and Elf Legion Builder figures.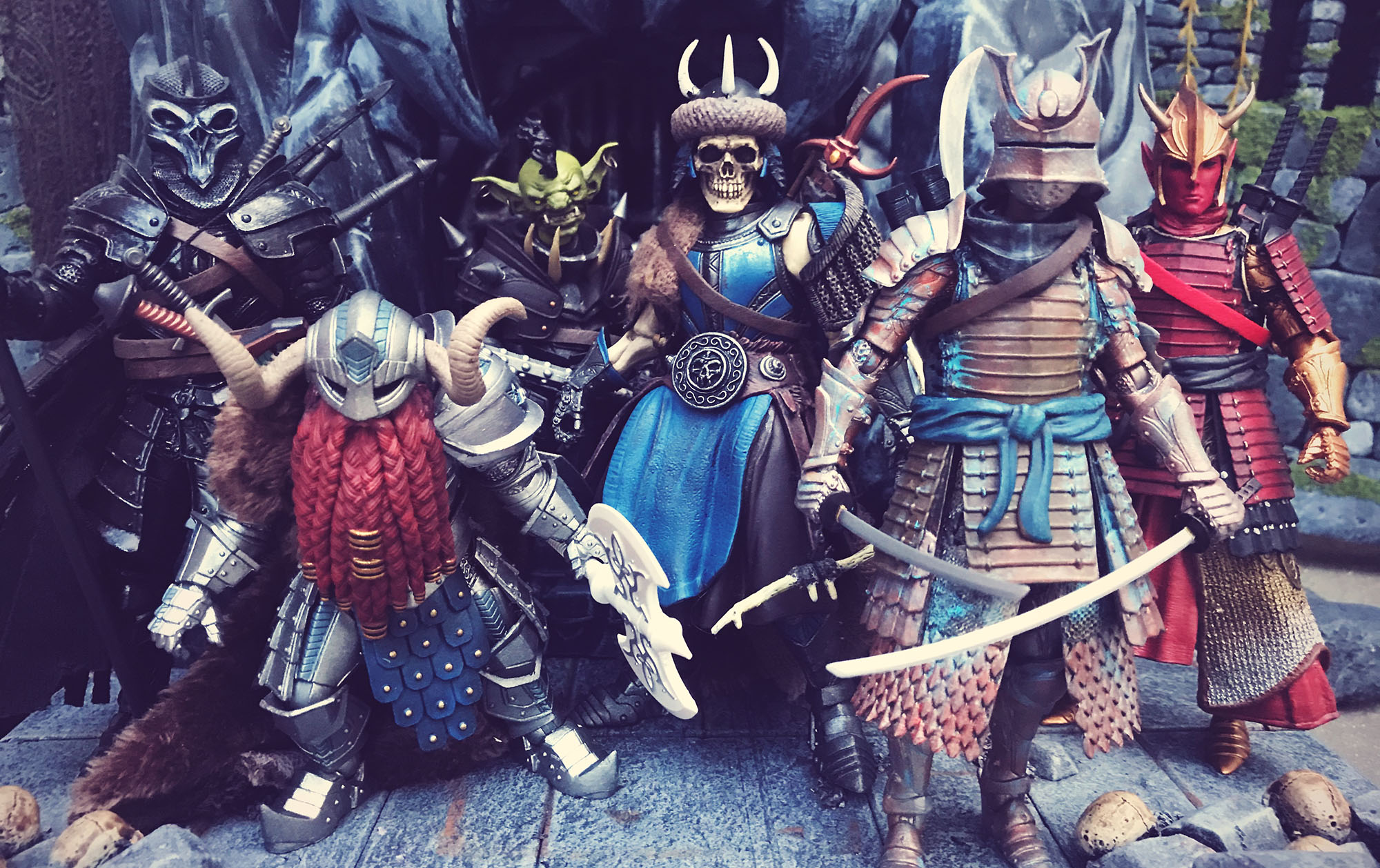 Builder Terminology 101
OK, let's succinctly break down "builder" terminology:
Legion Builders – unnamed characters whose figures feature minimal paint applications and which can be sold for a lower price point. Examples: Goblin Legion Builder, Cavern Dwarf, Silver Knight Legion Builder

Deluxe Legion Builders – these figures feature slightly more paint applications than the standard Legion Builders, but not as much as a normal release. They are priced between the lower cost Legion Builders and the standard releases. Examples: Orc Legion Builders 1 and 2 and the entire new Deluxe Legion Builders 1 wave

Builder Figures – unnamed, generic characters who can be used to create larger armies in Mythoss. These figures feature the same level of paint detailing that normal, named figures do, and as such they are not priced any lower than those normal figures. Examples: Shadow Elf Warrior, Fury Clan Orc, Red Shield Soldier

Deluxe Builder Sets – these are our largest sets, complete with full paint applications as well as an array of extra weapons and armor pieces. These sets are priced above the standard releases due to the quantity of parts available in each package. Examples: Barbarian Builder and Knight Builders 1 and 2, and the sets from the Mythic Legions Tactics wave


First published on 03.17.20
Published on 01.21.22